I remember reading the very first 91 magazine back in 2011 – and absolutely loving it. A visually beautiful celebration of creative living, 91 magazine also shares my passion for makers and small independent businesses. So when I was thinking about which inspiring people to ask to share their Christmas wish lists, editor of the magazine, Caroline Rowland, was instantly on mine. Her choices are, unsurprisingly, creative, beautifully made and individual. If you still have some special gifts to find, look no further…
Christmas is usually different for us every year as our family is spread out everywhere. This year we are spending it in France with my in-laws and I can't wait to get away after a super busy year. As we'll be away, I haven't gone too mad with decorating our own home, although it is a tradition for us to always get our tree on the first weekend of December and decorate it while drinking mulled wine or prosecco with the Christmas tunes on.
As our daughter gets older (She's 3 now) it makes Christmas all the more fun, so this year feels particularly magical as we are talking about it constantly, and she is completely enchanted by the whole thing!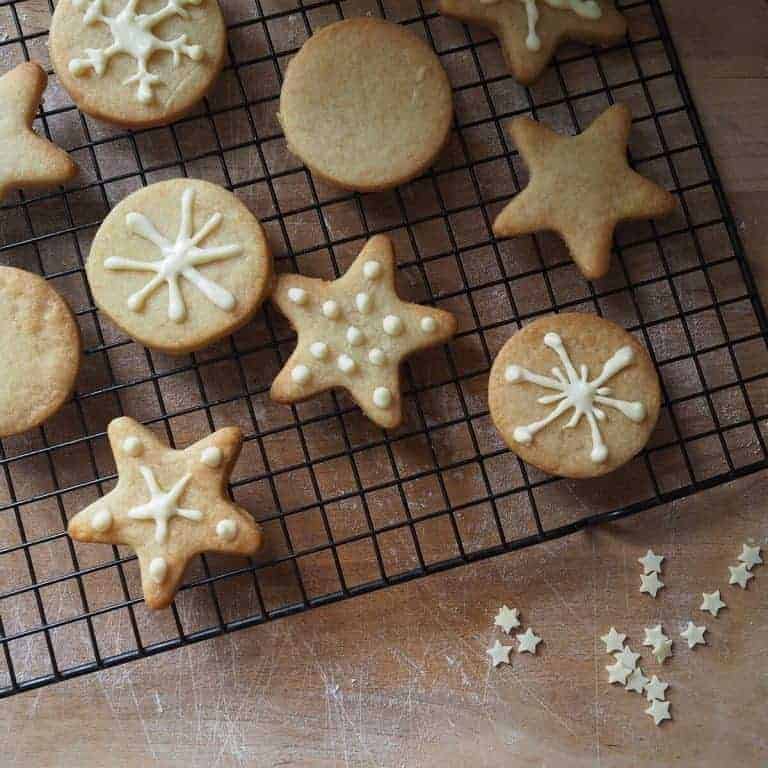 I want to make new traditions for her too, so even though we'll be away this year I plan to make biscuits with her on Christmas Eve to leave for Father Christmas and also let her open one gift before bed – new pyjamas and a book. I am trying to keep things minimal though as it can get a little excessive and I don't think it needs to be. One special gift to one another and simply enjoying the time off together is more than enough.
We champion small business and indie makers at 91 Magazine, so I always try to buy from independents as much as possible. Unique gifts which will mean more to the recipient, as well as that small shop owner or maker whose business will also benefit.
I love to give – and receive – gifts that are things that you don't generally buy for yourself – a real treat! A luxury candle, a monogrammed notebook or a special handmade piece of jewellery…
We recently worked with Nancy Straughan on a collaboration with the magazine. Her fabric designs are just gorgeous and so varied. I'm really loving her recent 'Grace' pattern and I think you can never have enough handy zip pouches for keeping your handbag organised!
Saffron lambswool throw, The Future Kept, £240
I love a cosy blanket. Even in summer they are great for throwing round your shoulders when sitting out in the evening. This Merino Lambswool one is knitted on the borders of the Peak District using yarn spun and dyed in the UK, and I love its contemporary pattern.
I fell in love with Becca's stitched jewellery a few months back and treated myself to one of her pieces, but I've already got my eye on this one too. They are really beautifully hand made by Becca (aka NookoftheNorth) in Yorkshire and are sent gift wrapped.
I love the feeling of optimism at the start of a new year and to really 'start afresh' a brand new notebook is essential! And of course, it needs to be a super stylish notebook – this monogrammed one by Studio Sarah is a real little luxury.
I've always got cold feet so I love a cosy, soft pair of socks! There's nothing better after a long day than slipping into your 'loungewear' and a pair of these Alpaca socks!
Tranquility candle, Essence + Alchemy, £25
We featured Essence and Alchemy on the 91 Magazine blog a while back, and I just love the simplicity of Lesley's candles. I would be overjoyed if I found one of these in my stocking! Tranquility is fragranced with essential oils of vetiver, geranium and patchouli. Bliss.
As I've mentioned, I love a cosy blanket and warm socks, so you may have gathered I'm a bit of a home body! Comfy pyjamas that also look stylish are an absolute winner in my book. Sleepy Doe's sleepwear collections are all designed and made in the UK using the softest cotton, ecologically sourced from British manufacturers and without the use of harmful dyes. As well as matching sleepwear for mother and child, there's also jersey cotton bedding. Love.
My indoor plant collection has grown dramatically over the last year, and of course displaying them in beautiful pots offers added style points. Fich Ceramics pots are just dreamy.
INFORMATION
---
Photo credit: Jemma Watts
91 magazine is an independent interiors and lifestyle magazine and is available to order online, both in print and digital form. BUY NOW
SEEK, INSPIRE CREATE free ezine by 91 magazine
Sign up to the 91 magazine mailing list and receive a free quarterly e-zine. A 12 page bite-sized digital magazine will drop into your inbox packed with things to seek, inspire and create. SIGN UP NOW
Feeling inspired? Take a look at the Creative Workshops category in our Directory, where you'll find a variety of inspiring courses, from art and crafts to fashion and beauty, interiors, cooking and flower & gardening.
If you run a creative course that would interest our readers, please get in touch. Email us at editor@frombritainwithlove.com
---
A pin to share to Pinterest