As someone with handwriting that's a bit of a hasty scrawl, I was slightly unsure I'd be up to the task when Gemma Milly invited me to join one of her highly popular modern calligraphy workshops.
Gemma assured me that calligraphy and handwriting are two very different things and that I should think of calligraphy as being more about creating shapes rather than handwriting. I love the idea of being able to hand create gift tags and individual cards, so I decided to give contemporary calligraphy a go.
Gemma is based in Dorset and runs modern calligraphy workshops from various venues throughout the year, which you can book here
Modern calligraphy workshop
The workshop I joined was co-hosted with Sarah of Floribunda Rose (Gemma is pictured above, left and Sarah, right) at her beautiful studio in Eversley, Hampshire. I'd be creating festive modern calligraphy in the morning and making a festive wreath in the afternoon.
All in a beautifully festive environment, with flickering scented candles on every available surface, endless hot cups of tea, mulled wine and homemade mince pies. Hard to believe sometimes that I can actually class blissful days like these as work…!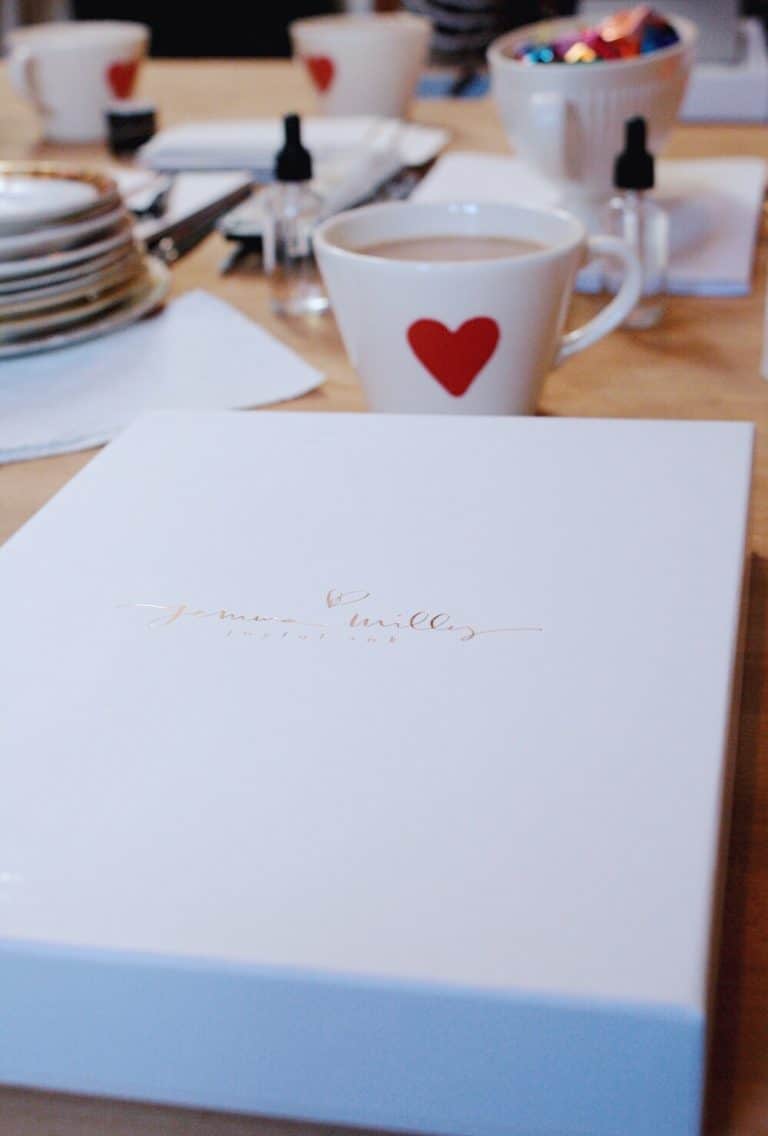 A white box of modern calligraphy loveliness
The first thing I noticed was the beautiful Gemma Milly branded white lidded box at everyone's place around the table. Inside was everything we'd need for the workshop and more. There was a calligraphy pen, heart-topped tin containing a calligraphy nib as well as a really cute little branded pot of ink.
Gemma's helpful modern calligraphy booklet with guides and exercises was also inside, along with lots of practice paper, lined guide sheets and some beautiful handmade paper envelopes, cards and tags. It was a really lovely way to start the workshop and I love Gemma's attention to detail.
It was time to put on my trusty old linen crossover pinafore apron and get down to business. Gemma's own style of contemporary calligraphy is flowing, romantic and feminine. She told us we would start out by learning the basics of forming letters her way and then from there, we would naturally start experimenting with our own style and preferences.
Warm up
We started by warming our hands and wrists up by doing simple lines and then rows of joined up loops. The idea is to keep the wrist still and use the whole lower arm to form the shapes as much as possible. It's key to turn the paper so that it's facing at the right angle before you start. Then it's all about increasing and decreasing pressure on the nib in order to create lines of different thickness.
Fine upstrokes are made by reducing pressure on the nib – really you just let the paper take the weight of the nib and little more. The down strokes are made thicker by pressing harder. Gemma told us to keep the nibs in the same straight-on position for both types of stroke, and to dip the nib in the ink as far as the reservoir hole. Any fibres or hairs need to be removed as they'll spoil the lines.
Patience…
I'd like to say I took to modern calligraphy like a duck to water. Some of the other women around the table definitely did. I knew what I was supposed to be doing, but my hands wouldn't quite do what my head was telling them to do. My nib was scratching and scraping away and I was struggling to get the hang of keeping everything uniform. Gemma is a calm, patient teacher and she came over to help when she heard my screeching nib and exasperated sighs. She helped re-position my nib, and the angle of the pen in my hand, and advised me to slow down.
She suggested I think about – and visualise – each shape I was about to attempt before I did it. This really helped me. I slowed everything right down and watched the nib creating the effects I was after. Done this way, there is something very therapeutic and mindful about calligraphy. We were all quite quiet and concentrated around the table, as we worked our way through the basic exercises. Best of all, my nib was now as quiet as everyone else's!
Forming letters
Feeling more confident, I decided to move on to the next exercise. Starting to form some letters from Gemma's guide sheet. Instantly I was all over the place again and the nib loudly scratching its way over the paper as it had before. I decided it was time to have a bit of a word with myself. To allow the day to happen, the skills to come and to take everything down a gear or two. I found some patience from somewhere, and stopped rushing to do everything.
Like many of us, I'm having to run full pelt most of the time to get everything done and to juggle work and family life. And this fast pace becomes a habit that's hard to break if you're not careful. One of the reasons I love to take part in creative workshops for the blog is because they remind me of the simple joy of making something with your hands. If you're a creative person, it's so important to find time to nurture this part of yourself.
Metallic inks
After a few more lines, I realised I was now fully immersed in the slow concentration needed. I was really enjoying myself and so I was quick to volunteer to try out some of the metallic inks Gemma had brought along.
They come in a Metallic Gold Ink palette handmade in Germany by Finetec and are, according to Gemma, by far the best of the metallic inks available.
(You can buy them from Gemma's etsy shop – including her own customised beautiful Rose Gold palette). These inks are made of mica, a natural mineral that offers a wide variety of metallic shades. The inks adhere to nearly all surfaces, from paper, card and vellum to sea shells, wood and glass.
Gemma showed us the technique to using them. First, you add a few drops of water to your chosen colour block and mix with a paint brush. Wait a moment or two for the water to activate the ink. Then use the brush to load up the end of your nib with the ink. Tip the nib the right way up and let any excess drip away before you start.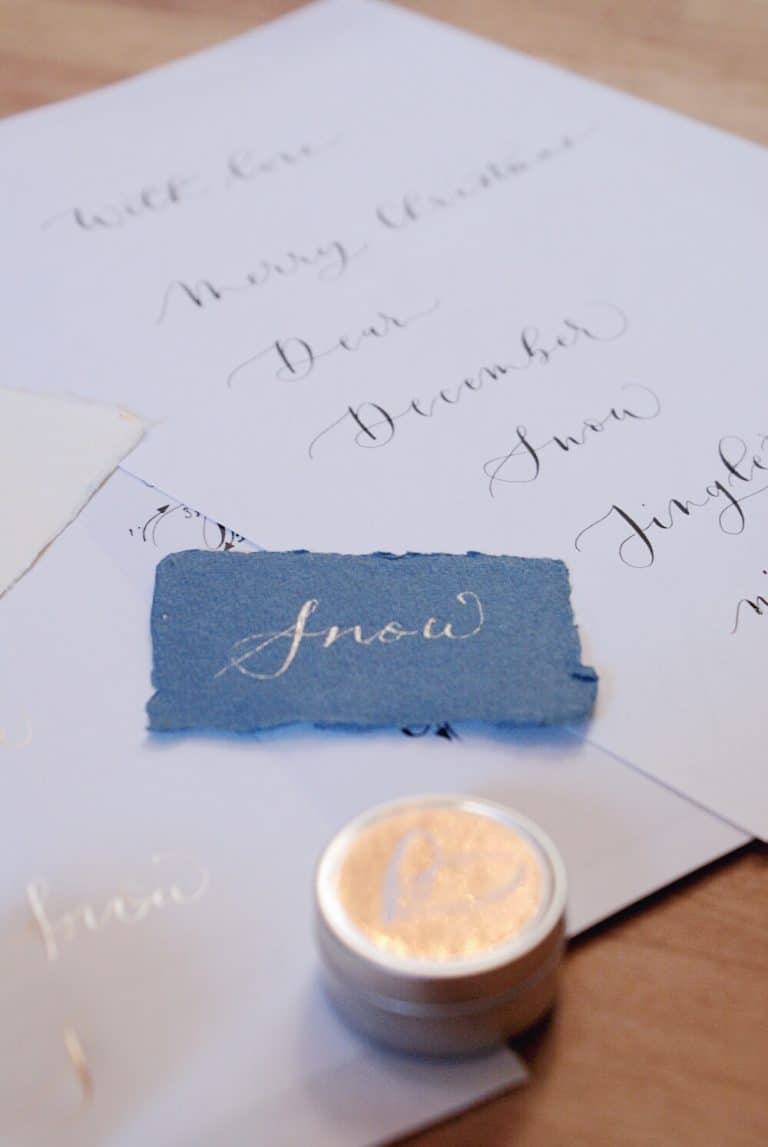 Silvery gold ink
I chose a silvery gold colour called Gold Pearl and had a go at writing 'Snow' using the guide sheets. It's not an exaggeration to say that I totally fell in love with this beautiful shimmery ink. The word 'Snow' actually worked on my practice paper. So I decided to be brave and have a go at creating it on one of my gift tags. It worked really well! And I loved the way the silvery gold contrasts with the dark blue paper.
Modern calligraphy – practice makes perfect
The morning had flown by and it was soon time to pack up our boxes. Gemma wrote out individual sheets of Christmassy words for each of us to take away. This was a great idea as it means I have all the words I want for my Christmas tags and cards ready to copy. It would take practice to work out how to join the letters together from scratch.
I am now totally and utterly hooked on modern calligraphy and keen to practice and improve. The goal is to learn how different letters join together to form words. Without having to look it up each time or to trace it out first with pencil.
For now, I'm just delighted with my new-found skill. I am planning to create all my gift tags and shimmery hand-inked Christmas cards this week, so I'll add the images here – if they turn out okay!
INFORMATION
---
Get all the info you need to connect with Gemma Milly from the listing >>
Feeling inspired? Take a look at the Creative Workshops category in our Directory, where you'll find a variety of inspiring courses, from art and crafts to fashion and beauty, interiors, cooking and flower & gardening.
If you run a creative course that would interest our readers, please get in touch. Email us at editor@frombritainwithlove.com
---
A pin to share to Pinterest