If you're active on Instagram, the chances are you already know all about Sara Tasker and her beautiful  – and hugely popular – page Me & Orla (she has over 180K loyal followers). This is where Sara shares well-captured rustic images – and insights – from her life in rural Yorkshire with her husband and daughter Orla. As Sara puts it: 'we relocated to this little village in the hills after a lifetime in the city, hoping to slow down, simplify and stop worrying about stupid stuff.' 
Now a leading course provider on all things Instagram-related, Sara's regular podcasts are also a great source of ideas and insight. I always have a listen when one pops into my inbox. I love the way Sara writes – you can hear her voice as you read. So, when we were drawing up our list of people we wanted to share Christmas gift wish lists with us, Sara's name went straight on. We were so happy when she said yes – and couldn't wait to see what she'd pick.
We love her list – and want it all. Hope you do too. Enjoy…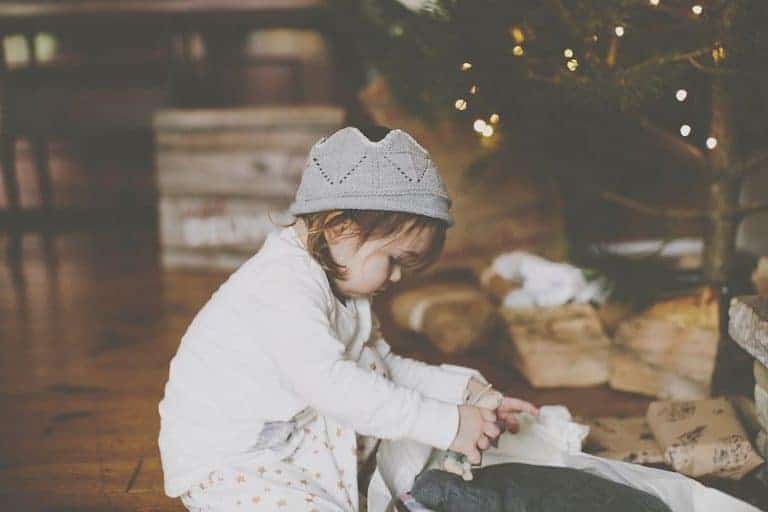 I'm an unashamed Christmas obsessive. It answers such a basic need for us as humans – for light in the dark, for connection and warmth in the cold, isolating months of deepest winter. It's no coincidence that the core elements – feasting, light, decorating with evergreens and family – have remained unchanged from the Yuletide celebrations of old.
An ex-boyfriend once told me, as we were splitting up, that what he'd miss most was my gift-buying skills, so I like to think it's something of a talent of mine. I love shopping small independent businesses, and in particular UK-based ones, to find unique, surprising presents that the recipient would never have found for themselves.
So many of the people I work with on my courses and coaching are UK business owners, so it's great to be able to return the love and fly the flag for fellow British creatives out there.
My Christmas gift wish list
Archipelago Shawl by Hilary Grant
Archipelago shawl by Hilary Grant Knitwear. I'm something of a blanket connoisseur with quite an extensive collection (read as: far, far too many 🙈), which I justify by snuggling under whilst working in the winter months. My absolute fave is by Orkney-based designer Hilary Grant – it's the perfect combination of heavy and soft, and completely itch free, and I've often asked Husband if I can get away with wearing it like a coat. Well ask no more, because this winter she has introduced a shawl, in her signature colours and prints. I will take three, please!
Favourite morning mug, Jono Smart
Jono Smart makes cups so simple, beautiful and minimalistic that it makes you want to cry. I chatted to him for my podcast early in Season 1, and it remains one of my favourite ever episodes – the way he talks about his work, his creative process and his mental health is truly inspirational. He opens his shop just a couple of times a year, and there's one scheduled for December. Get on the list to grab your new favourite morning mug, pronto!
Go-to bath potion for winter nights by MOA
After too many bad experiences with bath products and skin flare ups, I avoided them all until I was given a sample of MOA's Green Bath Potion. Smelling like a herbal, organic equivalent to Vicks, it's somehow both soothing and uplifting, and my go-to on cold winter nights.  I'm also a big fan of The Green Balm, or as its known in our house, 'magic cream', which we apply to all my four year old's chapped lips, scraped knees and nettle stings for an instant fix.
The perfect soft leather minimal back pack by Grace Gordon
This nude leather backpack by Grace Gordon London has been on my wishlist for years, quite literally, and every Christmas santa disappoints. This year I think I'll just bite the bullet and buy my own – I haven't found anything to rival the soft nude leather and clean, minimalist lines of this stylish little number.
A year of blissful candles by Essence and Alchemy
I asked recently for British-made scented candle recommendations on Twitter, and got the most overwhelmingly brilliant response.  Since then I've made it my mission to sample as many as possible, and my favourites so far are by fellow Northerners Essence + Alchemy. I love that they look as beautiful as they smell, in a slightly tapered glass jar, and their scented candle subscription service is a genius Christmas gift. My faves are the wild garden scent and Restore, which I like to burn whilst working.
Whales painted onto found sea charts by Gerry Turley
Gerry Turley screen prints whales onto old, found sea charts at his home studio on the Scottish borders. We have an original one-off screen print in our home, but he's just recently introduced a more affordable poster print version to the online store he runs with his partner, children's book author Helen Stephens (How to Hide a Lion)
The most beautiful bottle of gin by Forest Gin
Forest Gin is made in Macclesfield using ingredients foraged by the owner's family from local woodlands, and comes in a gorgeous ceramic, screen-printed bottle. It's taken the gin-world by storm, selling as far as Japan, and tastes floral, botanical and like nothing you'll find in your supermarket. An amazing gift!
Essential linen apron to wear and wear by Nadinoo…
If you or the woman in your life doesn't own a linen pinafore from Nadinoo, then how do they get dressed in the morning?! Layerable, with deep pockets and a Japanese-inspired cross back, this is my staple daywear and gets lovelier the more it's worn and washed. Nadia's obsessive about wearbability and quality, and will happily make alterations and custom versions at request, too.
INFORMATION
---
Get all the info you need to connect with Sara and book onto one of her creative courses from the listing >>
Find out about Sara's range of creative, informative and hugely popular courses perfect for creatives and small businesses looking to boost – and beautify –  their Instagram.
Feeling inspired? Take a look at the Creative Workshops category in our Directory, where you'll find a variety of inspiring courses, from art and crafts to fashion and beauty, interiors, cooking and flower & gardening.
If you run a creative course that would interest our readers, please get in touch. Email us at editor@frombritainwithlove.com
Image credits: James Melia of meliamelia.com and Bloom and Wild
---
A pin to share to Pinterest