Selvedge founder Polly Leonard shares her Christmas wish list
I can still remember how exciting it was when Selvedge launched by Polly Leonard. The design of the magazine was stunning – and totally unlike anything else around. The cover literally stopped me in my tracks. There was a stark, striking visual bravery that I found thrilling. The content inside was like manna from Heaven for someone like me, with a passion for textiles and an unquenchable thirst for discovering new makers and fresh ideas in the creative community. I still read – and love – the magazine 13 years later. So, when I was drawing up my list of people I'd really, really like to share their Christmas shopping wish list with us, Polly Leonard (who founded Selvedge magazine) was at the top of my list. When she said she'd be very happy to share her Christmas loves, I couldn't wait to see what she'd pick. I wasn't disappointed! Hope you love this wish list by Polly Leonard as much as I do.
Q&A with Polly Leonard
Polly Leanard: please tell us a little bit about the story behind Selvedge and what inspires you
I was drawn to textiles as a child, and have always been inspired by the way textiles link with humanity. I studied embroidery and weaving and taught textiles for 10 years.
While I was teaching, I started writing articles for various textile magazines on the side. I was offered a job editing one of the publications I wrote for and I found I really enjoyed the process of making a magazine. However, I could see from the inside that there were too many amateur magazines out there that weren't giving textiles its professional face, so in 2004 I took a leap of faith and created the magazine I wanted to read – Selvedge.
Today, Selvedge continues to explore – and understand – the history, future, politics and aesthetics of textiles. We have an international community of textile-lovers and the Selvedge brand has grown to include a shop, seasonal artisan fairs, a vibrant workshops programme and creative collaborations.
What does Christmas mean to you?
When my children were younger I would fashion truly elaborate and quite extravagant celebrations complete with popcorn garlands and handmade advent calendars with individual gifts. Now I feel something more restrained is appropriate, but no less special. The most important ingredient of any Christmas is light. I have beeswax candles arranged on our tree – I light these for very short periods, as we are all quite nervous about the tree catching alight. I also burn a bayberry candle on Christmas and New Year's Eve.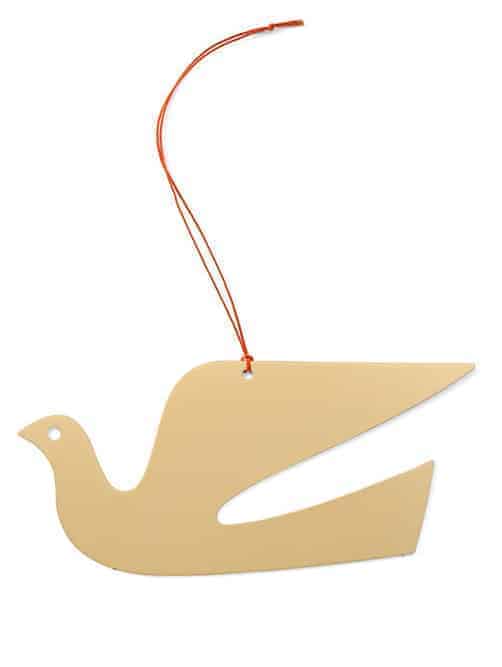 "This bayberry candle comes from a friend, so on Christmas Eve burn it to the end. For a bayberry candle burned to the socket, will bring joy to the heart, and gold to the pocket." — Legend of the Bayberry Candle Poem
An excuse to indulge in a little kitsch
The tree of course is the centre of the celebrations. I buy a new ornament every year and now have quite a collection. As someone who is rather restrained in my taste I love the excuse to indulge in a little kitsch. Our tree is an eclectic collection of exquisite ornaments, the children's handmade offerings and vintage decoration from the 1970s we have found while antiquing in New England. Last year I bought a beautiful William Waterhouse Brass Bell Decoration for £14.00. This year it may be an Alexander Girard metal dove ornament by Vitra; £15.00 from twentytwentyone (above).
It is always difficult to find nice cards and this is the first thing I look for each year. I recommend Alex Sickling's contemporary Delft collection, inspired by 17th century blue and white ceramic tiles depicting vignettes of everyday life from the Shop Floor Project.
Snowflake printing blocks
Alternatively, cards are relatively easy to make yourself and The Arty Crafty Place has intricately carved wooden printing blocks with charming snowflake designs (from £7.50).

What's on your Christmas gift wish list?
When it comes to gift giving, the wrapping is as important as the gift in my opinion. I always try to have a theme for my wrapping and often budget by using less expensive tissue paper and special ribbon from VV Rouleaux. In the past I have used block printed Indian newspaper, brown paper with gingham ribbon, florist's cellophane, and cloth inspired by Furoshiki traditional Japanese wrapping. This year I am planning on using white crepe paper with thick paper ribbon. I am hoping I achieve a crunchy, snow-like texture.
Inspired by a recent trip to Japan, my family will make some origami decorations and a garland for the mantle. Cambridge Imprint sell beautiful patterned papers and Christmas cracker kits for £25 . They have tutorial videos on their website (including this great tutorial on how to make origami stars below)
Cambridge Imprint are also running a workshop at the Selvedge Fair Bloomsbury, London on Saturday 2nd December (below). Their designs have a fresh mid-century feel and great colour combinations; it is difficult to decide which pattern is your favourite.
All the fun of the fair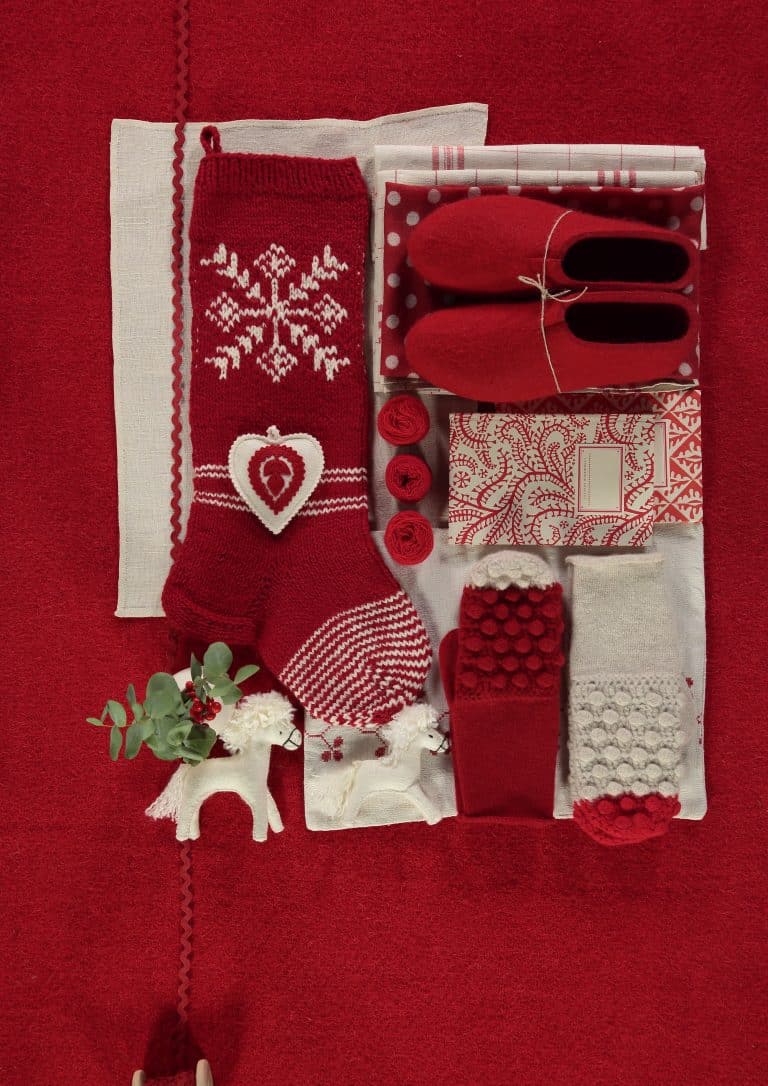 On Christmas Eve, our family tradition is to listen to the Festival of Nine Lessons and Carols from King's College Chapel, Cambridge and hang up our stockings. By then the hard work is done and I can relax and enjoy the celebration. Our stockings are made of reverse appliquéd felt in red and white, very traditional and just big enough for a tangerine and a few small gifts.
The perfect gift for fabric lovers
I suggest including a pair of John Arbon Alpaca Bed Socks (£16 per pair), a rolled up copy of Selvedge and a box of Turkish delight. (If you'd like to make your own rose and pistachio turkish delight, get the perfect simple recipe from our blog here)
The joy of good bed socks
Being around the table as a family is one thing that we really enjoy over the holidays. I like to keep the table minimal with a crisp linen screen-printed runner by Irish designer Deirdre Nelson (price available on request) and a basket of hyacinths to remind me that spring is just around the corner. The scent can help on an afternoon infused with wood smoke and overindulgence.
Chalk woven blanket
My recent restrained mood was partly spurred by a trip to a department store where I was disappointed by the range of goods on offer. Instead of heading to the high street this year I will choose to support independent makers and stores with my gift buying.
One of my suggestions is a Chalk woven blanket (£177) by Brighton-based designer Kerry Stokes. She has enjoyed a long and illustrious career designing everything from airline upholstery to towels, and has now put her skills to good use in designing a collection of generous merino lambswool throws with neatly blanket stitched edges and a great range of subtle chalky colours and designs – perfect for curling up on the sofa with a good book.
Why wool is great for gifts
Wool is also great for gifts as it is so tactile and seems to sum up the season so well. It is a very English fibre too. The connection between the British Isles and wool goes back to the middle ages and it is great to celebrate this tradition at Christmas. Cecilie Telle is a designer who uses exclusively British wool and sells her individually made pieces on our website.
I have one of her sack bags myself and intend to buy a Long Strap Bucket Bag, £198, in red to give as a gift. Her shapes offer minimalist design in strong colours and wonderful felt texture.
As an alternative, it is also quite nice to give an experience and the gift of learning at Christmas, and in our January issue we feature 'Feeling Better', an article about the benefits of knitting with advice on how to reap its many advantages.
I love Elizabeth Beverley's naturally dyed wool selection (£24); this coupled with a knitting pattern would make a truly lovely gift.
And for the ultimate indulgence I would highly recommend one of the Selvedge workshops at Chateau Dumas in the South of France (above). Overlooking rolling French countryside, the 18th century chateau is a beautiful setting in which to learn a new skill. In 2018 we have classes in basketry, tapestry, pattern design and quilting to name a few…
I wish you all a warm and happy holiday.
INFORMATION
---

Polly Leonard is the Founder of Selvedge. The Luna issue of Selvedge magazine is out now. The Selvedge Fair will be at Mary Ward House, Bloomsbury, London on Saturday 2 December www.selvedge.org
Feeling inspired? Take a look at the Creative Workshops category in our Directory, where you'll find a variety of inspiring courses, from art and crafts to fashion and beauty, interiors, cooking and flower & gardening.
If you run a creative course that would interest our readers, please get in touch. Email us at editor@frombritainwithlove.com
---
A pin to share to Pinterest
I hope you enjoyed discovering the Christmas wish list of Polly Leonard. It would be great if you shared the love and pinned this to your Pinterest boards