We wanted to share with you our absolute favourite UK-made Christmas gift ideas for women. All the businesses and makers are featured in our hand-picked directory where you'll find lots more inspiration.
The gifts we've picked out here are those we'd really love to give and/or receive ourselves. Our aim is simple: to help you source memorable and special ideas to tick off your Christmas shopping list. In the process, we will together be supporting UK makers and independents at this key selling time of year.
Many individual makers and small creative businesses depend on a good Christmas to be able to continue. If we value our craftspeople, makers and independents, we need to support them. If we don't, we'll lose them – along with their skills and creative talent. So. we really hope you love our selection as much as we do. We also hope that you love at least one of our ideas enough to go on a make a purchase. We want to help you find those extra special gifts and to feel good in the process..
Christmas gift ideas for women
Silk bespoke robe, £125 by Ell & Cee
I defy any woman not to feel a little bit glamorous when wearing this. Crafted in pure, luxurious silk with elbow length sleeves and knee length design to create a flattering silhouette. Create your own bespoke monogrammed pocket and select from a range of colours.
Ell & Cee is a collection of deliciously feminine pieces with a modern bohemian edge. The look is luxurious whilst remaining obtainable. All designs are manufactured here in the UK and many are finished in-house by the small Ell & Cee team. The whole range is created in a palette of soft creams and nudes making them all timeless staples.
Each robe comes in a beautiful branded box, which makes gift wrapping a piece of cake!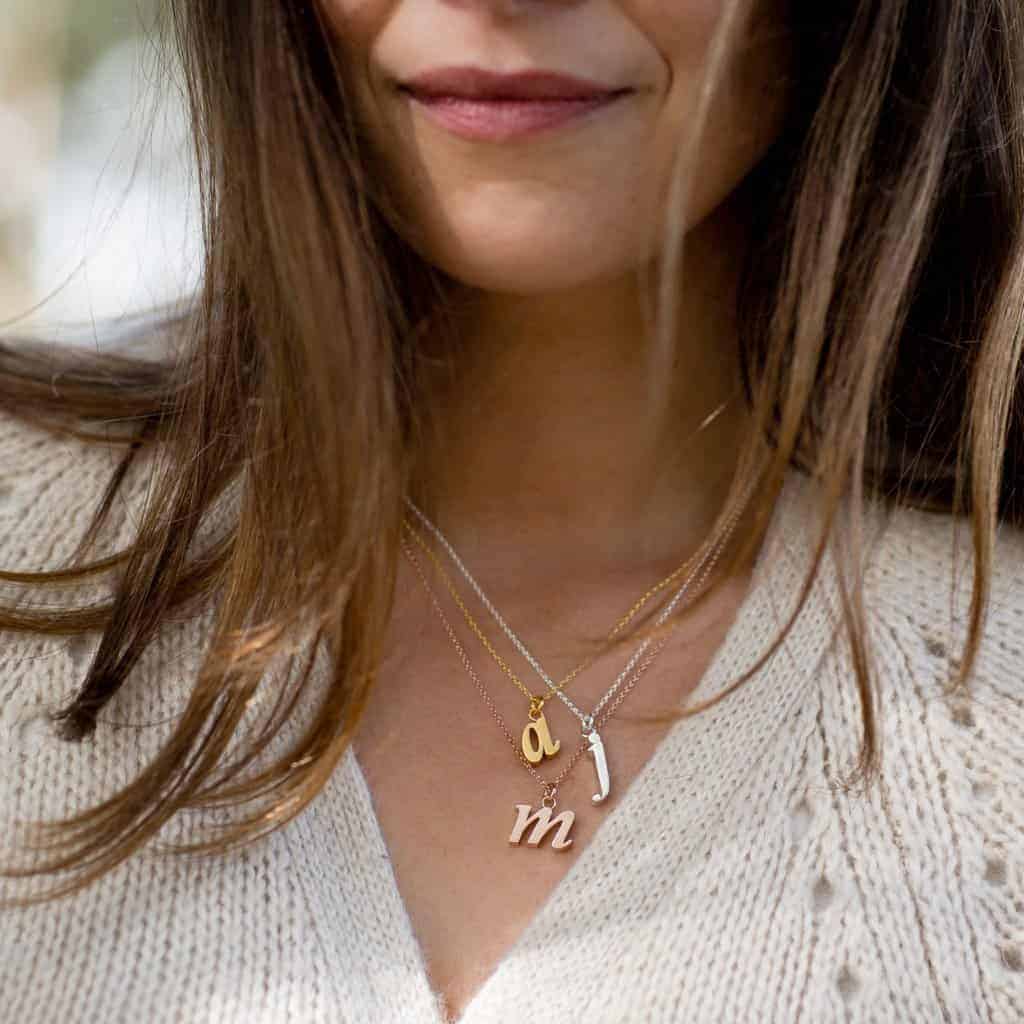 Lower case initial necklaces, £40 each by Cabbage White England
Love the idea of mixing three different significant initials – and also love that they are lower case. I'd mix three just as in the image, with an initial for each of my children and my husband. I really like how the silver, gold and rose gold contrast with each other when worn together.
Cabbage White England was set up in 2010 by Kelly Smithson after moving into jewellery design from an art school background. We love the simple, contemporary feel of her designs.
Worth knowing too is that all purchases arrive beautifully presented in Cabbage White England gift boxes with coordinated ribboned tags.

Orange Spice candle, £16 by Hobo from Grace Gordon
Simple and classic in packing, eco-friendly and hand-poured in Lincolnshire, this is a festive essential in our book. With top notes of orange blended with a warm and spicy base of cinnamon, nutmeg and clove, it's Christmas in a jar! So much more interesting than the ubiquitous big brand candles. Buy now >>
Alpaca bed socks, £20 by Paul James, Leicestershire
These gorgeous British made 90% alpaca bed socks make the perfect luxurious gift and are a really great price. Knitted to a dense weave, these socks simply sink into your feet and are the perfect way to enjoy a cosy indulgent night in. Buy now >>
Our favourite skincare essentials beautifully gift boxed. This facial gift set contains Daily Cleansing Ritual, a hot cloth cleansing kit to naturally balance the skin and Aphrodite Facial Oil, a beautiful blend of rosehip, Damask rose and rose geranium essential oils to protect and moisturise the face and for a truly radiant complexion.
All MOA products are natural and cruelty free with carefully selected organic and botanical ingredients to improve wellbeing and to practice a simple, yet effective daily skin care ritual. We love that MOA uses no harmful chemicals and that each product is considered mindfully and consciously with care for the environment. Buy now >>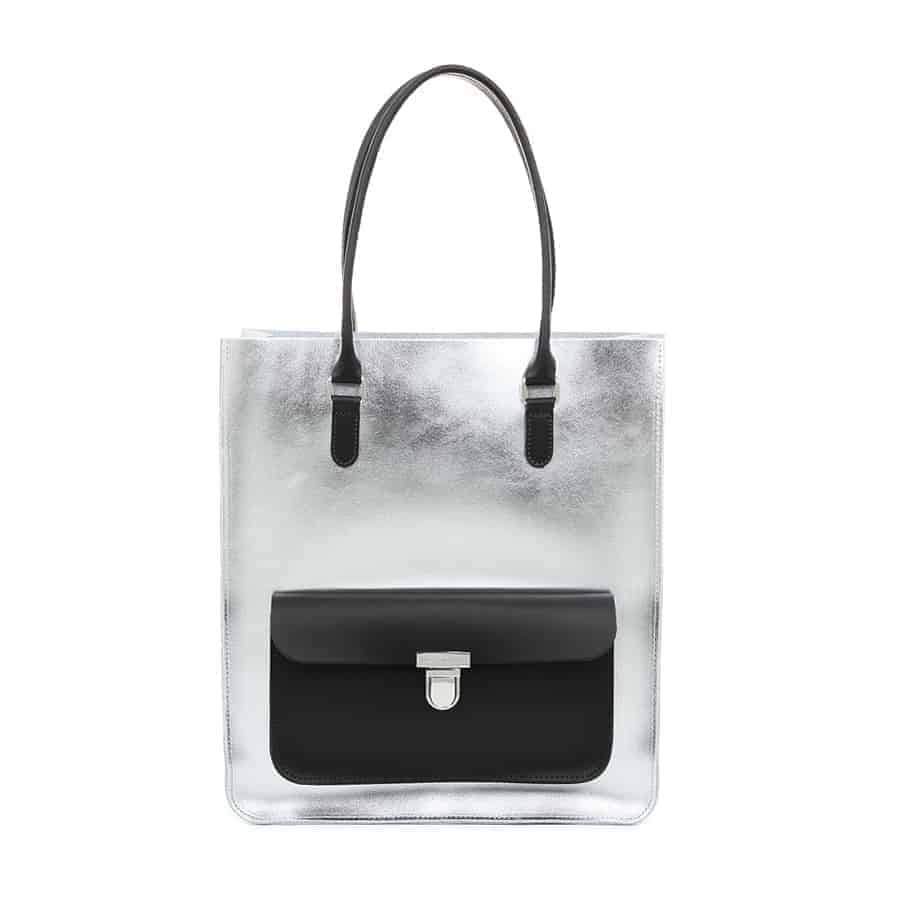 Leather tote handbag, silver with chocolate, £310 by
Brix + Bailey
I love this bag. The Brix + Bailey over sized leather tote is perfectly sized and incredibly versatile with a large interior, with comfortable top carry handles. If you have to cart everyday essentials around, why not carry them in a luxurious silver bag? Instantly feels less of a chore don't you think?
The extra-long removable and adjustable cross body strap easily converts the bag from a tote to a shoulder bag.
Beautifully made in England and hand finished in structured smooth leather. Brix and Bailey logo is embossed on the back and if you would like an extra long handle so you can put onto your shoulder, you can. Buy now >>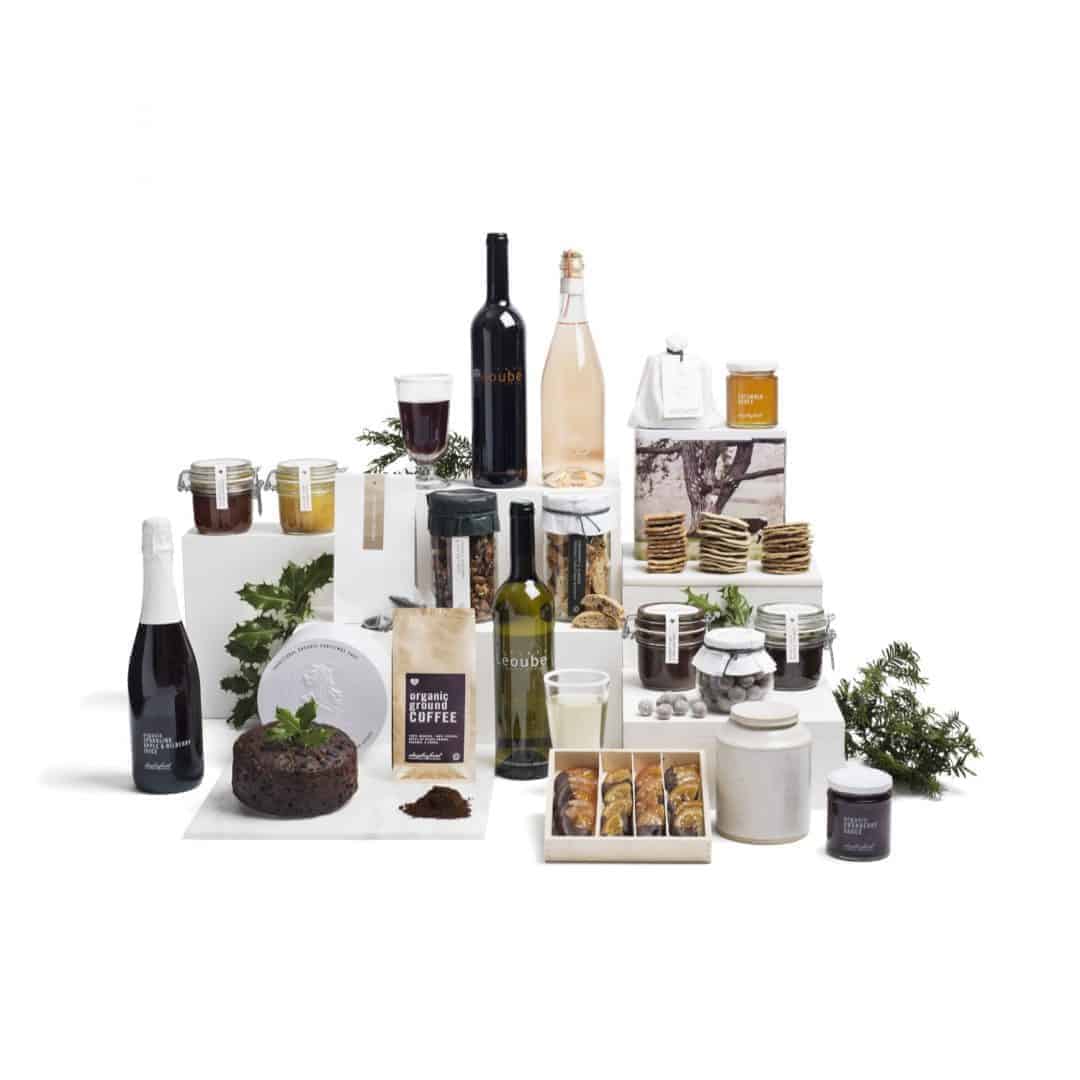 Christmas Larder Hamper, £250 from Daylesford
There are so many Christmas gift ideas for women in the Daylesford organic shop. What about the perfect Christmas hamper full of indulgent treats to enjoy yourself as well as to have up your sleeve for visitors that drop in. It all arrives beautifully presented in a hamper biscuits. Highlights include rosemary and sea salt nuts, organic fig, apple and balsamic chutney, chai spiced hot chocolate, organic mulling spices and a selection of wines. Who wouldn't love to receive delicious and beautifully packaged selection? Buy now>>
Brushed flannel cotton pyjamas, £79 by British Boxers
It's the quality of the fabric that sets these beautiful pjs apart. The fibres in the cloth are brushed repeatedly to make them super soft – and the last word in comfy luxury. We love the fresh baby blue and white westwood stripes – and the fact that these top quality pjs are crafted with care from start to finish in Britain. British Boxers supply Harrods and also produce private collections for exclusive London stores on Jermyn Street.
Mr & Mrs mug, £35, by Sue Pryke
It's the simplicity, beautiful complimentary colours and unglazed finish that I love so much about these mugs. Individually slipcast from vitrified earthenware and polished to give a smooth pebbly finish. The clay's fired to a high temperature until it's vitrified and no longer porous giving it a stone like quality. Just think about the amount of daily pleasure to be had from sipping tea from one of these beauties… Buy now >>
Mr & Mrs teapot, £150 by Sue Pryke
I couldn't mention the mugs without letting you also know about my favourite teapot. Also individually made from vitrified earthenware, it's the simple, clean lines and touches of oak that set this apart. The clay is fired to a high temperature until it's no longer porous, giving it a stone like quality. The lid the same colour white as the body, with an oak handle. The teapot handle is made from steam bent oak, all made in England. Buy now>>
You'll find other beautiful Christmas gift ideas for women in Sue's online shop.
Breakfast Tea collection, £32 Good and Proper Tea
Whilst we're at it, I'd also like to point you in the direction of Good & Proper Tea if you have any tea drinkers to buy for. I discovered Good and Proper Tea at Wilderness festival and I can honestly say that they make the best tea ever. This gift set is perfect for anyone who likes a traditional cup of tea.
The perfect gift for a black tea lover, this collection box includes a selection of our most delicious breakfast teas, as well as a beautiful glass teapot with a removable infuser for easy brewing.
This box includes:
Assam (8 cups)
Ceylon (8 cups)
Yunnan (8 cups)
Kenya OP (8 cups)
G&P Glass Teapot
Breakfast Tea Collection guide

A creative workshop
When it comes to thinking up Christmas gift ideas for women, what about the gift of creative time? We have a wide range of wonderful creative workshops and courses in our directory. They are the best way to enjoy a day out of the usual routine – and to learn a new skill. Why not give the gift of creativity to someone you have to buy for? Choose from gardening, cookery, craft, design and all sorts of other courses in our directory. Or go together and have the best day ever… Browse creative courses now >>
The perfect fine wool and silver lurex scarf, £130 by Quinton Chadwick
There are so many reasons to love this beautiful scarf. It's super light and super soft because of the super geelong lambswool. We love the glamorous touch of silver lurex too. What makes it extra special is that each scarf is individually made using traditional hand framing skills in Nottingham. There's also a very beautiful copper and midnight blue colourway too. Buy now >>
The first of this season's crops of seasonal white and cream narcissi grown on the Isles of Scilly are now available. Heavenly scented and beautifully presented in a midnight blue box, who wouldn't love to receive 100 stems of beautiful paper white narcissi? The flowers are hand tied with branded ribbon and wrapped in signature tissue. The boxes are sent directly from the Isles of Scilly and include complimentary courier delivery to most UK areas. Buy now >>
Radio 4 Gardener's Question Time panellist Pippa Greenwood has the perfect gift idea for anyone who'd like to grow their own vegetables – but could do with a little help and advice along the way. The idea is that you choose from Pippa's own favourite tried and tested vegetable varieties, all grown specially for her in Lincolnshire.
Boxes of the garden-ready plants you've selected will be sent out at the perfect time to plant them. Alongside the plants, Pippa emails each week with help and information tailor-made to your specific selection. As she grows the entire range herself, she knows exactly what is really happening each week. Advice includes feeding, watering, staking, pinching out and of course pest and disease warnings.
Pippa will even also personally answer your gardening queries. Plants include tomatoes, peppers, beans, broccoli, melon, lettuce, sweetcorn and beetroot. There are three packages – you choose from either 4, 6 or 10 vegetable crop packs. When it comes to Christmas gift ideas for women, can you think of a better one for a budding gardener? Buy now >>
Hand-knitted 100% merino wool beanie, £25 by Justine Louise
This gorgeous on-trend chunky beanie is hand-knitted in pure, merino wool and is in the Justine Louis sale rigt now, so snap one up for just £25. The racoon faux fur pom pom is the perfect finishing touch and in case you weren't already sold, all Justine Louise orders are wrapped in tissue paper and tied with a satin ribbon.
Hope you enjoyed discovering these Christmas gift ideas for women. There are lots more ideas over on the blog. Check out this feature Handmade Christmas Gift Ideas for Women, Ethical Gifts made in Britain And for some ethical gift wrap ideas, what about Christmas gift wrapping ideas, ethical and natural