Christmas gift wrapping ideas for Christmas – ethical and natural
This year, my Christmas shopping is going to be a ethical and eco-friendly as possible. So it makes sense to put some proper thought into the wrapping too. If, like me, you thought that you could recycle all your used wrapping paper after Christmas, think again. It's a bit of a minefield to be honest, so I thought I'd pull together some simple tips for wrapping gifts beautifully and ethically.
Why glitter has to go
Glittery wrap and cards can't be recycled so it's best just to avoid them. Recycle Now has some useful information – including the 'scrunch test'. If your wrapping paper scrunches it can probably be recycled (as long as it isn't glittery) and if it doesn't, that probably means it contains plastic and therefore will end up in landfill.
Wrapping papers that are very thin and flimsy contain few good quality fibres and so they can't be recycled either.
It's useful to know that all sticky tape, decorations, ribbons and bows have to be removed.
I like the idea of block printing my own paper using compostable, unbleached, lining paper. I'll add in some images when I've had a go.
Kraft brown paper is another good option as it's 100% recyclable and biodegradable and often made from recycled paper itself. I also love how it looks combined with natural decorations, simple ribbons and foliage.
Newspaper, too, can look great re-used when decorated with pine cones and fresh green foliage.
Make mini wreaths as natural gift wrap decorations
I absolutely love these mini dried flower foraged wreaths made by Bex of Botanical Tales. Get step by steps on making your own foraged dried flower wreath decorations here: How to make a dried flower wreath. Bex also sells these lovely mini wreaths ready made in her online shop. Buy now >>
Christmas gift wrapping ideas ethical and natural
Love these ideas from The Real Flower Company (listed in the FBWL directory here)
How pretty is this idea of making your own Liberty fabric ribbon by cutting/tearing strips of fabric and winding onto an old bobbin ready for use? I'm going to look for old Liberty style lawn blouses or clothing at car boot sales or charity shops to try making something similar. Love how it looks tied around simple brown paper parcels with fresh berries.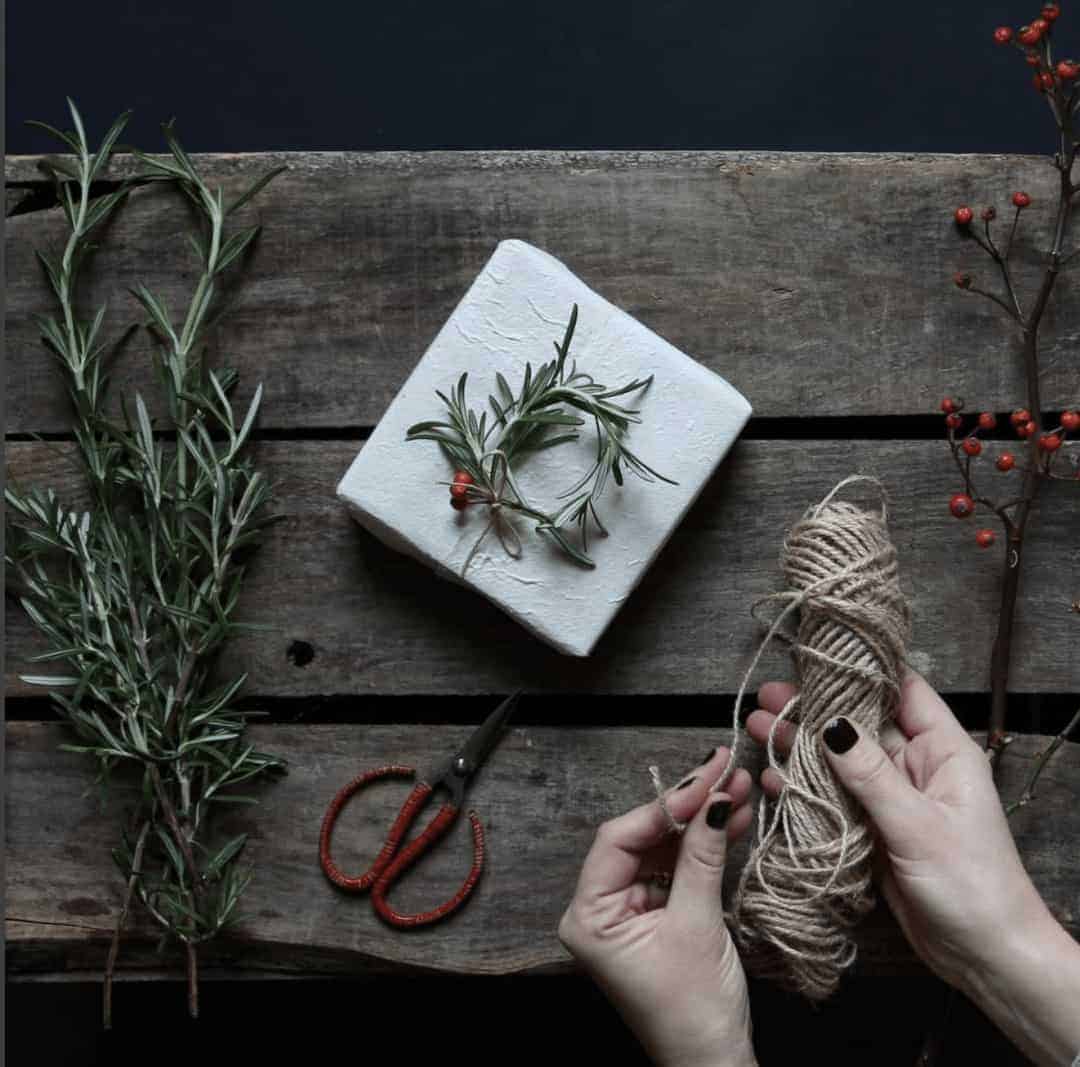 This is such a simple and ingenious idea for decorating simple natural paper parcels. Fresh rosemary is bent round to create mini 'wreaths' tied with string and embellished with seasonal fresh berries.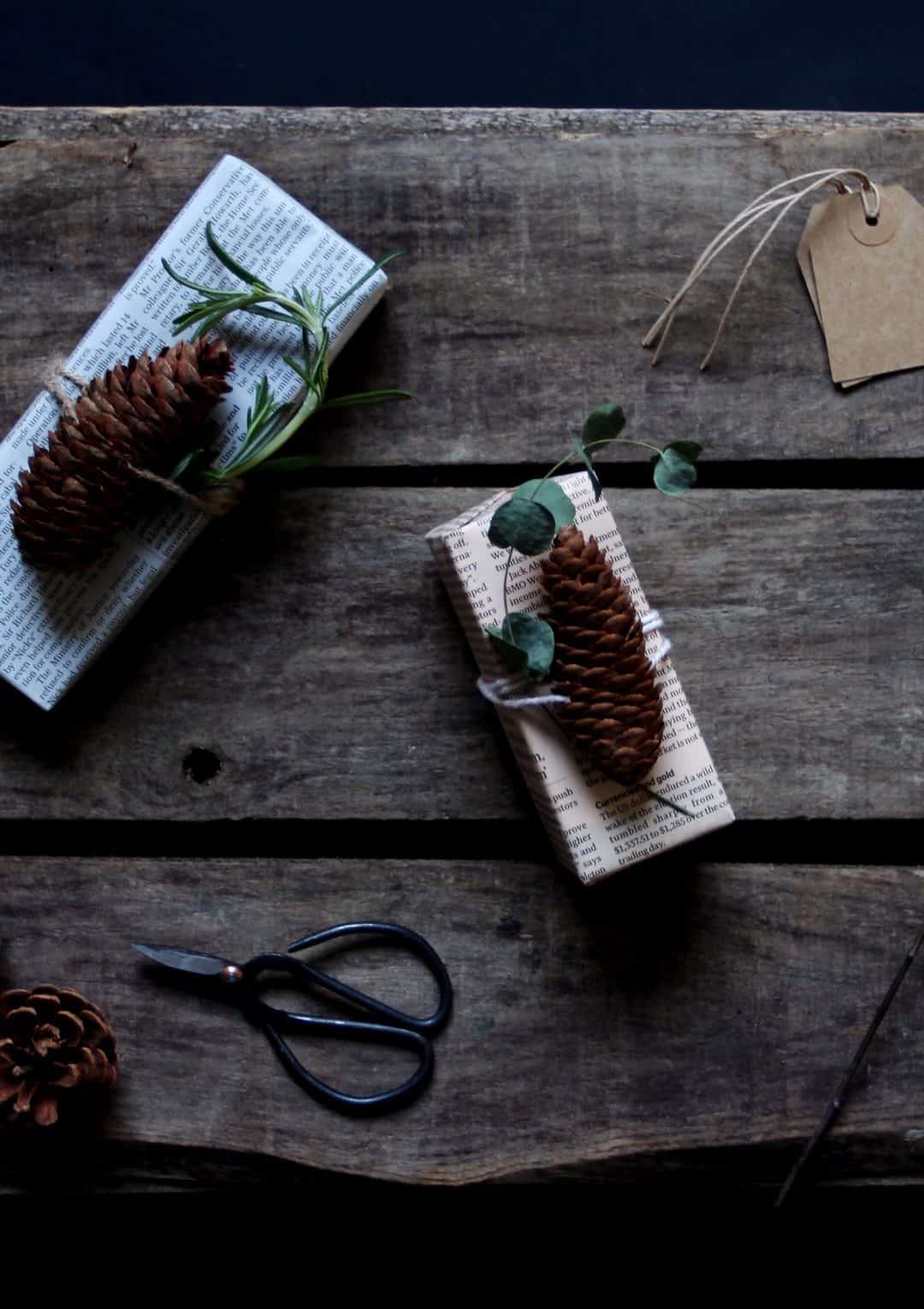 Love the idea of re-using newspapers as gift wrap – the type looks so beautiful contrasted with fresh foliage, simple brown string and pine cones.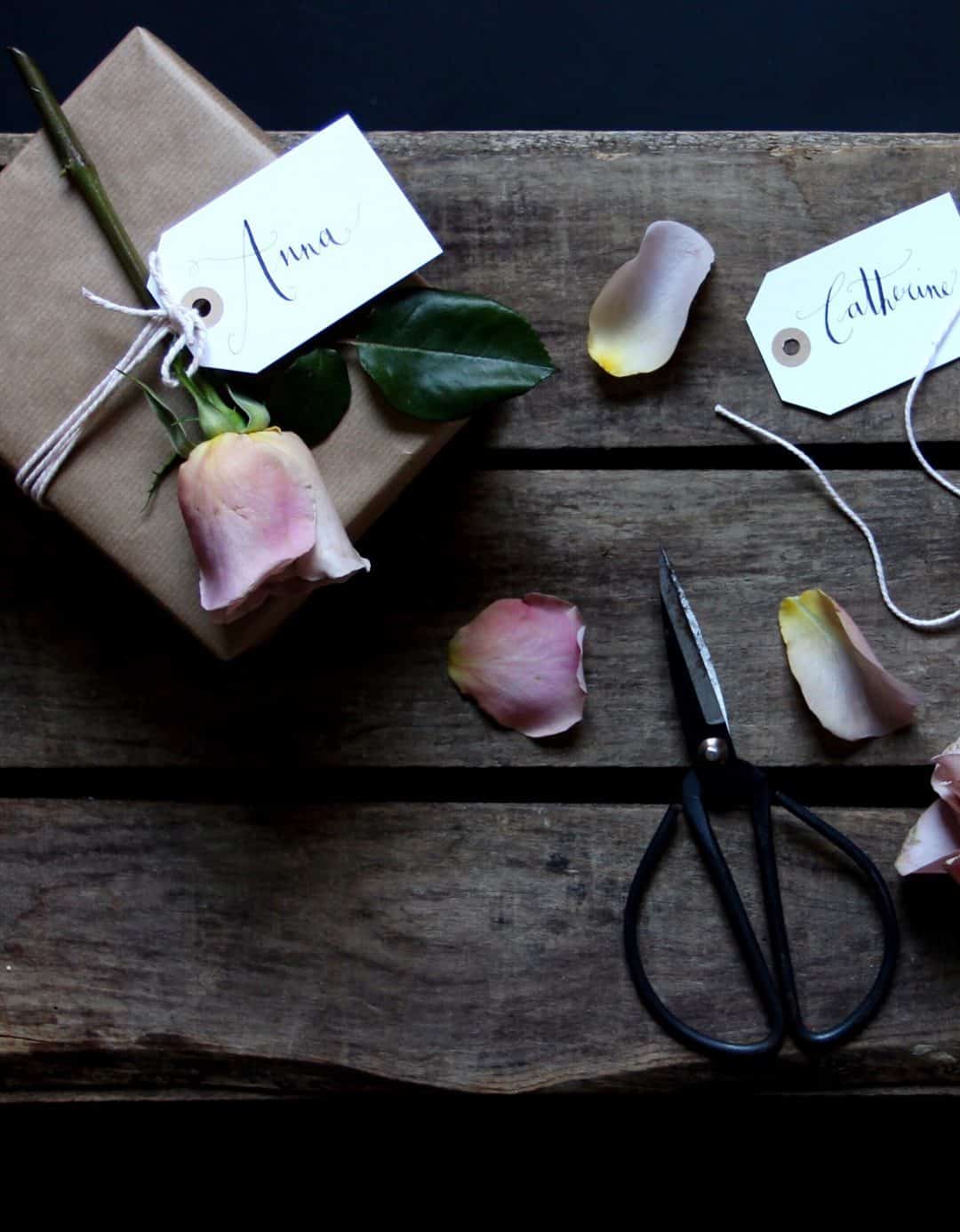 It's a lovely idea to add pretty fresh roses to brown paper packages tied up with string – with a gift tag made from a luggage label. If you fancy trying your hand at some calligraphy, check out my blog post about learning the basics
Sometimes only red berries and textured white paper will do. This is biodegradable handmade unbleached paper and it looks so beautiful with string tied around holding a sprig of fresh red berries.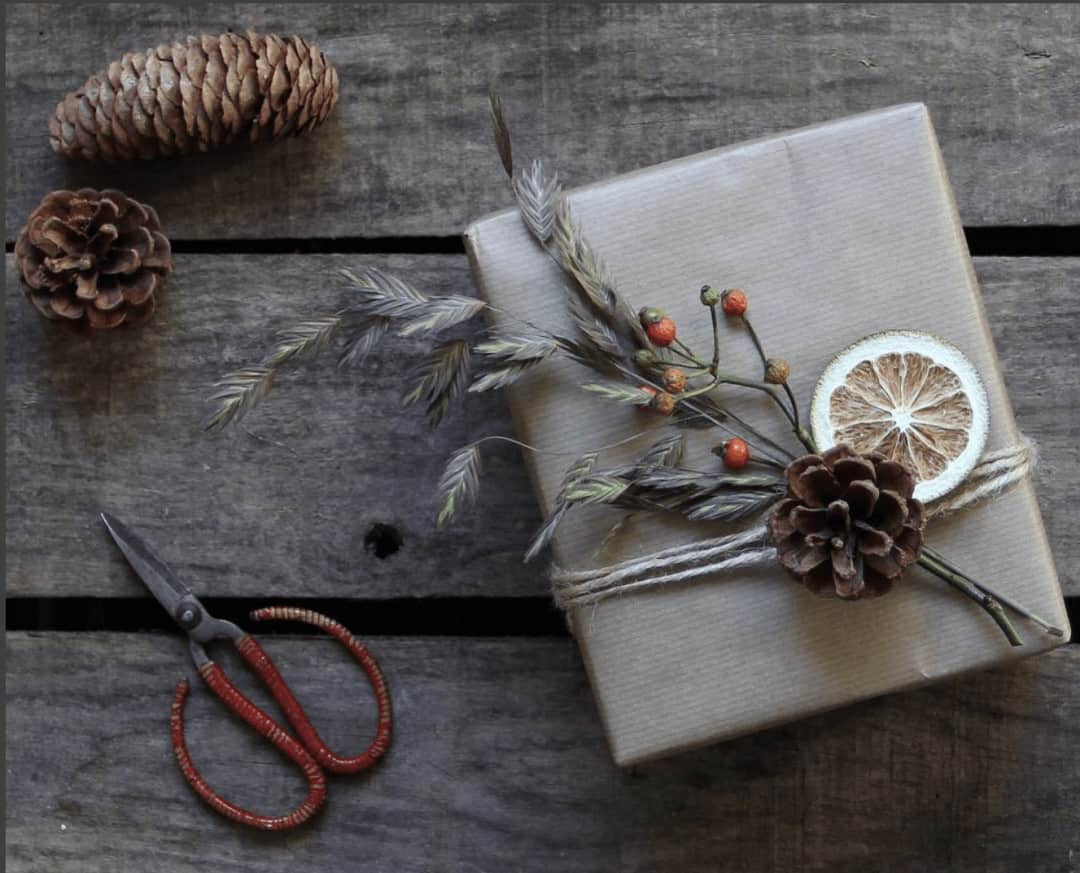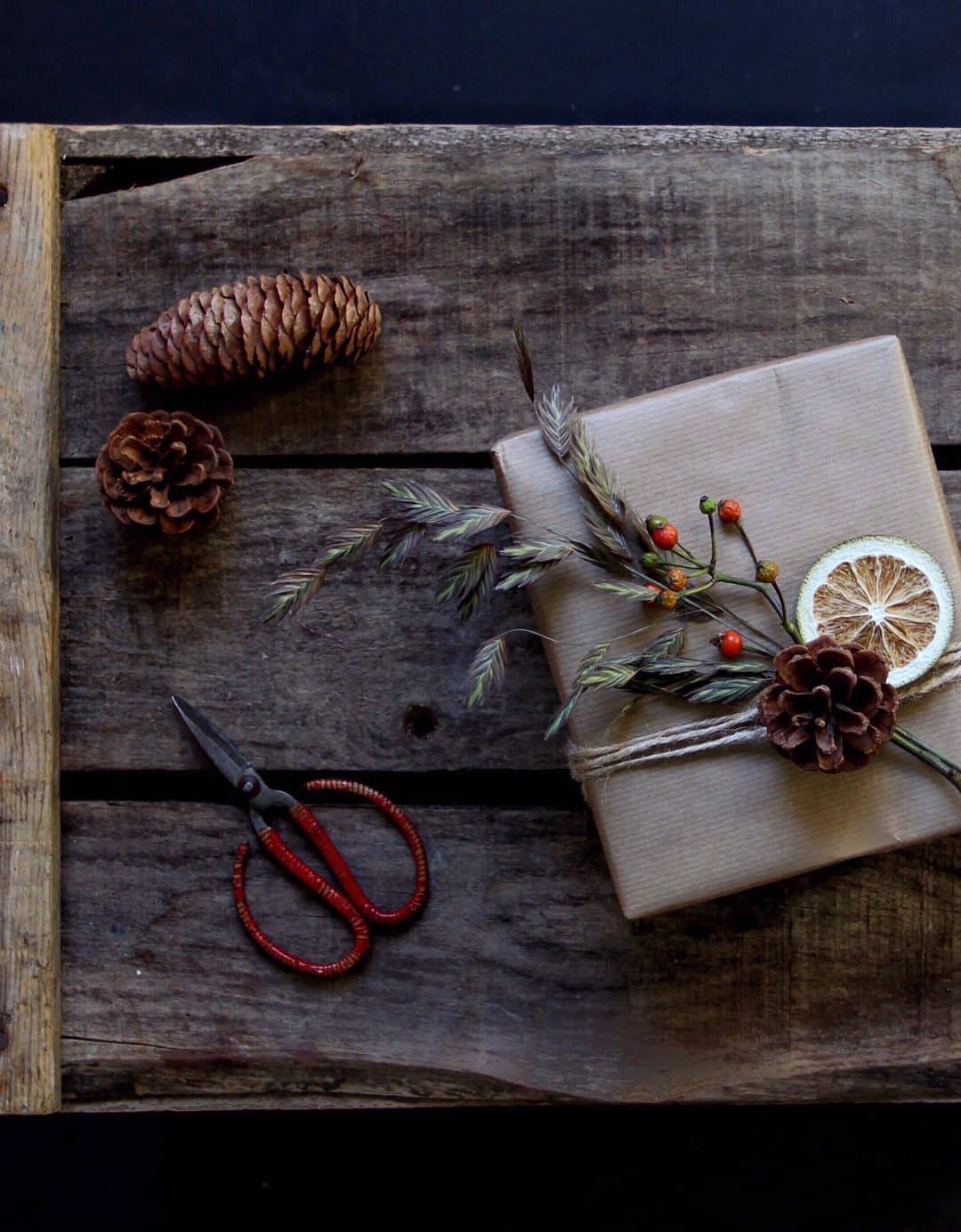 This idea combines kraft paper with natural string, slices of dried lime, pine cones and sprigs of red berries and fresh foliage.
Christmas gift wrapping ideas ethical and natural by Jane Means
Jane Means (listed in the FBWL directory here) is THE gift-wrap guru and always a great source of ideas and gift wrap essentials. I was lucky enough to attend one of her wonderful gift wrap workshops and learned how to use simple kraft paper and turn it into something special by using a pleat technique and adding fresh foliage. Get step by steps here.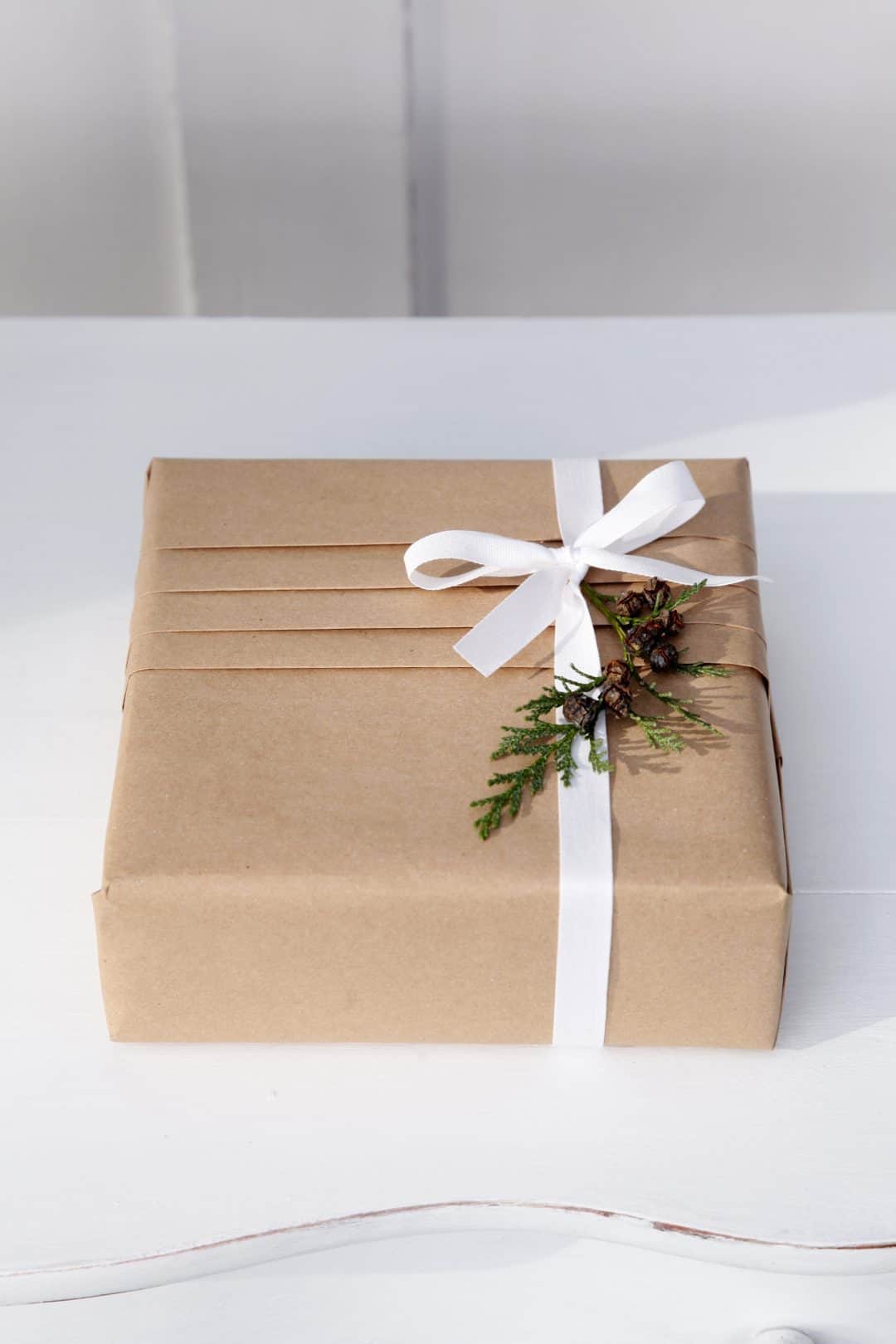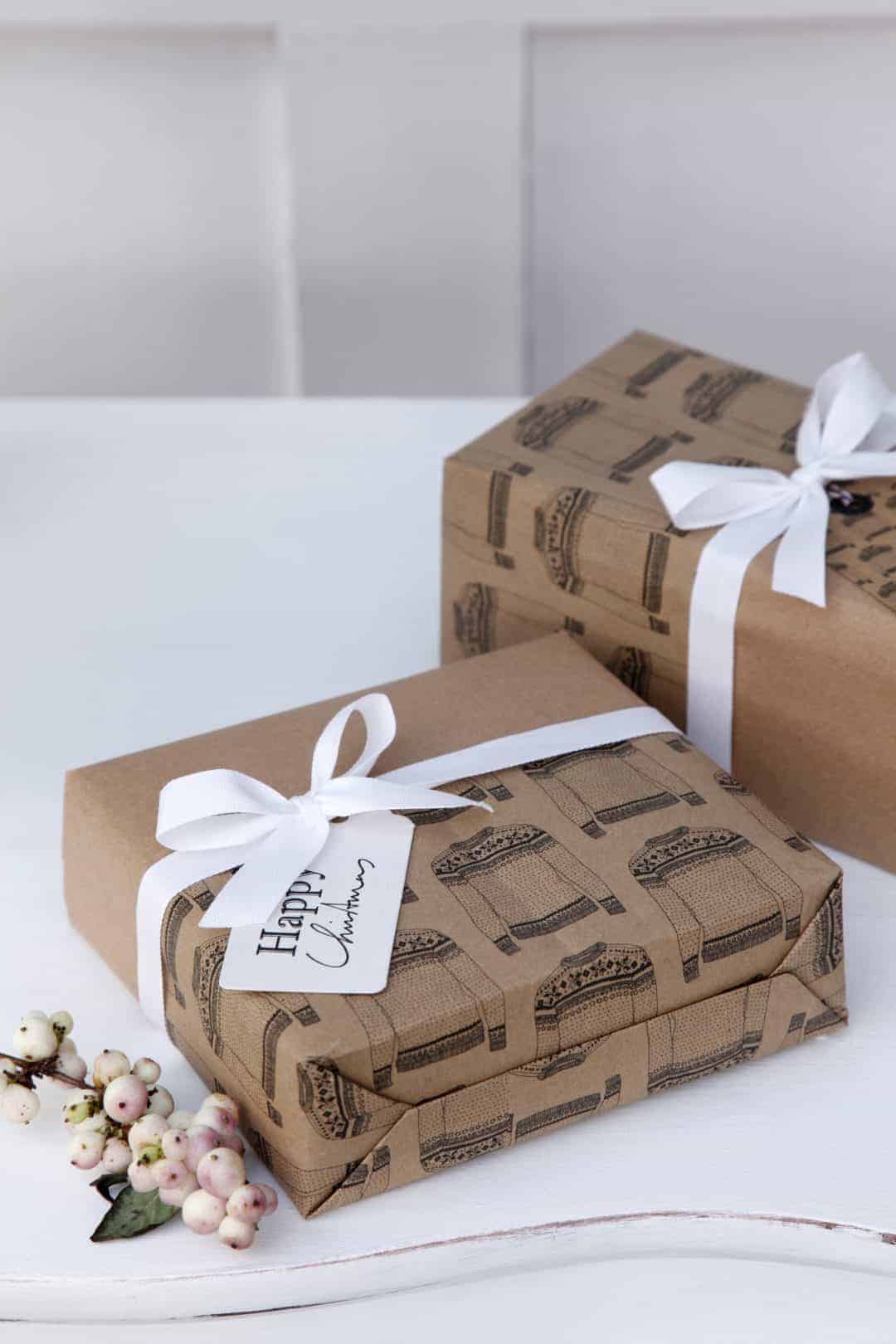 This is another great idea – to combine plain brown kraft paper with another printed recycled paper and white ribbon with classic luggage label. Find out more here.
Fantastic ethical online store Wearth London (listed in the FBWL directory here) sells a selection of reusable gift wrap – the ideal zero-waste alternative to wrapping paper. Made in Britain using cotton, the sheets can be used over and over again, passed around family and friends and can even be thrown in the washing machine if needed.
Katie Leamon (listed in the FBWL directory here) is a design studio in the heart of London and a family-run production studio in the English countryside, creating paper products that are responsibly made with care.
I love these two simple black and white papers from her Christmas collection – both recyclable but also good enough to save and re-use to create tags, cards, add to frames to add interest to gallery walls…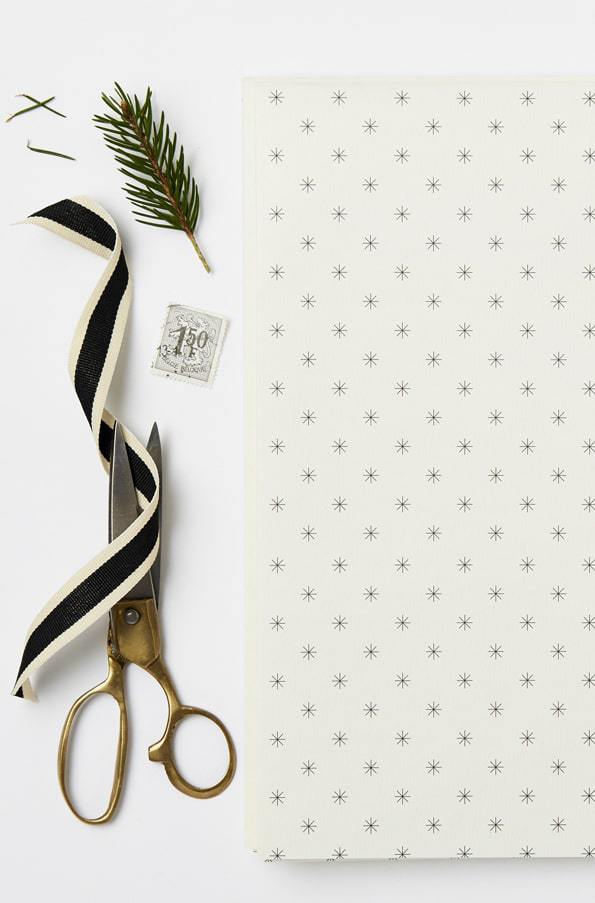 I hope you have found some Christmas gift wrapping ideas ethical and natural that you will try yourself this year X
INFORMATION
---
The Real Flower Company is listed in the From Britain with Love directory here >>
Jane Means is listed in the From Britain with Love directory here >>
Wearth is listed in the From Britain with Love directory here >>
Katie Leamon is listed in the From Britain with Love directory here >>
Are you a maker or creative course provider? Like to list with us and benefit from joining our supportive community? We'd love to hear from you. Check out the packages we offer on our Join Us page and get more details from our Information pack here
---
A PIN TO SAVE TO PINTEREST