How to make a dried flower wreath – 10 beautiful ideas to enjoy making.
Have you noticed how dried flowers have grown in popularity in recent months? There's something so lovely about being able to capture – and preserve – the beauty of a flower to enjoy for much longer. As a flower grower myself, I am determined to learn how to dry my favourite blooms. I have researched the subject and found some really inspiring ideas and people.
I've started with a simple step by step to making a foraged wreath – which is totally adaptable. I'll add to this as I find more, but to start with, here are 10 ideas I love. Hope you find something you love too!
Idea 1 foraged dried flower wreath
This beautiful idea is by Kirsten of Henthorn Farm Flowers who has kindly shared her step by steps:
Step 1
For giant wreaths, I often start with a large hula hoop covered in hessian to disguise it, then bind with wisteria vine to strengthen the structure and provide an open network of twigs that I could weave my foraged ingredients into. This one I made by twisting wisteria vine into shape and leaving to harden for a few days
Step 2
I added copper beech branches to add shape and then added a huge variety of dried garden and hedgerow finds.
You can use anything you like really but I like to use rose hips, conkers, horse chestnuts, oak leaves with acorns, larch cones, contorted willow, dried tansy, helichrysum, hydrangea, sangisorba and echinacea heads from the garden. I also love honesty peeled and natural, dry bracken, cardoon heads, eucalyptus, thlaspi, Daucus and Ammi seed heads along with some dried Amaranthus. To name just a few. The creative fun comes from heading out to forage for what you can find and creating with that.
Step 4
Finish with a wire hook to the back and a ribbon. I love the contrast with this luxurious petrol blue velvet ribbon.
Idea 2: dried flower wreath – silver honesty
'I used a base of wisteria vine, weaved into a wreath and then left to dry and harden. You can use any type of vine to make your own be that ivy, grape or clematis or even long lengths of willow but the key is to form it into shape while the wood is fresh and flexible.
'I wrap twine or wire around the frame to give me more anchor points and then I carefully thread my stems through the open structure. This creatures a loose, airy and delicate wreath where the plant material appears to float. The honesty needs to be carefully peeled on both sides to reveal the moon like disc and cut to size.
'I use other dried white flowers to lighten the look and add interest. Dried gypsophila works well as do the tiny flowers of Anaphlasis triplinervis which is a perennial plant I grow especially for drying. To finish weave through some dried white helichrysum and add a wire hook to the back.'
I love this idea by Bex Partridge of Botanical Tales – a great source of creative dried flower ideas. Bex offers a range of creative workshops as well as handmade dried flower wreaths in her online shop.
Bex is a floral artist and I love how she describes what she does: 'I work with dried flowers throughout their entire lifecycle life from seed, to plant to harvest and then drying and creating.
'My dried flower art is a way to keep connected to the natural world and to season's past. It's beauty at its most sustainable and a moment of preservation in a world so encouraging of consumption.'
For anyone interested in growing and drying their own dried flowers, Bex' book Everlastings is essential reading. There are loads of creative ideas and expert tips. It's available to order on Amazon here.
One lovely idea you'll find inside is this hanging dried flower decoration:
It uses a vintage riddle, strong thread and seasonal and/or dried flowers to create a show-stopping seasonal decoration. It's just one of the creative ideas you'll find inside her book Everlastings available to buy on Amazon
The Botanical Tales directory listing has all the info you need to find out more and to connect with Bex. Her online shop sells a range of beautiful ready-made dried flower wreaths and more. Some examples of the loveliness on sale right now:
Idea 4 Group dried flower wreaths on a wall
I love this idea of grouping dried flower wreaths of different sizes. They are available to buy from the Botanical Tales online shop here and are hung up using tape.
Idea 5: mini dried flower wreath as place settings
Another idea from the Botanical Tales shop – mini wreaths are available to buy here. Such a beautiful idea for making place settings and creating a colour scheme.
Idea 6: mini dried flower wreath as gift wrap decoration
This mini dried flower wreath (available to buy here) looks so wonderful as gift wrap decoration. It's tied on using simple string, so it's also an eco-friendly option. Love!
Idea 7: Make an Autumn wall hanging
I love this idea extracted from Everlastings by Bex Partridge (Hardie Grant, £14.99) Photography © Laura Edwards:
Hanging boughs are really simple to make and are a wonderful alternative to wreaths.
You can make them as free-flowing as you like, or go for a more structured look, but the method remains the same.
Boughs can also be made using fresh material and allowed to dry in situ, as Bex has done here:
What you'll need
A big, beautiful branch – the more imperfect the better as it gives the material you hang from it a supporting grip – or, alternatively, a few branches with leaves or seed heads on them, such as beech or birch, which can be wired together to make the base. Mine is copper beech
Florist wire
A selection of pressed or fresh leaves, seed heads and flowers of your choice, all should be at least the length of your branch. I used asparagus fern, autumnal-toned everlastings, dried feverfew and some strands of amaranth
A length of naturally dyed cloth
Step by Steps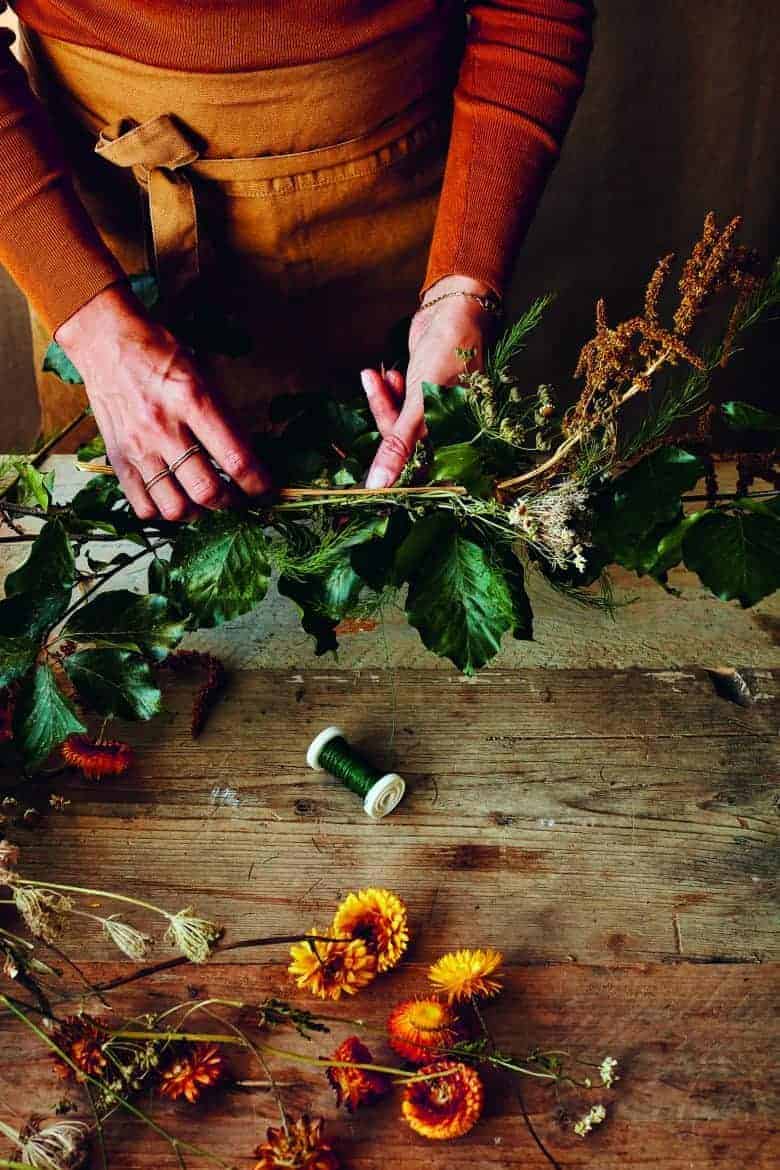 Start by positioning your main branch, or the few branches you have gathered into a solid base. Consider which side to make the top, and whether you needto trim any side-shoots. If you're using a few branches, tie them together securely with florist wire.
Start to layer up your bough, adding more of your selected materials in as uniform or haphazard a way as you like.
Once you're happy with the main structure of your bough, wrap the wire round a number of times. This wire will be where you feed in the stems of the other materials, so make sure you have enough loops of wire to accommodate them all. Secure the ends of the wire.
Now add in your remaining flowers and seed heads, slotting them along the base of the bough and between the wire loops. Fill any gaps, paying attention to the weight of the bough – if it's too heavy on one side, the bough will pull down that way when hanging. This isn't necessarily a problem, but it will have an impact on the final display.
Finally, tie each end of your length of naturally dyed cloth around the bough so you have a loop, and hang it in position.
You can also use these as mantlepiece decorations or centrepieces above tables.
Idea 8: add fresh flowers to a dried wreath ring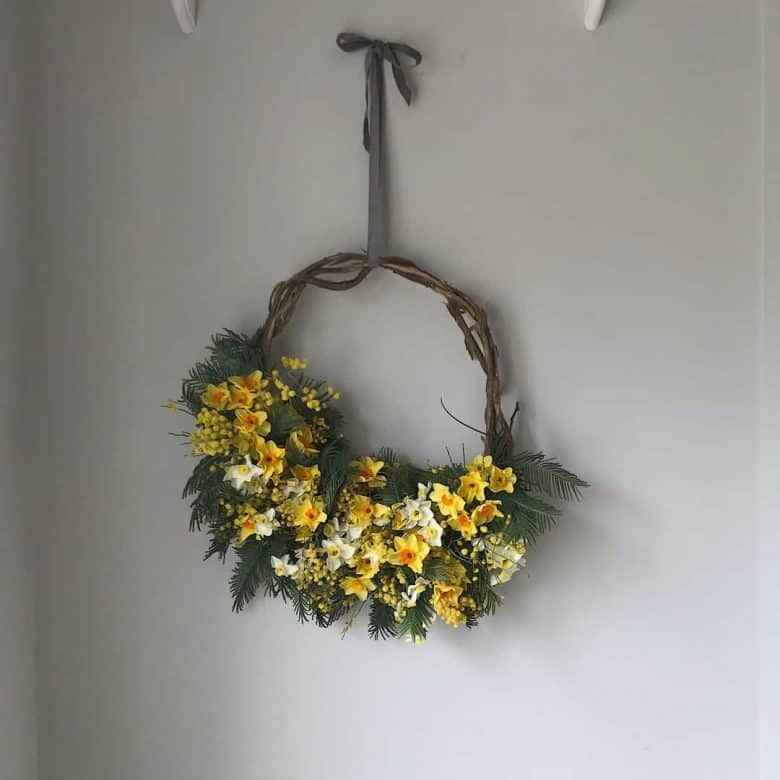 This beautiful idea is from a tutorial Bex shared with us separately over on the blog. Read the full post: How to make a spring flower wreath – step by step tutorial
I love the way seasonal flowers are added to a wild, informal woody base. Not as everlasting as dried flowers, but easily refreshed with different flowers as the seasons change.
Bex Partridge offers an online seasonal wreath tutorial available to buy on Illuminated Shadows, £20. The tutorial includes tips on foraging, making your own wreath base and drying flowers. Bex will also take you through all the steps of creating your own foraged seasonal wreath.
You can watch the trailer here to help you decide:
Idea 9: mix dried and fresh together
I love the combination of glossy green foliage, foraged dried ingredients and pops of pretty colour from dried straw flowers The exquisite naturally dyed ribbon from The Natural Dye Works is the perfect finishing touch. Love!
It's made by Leigh Chappell Flowers.
You can buy wired dried straw flowers from Etsy here.
Idea 10: buy a dried flower wreath kit
This pretty dried flower wreath kit is for sale on Etsy by Florence and Flowers and costs just £21. It includes everything you need to make the wreath including instructions, dried flower, grasses, seed pods and moss. You just need to add your own foliage.
Idea 11: dried flower embroidery hoop wreath
For a totally different take on dried flower 'wreaths', Olga Prinku is a great source of inspiration. Using wooden embroidery hoops, tulle and dried flowers, she creates the most beautiful art. I have picked up some lovely old wooden hoops from local charity shops and am planning to have a go myself.
If you fancy doing the same, Olga has shared her simple step by steps over on the blog here: How to make embroidery hoop art with dried flowers
There's an introductory video to Olga's work as well as links to her full tutorial (available to buy on Illuminated Shadow) here: Dried Flower Embroidery Tutorial
INFORMATION
---
This article contains affiliate links, which means we may earn a small commission if a reader clicks through and makes a purchase. All our blog posts are independent and in no way influenced by any advertiser or commercial initiative. By clicking on an affiliate link, you accept that third-party cookies will be set.
Henthorn Farm Flowers are sustainable organic flower growers located in Clitheroe, Lancashire. They provide flowers for weddings, events and seasonal farm gate sales. Kirsten also offers a range of inspiring workshops
Botanical Tales is listed in the From Britain with Love directory
Bex Partridge's Everlastings book is available to buy on Amazon here
Bex Partridge's dried flower tutorial is available to buy on Illuminated Shadows
Olga Prinku is listed in the From Britain with Love directory. Her botanical embroidery video tutorial is available to buy on Illuminated Shadows
---
Are you a maker or creative course provider? Like to list with us and benefit from joining our supportive community? We'd love to hear from you. Check out the packages we offer on our Join Us page
---
A PIN TO SAVE TO PINTEREST
If you've enjoyed discovering these dried flower wreath ideas, it would be great if you could share the love. All you have to do is hover over the image below until you see the Pinterest button appear. Then share it to your boards. Thank you! X