How to make a spring wreath step by step tutorial with Bex Partidge of inspirational Botanical Tales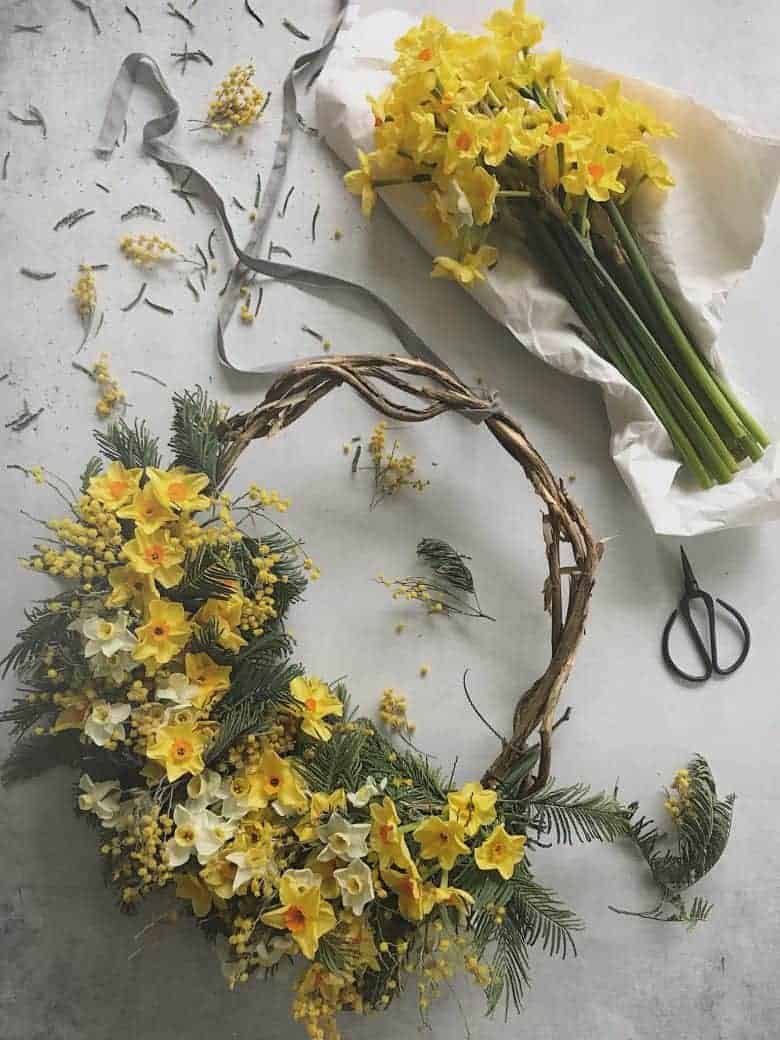 I loved the spring wreath that Bex made last year so I asked if she might like to share her ideas for making one this Spring or Easter. She very kindly agreed to share her step by steps and also added alternatives to her original design if you'd like to make one that will last longer. 
Hope you enjoy this simple, beautiful creative project to celebrate the new season and at Easter X
Bex's spring flower wreath tutorial
I have revisited the spring wreath I created last year by swapping out daffodils for crespedia to give an alternative that will last longer. Working with daffodils and narcissi as suggested last year is tricky. They tend to wilt very quickly and, whilst I like their appearance when they fade and dry, I can understand why many don't. So the technique remains the same and of course you can change it up to suit your own taste.
You will need to gather
•    A natural wreath base – quite large as this is a statement wreath. Mine is hop vine.
•    Bushy foliage with flowers such as mimosa – flowering at the moment so if you can find a tree or have a friend with one, go begging
•    A bunch of Eucalyptus, fresh. It'll dry beautifully
•    Blooms that compliment the greens and yellows of your foliage – here I have used crespedia and some preserved pine cones I had in my store cupboard
•    Florist wire – copper looks beautiful
•    Scissors and snips
•    A ribbon to hang your wreath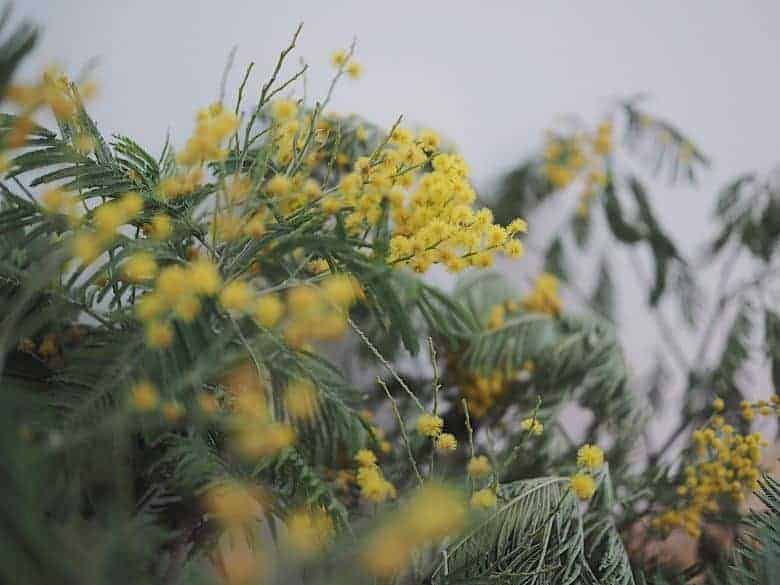 How to make your spring wreath step by step
1 Begin by gathering your foliage and preparing by cutting them down in to smaller branches. I tend to leave the flower stems long and cut them as I go but for the foliage it's quicker to have them pre-prepared.
2 Wrap the end of the wire around the wreath base and tighten together so that it is securely in place, keep the wire attached at all times as you will be winding it round and round.
3 Next take a couple of stems of flowers and lay over the top of a sprig of foliage, when you're happy with the way it sits, lay over the top of where the wire is positioned and winding the wire round secure the bunch in place
4 Wrap the wire a couple of times to keep it secure.
5 Next layer up with a few more flowers and sprigs of foliage, making sure you give everything enough room to breathe and show off. Wrap more wire around to keep everything securely in place.
6 Keep going, gradually building and moving around the wreath base as you go, ensuring everything is held in place with the wire.
7  Once you have built your wreath up enough (I always prefer an asymmetrical style but it is entirely up to you how far you go around) find a natural place to stop. Trim any loose ends and stems.
8 I simply wrapped the copper wire around the ends a few times and left it open. The copper looks beautiful and I preferred a minimalistic look for this wreath. If you prefer you could cover up the wire with raffia or ribbon
9 Hang with a beautiful ribbon in your place of choice
10 Enjoy seeing the beautiful wreath you made every time you walk by!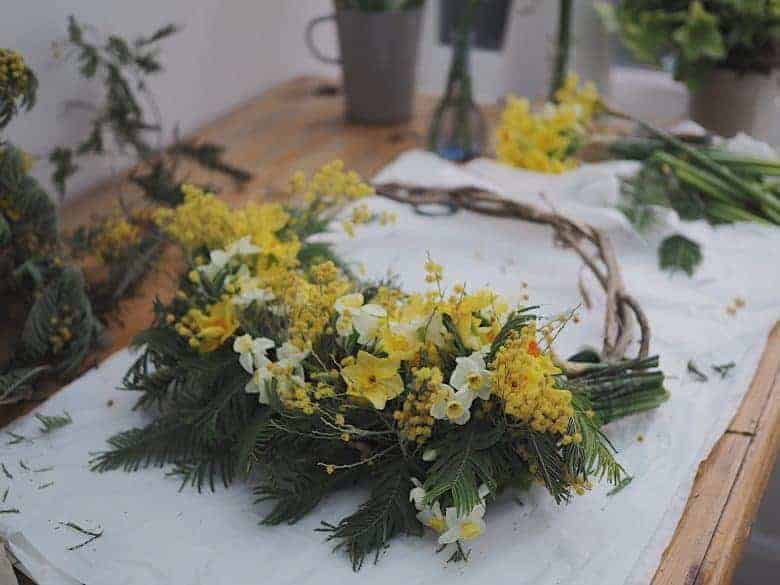 Step by step spring wreath video tutorial
I have also put together a super simple video of how I made mine which might be of interest of you as seeing things is sometimes so much easier!
Other ideas you might enjoy
How pretty is this mimosa wreath idea by Charline of Line of the Valley? It is super easy, made using a simple wooden hoop (or you could use an embroidery hoop). For the full tutorial, click here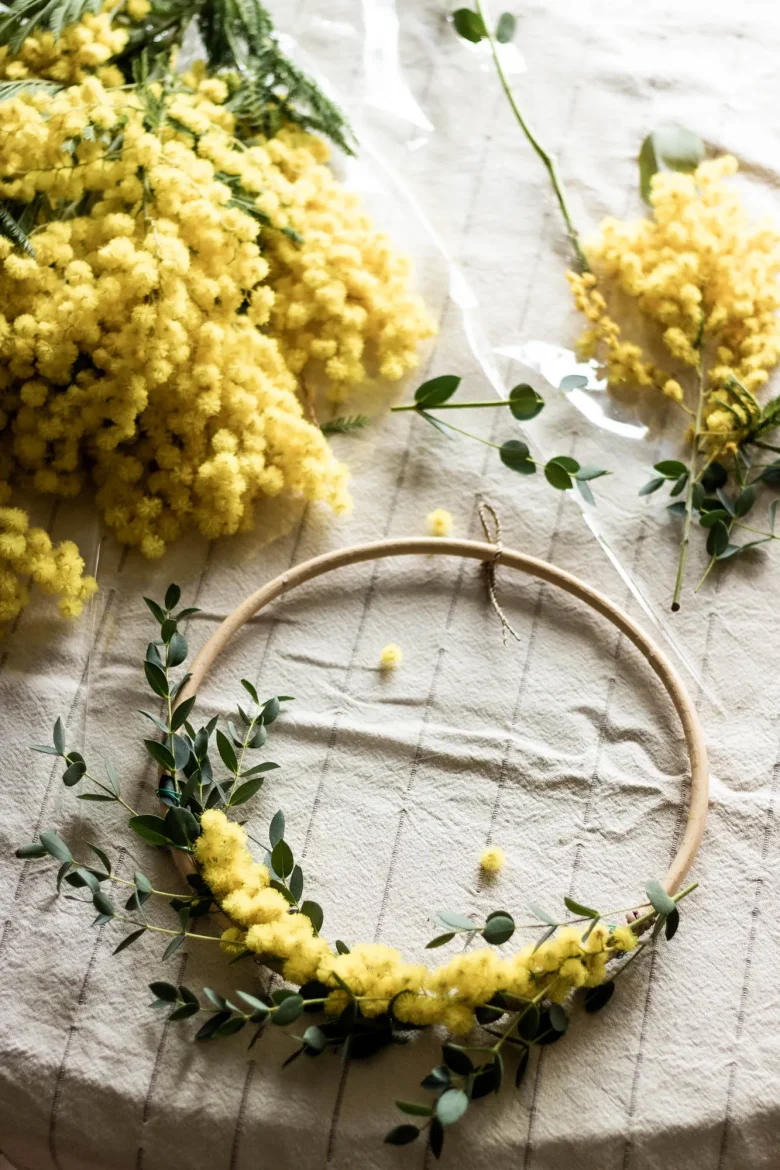 Are you a maker or creative course provider? Like to list with us and benefit from joining our supportive community? We'd love to hear from you. Check out the packages we offer on our Join Us page and get more details from our Information pack here
---
A PIN TO SAVE TO PINTEREST