Fair Isle knitting patterns – best 5 free downloads and my favourites to buy
I have a bit of a thing for fair isle knitting patterns in general and fair isle cardigans in particular. Not the boxy, big-shouldered numbers I can remember layering over Lady Diana-style high collared blouses back in the 80s. Nowadays it's all about natural, north country knits that conjure the feeling of being at one with wild, windswept landscapes. To be slightly less poetic about it, there's nothing more practical on chilly days than being able to pop on a warm cardi, is there?
I have decided to have a go at making one myself, so I've done the research. I do love a project like this – searching for and collecting the most beautiful fair isle knitting patterns around. So, of course, I'm sharing my findings with you.
Some of the fair isle knitting patterns I've found are free and some of them aren't. But all of them are beautiful in their own way and would make the perfect crafty project for this time of year.
I've started with my favourite patterns to buy – all totally gorgeous finds, in my humble opinion. If you scroll down the page you'll also discover my 5 best free Fair Isle knitting patterns – all also utterly beautiful, and totally free to download. Whichever pattern(s) you pick, I hope you find something you love.
Fair Isle knitting patterns to buy
Tin Can Knits
A creative partnership between Alexa Luderman and Emily Wessel, Tin Can Knits offers free learning materials as well as beautiful knitting patterns for the whole family. It's all about finding the fun factor for Alexa and Emily. Quite simply, if they didn't love knitting a new pattern design, they just won't publish it. Their patterns are seamless, simple and created with your joy in mind.
The Strange Brew collection is described by Alexa and Emily as 'an adventure in colourwork' and includes 12 cosy designs for the whole family.
How beautiful is this Strange Brew Recipe sweater pattern?
There's a fab tutorial here which talks you through exactly how to turn the sweater into a cardigan.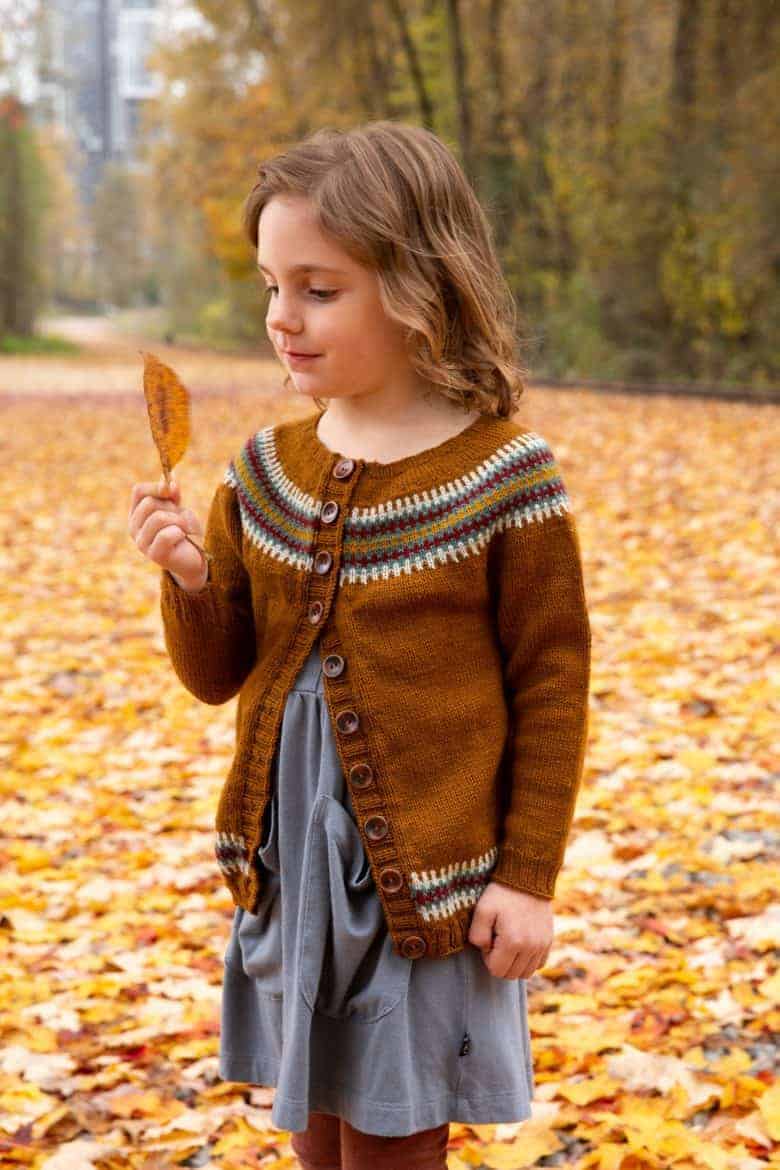 One of the joys of knitting is choosing colour combinations isn't it? I love this rainbow mixture of hand-dyed yarn from Ginger Twist Studio. The pattern is the Strange Brew recipe pattern again.
Final image from Tin Can Knits is another variation on the Strange Brew sweater pattern. If you're thinking of making a Christmas Jumper for someone you love this year, surely this is perfect?
Jennifer Steingass
Jennifer Steingass lives in rural Maine with her family and has created an absolutely beautiful collection of knitting patterns, Buy 2 of her patterns in her Ravelry shop and get the third one free.
I just love this Icelandic-style Fern and Feather pullover pattern, which Jennifer says is a great first time stranded yoke sweater project. It's worked seamlessly from the top down, starting with a simple rolled neckline. Just lovely. Again, not a cardigan, but definitely worth a mention here.
The image below is by Lisa-Mai (see her other Ravelry projects here)
Kate Davies
As I'm supposed to be writing about fair isle cardigans, I'll move on to a real find – Kate Davies. Kate's story is rather an inspirational one, to say the least. A stroke at the age of 36 put an end to her career as a literary academic.
While recovering, she supported herself by designing digital patterns for hand knitting, establishing an independent publishing company and starting to produce books that combined her skills as author and designer. She has produced 15 books to date, including Yokes (click here to buy now),
Colours of Shetland (click to buy now)
This is Epistrophy (inspired by the Thelonius Monk track of the same name). The tune is characterised by its repetition and modification of a single, imitative phrase. Like the tune, as this yoke progresses, the diced pattern imitates, repeats and modifies a single motif. This is worked in the round and then steeked.
Hilary Grant
If you love fair isle patterns and nordic knitting in general, you need to know about Knitting from the North knitting pattern book by Hilary Grant. It's her first hand knit project book and includes 30 patterns for contemporary hats, scarves, mitts and jumpers.
My picks would probably have to be this Icelandic jumper and fair isle scarf patterns.
Marie Wallin
When it comes to fair isle and shetland patterns, you simply can't beat Marie Wallin. Her pattern book Shetland is full of inspiration. It's a collection of modern fair isle using Jamieson's of Shetland Spindrift wool.
Also lovely is her Bloomsbury collection (click to buy now)
This short film gives you a flavour of the patterns and the landscape that inspired them.
SHETLAND – a short film from Marie Wallin on Vimeo.
Laine magazine
Also very lovely is this Marit pattern from Laine magazine, issue 7. A high quality Nordic knit and lifestyle magazine for knitters, Laine is passionate about natural fibres, slow living, local craftsmanship and the simple things in life.
Other knitting pattern books with nordic, fair isle sensibilities that I love:
Norwegian Knitting
Norwegian Knitting Designs (click to buy now)
Jared Flood
And how adorable is this Atlas pattern by Jared Flood?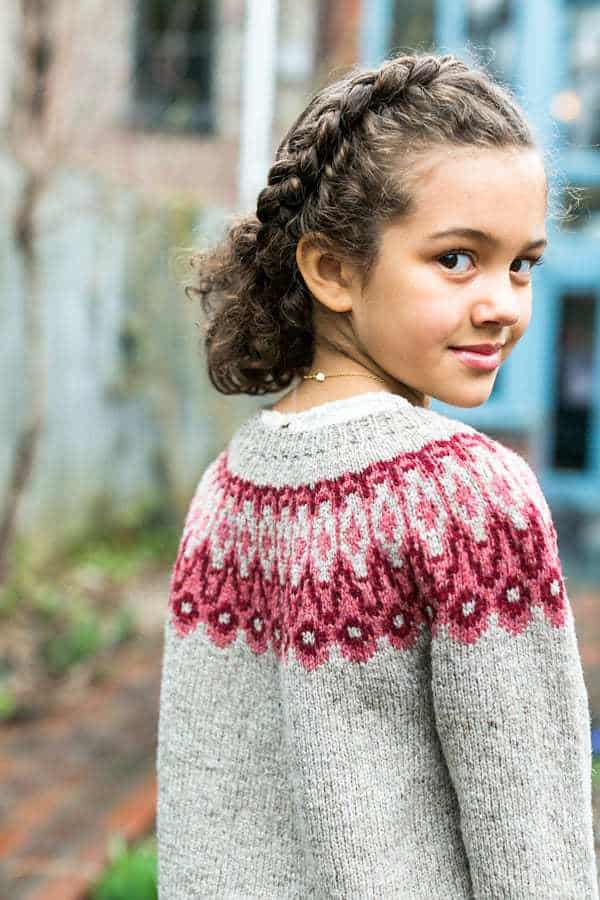 North Child
Another cute child's nordic/icelandic sweater pattern: Heima PDF download by North Child
Also by North Child Trading (on Etsy):
FJALL patterned yoke Child's Icelandic sweater – available to buy as a download pattern only or as a complete kit which includes Lopi yarn and project bag. Click the links below to buy from Etsy.
To buy the pattern download only, click here
To buy the kit (including pattern, yarn and project bag) click here
Nicki Trench
And if you like pretty pastel and candy colours, you'll love Fair Isle and Nordic Knits by Nicki Trench (click to buy now)
The book includes 25 projects inspired by traditional colourwork designs, including these favourites:
Fair Isle knitting patterns – 5 free downloads
Free pattern number 1
Based in Oslo, DROPS Design is a great resource for knitters. As well as offering a wide range of free patterns, there are tutorial videos, lots of tips and ideas.
I have picked out these beauties from their free patterns, but there are many more to browse for inspiration. Click the image or text links to get your free pattern. What's particularly brilliant is that there are specific tutorial videos to help you at the end of each pattern.
First one I picked out is this After Midnight jacket. It's worked from the top down with round yoke and nordic pattern on the yoke. I adore the slightly ballooned sleeves too. This might be the one…
Free pattern number 2
I do realise this Night Shades jumper isn't actually a cardigan. But I like it so much I decided I wanted to share it with you anyway. It's knitted bottom up with a lovely nordic pattern.
Free pattern number 3
This Mandal Jacket knitted with round yoke and simple Nordic pattern in extra fine merino wool is pretty.
Free pattern number 4
And if you fancy a cardigan with pattern going further down below the yoke, this Spring Fjords pattern worth considering. It would look pretty in a soft blue with the pattern worked in white don't you think? Or grey with the pattern in bright orange or rainbow colours? Choosing your colours is half the joy of knitting a fair isle knitting pattern isn't it?
Free pattern number 5
I was so excited when I found this Ellen Cardigan free pattern by Amy Christoffers. I love the pattern and also how she has used deep forest green here contrasted with pretty pinks, blues and pastels.
INFORMATION
---
Find more knitting and other craft ideas in the MAKE section of our blog
Getting A LOT of love on our Pinterest right now…
Are you a maker, grower or creative course provider? Like to list with us and benefit from joining our supportive community? We'd love to hear from you. Check out the packages we offer on our Join Us page and get in touch…
---
A PIN TO SAVE TO PINTEREST
If you've enjoyed discovering these Fair Isle knitting patterns it would be great if you could share the love. All you have to do is hover over the image below until you see the Pinterest button appear. Then share it to your boards. Thank you! X