Floret Farm's A Year in Flowers book review
First off, I do realise that Erin Benzakein is not a UK grower. She and her team run Floret Flower Farm across the Atlantic in beautiful Skagit Valley, Washington state.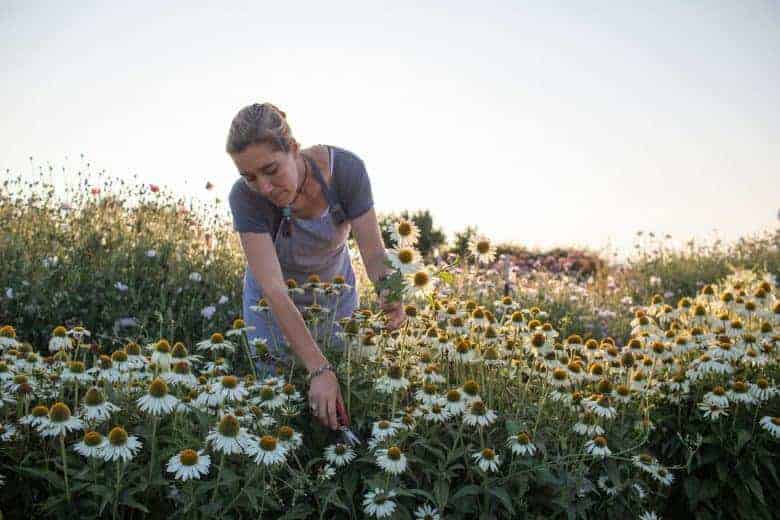 And I also acknowledge (because I set the rule myself) that, strictly speaking, FBWL is confined to promoting makers, growers and creatives from within the shores of the British Isles. But sometimes it's good to break the rules. Especially when you have good reason.
I have two good reasons. One is that I have gained so much inspiration for my own tiny flower cutting garden from Erin and the Floret resources – and I really wanted to share them with you.
Secondly, the future well-being of our ailing planet is something we collectively share responsibility for, regardless of nationality. Organic gardening and the slow & seasonal flower movement do so much to help the environment and is something we can all do, whether we have a cherished pot or two on a windowsill or sweeping acres of farmland like Erin. It's important we come together as eco-minded growers to share ideas, inspire and help each other. Whether you're a flower lover living in Hemel Hempstead or Havana, Floret offers a wealth of inspiration and practical resources to help you grow the garden of your dreams.
There are seeds to buy, video tutorials to watch, online workshops to take part in, social media communities to engage with… And now a brand new book.
I already love Erin's first book Cut Flower Garden (which is full of great growing advice), so I was very excited to be asked to feature her upcoming new book A Year in Flowers. It arrived wrapped in brown paper, signed by Erin, along with a hand-written pretty postcard. I made myself a cup of tea and settled down to enjoy a quick flick through. Quite some time later I realised I was still engrossed.
This book is exactly what it says on the cover: A year in flowers at Floret Farm. But it's also so much more than that. This is unlike anything else out there.
A Year in Flowers is not just another flower arranging book or flower journal. It combines information and inspiration in equal measure.
The photography (by Erin's husband Chris) is beautiful and really captures a sense of joy.
The arrangement ideas have Erin's stamp on them: abundant, natural and utterly beautiful. All made using seasonal local flowers and itemised down to the very last stalk. I love that! Makes me feel I could definitely create even the most impressive of the creations.
Erin takes you through each season, lovingly listing all of her favourite flowers and foliage from each. I love the way colour and feeling are the starting points for each new chapter. As the year progresses, what's growing and available in nature inspires the ideas. This is so much more exciting than arranging with ubiquitous and unseasonal blooms flown unacceptable distances. Being inspired to create with flowers and nature surely can't be at the expense of that very natural world itself can it?
That night I took the book up to bed with me and I enjoyed more time immersed in the Floret world. Making plant lists for my own small cutting garden. (Click the link to read more about my own amateur but passion-fuelled flower growing journey here: How to Start a Cutting Garden)
Spending time reading Erin's book leaves me feeling inspired and happy. Excited about the months to come. Growing flowers for picking and for pleasure. Creating beautiful arrangements with what I've grown myself. The benefits are huge – for your home, the eco system and for your own wellbeing too.
I have felt emotionally involved in the Floret community for some time now, so I was thrilled to hear that this book made the New York Times bestseller list in its first week. A well-deserved reward for all the hard work and love that Erin and her team have so evidently lavished on this project. But also hugely encouraging for those of us who feel passionately about seasonal, sustainable growing. Local flowers do matter. And the slow flower community is growing and gaining ground all the time. I feel certain that this book is set to become a classic. The UK and Washington State climates are not that different, which means that many of the plant suggestions will happily grow here too.
A Year in Flowers is full of easy-to-follow advice on flower care, material selection and design techniques. There are 25 seasonal arrangements to try your hand at – including table centres, gift posies, bridal bouquets and Christmas wreaths. The A-Z ingredient guide is as invaluable as it is beautiful. To my mind, this book would be the perfect place to for immerse yourself on a wet afternoon in the potting shed. Hatching plans. Dreaming. Feeling inspired. At the height of summer, when you're picking flowers every day, the design ideas and conditioning advice will really come into their own.
To give you an idea of the sort of content you can enjoy and take ideas from for your own flower growing, here's a sneak peek inside the book. Erin also shares one or two of her inspirations behind the project.
What are you hoping to accomplish with A Year in Flowers?
Erin: A Year in Flowers is so much more than words on a page and beautiful arrangements. It's more than a design book. It's part of something much, much bigger. What started as a spark by a few passionate flower farmers and innovative designers has ignited a global seasonal flower movement. This book builds on the momentum created by those forward-thinking pioneers and the thousands of flower lovers around the globe who are now growing, arranging, and sharing seasonal blooms.
A Year in Flowers is not just an invitation to incorporate local blooms into life's biggest milestones and everyday events. It's also a salute to the many dedicated farmers who work tirelessly to grow beautiful flowers for their local communities. My goal for this book is to promote the seasonal flower movement far and wide and to make a powerful statement that local flowers, and the people who grow them, matter.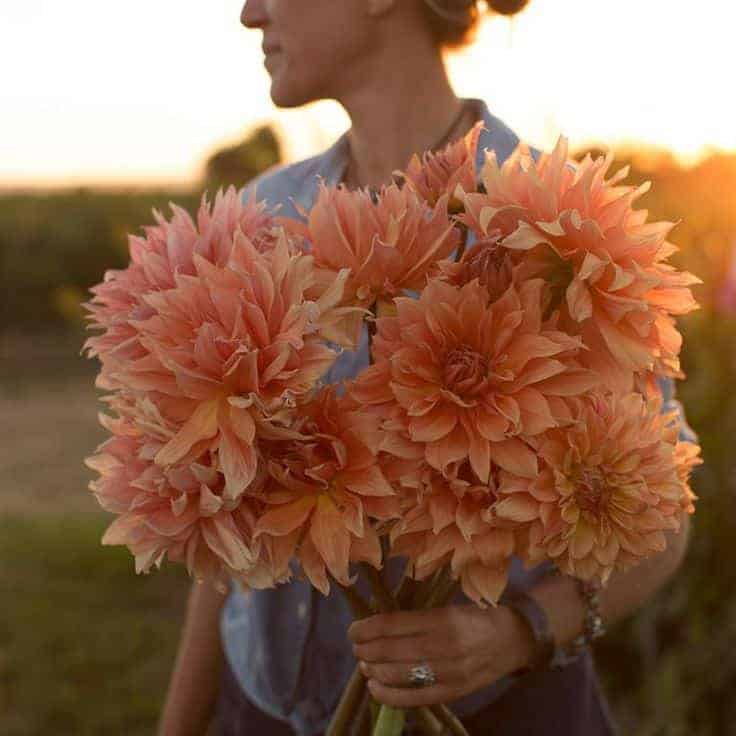 Favourite plants to grow?
Erin: Three of my favourite foliage plants are tatarian honeysuckle, scented geranium, and raspberry greens.
Narrowing down my favourite flowers list is almost impossible, but if I had to pick just three they would be sweet peas , Iceland poppies, and dahlias.
(Click image above to get Erin's guide to growing great dahlias and the image below for her guide to growing sweet peas)
Can you tell us a little more about Floret?
Erin: Located in Washington's beautiful Skagit Valley, our fields are bursting with flowers that reflect the season.
We care deeply about the environment and are committed to conducting our business in harmony with nature. On our farm, we use only organic growing practices and integrate sustainability into every decision we make.
From fragrant sweet peas in the spring to magnificent dinner plate dahlias in the fall and countless varieties in between, we harvest only the best of what is blooming each day. Research and education are at the heart of our operation, and we conduct extensive trials to find the very best cut flower varieties, coveted for their scent, stem length, and ephemeral qualities.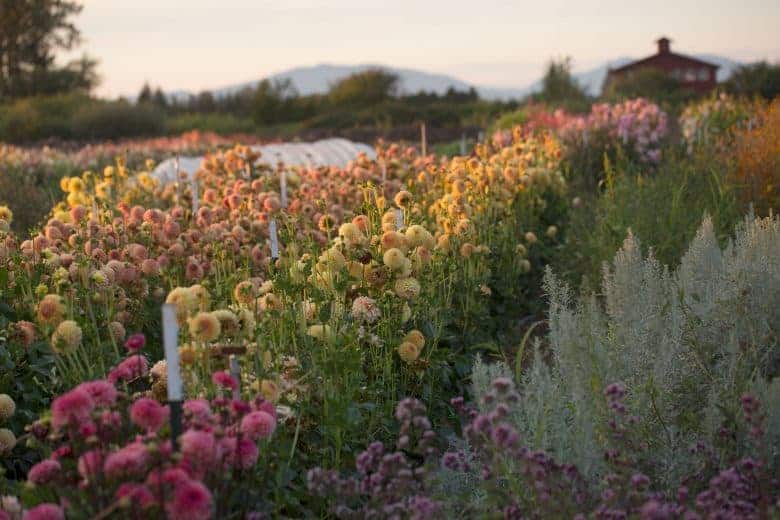 We source these varieties from our own fields in addition to local seed growers, breeders, and the best seed houses in the world and make them available to the home gardener. Our online shop features our very favourite cut flower seeds and bulbs as well as flower arranging supplies and gardening tools. We also teach flower lovers around the world how to grow, harvest, and sell seasonal flowers on a small scale through our 6-week course, the Floret Online Workshop.
INFORMATION
---
RESOURCES:
BUY CUT FLOWER GARDEN BOOK HERE
Erin's book A Year in Flowers launched 11th February 2020. After buying the book, if you fill in the form here: https://www.floretflowers.com/a-year-in-flowers/ you'll receive free bonus videos that bring the pages of the book to life. Erin takes you into the Floret fields and design studio to make a hand-tied bouquet using seasonal flowers. You'll learn how to harvest cut flower garden favourites including dahlias, zinnia and yarrow. There's also tips and ideas on creating gift bouquets.
Are you a maker, grower or creative course provider? Like to list with us and benefit from joining our supportive community? We'd love to hear from you. Check out the packages we offer on our Join Us page and get more details from our Information pack here
Find more inspiration in our blog post about British Flowers here or browse the Sustainable British Flowers category of our directory here
---
A PIN TO SAVE TO PINTEREST
If you've enjoyed discovering A Year in Flowers it would be great if you could share the love. All you have to do is hover over the image below until you see the Pinterest button appear. Then share it to your boards. Thank you! X