British flowers – where to buy the most beautiful blooms sustainably grown in the UK
I don't know about you, but I'd rather have no flowers at all than a bunch of mass-produced scentless – and soulless – uniform specimens grown without care for the environment. Flowers stripped of their natural beauty and seasonal variation. Grown for profit not passion.
Well-grown flowers and produce can contribute so much to the well-being of the environment but the reverse is also true. How can it make environmental good sense to fly refrigerated cut flowers halfway around the world? Especially when you consider just how fortunate we are in the UK when it comes to flower growing. It's easy to find the soulless long haul blooms, but there are plenty of wonderful UK growers and florists offering beautiful British flowers if you know where to look…
British flowers & where to buy them
Our directory is a great place to source sustainable British flowers grown in the UK by hand-picked UK growers and florists. This category is growing daily, so I'll update this post as more inspiring growers list with us from around the British Isles. Here are a few of my current favourite UK growers and flower creatives all passionate about sustainable and seasonal British blooms:
Rachel Siegfried and her partner Ashley Pearson run the Green and Gorgeous farm and are driven by a core belief in sustainable growing. I know, from talking to other flower growers and creatives, how inspirational Rachel has been for so many of them. Green & Gorgeous offers wedding and farm gate flowers as well as a range of inspirational workshops – floristry, photography and growing are all covered. There are one to one course options as well as a popular monthly flower club (where you spend the morning in the cutting garden with tips on arranging and conditioning from Rachel before leaving with armfuls of flowers and a vase arrangement).
Electric Daisy Flower Farm
Founded by Fiona Haser Bizony, Electric Daisy grow flowers sustainably in their cutting garden near Bath. The team at Electric Daisy Flower Farm pride themselves on their ethical harvests. Their bountiful and beautiful flowers are grown using sustainable garden practices and are completely chemical free. Air miles are accumulated only by the amazing biodiversity of pollinating insects and wildlife who share the land. I love the creative individuality of Electric Daisy – definitely worth checking out for weddings, special events and for a stunning collection of seasonal and scented bouquets to order. I love this Ria Bouquet with poppies, blossom, Ranunculus, Allium and Copper Beech Foliage. The second bouquet is a beautiful Autumnal arrangement with the last of the dahlias, roses and echinacea.
These images give you an idea of the artistic creativity of Electric Daisy flowers:
I spent a blissful day at the Wild Bunch Spring Flowers Workshop a few weeks ago and was so inspired by what Tammy has created there. With glorious views to the welsh mountains at the meeting place between the ancient counties of Herefordshire, Shropshire and Powys, Wild Bunch cutting garden is really something special. Tammy creates bespoke floral arrangements for weddings, galleries, lunch parties and evening events. Her seasonal flower arrangement classes are wonderfully creative and inspirational too. Love her artistic and un-forced way with flowers – less 'arranged' and more created.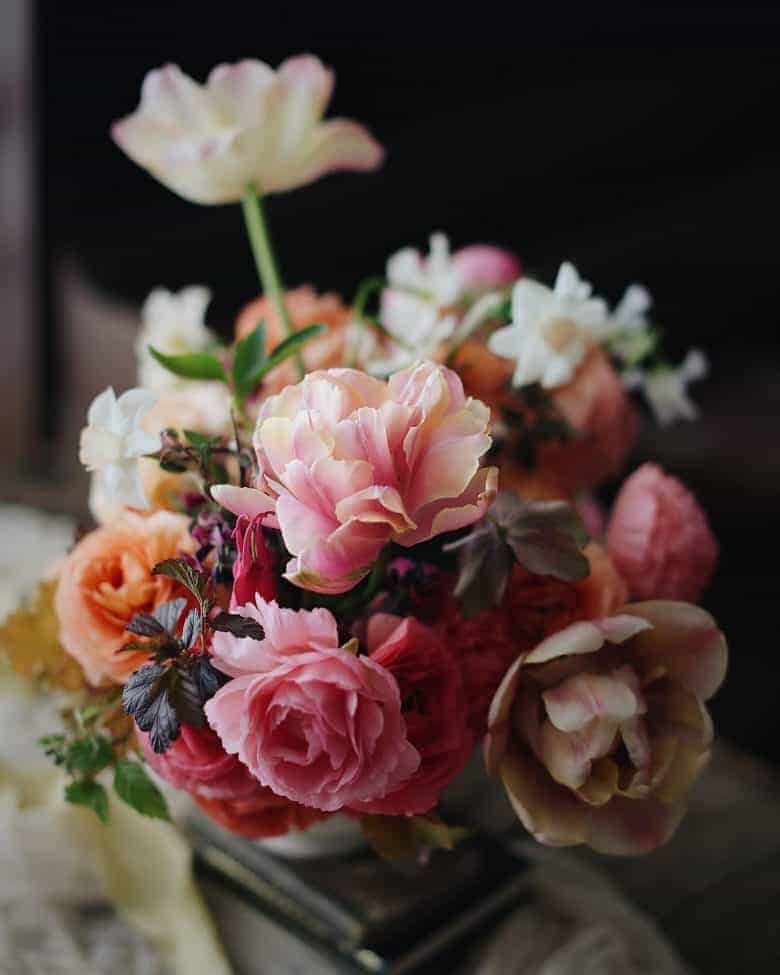 You can find out more from my blog post all about the day I spent at Wild Bunch: Flower Arrangement ideas using spring flowers from an english country cutting garden
With a workshop and cutting garden in the Yorkshire hills, Simply by Arrangement founder, Sarah Statham, is passionate about bringing seasonal, sustainable flowers to the North of England and beyond. Sarah's way with flowers is almost painterly with a wild abundance that I absolutely love.
You can order flowers for weddings, events, homes or magazine shoots. Workshops and classes are Sarah's speciality and she runs a variety including Simply Yorkshire 3-day restorative floral retreats, Four Seasons and the Bouquet and one-to-one classes. Sarah shared the story behind her business, one or two local loves, simple pleasures and inspirations on the blog: Meet Sarah Statham of Simply by Arrangement seasonal British Flowers
This great little film gives you a good idea of what Sarah offers. Maybe see you there…?
I loved walking the RFC farm in Hampshire at the end of last summer and meeting inspirational founder, Rosebie Morton. Real Flower Company flowers really are something special. I broke my ankle last year and was lucky enough to receive one of their green hat boxes of scented roses. The fragrance was intoxicating and blissful and the flowers lasted for more than a week.
If you'd like to discover more about Rosebie's story (which starts with her growing scented garden roses in the walled garden at her family farm in Hampshire in 1995) you can read my blog post: The Real Flower Company flower farm, Hampshire
Memories of fragrant roses…
It was memories of scented roses in her grandmother's garden as a child that sparked the whole idea for Rosebie. Why, she wondered, did so few modern cut roses feature any trace of scent? She discovered that commercially grown flowers have had their scent gene genetically removed to increase their durability and longevity. Rosebie set out to restore the growing of exquisitely scented roses and flowers – just as nature intended. Over the years, and after much trial and error, Rosebie Morton has searched for, curated and now grows the world's finest selection of scented cut roses that as well as being beautiful, boast an exquisite variety of scents.
The Hampshire farm is where hand-tended garden roses, wildflowers, herbs and foliage are grown. Full of natural charm, character and the vital ingredient – scent – everything is responsibly grown with sustainable farming techniques and eco-initiatives. Certified under the Assured Combinable Crops Scheme, and part of the Countryside Stewardship Scheme this 11 acre farm is a member of the Farm Wildlife Advisory Group.
If, like me, you love dahlias you might like to know about the new Real Flower Company dahlia bouquets all hand tied using flowers grown on The Real Flower Company sustainable farm in Hampshire.
This Dahlia & Herb bouquet starts at £42 and is hand tied with fragrant seasonal wild flowers and herbs.
Pale peachy pink, dinner plate sized and utterly beautiful, the Café au Lait dahlia is a real show stopper of a flower. No wonder it has become somewhat of an Instagram sensation. How exciting that you can now send a hand tied Café au Lait bouquet thanks, again, to The Real Flower Company. Complementing the dahlias are delicate cosmos flowers, creamy Annabelle hydrangea, lavender and herbs.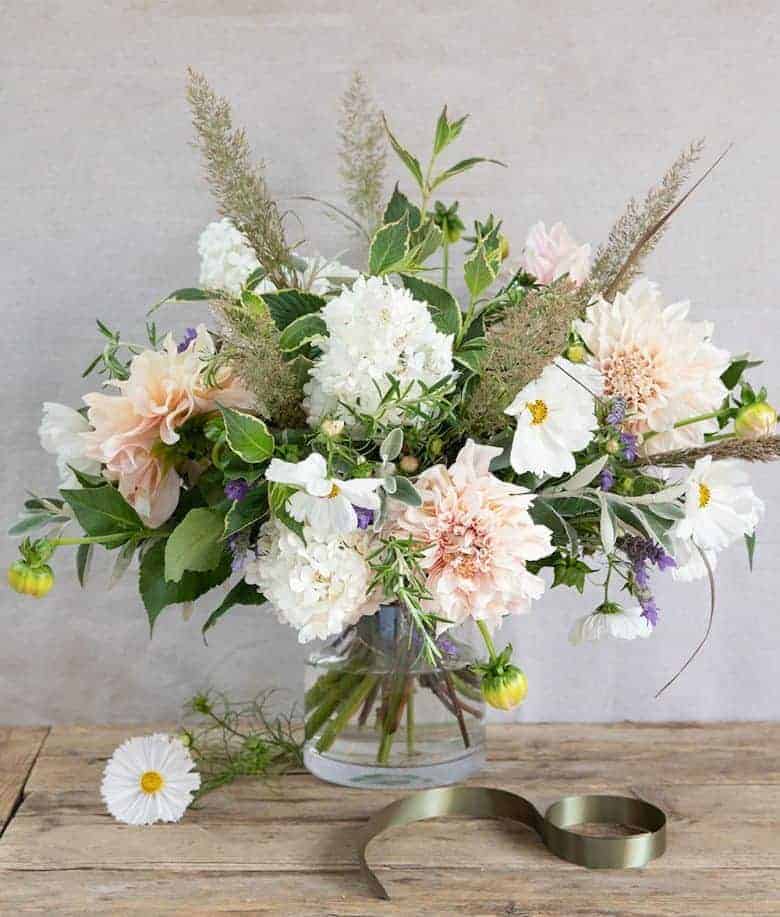 The Cafe au Lait Bouquet is £87.50 and so, so pretty don't you think?
You can send Real Flower Company flowers nationwide – order online by 4pm for next day delivery. Or call 020 7349 8638 for same day delivery in London.
Wiltsire-based Pod & Pip deliver seasonal flowers locally and also offer pre-ordered bouquets to collect from their workshop just outside Salisbury. Founded by Sarah Williamson-Jones, her style is relaxed country and she offers an inspiring selection of floral workshops including The Cutting Garden Workshop.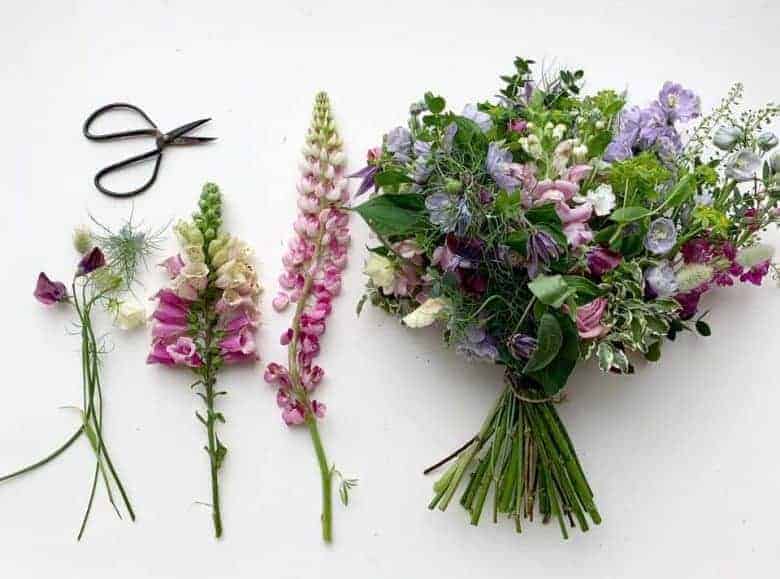 This sounds right up my street. Day one is all about the garden – what to grow, how to condition and when to pick and then you create a bouquet and a table centrepiece using British grown summer flowers. Day two includes garden design advice from Garden Designer Katharine Van Etten and ideas on trends and practical tips from florist and grower Lizzie Fairey of Puggs Meadow Flowers.
I spent a wonderful day with Sarah last year at her spring flower workshop, which you can read all about over on the blog: How to make a hand tied flower bouquet
I first met Sarah Diligent a couple of Christmas's ago, when I attended one of her magical festive wreath making workshops. I love her natural, wild approach to flower design and her delicate touch. She's passionate about using seasonal and sustainable British flowers and foraged foliage.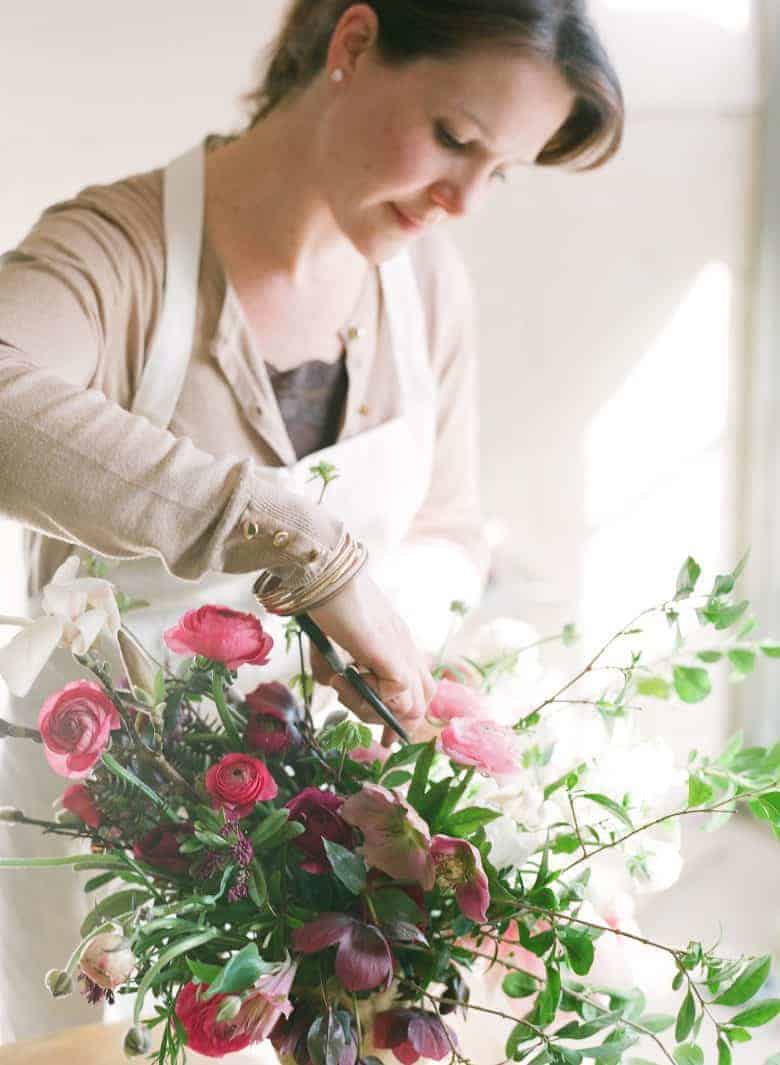 Sarah uses only eco-friendly alternatives to floral foam (a cause of micro-plastics in our oceans) and single use plastics. I love that she sources from British growers who care about each and every flower they grow – and that she uses artisan hand-dyed ribbons. Sarah's style is feminine, light and naturally beautiful.
Floribunda Rose covers all areas of the UK for weddings and event flowers and also offers a range of inspiring creative floral workshops for florists, aspiring florists and flower lovers.
You can read more about my day with Sarah over on the blog: Make a Contemporary Christmas wreath
The Real Cut Flower Garden cut flowers are grown outdoors in Dorset.
You can pre-order and collect the most wonderful varieties of seasonal flowers, including scented roses and english garden flowers.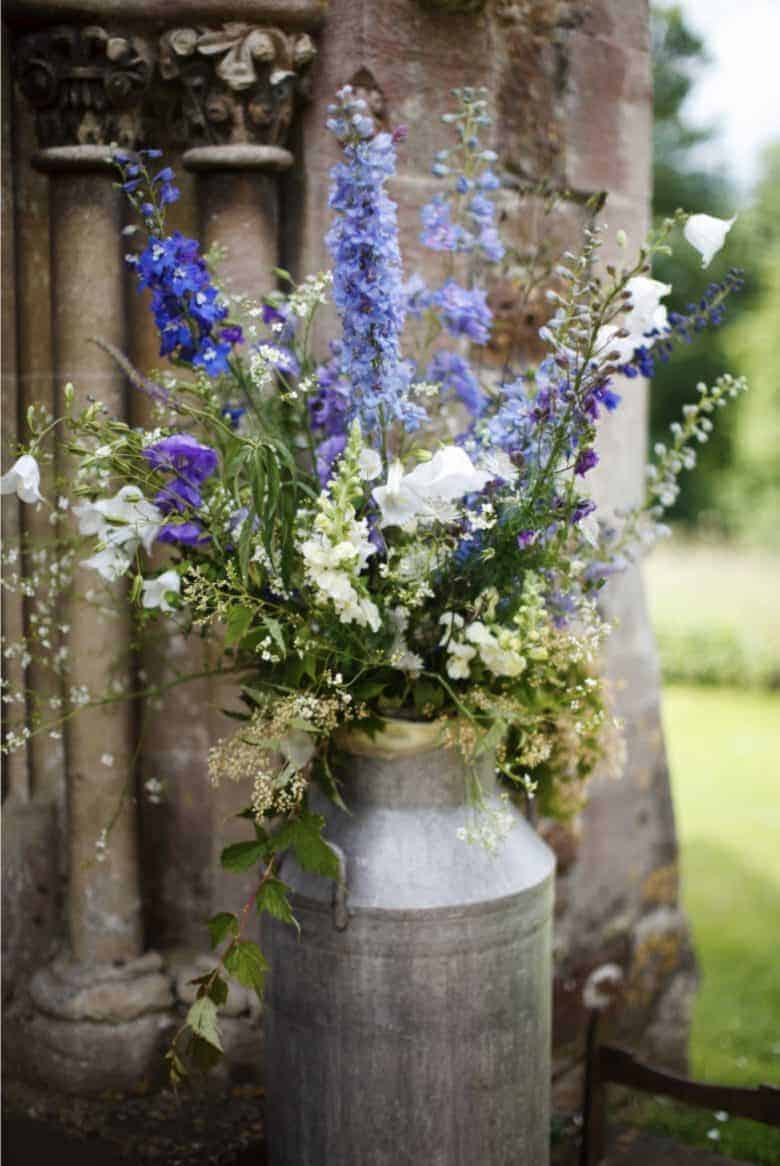 Charlie Ryrie started the business because of her deep love of gardens and traditional flowers. She spent two decades as a journalist writing about gardens, the environment and ecological design, and has always had a passion for flowers. In 2002 she bought a field, and in 2004 started sending out flowers to customers nationwide, and making stunning arrangements for weddings and events.
Katie Priestley who has joined Charlie in the business, spent many years working in high end fashion before moving from London to the country with her young family and pursuing her love of flowers and nature. She is equally passionate about gardens and grows many of their blooms.
The Real Cut Garden Flower School runs Wild Garden Floristry workshops each month until October.
Growers of fragrant English cut roses, herbs and flowers and based on a farm in Staffordshire. This fantastic RHS award winning team of flower stylists create rustic, country inspired fresh & dried flower designs using materials from sister company THE ARTISAN DRIED FLOWER Co.
The company philosophy is to work very closely with the British seasons and to offer a range of fabulous flowers that are difficult to find in the supermarkets and most florists.
In the flower paddocks throughout the year are:
SPRING – Hyacinth, Narcissi, Tulips, Alliums, hedgerow foliage such as Cow Parsley, Tree Blossom.
SUMMER – Scented garden roses (over 20 old fashioned varieties), cottage garden flowers, a vast collection of herbs, hedgerow flowers and fabulous statement Dahlias.
AUTUMN – Most of the summer flowers are still available, but in addition they will pick from the hedgerows. Blackberries, and harvest twists of Wheat and Apples.
WINTER – They start to forage around Birchwood Park for the ingredients for our Christmas wreaths and bouquets which include, Crab Apples, Ivy, Winter Jasmine, Rosehips, Winter Honeysuckle.
The main focus of the company is on the artisan dried flower business – browse beautiful bouquets, flower crowns, petals, bunches and table decorations all made from flowers dried to last and last. I love this pink and purple rose, larkspur and lavender bouquet.
I love that Rachel Petheram of Catkin has been championing British seasonal flowers since 2006. An artisan florist, flower grower and teacher, Rachel uses scented flowers and herbs to create her luscious seasonal arrangements.
The flowers are grown in an Elizabethan walled cutting garden in Lincolnshire. And as well as being used for weddings and events, are also available to buy as bouquets or cut stems. The garden is full of insects, birds, toads and several grass snakes. It's a fabulous ecosystem that means Rachel can garden without using harmful pesticides or chemicals. Rachel shares my love of proper old-fashioned cottage garden flowers.
How joyful is this bouquet combining bright orange tulips and red anemone. Softness is added by the pale blossom. And depth created with dark hellebores and bronze foliage.
Rachel's courses include one to one floristry training, floral retreats and wild floristry.
I love the history behind Fentogollan. The same family has been farming two and a half thousand acres of beautiful Cornish countryside for over 130 years.
Situated on the fertile Fal estuary, the farm grows over 400 varieties of daffodil. The varieties include many that are new, unique and rare.
I also really like the ethos that underpins the farm and the passion about taking care of the environment. They farm the land and grow their flowers with care and love. The aim is to do nothing in their farming present to harm their farming future. I love that you can send narcissi and daffodils by post (when they're in season) direct from the farm.
Worth knowing that you can also buy their own spring flowering daffodil bulbs for delivery in September.
I love the passion and story behind Donna Bowen-Heath's Welsh flower business Pheasant Botanica. On a wild and windswept mountainside in mid Wales, Donna grows a wide range of seasonal flowers on land that her family has farmed for generations. She also creates beautiful arrangements for weddings, events and more.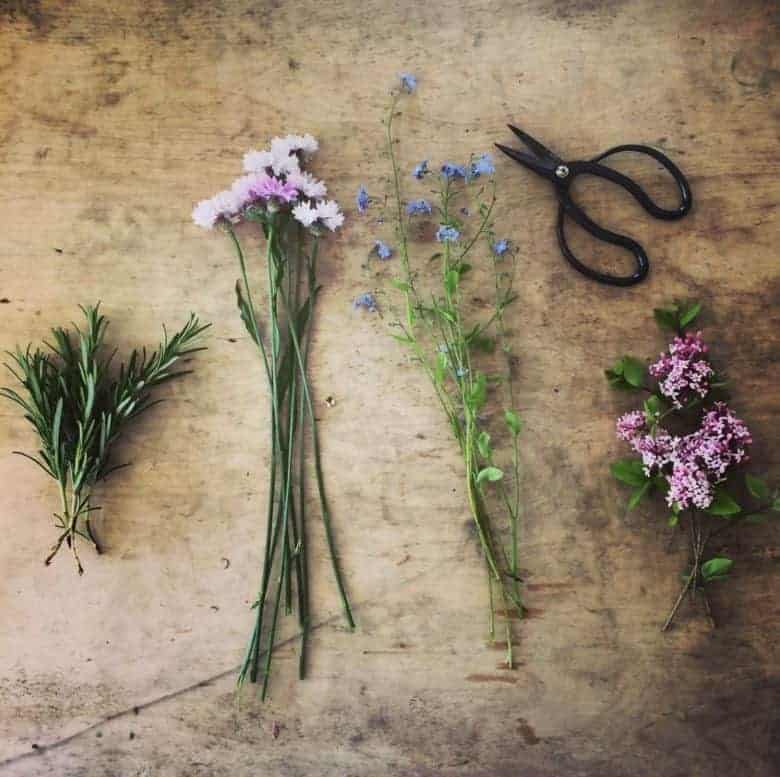 WHERE TO BUY BRITISH FLOWERS: INFORMATION
---
Find all the British flowers featured in the Sustainable British Flowers section of our Directory:
Electric Daisy Flower Farm
The Traditional Flower Company
Are you a maker, grower or creative course provider? Like to list with us and benefit from joining our supportive community? We'd love to hear from you. Check out the packages we offer on our Join Us page and get more details from our Information pack here
---
A PIN TO SAVE TO PINTEREST
It would be great if you could share the love for British flowers sustainably grown in the UK. All you have to do is hover over the image below until you see the pinterest button appear. Then share it to your boards. Thank you! X