It's been a while since we blogged about making fresh foliage Christmas wreaths. So, when Sarah Diligent of Floribunda Rose invited me to join one of her workshops to learn how to make a contemporary Christmas wreath, I decided it was time to try something fresh. I love Sarah's approach to flowers. She uses British-grown and foraged flowers and foliage as much as possible and has an effortless design style.
Sarah's workshop is in the rural Hampshire village of Eversley. I was feeling slightly frazzled when I arrived at her door on a bitterly cold frosty December morning. I'd spent much of the drive over crawling behind a wide range of slow-going agricultural vehicles. Along miles of winding country lanes with few places to overtake. Trying not to watch the time ticking by…
The other side of the workshop door was a warm and welcoming space full of the fragrance of cinnamon, mulled wine and flickering scented candles. Sarah welcomed me with a really good cup of tea and a mince pie.  I was back on track and ready to get creative with foliage.
Sarah started the workshop by showing us how to create the basic wreath. She'd actually already made us one each, so we could, as she put it 'concentrate on the exciting creative bit.' But she wanted us to know how she'd done it.
To make the basic wreath
You start off with a metal wreath frame in the size you choose. Sarah gets hers from her flower market, but she told us you can buy them from Hobbycraft amongst other places.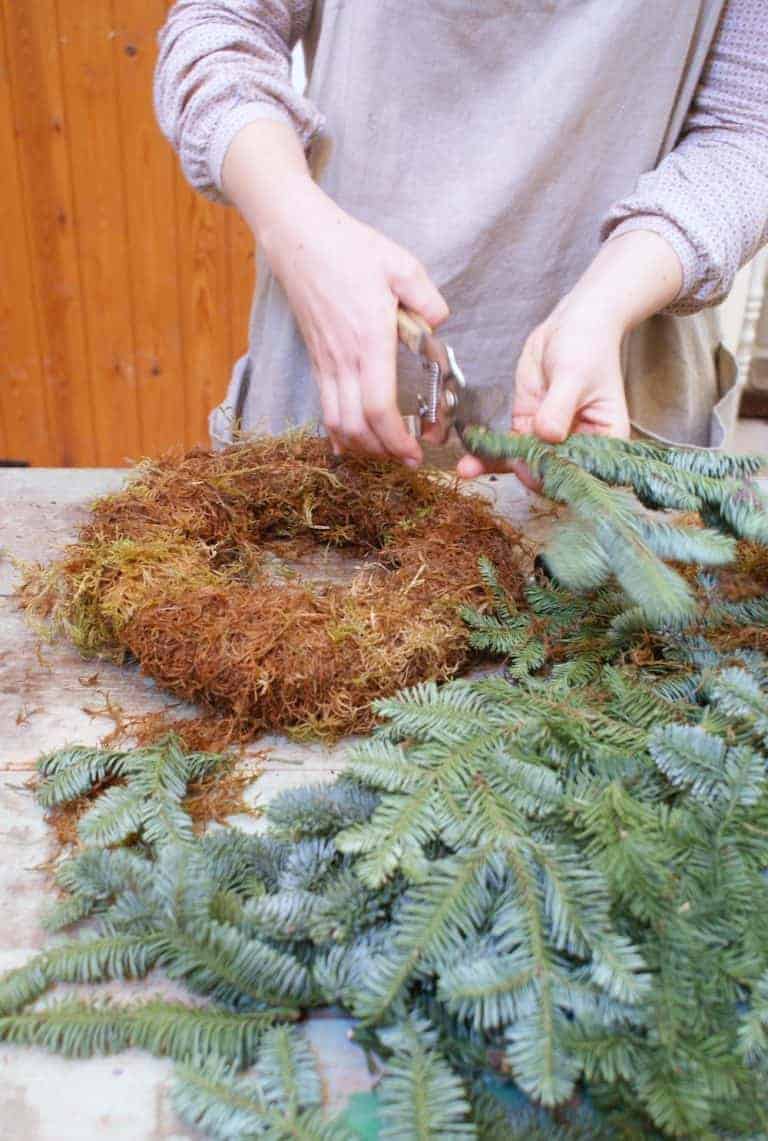 Next step is to incorporate generous handfuls of damp moss and holding in place by winding floristry wire around as you go. The key is to keep the depth and shape as even as you can.
Add the greenery
After the moss has been added, it's time to add the basic greenery. You can use off cuts from your Christmas tree. Or try asking your local tree farm or supplier if they could let you have their off cuts.
The trick with this bit is to create a shaper point by cutting the ends on a diagonal. This should make it easier to push the ends through the moss and position.
Start in one place and then work your way around, going in one direction and adding pieces as you go until you're happy with the basic shape.
Decorating the wreath
This was the part I was really looking forward to. I'd spied some beautiful pink peppercorns in a jug and really wanted to add some. I also wanted to add  juniper and lavender foliage for fragrance and to add feathered texture, some dark berries and paler green shades. Sarah produced a box of dried hops and I decided I liked what they added too…
The technique for adding in the decorations is the same as adding the basic foliage. If possible, you cut a diagonal end, poke through in position and ensure the end isn't coming out the other side.
If, like the pink peppercorns, the ends are too fine or delicate to poke through this way, you attach by using a length of florist's wire. The technique is to cut a short length of wire, then bend it over like a hair pin before positioning it over the stalk of the piece you're wanting to attach and poke through. Any ends that come right through can be bent over.
As you work, it's important to keep an eye on the overall shape and balance – and to work out where the top will be.
My wreath was starting to take shape. All it needed now was some frosted fruit. I'd spotted the glass jars full of sparkling golden pears and rosy apples – but wrongly assumed they were fake.  It turns out they were real fruit that had been dipped in wax and sprinkled with sparkle. Which made me love them even more.
Time to embellish
I decided to go for the rosy apples because I liked the way they looked with the pink peppercorns.
The knack to adding the fruit is to take two lengths of floristry wire and poke each through the base of the apple and then fold back and around to create one length of wire with an apple secured at one end. This gets poked through in the same way as the foliage and other decorations.
There was a box of beautiful ribbons to choose from but I decided to keep mine simple and decided not to add a bow.
To create the wire hanger, you take two pieces of strong florist's wire and create a strong loop which gets poked in and back around at the point that you've chosen as your top.
Update for 2019
I've just spent another wonderful day at a wreath making workshop – this year at The Sussex Flower School.
I went for a wilder look this time, using lots of evergreen foliage, pheasant feathers, seed heads and ivy. See image below.
One extra piece of information I wanted to add here in particular are easy step by steps to making your own moss-filled ring base as we didn't cover that in the workshop above.
How to create the moss-covered circular base
1 Take a 10 inch flat or raised wire ring
2 Attach a reel of florists wire onto the frame
3 Make handfuls of sphagnum moss and bind securely to and within the frame. Keep them roughly the same size as you go.
4 Create a hook, with a 1.22 wire and mark this point with raffia so you know where your top is
5 Cut base evergreen foliages such as blue spruce, conifer, pine etc into pieces (some like 'hands' to spread over the front and some like 'fingers' ie straight single pieces for adding around the inside and outside edges
6 Attach to moss base covering covering all three sides by winding wire around and through the pieces. If you're right handed, hold fingers to the left. Left handed fingers to the right.
7 Tie off wire at back
The rest of the steps are as above.
I had the best day at The Sussex Flower School making this wreath. I went for a slightly wilder look with feathers and a more natural, muted colour scheme.
Contemporary Christmas Wreath inspiration – more ideas to inspire
The basic technique is that same as above, but you can change things up depending on the foliage you go for. Here are some creative contemporary Christmas wreath ideas I love…
This beautiful dried flower wreath in Winter whites is by Kirsten Mackay of Henthorn Farm Flowers. Using a handmade wisteria wreath ring, dried anaphalis, helicrysum and honesty are combined to create a contemporary, ethereal look.
Kirsten has kindly shared her step by steps to creating this wreath to help you make one just like it:
I used a base of wisteria vine, woven into a wreath and then left to dry and harden. You can use any type of vine to make your own – be that ivy, grape, clematis or even long lengths of willow. But the key is to form it into shape while the wood is still fresh and flexible.
I wrap twine or wire around the frame to give me more anchor points and then I carefully thread my stems through the open structure.
This creatures a loose, airy and delicate wreath where the plant material appears to float.
The honesty needs to be carefully peeled on both sides to reveal the moon like disc and cut to size.
I use other dried white flowers to lighten the look and add interest. Dried gypsophila works well as do the tiny flowers of Anaphlasis triplinervis which is a perennial plant I grow especially for drying.
To finish, weave through some dried white helichrysum and add a wire hook to the back.
Based in beautiful Clitheroe in Lancashire, Henthorn Farm Flowers grow seasonal and sustainable cut blooms for weddings, events, workshops and farm gate sales.
I absolutely love their organic ethos and natural style, and will be featuring Kirsten over on the blog shortly – so watch this space!
This dried flower wreath is available to order for £70. To order one, contact Kirsten via Instagram here
Philippa Craddock
Love this combination of eucalyptus, fir and peacock feathers by Philippa Craddock (listed in our directory here). Philippa offers a range of workshops as well as a stunning range of faux flowers from her online shop.
Olga Prinku
This wonderfully creative idea is by the very wonderful Olga Prinku. It's made by adding lots of little dried flower tulle embroidery hoops. Olga has shared her step by steps to embroidering with dried flowers on tulle over on the blog: How to make embroidery hoop art with dried flowers. To make a 'Christmas tree' with your hoops, simply make 15 of them and group together in rows as shown and top with a simple star.
Worm London
I love this unusual dried flower wreath by East London florists Worm, c0-founded by Katie Smyth and Terri Chandler (they offer various workshops including a Christmas Wreath making one.
For more wonderful wreath-making ideas, Terri and Katie have written the most beautiful book on the subject, Wreaths, which you can order on Amazon here
Here's a peek at a few of the ideas you'll find inside and on their Instagram gallery.
Simply by Arrangement
How gorgeous is this giant wreath (below) made by Sarah of Simply by Arrangement and photographed by Sarah Mason (www.sarahmasonphoto.co.uk)?
Sarah made a base using copper pipe that she built up with lots of moss and textural foliage – dried thyme, mimosa, eucalyptus, berries, lichen-covered twigs and a few pheasant feathers.
This idea is by Treasures & Travels – to get the simple steps to making a giant wreath click here: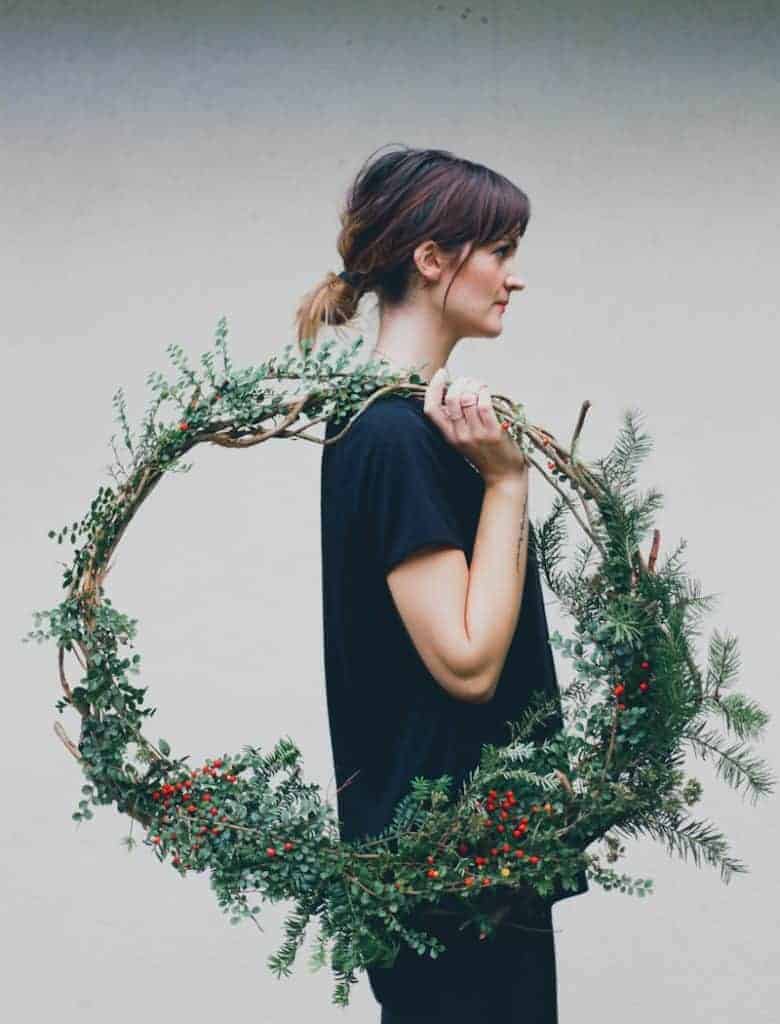 Pod & Pip
The lovely Sarah at Pod & Pip (listed in our directory here) also offers creative wreath-making workshops as well as fresh wreaths available to buy. Love these two made by her – both using deep red colours and pheasant feathers.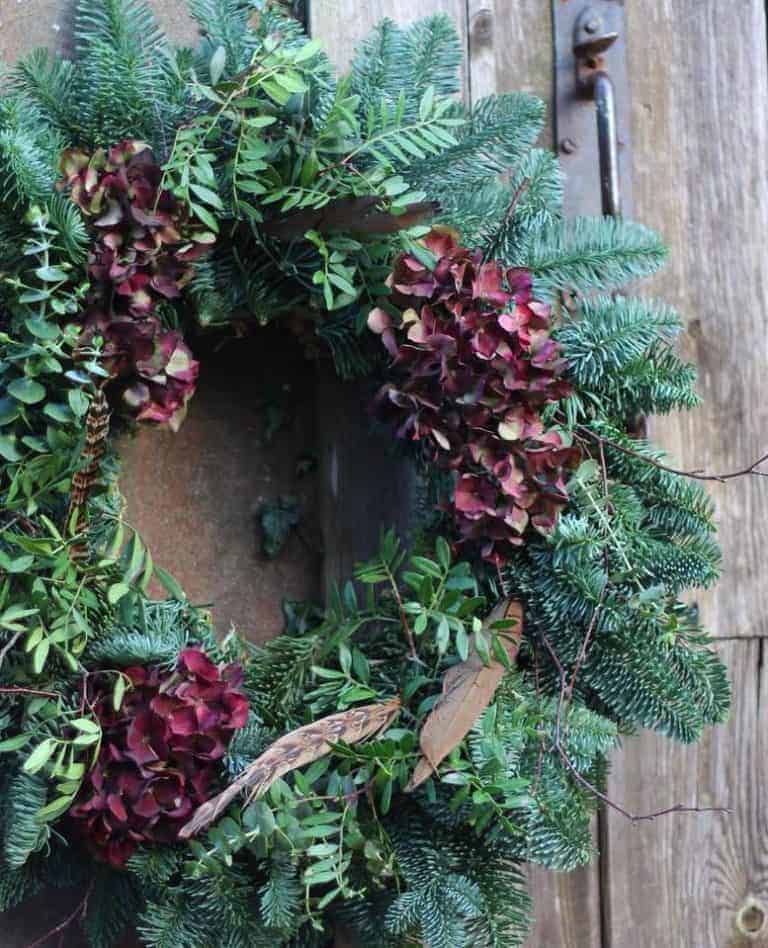 Catkin Flowers
Also really like this combination of pine cones, pheasant feathers, ivy and seed heads by Rachel Petheram of Catkin Flowers (listed in our directory here)
Also by Rachel is this stunning combination of dried and fresh materials. Dried ferns and hydrangea contrast beautifully with fresh greenery, Chinese lanterns and pink peppercorns.
Leigh Chappell
How beautiful is this fresh foliage with dried flowers wreath by Leigh Chappell flowers?
I love the combination of dark, glossy foliage, dried stems and leaves and the pops of pretty colour from dried helichrysum (or straw flowers). The beautiful pink velvet ribbon makes the perfect finishing touch, don't you think? It's from The Natural Dye Works – well worth checking out for some of the loveliest ribbons around.
You can buy wired dried straw flowers from Etsy here.
The Real Flower Company is always a great source of ideas. Love this wreath they made for the Chelsea Cabbages & Roses shop
The Real Flower Company
And how gorgeous is this simple rustic wreath using a willow hoop, olive leaves, eucalyptus and some simple blooms, from one of The Real Flower Company's wreath making workshops?
For a contemporary take on traditional dried orange wreaths, what about this beauty also by RFC? It's available to buy here
Love the combination of eucalyptus, fir, ivy, bay, pink peppercorns and dried citrus fruits. It's the wild, abundant look and how the colours work together, that makes it, don't you think?
Kate Langdale
And how beautiful are these creations by wonderful Brighton florist Kate Langdale? To make a large wreath like this, you will need
5-10 long willow or other pliable green woody stems that have been soaking in water until pliable. Best way to do this is in a deep sink or large bucket (you will need to gradually bend the stems as the stems below the water line become more pliable until the stems are fully submerged). Once you're happy that your stems have become pliable, wrap them up in a damp towel to mellow.
To make your wreath, take hold of one length, with the thick end in your left hand (if you're right handed|) and then and form a loop as though you are tying a knot to create a loop at the size you'd like your wreath to be. Hold the 'knot' in one hand and wrap the two ends around by going under and over as you go. Then take the next stems, poking them through the hoop, holding the thick end in your left hand and wind around going over and under. Continue until you have added all the stems, working in the same direction. You can mould by gently pushing into the circular shape you'd like. Cut off any ends that won't bend into the wring and you're done. Then it's time to add your embellishments. To create a wreath like this one by Kate, add grasses, hydrangea, evergreen branches and dried ferns in two sections the bottom of the wreath, attaching with strong florist wire as you go.
INFORMATION
---
This article contains affiliate links, which means we may earn a small commission if a reader clicks through and makes a purchase. All our blog posts are independent and in no way influenced by any advertiser or commercial initiative. By clicking on an affiliate link, you accept that third-party cookies will be set.
Olga Prinku is listed in the From Britain with Love directory
Catkin Flowers is listed in the From Britain with Love directory here >>
Philippa Craddock is listed in the From Britain with Love directory here >>
Pod & Pip is listed in the From Britain with Love directory here >>
Feeling inspired? Take a look at the Creative Workshops category in our Directory, where you'll find a variety of inspiring courses, from art and crafts to fashion and beauty, interiors, cooking and flower & gardening.
If you run a creative course that would interest our readers, please get in touch. Email us at editor@frombritainwithlove.com