Christmas Wreath DIY ideas & tutorial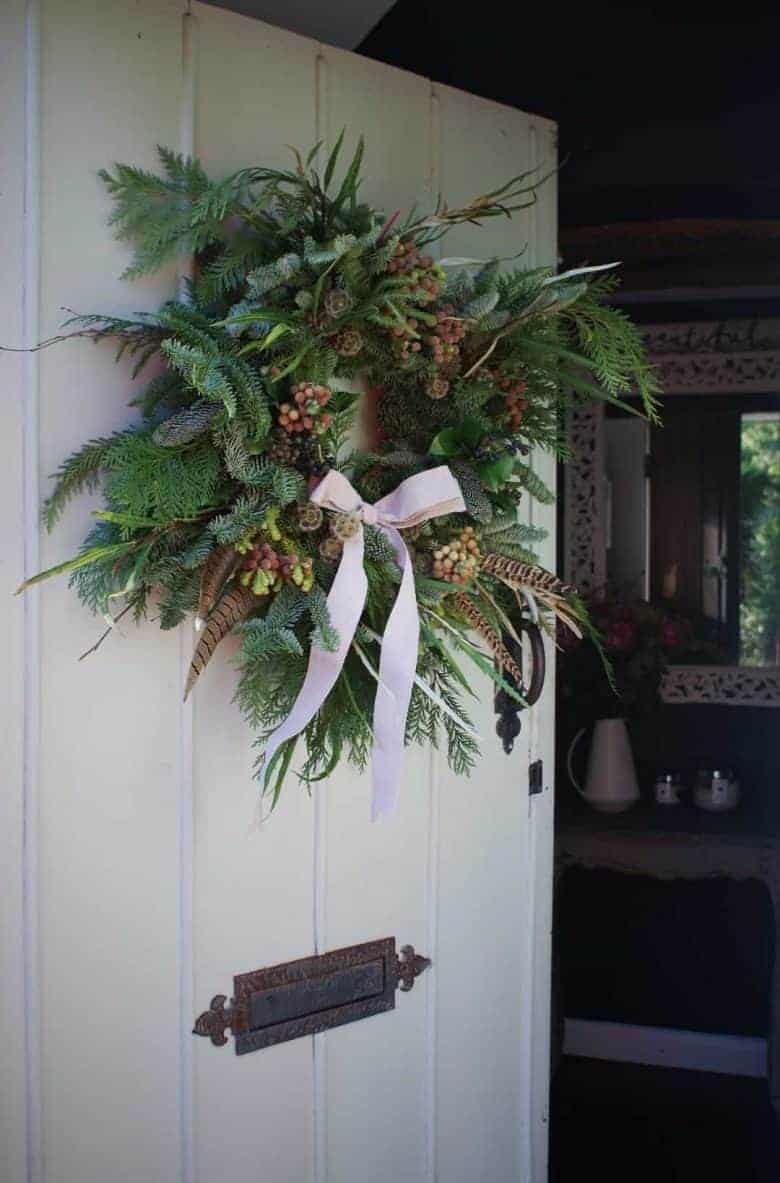 It's almost that time of year again – gathering ideas to make a Christmas wreath. There's no question that life has been so much harder for us all than we expected this time last year. When I hung last year's wreath on my door (pictured above), we had no idea what lay ahead for the world. With the pandemic still dictating so much, it would be easy to think that life is so limited this year that it's maybe not worth the bother of making a wreath this Christmas. Hardly anyone will be coming to the house after all, as there'll be no big family gatherings or parties this year.
It would be easy not to bother (and I absolutely wouldn't judge you if you decided not to!) but I have decided to try and make the most beautiful wreath I have ever made this year. Partly in defiance of the restrictions this virus has imposed on us… and partly because I need to build in as many simple joys to life as I can right now.
This year, my wreath may only be seen by a small number of people – close family, one or two close friends and my lovely post woman. But I will see – and enjoy – it every morning when I set out and return from my dog walk. My family may only register its appearance and voice their appreciation fleetingly, but having a wreath on the door will mean another Christmas is on its way.
Now, more than ever, I feel like treasuring the important things and that includes being fortunate enough to be spending Christmas 2020 together at all. Even if that has to be in multiples of 6. Who knows what lies ahead for any of us? But it makes the journey so much more bearable if we look for the opportunities to nurture our creativity don't you think?
Time to start foraging and collecting ideas
So, I've decided it's time to start foraging for foliage, berries and collecting together some creative ideas to spark me off. With that in mind, I thought I'd share some of the latest ideas I find, along with the wealth of resources we have built up over the years on the subject.
There are simple to follow step-by-steps as well as masses of different ideas to try. From wild and abundant to traditional and classic, there is a Christmas wreath idea to suit anyone. And with dried flowers being such a big trend right now, I've also shared a simple dried flower Christmas wreath idea too.
Hope you find something to inspire you and add a little simple everyday joy to your life too! I'd love to see your creations, so do share them – either by email (laura@frombritainwithlove.com) in the comments boxes at the bottom here or via social media (links are in the top menu bar). X
Make a Christmas Wreath for your door
Idea 1 Dried Flower Christmas Wreath
This beautiful dried flower wreath is by Kirsten Mackay of Henthorn Farm Flowers I love the Winter white colour and the fact that it's a wreath you can re-hang every year. Dried flowers are so on-trend right now, partly because of their long-lasting sustainable beauty. A great option for ringing the changes this year. Kirsten has kindly shared her step by step tips for making her wreath yourself.
How to make the dried flower Christmas wreath:
Kirsten: I used a base of wisteria vine, woven into a wreath and then left to dry and harden. You can use any type of vine to make your own – be that ivy, grape, clematis or even long lengths of willow. But the key is to form it into shape while the wood is still fresh and flexible.
I wrap twine or wire around the frame to give me more anchor points and then I carefully thread my stems through the open structure.
This creatures a loose, airy and delicate wreath where the plant material appears to float.
The honesty needs to be carefully peeled on both sides to reveal the moon like disc and cut to size.
I use other dried white flowers to lighten the look and add interest. Dried gypsophila works well as do the tiny flowers of Anaphlasis triplinervis which is a perennial plant I grow especially for drying.
To finish, weave through some dried white helichrysum and add a wire hook to the back.
Idea #2 Wild & Abundant Fresh Christmas Wreath
This is the wreath I made last year with the lovely Georgia at The Sussex Flower School. There are lots more step by steps if you click here: How to make a contemporary Christmas wreath. I decided to go slightly wild and very abundant with fresh greenery and contrast with pheasant feathers and berries and seed pods. Love the natural, foraged feel and the wired linen ribbon I chose to finish it with.
Idea #3 Classic Christmas Wreath with dried oranges and spices
This lovely wreath is for sale from The Real Flower Company, but if you fancy making a dried orange classic wreath, check out these step by steps How to Make a Wreath. The perfect tutorial if you fancy making something traditional, fragrant with dried orange and cinnamon sticks.
Idea #4 Contemporary white & green Christmas wreath
I made this wreath a few years ago ready for a Christmas photoshoot. The base is  made the same way as the wreath above. But I kept the palette very simple. Dark evergreens, frosted cones, white snowberries, silvery eucalyptus and foraged seed sprays. I love the understated contemporary – almost scandi – feel with the simple gingham cotton ribbon. Wondering about going down a similar road again this year…
Idea #5 Frosted apples & pink peppercorns wreath
I made this wreath a couple of years ago at a workshop with lovely Sarah Diligent of Floribunda Rose. Click here: How to make a contemporary Christmas wreath for all the step by steps you need to make one just like it. I love the combination of frosted fresh apples, dried hops, pink peppercorns and fresh greenery. It lasted really well right into January when it was time to take it down. Would have gone on for weeks more.
Idea #6 make a giant wreath
This beautiful giant wreath was made by Sarah Statham of Simply by Arrangement.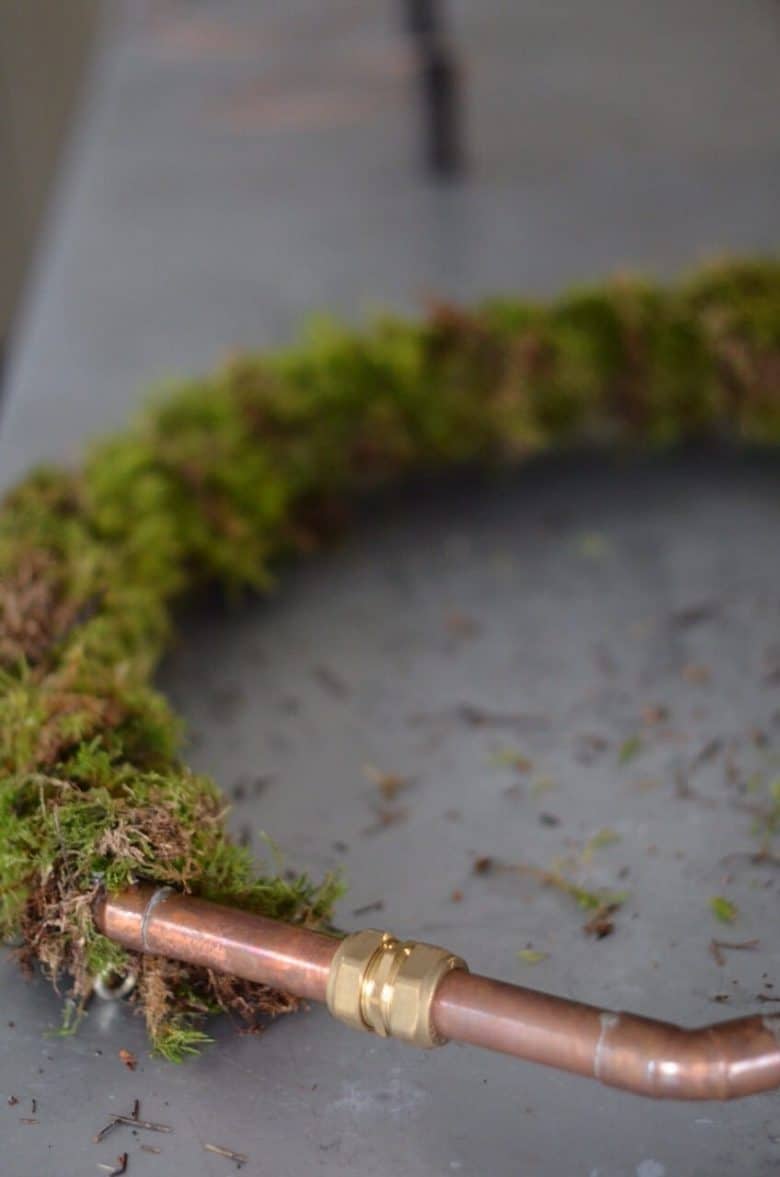 Sarah made a base using copper pipe that she built up with lots of moss and textural foliage. Dried thyme, mimosa, eucalyptus, berries, lichen-covered twigs and a few pheasant feathers. Just lovely.
This lovey giant wreath idea is by Treasures and Travels
Get help creating a similar natural base here: How to make a dried flower wreath Kirsten of Henthorn Farm Flowers shares how she uses wisteria vine, ivy, grape vine or clematis to make hers. She also has another idea for using a large hula hoop covered in hessian.
Idea #7 make a fresh & dried Christmas wreath
This wild and pared back wreath was made by Rachel of Green & Gorgeous and combines simple foraged pine twigs, fresh eucalyptus leaves and snowberries with dried white helichrysum flowers. This might be the one for me this year…
Idea #8 Brightly coloured & fragrant wreath
Also by Green & Gorgeous Flowers, I've shared this one because it's such a different, cheerful, look. I love the bright colour contrasts, the pops of white from the snowberries and ribbon – and also that it would be wonderfully fragrant because of the lavender and rosemary. Bright orange Chinese lanterns really make this stand out and contrasts brilliantly with the dark elderberries.
Idea #9: Dried orange & pinecone hanging decoration
Thanks to Annie Sloan for sharing this lovely idea with us and how it was made:
We threaded dried oranges, pinecones and pieces of twig with string and tied them onto a branch. Foraged branches of greenery add extra interest.
We used Annie Sloan bright silver gilding wax to coat the edges of the pinecones to add a metallic shimmer
The crackers above have been embellished with Chalk Paint™ in Old Ochre, strips of natural linen and green raffia ribbon. A great way to turn basic crackers into something very special. Also a great way of using up leftover chalk paint. The dotty wrapping paper has been made by potato printing onto plain brown kraft paper with Chalk Paint™ in Pure.
I also asked Annie to share one or two of her own thoughts on Christmas wreaths and decoration:
'I personally love natural accessories and decorations,' explains Annie. 'Repurpose Christmas tree clippings – foliage throughout the home creates a big impact at a low cost, and the smell of pine is so nostalgic! You can create a bespoke centre piece from found objects foraged for on a bracing December walk with your family.
'Start with a beautiful twig and gild the edges – or all over for more drama – using my Gilding Waxes. Combine with some ivy or glossy holly – adding a touch of paint to the leaves if so desired. Essentially free, wholesome and perfectly tailored to your space.
I know some people like to decorate their Christmas trees with new decorations every year, but consider giving perfectly functional baubles a colour update with a lick of Chalk Paint™. Gilding Waxes and Gold Leaf imitate much more expensive shop bought alternatives.'
Ready made wreaths to buy
If you don't feel the same way and would like to buy a wreath rather than make it, why not invest in one you can hang every year? I bought one from The White Company years ago and each year I get it out and add a few fresh bits and pieces and hang it on my studio door.
I've just checked out their website and they have some lovely everlasting wreaths and garlands this year – here are a few of my favourites.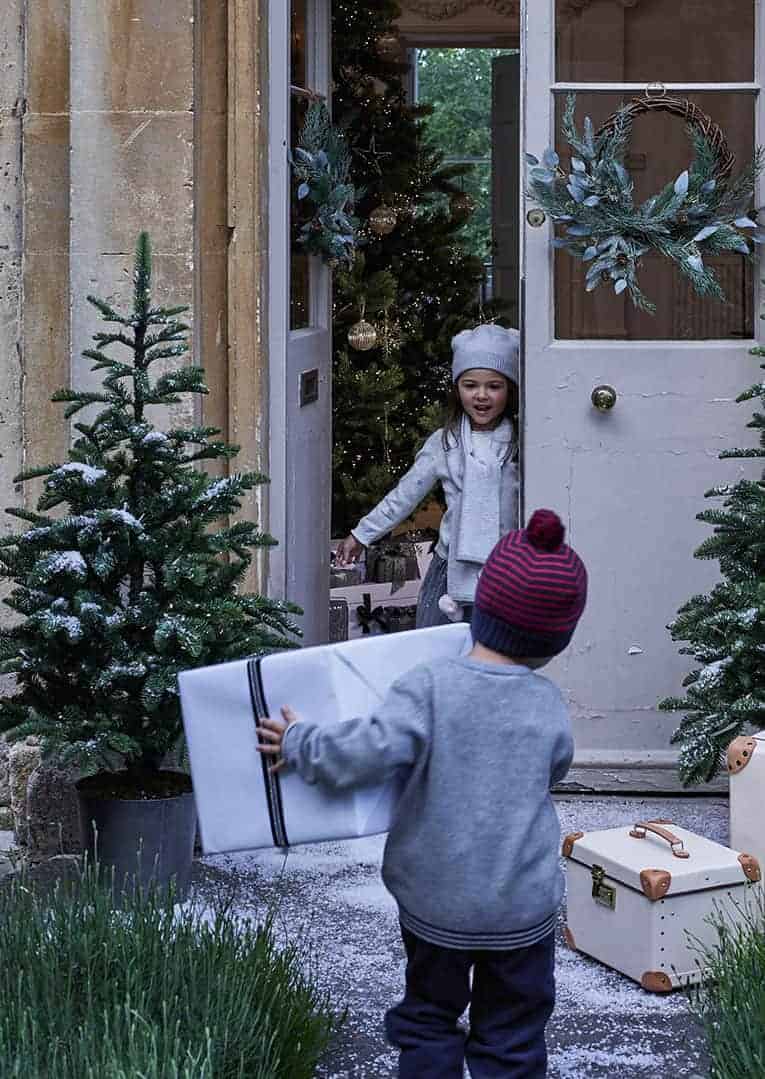 This asymmetric twisted wicker wreath is pre-lit with fairy lights and the frosted foliage and pine cones look very realistic.
INFORMATION
---
This article contains affiliate links, which means we may earn a small commission if a reader clicks through and makes a purchase. All our blog posts are independent and in no way influenced by any advertiser or commercial initiative. By clicking on an affiliate link, you accept that third-party cookies will be set. 
Henthorn Farm Flowers are sustainable organic flower growers located in Clitheroe, Lancashire. They provide flowers for weddings, events and seasonal farm gate sales. Kirsten also offers a range of inspiring workshops
Find the featured growers in our directory:
Are you a maker or creative course provider? Like to list with us and benefit from joining our supportive community? We'd love to hear from you. Check out the packages we offer on our Join Us page 
---
A PIN TO SAVE TO PINTEREST
If you've enjoyed discovering these Christmas wreath ideas, it would be great if you could share the love. All you have to do is hover over the image below until you see the Pinterest button appear. Then share it to your boards. Thank you! X