Inger Cessford visits 'The Workshop' at Sally Bourne Interiors in London's Crouch End and learns how to make a Christmas wreath using fresh foliage and festive trimmings. We show you step by step how to create a festive wreath – go traditional like the one we made at the workshop or change the colours and foliage to create something more contemporary like the one we made for a Christmas shoot (below). Once you've got the technique cracked, you can apply it to whatever styles and looks you like.
Christmas is almost here and it's that time when we look forward to to decorating our homes to create a warm welcome for friends, family and visitors over the festive season. I always think that an eye-catching wreath really sets the scene for the festivities, and as I headed across London I was looking forward to discovering the tricks of the trade that would enable me to make my very own handmade wreath for the first time, to proudly display on my front door.
Getting started
Based in London's Crouch End, 'The Workshop' is a delightfully creative environment created by Sally Bourne Interiors, which includes a fabulous workshop space alongside a retail shop offering a whole array of beautiful ribbons, yarns and crafty-inspired gifts.
After a welcoming cup of coffee we are given a short introduction by our course tutor Rachel, a professional florist who has a particular interest in using foliage in her designs. Then it's time to get started on our own wreath designs…
Packing the brass ring with moss
First of all, we take a 10 inch brass ring and pack it tightly with fresh moss, before wiring it on using floristry wire to form a sound base. Rachel explains that by using moss for the base, we'd be able to refresh the wreath and stop it from drying out, as it gets closer to Christmas.
As we busily work away, Rachel explains the history behind wreaths and how they can be used as wonderful expressions of celebration using flowers for weddings or birthdays throughout the year, and not just at Christmas.
Adding foliage
With the moss base completed, we move on to cutting fronds of fir tree foliage, using the floristry scissors. This is to create the main body of our wreaths. Rachel advises us to cut all the pieces we were likely to need right at the start. This makes it easier and quicker to create the finished 'look' of the wreath.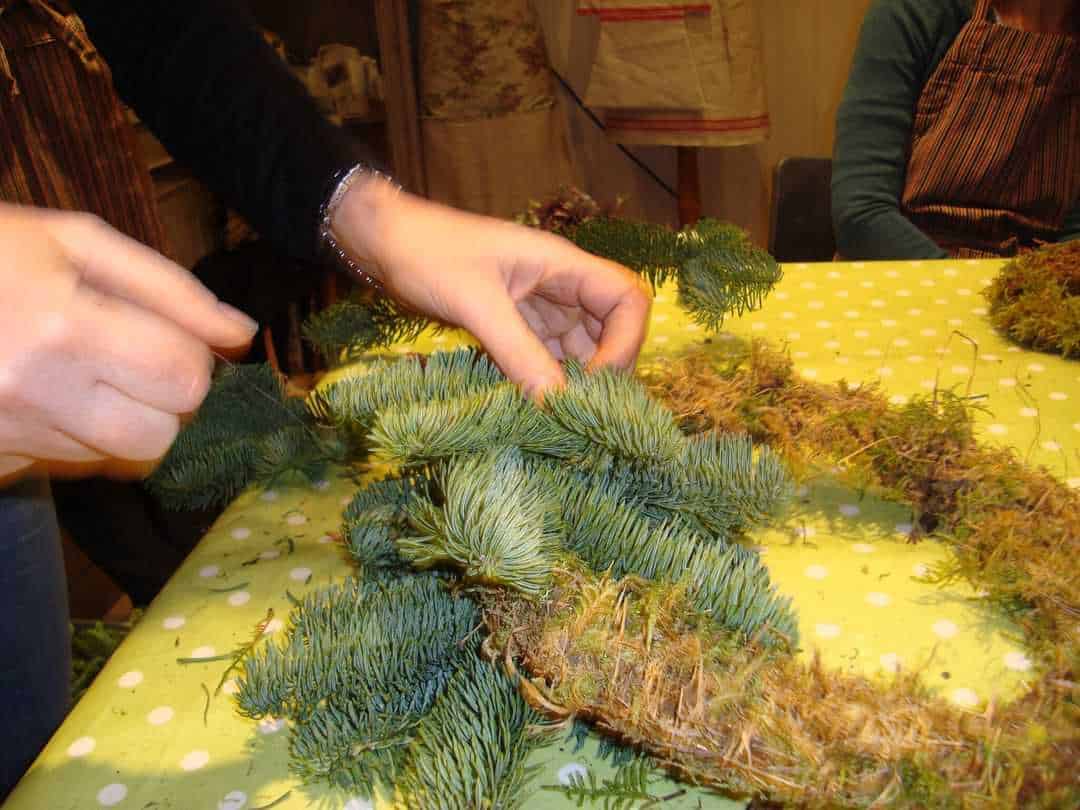 The fir fronds are placed overlapping in a clockwise direction, as it can look discordant if they go in different directions. Each is carefully wired on as we followed the shape of the ring. At this point I notice each person's individual style starting to be expressed. While some of us create very neat compact wreaths, others allow a wilder and more free look to evolve.
Adding decoration
With the bases finished, we start the exciting process of decorating and dressing our wreaths. I tie small bunches of cinnamon sticks with raffia. then I choose dried apple and orange slices and pine cones. I was liking the natural feel. For a splash of colour and a festive touch I add some bright red ilex berries. You wrap wire firmly around each item and then use this to tie around the wreath. The tip here is to secure securely whilst helping the foliage to cover up the lengths of wire.
Rachel advises that the decorations be placed at random or in uniform groups, depending on your own personal preference. For the finishing touch we apply some festive ribbon bows. This is our opportunity to be as creative as we wanted to be.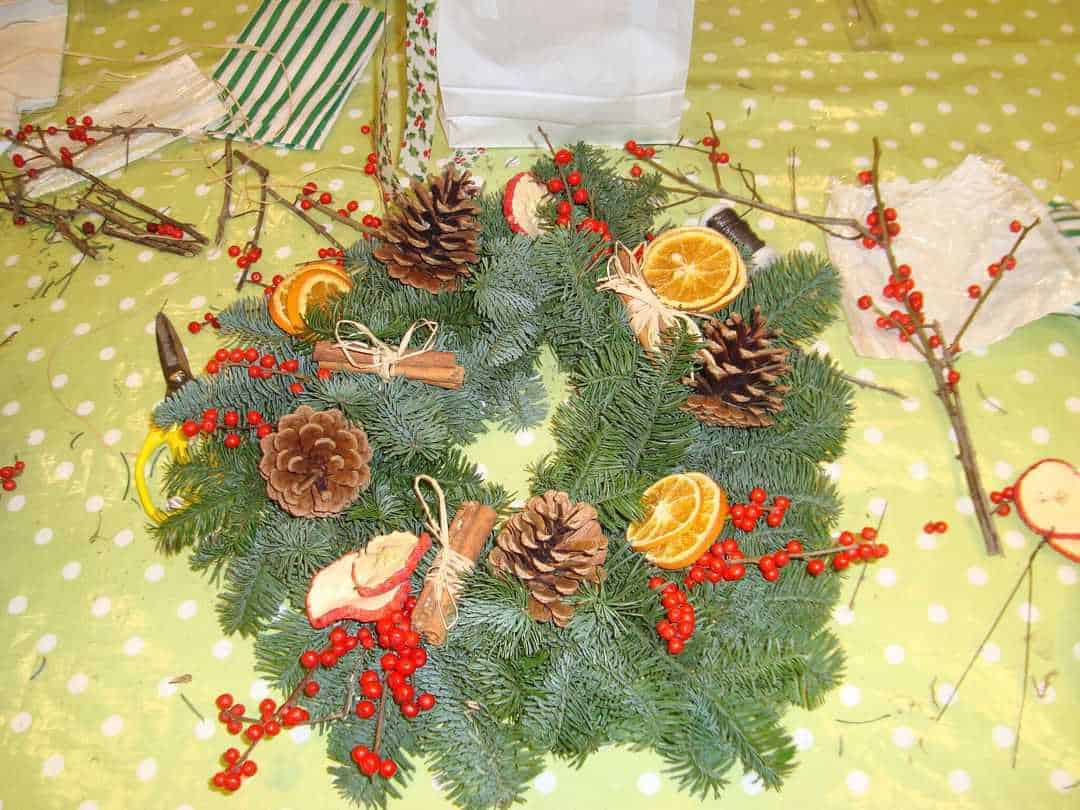 The three hours flew by and we all left with wreaths we would proudly hang on our front doors.
What do you think?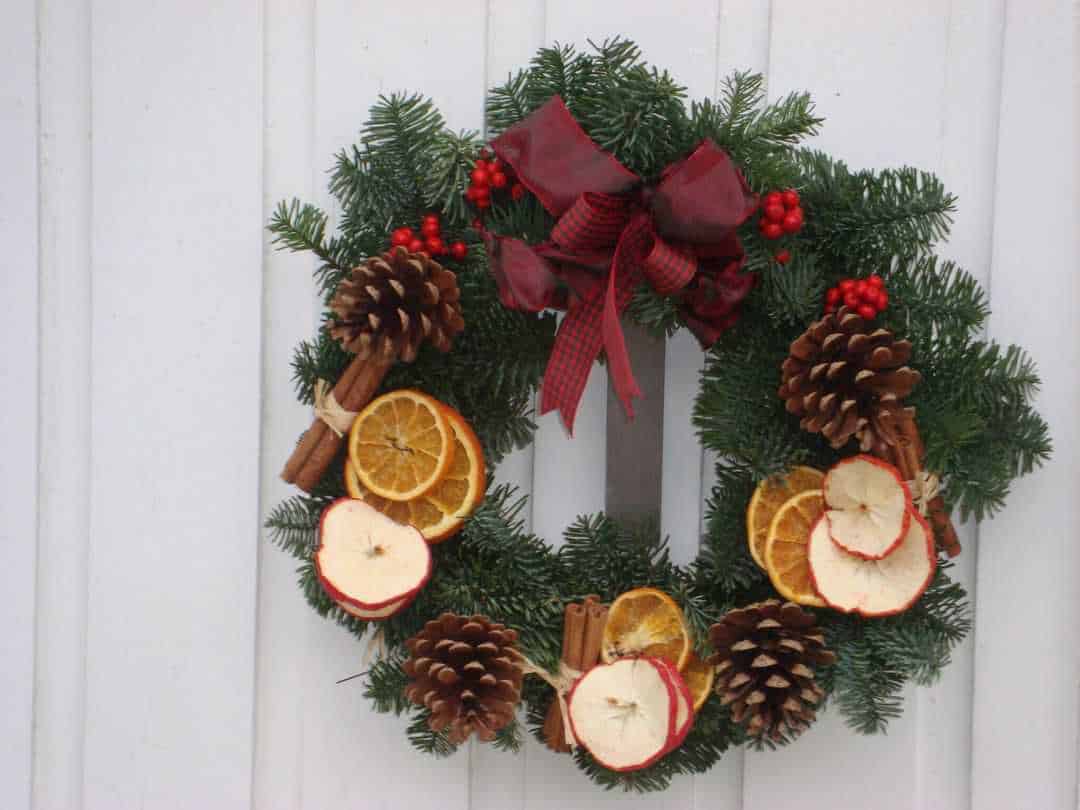 step by step gallery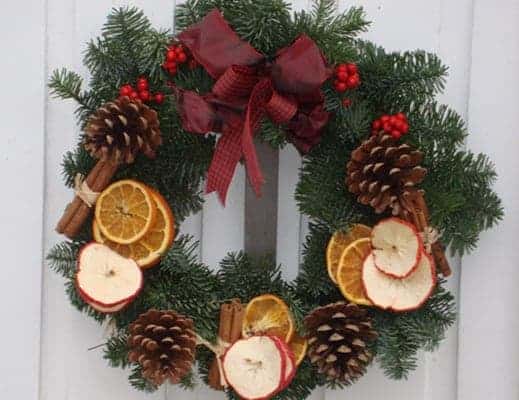 ---
Resources:
Find out about the range of craft courses offered at The Workshop at Sally Bourne Interiors.
Feeling inspired? Take a look at the Creative Workshops category in our Directory, where you'll find a variety of inspiring courses, from art and crafts to fashion and beauty, interiors, cooking and flower & gardening.
If you run a creative course that would interest our readers do get in touch. Email us at editor@frombritainwithlove.com.
---