Learn how to make silver clay jewellery
Scroll down below the step by steps for inspiration from Emma Mitchell who creates beautiful silver clay jewellery using foraged natural finds. You'll find all the links you need to connect with Emma (she has written a beautiful collection of best selling books and also offers workshops).
To get step by steps to simple silver clay jewellery making read on. For this month's Course Notes feature, Nicky Sherwood visits the Sussex studio of Paula Paton and learns how to make silver clay jewellery using the versatile and relatively new material – silver clay.
I first came across silver clay a couple of years ago when I was given a gift bearing the imprint of my then baby son's fingerprint. I was amazed by the fine detail and had always wondered how the technique was done, so when I came across Paula Paton's Learn Silver clay workshops, I was keen to have a go myself and see what could be achieved as a complete beginner.
Paula teaches her workshops from a delightful purpose-built studio in her garden and keeps the groups small so she can give each student individual attention, as well as their own workstation. In our group of three I was intrigued to hear that one of the other students was in fact a professional jeweller who had heard about what could be achieved using silver clay and was interested to see how the results compared with using sheet silver.
How to make silver clay jewellery
Materials
Silver clay
You can buy the PMC3 clay that we used on Amazon
Art Clay Silver New Formula Precious Metal Clay  and Prometheus Silver Clay 950 are other good options. This Silver clay powder option is also plastic-free
Leaves/seed heads, natural findings
Silicone moulds – I really like this selection from Etsy:
Or, best of all, why not make your own silicon casts? Mould your foraged finds and create jewellery from seed heads, acorns, flowers, herbs…
Pebeo Silicon Fast Set is available to buy on Amazon and works a treat.
Textures & Tools
This 24pc polymer clay tool set and Precious Metal Clay Starter Kit are both really useful.
Rayven Studios in Wales is a great resource for textures
This Silver Jewellery making kit by Rebecca Oxenham is like a workshop in a box!
Precious Metal Clay (or silver clay)
After an introduction to the tools and materials that we would be using, Paula showed us examples of what could be achieved using silver clay, and gave a demonstration of how the clay is used. A relatively new material, Precious Metal Clay (PMC) or silver clay as it's also known, was originally developed in Japan. It contains tiny silver particles, a non-toxic binder and water. In this form it resembles clay and can easily be shaped and formed. Once dried, it's then fired in a kiln or using a blowtorch which causes the binder to burn off, leaving behind pure (99.9%) silver, which can even be hallmarked as such.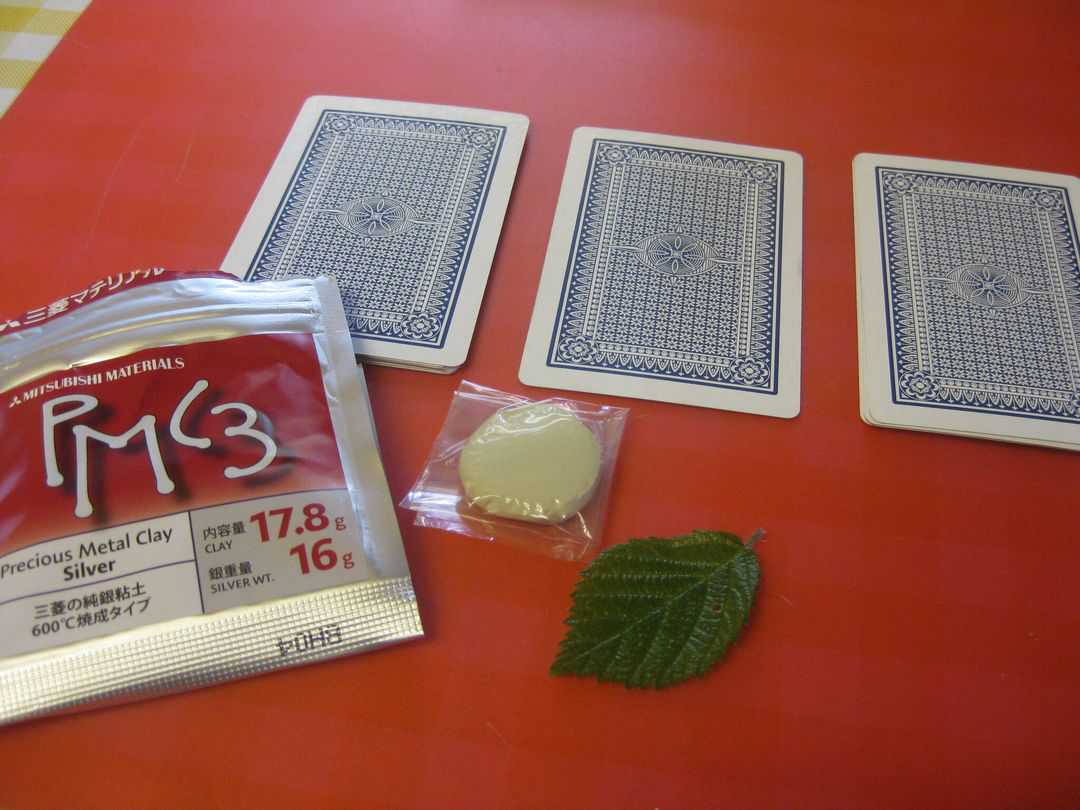 Bubblegum into silver..?
Due to its purity silver clay doesn't come cheap, and the small 16g pack that we were each given to work with costs around £21 to buy. I found it hard to imagine that this small grey blob resembling a piece of chewing gum would soon be transformed, as if by alchemy, into pure silver.
Rose leaf print
Our first project was to create a pendant using texture, moulds and construction techniques. Paula showed us how to roll out a small piece of clay to the required thickness, which involved starting with a stack of seven playing cards (lightly greased with Badger Balm) on either side, then gradually reducing them down to five cards. I had decided to create a leaf motif and Paula showed me how to press a fresh rose leaf from the garden into the clay to imprint the texture into it.
dragonfly mould
Next I chose a tiny silicone mould of a dragonfly from the extensive selection available, and pressed a small amount of clay into the mould, before turning it out and attaching it to the leaf shape using liquid clay.
I rolled out a small snake of clay to create a 'bail' to hang the pendant from and attached it to the top of the leaf. The pendant was then placed in a dehydrator (a sort of electric steamer in reverse) to dry it out quickly. Once dry, Paula suggested I use a small hand file to cut into the edges to create a more natural-looking, uneven edge around the leaf.
Using a textured mat
While our pendants were drying, it was time to try out another project using a different technique – this time adding pattern to the clay using a textured mat.
For my second piece, I'd decided on a heart shape so I chose a mat with a script pattern based on a Victorian love letter. Pressing the rolled out clay onto the mat successfully imprinted the detailed pattern, and I then used a metal pastry cutter to create my heart shape, before placing the piece in the dehydrator to dry out.
Arum lily
My third project of the day involved constructing a tiny three-dimensional Arum lily, again using a metal cutter to create the basic shape, which was then folded and pinched to resemble the flower petal. A tiny stamen was then piped into the inside using a syringe filled with clay.
Silver clay seashells
For my final project, by which time I had only a small amount of clay left, I decided to create a collection of small silver charms using silicone moulds featuring seashell and fossil motifs. Soon my clay was all gone and I had the grand total of eight separate pieces of soon-to-be silver jewellery languishing in the dehydrator.
After drying, the clay pieces were placed on a mirror to ensure there was no moisture left, then declared ready for firing. Paula showed us a technique for firing the clay which can be done at home using a hand-held blowtorch, telling us that the clay would be ready 2 minutes after it achieved a salmon colour (poached not smoked!). But for speed's sake, and because we had quite a lot between us, our pieces were placed in her professional kiln and fired for 10 minutes.
The silver clay transformation
For some reason, I had expected the dry white pieces to come out of the kiln miraculously transformed into shining silver, and was a little surprised when they emerged looking pretty much the same as when they went in. It turns out that a little more intervention is needed and Paula gave us each a stiff wire brush which we quickly got to work with.
This is when the magic starts to happen – as the white dust gently falls away, the shiny silver beneath the surface begins to appear. Gradually I realised that what appeared to be brittle grey clay had in fact been transformed into very robust fine silver.
Having seen the transformation with my leaf pendant I quickly moved onto my heart tag, brushing away the matt white coating to reveal the fine detail of the script imprinted into the silver.
The finished result
Last of all, I carefully buffed and polished each of my tiny silver charms until they came up glowing, while Paula showed me how to attach rings to them using solder and a blowtorch. She suggested I attach them to a length of chain to form a pendant, then we chose some seed pearl beads and strung the finished pendant onto an aqua leather thong to complete the 'coastal' look.
As the sun started to set outside over Paula's garden and the day drew to a close, I marvelled at how much we had achieved – both in terms of time, skills and techniques, but also from that small and rather uninspiring blob of greyish clay which we'd each started off with. The finished results are incredibly detailed – every vein was visible on my finished leaf pendant, and even the jeweller on the course commented on how this level of detail would be very hard to achieve using traditional methods.
All in all, this fascinating and fun one day workshop in the heart of the Sussex countryside is an excellent starting point for anyone wanting to create professional looking silver jewellery for themselves, for friends and family, or even as a business.
More Ideas & Inspiration
Emma Mitchell
photo credit: Emma Mitchell
There is so much inspiration to be had over on Emma's Silverpebble website and Instagram – plus you can book up silver clay workshops with her too. She teaches at her cottage in Cambridgeshire as well as at Cambridge University Botanic Gardens, Daylesford Farm, Metal Clay Ltd and at venues round the UK.
photo credits: Emma Mitchell
I love Emma's natural, artistic style and that she describes her work as 'silver fossils'. It's such a great phrase – and really captures a little of the magic of silver clay making, don't you think?
You can also buy Emma's finished silver clay creations on Etsy. She sells out fast, however, so I'd recommend keeping a close eye on her social media (Twitter or Insta) and maybe contacting her to request early access…
INFORMATION
---
For more ideas and inspiration about working with precious metal clay, why not take a look at these books…
Working with Precious Metal Clay (Jewellery Handbooks)
Art of Metal Clay, Revised and Expanded, The: Techniques for Creating Jewelry and Decorative Objects
Are you a maker or creative course provider? Like to list with us and benefit from joining our supportive community? We'd love to hear from you. Check out the packages we offer on our Join Us page.
This article contains affiliate links, which means we may earn a small commission if a reader clicks through and makes a purchase. All our blog posts are independent and in no way influenced by any advertiser or commercial initiative. By clicking on an affiliate link, you accept that third-party cookies will be set.