Make Devonshire scones with Delimann
If there is anything that polarises opinion in the West Country more than anything else it is the dispute over the origination of the Cream Tea, and the way in which the perfect Cream Tea should be served.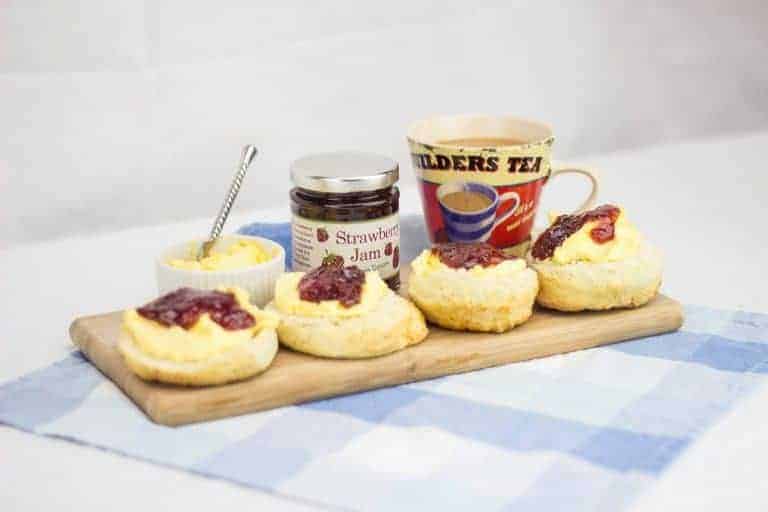 A little bit of cream tea history
It is a serious matter for some, and in 2005 local historians in the Devonian town of Tavistock put together fragments of an 11th century manuscript from the local Benedictine Abbey in which they discovered that monks fed local workers with bread, clotted cream and preserve in thanks for their help in restoring the Abbey. This was such a success that they continued serving it to passing travellers after the work was completed. The Cream Tea was born!
Jam or cream first?
The controversy not only lies in the Cream Tea's origin, but in the way this glorious afternoon treat is enjoyed. In Cornwall, it is insisted that the jam goes on first, with cream on top of the scone. The popular reason for this is that the jam spread atop the scone helps secure the cream in place. However, in Devon it has to be cream spread on the scone first, and then jam – one argument being you wouldn't put butter on top of the jam would you?!
There are a few things we feel are essential to be able to experience an authentic Cream Tea. First, the scones are best served fresh and warmed through. Devonshire scones are plain, without any fruit, and cream must be clotted. Clotted cream is cooked slowly, has a pale yellow colour with often a deeper yellow crust. No whipped, double or God forbid squirty cream should ever be used. For traditionalists, the tea has to be served with extra fruity strawberry jam and a cup of fine Afternoon Tea. Finding your own quiet corner to enjoy will also definitely enhance the experience!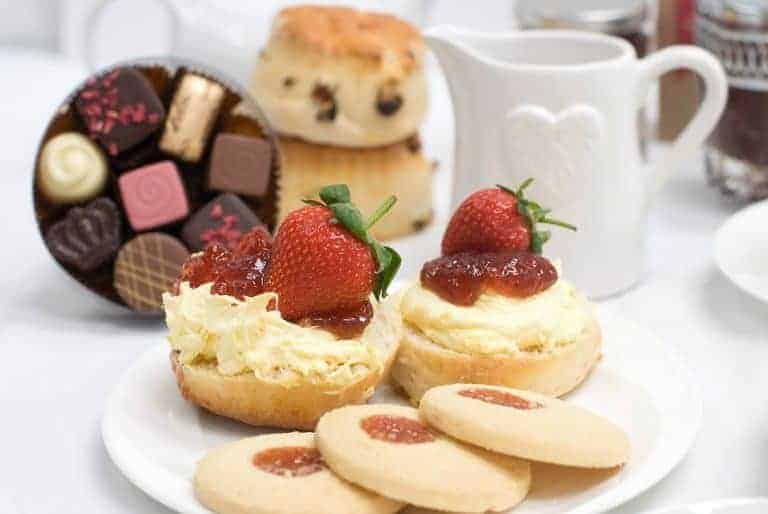 Cream teas by post
From the Delimann's Dartmoor base we send out thousands of this quintessential British favourite, the Devonshire Cream Tea, in hampers all over the country – so you may be able to guess where our allegiance lies! We do often wonder as we stare over towards the rugged rocks of Haytor whilst packing and preening the vital ingredients of Devonshire scones, clotted cream, fruity strawberry jam and West Country blended tea – just which way our many customers, from Portsmouth to Perth, choose to enjoy their Cream Tea.
Whichever method of enjoyment you choose or version of history you believe, one thing is for sure, a Cream Tea takes the biscuit for an indulgent afternoon treat!
Which way do you choose to enjoy your Cream Tea… cream first or jam first? We'd love to hear, so do leave a comment below and let us know your thoughts…
Devonshire Scones Recipe
Tips: Use the finest ingredients you can, try not to handle or knead the mixture too much and put your baking tray in the oven to heat before placing the scones on it so you don't have to grease it.
350g self raising flour
1 teaspoon of baking powder and pinch of salt
85g butter at room temperature
65g caster sugar
2 large or 3 medium sized eggs
175ml of milk
Squeeze of lemon juice
1. Heat oven to 220c/fan200c/gas 7.
2. Mix flour in large bowl with salt and baking powder, then stir. Rub in butter until mixture looks like fine breadcrumbs, stir in sugar.
3. Combine eggs, milk and lemon juice and make a well in centre of dry mixture and add – combining quickly with a knife.
4. Scatter flour on work surface and tip out dough mixture – folding a few times to get a smooth dough.
5. Pat mixture to approximately 4cm deep and use a smooth edged cutter to cut scones.
6. Place carefully on hot baking tray.
7. Bake for 10 minutes until risen and golden.
8. Eat warm, with a generously helping of clotted cream and jam. Or jam and clotted cream.
This recipe has been contributed by The Delimann, voted 'Best Cream Tea in the Countryside' by the Heart of Devon Cream Tea Excellence campaign in March 2013. They were also listed in The Independent newspaper as a top 50 destination for Afternoon Tea, and in the Daily Telegraph as a top 50 foodie destination. The Delimann is run by Directors Gill Mann, whose family has had a fine food emporium in Bovey Tracey since 1837, and Deborah Trott.
A pin to save to Pinterest
---
For more delicious regional British recipe ideas, why not try this heavenly How to make Dorset apple cake shared by Sue Michel of Old Bidlake Farm or How to make lemon curd by Karen Burns-Booth who shares her mum's traditional recipe that is bursing with zesty citrus tang