If you've ever received a box of scented roses from The Real Flower Company (listed in the FBWL directory here) you'll know just how special they are. Unlike the underwhelming fragrance-free and uniform roses that are widely available, The Real Flower company flowers look – and smell – like flowers should.
I was so touched to receive this heavenly bouquet of scented English roses to cheer me up after breaking my ankle recently. I can't tell you just how intoxicating the fragrance was – for well over a week. And how much pleasure it gave me to watch each rose slowly go from bud to fully open bloom.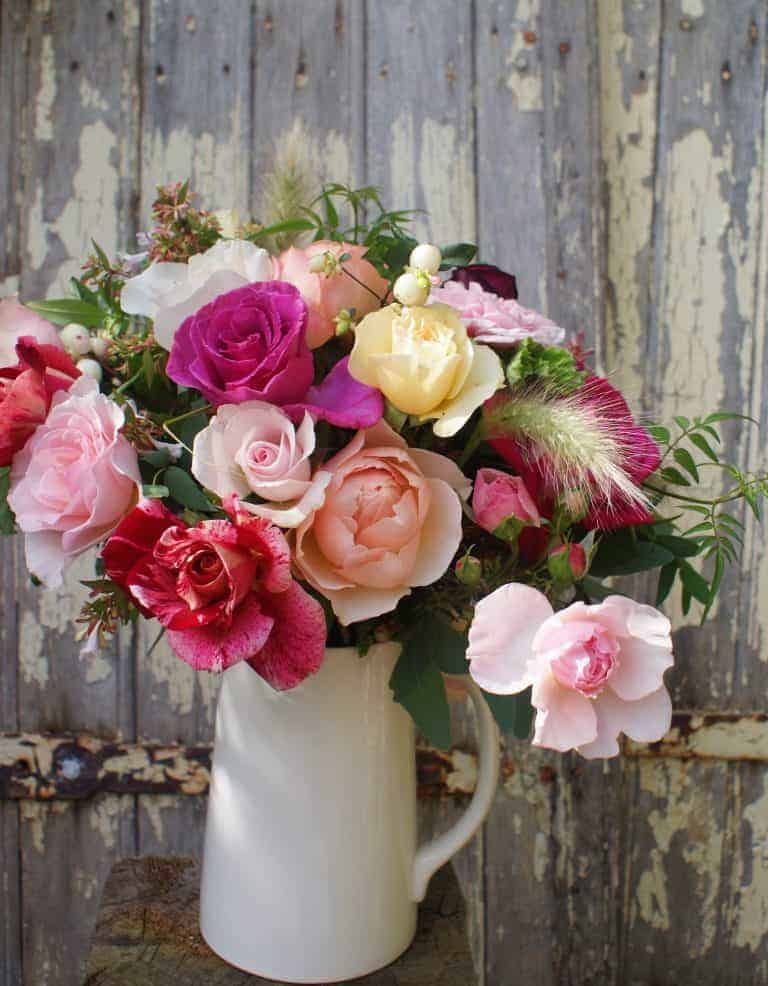 So, when I was invited to join a walk around the company's flower farm in Hampshire led by founder of the business, Rosebie Morton, I didn't hesitate. I joined a small group of creative florists on a blustery Monday morning and we began with Rosebie sharing a little bit about the story and ethos of the business.
I warmed to Rosebie instantly and was swept along with her obvious – and infectious – passion for what she does.
Rosebie's story
It was back in 1992, whilst raising her young family and running the family farm with husband Matthew that the spark of inspiration came: memories of scented rose gardens from Rosebie's childhood. An army family, they were on the move constantly and, wherever they went, Rosebie's mother, Elspeth, created a garden with fragrant reminders of home. Often in improbable and challenging locations.
Why, Rosebie wondered, wasn't it possible to buy cut roses like the ones she remembered? She decided to put that right by growing them herself.
Inspired by her mother's determination to create something from very little, Rosebie began to research and grow forgotten roses  in the walled garden at her family farm in Hampshire.
The road ahead was far from smooth and the learning curve steep, to say the least. Few modern cut roses feature any trace of scent. This is because most commercially grown flowers have had their scent genetically removed to increase their durability and longevity. Much more of a challenge to achieve what Rosebie set out to do – curate, grow and sell the finest fragrant cut roses.
The Real Flower Company
The Real Flower Company was created in 1998 and now grows and sells an unsurpassed range of scented roses, flowers and foliage to retail and trade customers. Awards include RHS Gold at The Chelsea Flower Show, Vogue magazine's '100 Best Shops Outside London' and Ornamental Grower of the Year by Grower Magazine.
Rosebie's journey put me in mind of a really interesting book I'm reading: The Element by Ken Robinson.
One particular passage I'd read resonated with me: 'Imagination is not the same as creativity. Creativity takes the process of imagination to another level. It's the process of having original ideas that have value and doing something with them. Putting your imagination to work to make something new, to come up with new solutions to problems, even to think of new problems or questions.'
Rosebie has done exactly that, which is why I found her genuinely inspiring. All this before we even started on the walk…
The sun started shining just as we set out to tour the farm and I loved the palpable excitement of my florist companions.
The Farm Walk
Rows and rows of paper-perfect lime white Paniculata hydrangea waved in the wind below wide poly tunnels. Dahlias of every colour and shape were in full bloom and utterly stunning in their somewhat blowsy way.
There was some debate in the group about why the uber-popular Café au Lait variety has been such a hot trend of late. Creamy with soft pink tones and fully double flowers as large as a dinner plate, it's become a bridal favourite for obvious reasons.
That dahlia…
I was fascinated to hear the backroom tales of petals that bruise if you so much as look at them, heads that nod downwards but snap off heart-stoppingly easily if you so much as attempt to put them in a better position… The Café au Lait may be a fad, but I can't help being drawn to its highly strung beauty. And will be planting lots in my own garden shortly.
Roses, lots of roses
We moved on to the roses. There are lots of roses. It made me smile that the experts around me were on first name terms with one of the most popular varieties. An unassuming white rose in bud was referred to lovingly as 'Margaret'.
I discovered that the variety in question is Margaret Merril. And that it is probably the most beautiful garden rose grown on the farm. The buds open to reveal a beautiful gold centre, with petals that range from ivory to blush pink. The scent is intoxicating too, apparently.
You can buy a bouquet of Simply Margaret Merril roses (shown above), from £65 here >>.
We meandered past aromatic foliage, jewel-bright rose hips, still-flowering honeysuckle and lilac and so much more. It was such a wonderful way to spend a morning.
We finished our morning with shortbread and mugs of tea in the packing barn. I was fascinated by the glass jars of flowers, each labelled with a day of the week. It's to check how the different blooms last.
There's a constantly evolving process of trial and error here. The mission is to ensure that the end product is as wonderful as possible. Buckets full of freshly cut roses and flowers fill the space. All watched over from the seat of a tractor by a Jack Russell who instantly gave me his best side…
I came away with two large and fragrant pots of scented geranium (just £5 each). And a determination never to settle again for flowers that have had their scent – and somehow their soul – removed.
Farm shop
If you live near enough, it's worth knowing that you can drop into the farm, near Hinton Ampner on Fridays. Freshly cut bunches of flowers are on sale, as well as plants that you won't find in garden centres.
Address: The Sheep Dip Rose Paddock
Hinton Ampner
Nr Alresford
Hampshire
SO24 0LF. Tel: 01962 771 467
The shop is open between 9am and 4pm every Friday, from May to October.
INFORMATION
---
The Real Flower Company is listed in the From Britain with Love  directory here >>
Find all the information you need to shop from their website or set up a trade account.
Are you a maker or creative course provider? Like to benefit from joining our supportive community? We'd love to hear from you. Check out the packages we offer on our Join Us page and get more details from our Information pack here