Natural soap made in Britain with love and care – my pick of the very best natural, sustainable options from my favourite UK makers.
I made a return to using solid bars of soap during the pandemic when frequent hand washing with liquid hand wash left my skin cracked and hide-like. Switching to a bar of Rose Geranium soap from The Little Soap Company quickly improved the sorry state of my hands. Like most of us, I reuse and recycle as much as I can, but there's something so much nicer about a bar of soap simply wrapped in paper with no plastic in sight.
I love that soap making is a truly ancient craft that dates back millennia and it feels important to support those who are still making it in the traditional way. So I've done some homework and searched the UK to bring you my findings. My aim is to share the best natural soap makers around the UK with you and I'll keep updating as I find more. I hope you find something that brings you a little daily joy – just as that pandemic bar of geranium soap did for me.
Natural soap – my pick of the best
When founder Emma Heathcote-James began selling her handmade natural and organic soap at local farmer's markets, it was soon clear that the products were a winner with customers. So she set out to make natural soaps accessible to everyone by getting her products into UK retailers – which she has done! You can find these beautifully fragrant and natural soaps at your local supermarket or online.
This is the one that started me off down this path and I love it just as much now as I did back then. The natural fragrance is utterly blissful – makes you want to stop, close your eyes and breathe it in.
Organic and made with the finest natural ingredients, including pure Rose Geranium essential oil, it's also free of detergents, SLS, sulphates, alcohol, parabens, sorbates, silicones and synthetic preservatives. Packaging is plastic free, eco friendly and biodegradable and the palm oil is RSPO certified sustainable.
A great price too for an organic, natural British soap, so it's a bit of affordable daily luxury.
A very close second to the Geranium soap, this one is a totally gorgeous combination of lavender and citrus. I blow a bit hot and cold with lavender on its own, but adding a spritz of fresh citrus works brilliantly. It's like a ray of warm, refreshing sunshine and is a Little Soap Company best seller for good reason.
Made in Yorkshire using milk from their own small herd of naturally reared goats, Tilda's Tribe soaps have won multiple awards and it's easy to see why. The Honey and Oatmeal Soap Bar is a worthy winner in the problem skin category and is a little bar of natural soap wonderfulness.
Made using the ancient and traditional cold process method, this soothing and gentle soap combines the benefits of raw goats milk with shea butter, olive oil, oatmeal, coconut oil and honey.
I also love Tilda's Tribe shampoo and conditioner bars – perfect for anyone with a sensitive scalp and beautifully plastic free.
Kelsey Cornish natural soap
I love this natural soap handmade in Cornwall using all natural/vegan ingredients and the traditional cold process method. This Geranium and Pink Clay is my favourite. I do love the floral blissfulness of geranium – as we've already established – and the addition of pink clay deep cleans the pores of the skin without drying it out.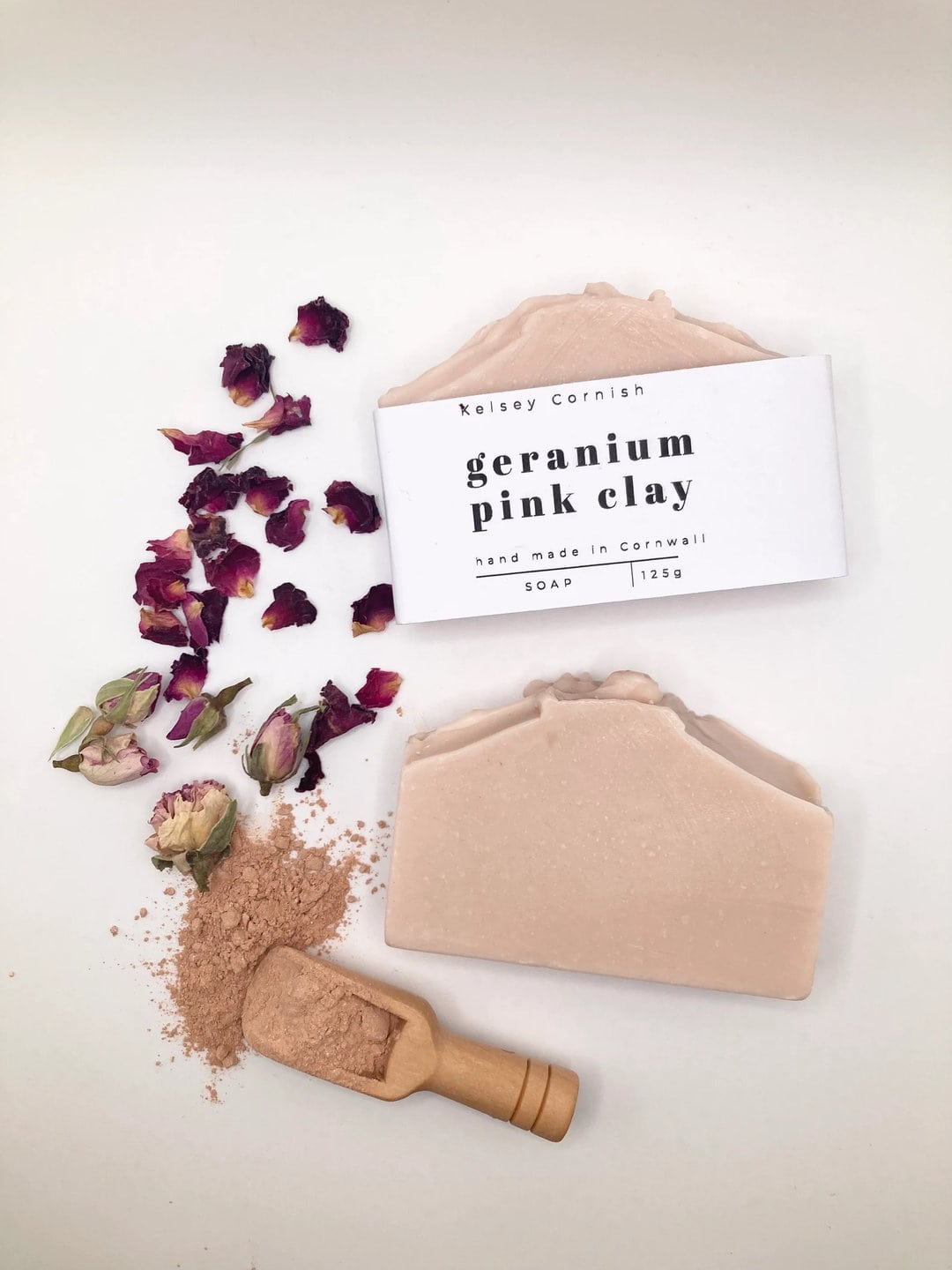 Neal's Yard Remedies
It's easy to take brands like Neal's Yard Remedies for granted, but they have been promoting natural, organic British soap and UK-made skincare for decades – and still very much do. This Geranium and Orange soap is a fragrant beauty with 100% natural and 71% organic ingredients. There must be a generous amount of geranium and orange essential oils as the whole bathroom fill with fragrance.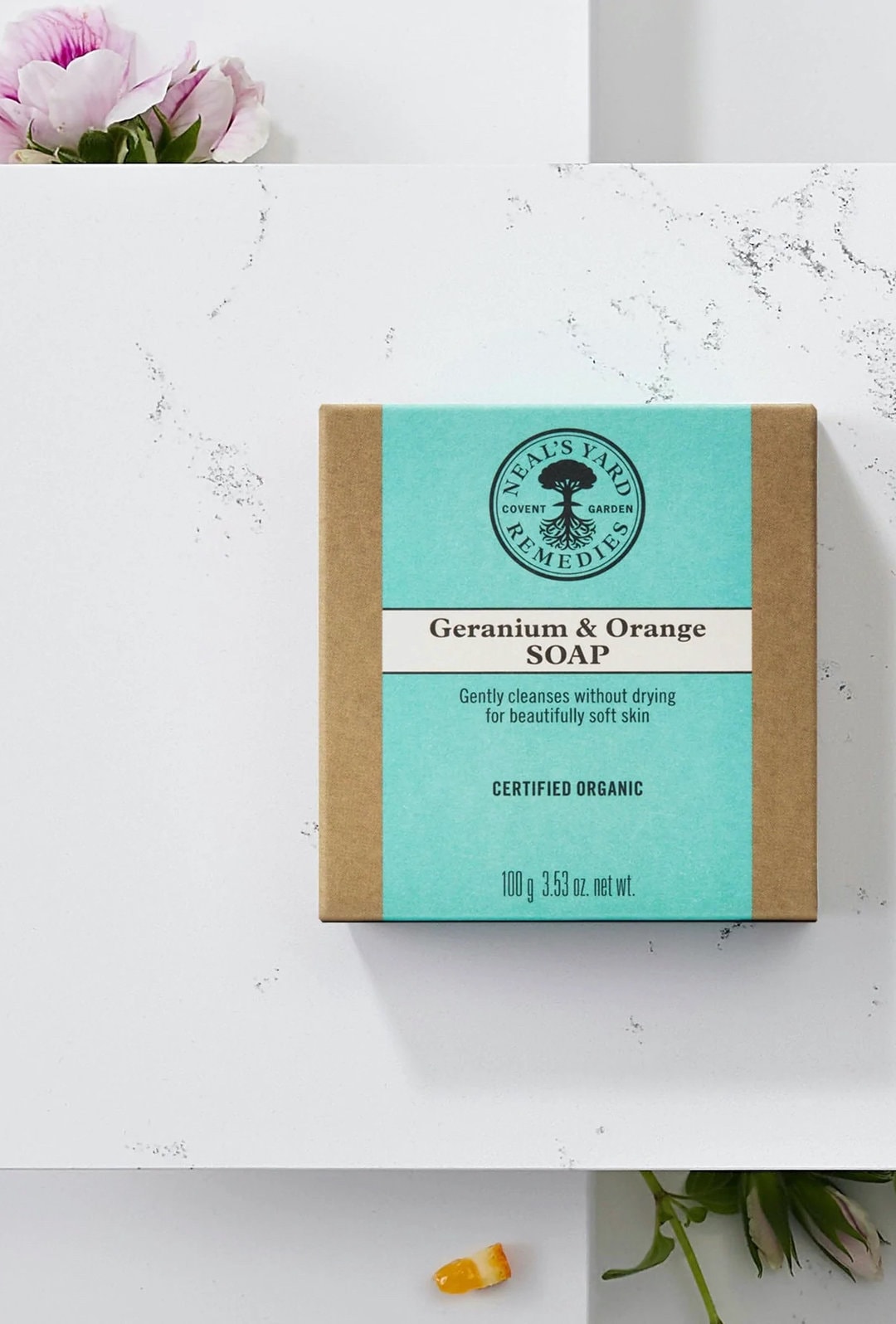 Floris
I had to include these three White Rose signature soaps from Floris London in my round-up of great British soap because of their sheer history and luxurious quality.
Family perfumers since 1730, Floris London soaps are beautifully hand wrapped, tripple milled with a vegetable base and perfumed with fine fragrance. Embossed with the brand's iconic floral design dating back to the 1800s, these soaps are still hand poured at the original 89 Jermyn Street store.
Although the company prides itself on always having sourced the finest sustainably sourced absolutes and essential oils, I note that the soap ingredients list includes derivatives of palm oil without specifying whether it's sustainably sourced or not.
Given the devastating deforestation caused by unsustainable palm oil production it feels important for such an iconic brand with a reputation for responsibility and quality to make it a priority to clarify this for their customers. (Find out more about RSPO sustainable palm oil here). Better still, why not contact Floris directly (as I have just done) asking for clarity on whether they use palm oil products that are RSPO certified and if not, why not…
White Rose Floris London Soaps
Yardley
Hear me out. I know for many of us Yardley Lavender Soap conjures up somewhat old-fashioned images of times past. I can clearly see my Nana happily opening boxes of the stuff on Christmas Days back in the 70s. Probably well into the 80s too… And that's the point really. Yardley soap – and particularly the classic lavender one – is part of the fabric of our collective memory. At least for those of us above a certain age…
Yardley lavender soap was said to be a favourite of Queen Elizabeth II, fragrantly filling the soap dishes in royal palace bathrooms. Indeed Yardley has been awarded 6 Royal Warrants of Appointment since 1921 because of its high quality and rich heritage. (The brand is celebrating its 250th year this year!).
Yardley Original English Lavender Soaps
Choose from Original English Lavender Soaps (above) with the classic scent that combines lavender leaves, neroli and clary sage with a heart of lavender oil and geranium, enhanced with deeper notes of sandalwood and tonka bean or…
A new version of the classic fragrance (combining bergamot and clary sage with English Lavender, eucalyptus, geranium, jasmine, chamomile and violet, enhanced with deeper, warm notes of wood, vanilla and patchouli) and updated packaging.
The lavender oil used to make Yardley soaps and fragrances is distilled from flowers harvested from English lavender fields in June and July when they're at their fragrant best. Yardley products are vegan, cruelty free and the company says it's committed to a responsible supply chain as well as sustainable business policies, making and packing all products within the UK.
Sustainability questions
To be brutally honest, though, I feel Yardley still has a way to go. Both of these soaps are described on their website as containing 'up to 97% naturally derived ingredients' – a description that does irritate me as 'up to 97%' is very different to 'contains 97%'. 'Up to' could in all accuracy mean 1%! I'm sure it doesn't but you get what I mean. More transparency would go a long way with me.
It's quite hard to actually pin down the full ingredients list but I managed to find it by doing a little research beyond the Yardley website (it should be on there!). As well as being paraben-free and including beneficial natural ingredients such as shea butter and essential oils, disappointingly the list also contains sodium palmate, sodium palm kernelate with no specification about whether this is made from RSPO certified sustainable palm oil or not, as well as one or two other chemical additives that I don't like.
For such an iconic British soap brand it's a shame Yardley aren't making these soaps in a more transparently sustainable and natural way – as they would have been in the past. But I couldn't leave them out of a piece about British soap could I? My Nana wouldn't have approved and I doubt that the Queen would have been too impressed either.
I love this artisan Devonshire business and have known founder, Sarah Harper, for more than a decade now as she has been listing in the FBWL directory since our earliest days.
Using traditional cold process techniques, Clovelly Soap Co make natural soap scented with essential oils, spices and botanicals that are kind to your skin and the environment.
It's their beautiful paper packaging that really makes Clovelly soaps stand out from the crowd. Browse the whole collection here
I've picked out a couple of my current favourites to give you a flavour here too…
Handmade using olive oil, coconut oil, sustainable palm oil, UK printed paper and essential oils of bergamot, lemongrass and lime, this is as refreshing as a blowy walk beside the sea.
Grapefruit and Neroli Soap on a rope
Soap on a rope is as good an idea now as it was back in the day. No more shooting bars of slithery wet soap in the shower and no need for plastic bottles either. There's a whole range of delicious fragrances to choose from (browse them all here) but this one's my favourite. It's a fresh and floral scent that makes you feel uplifted and energised at the same time.
Bronnley
So it occurs to me that if I'm going to mention Floris and Yardley as iconic British soap makers, I really shouldn't miss out Bronnley who have been making quality soaps for 137 years. When I started browsing their current collections and discovered they've made this gorgeous box of 6 Herbarium guest soaps I was sold. You can buy them from Fortnum & Mason which is the link I've added below, but they are currently sold out on the Bronnley website.
This lovely box of six triple-milled guest soaps is designed to bring a sense of the English countryside. Enriched with berries, leaves and petals harvested from natural herbs and plants, the collection includes Wild Rosehip, Rowan Berry, Heather, Apple Mint, Thyme and Calendula.
Also a royal warrant holder to HM Queen Elizabeth II since 1955, Bronnley soaps do display all their ingredients clearly on their website and also clarify that they use RSPO sustainable palm oil. The soaps are all vegan friendly and not tested on animals.
A little bit of digging around their website convinced me that they are further along their sustainability journey than others we could mention. I'm looking at you, Yardley and Floris.
The Bronnley sustainability page confirms their conscious move away from the use of plastics, sustainable packaging and a whole section on the importance of using sustainable and traceable palm oil, as well as offering palm oil-free options.
Royal Warrant
I love how proud Bronnley is its royal warrant and the responsibility this brings:
'As long holders of the esteemed Royal Warrant and Luxury soap & fine fragrance supplier to Royal Households across the estate, we know we have a reputation to uphold. Sustainable development is now an important part of that honour, and we intend to further excel in this field to establish ourselves as the lighthouse for sustainability within this membership.'
There are so many lovely British soaps to choose from on the Bronnley website (you can browse them all here) but I've picked out my own two favourites here.
It's triple-milled, enriched with shea butter and smells divine. Most exciting of all, however, is that it's SHAPED LIKE A LEMON! Love it. I want a few artfully placed in a dish beside my kitchen sink.
Bronnley Mandarin & Orange Blossom palm oil free soap
This beauty is infused with sweet almond oil, shea butter and jojoba oil as well as orange blossom and citrus fine fragrance. The packaging is eco friendly made from 100% plastic free recycled material and is fully recyclable. As well as being vegan friendly, this soap is also cruelty and palm oil free. The more I see of Bronnley British soaps, the more I realise what I've been missing.
Award-winning eco-conscious and affordable soaps handmade in Scotland using renewable energy and zero waste. I love the simple, plastic-free packaging and would probably pick out this Coconut Milk & Lime Exfoliating Soap to share with you, but you can browse the whole collection here
Coconut Milk & Lime Exfoliating Soap
Handmade natural vegan eco-friendly soap beautifully made in Dunstable. I particularly like this Orange & Mandarin soap which includes natural essential oils of sweet orange, mandarin and cedarwood as well as orange peel and a dried orange slice. Browse the whole collection here.
You might also like
How to make natural soap with The Little Soap Company
This article contains affiliate links, which means we may earn a small commission if a reader clicks through and makes a purchase. All our blog posts are independent and in no way influenced by any advertiser or commercial initiative. By clicking on an affiliate link, you accept that third-party cookies will be set.