Gifts made in Britain by hand & with love
This year, more than ever, all the unsustainable Christmas 'stuff' on sale is totally out of step with how I'm feeling. Don't get me wrong, I love this time of year and really enjoy finding gifts to bring festive joy to loved ones. But that can't come at a high cost for our ailing environment. Buying close to home from individual makers struggling to keep their businesses afloat right now is what I'm focussing on. I've been squirrelling away ideas for sustainable gifts, made in Britain by a few of my favourite UK makers, for a while now, so I thought I'd share some of them with you in the hope that it helps you to find something special to love for years to come.
Find beautiful handmade gifts made in Britain
Charlotte makes a simply beautiful collection of textile accessories from her country Cotswolds studio including the smartest embroidered Christmas tree crown topper in town.
These linen hand warmers make the ideal gift for dog walkers or anyone who feels the cold. Filled with UK-grown dried wheat, you heat them for a minute in the microwave and pop them in your pocket for portable cosiness. Can you think of a better way to make someone feel loved? The pattern is a pretty Fairisle design from Charlotte's own original illustrations and strikes just the right festive note. Love!
Sticking with the Fairisle feel for a moment, how gorgeous are these Shetland fingerless gloves? Louise hand makes them in Scotland in 5 utterly gorgeous colour combinations. My own favourite is this coral and pale blue but there's also purple/lilac, oatmeal/blue, sage/buttermilk and grey/coral. If you'd like a pair, order soon as they sell out fast.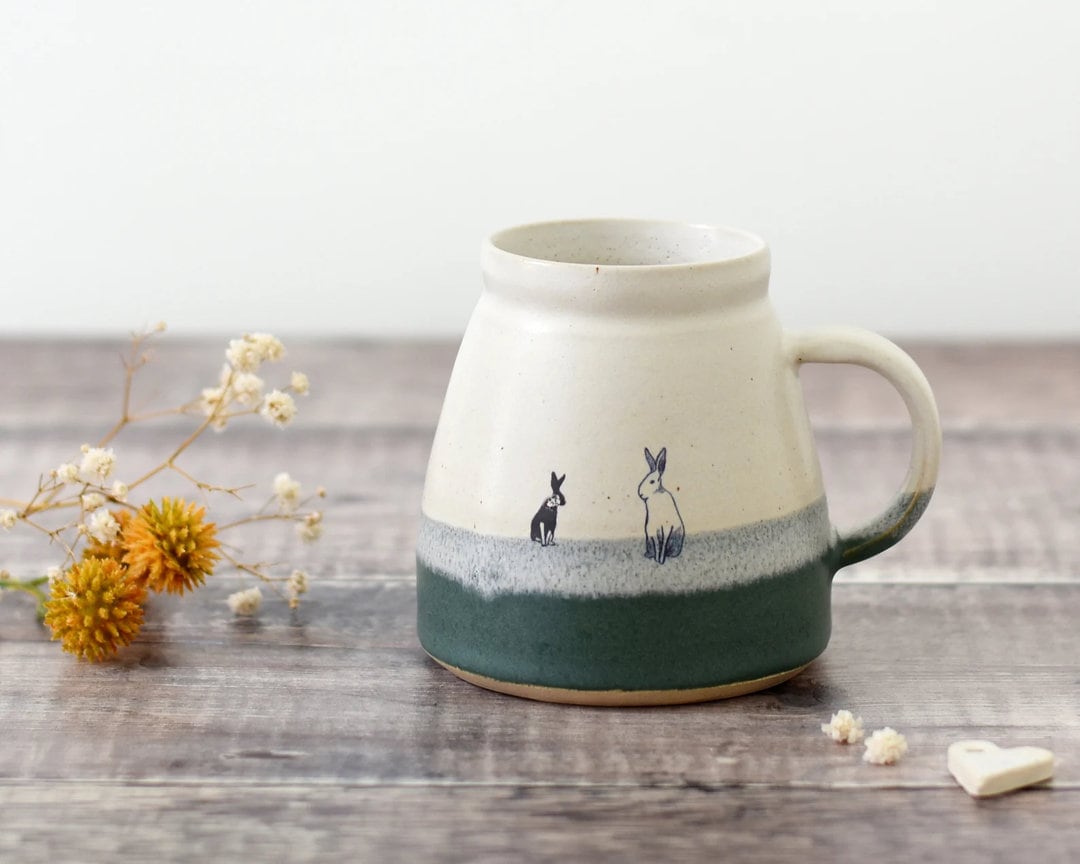 Handmade in Hythe by Mecki at the potter's wheel with decoration hand drawn by Zanna, this mug really caught my eye as being something truly unique. As someone who is forever finding cups of tea gone cold, I'm thinking the smaller surface area might mean keep the tea warmer for longer.
This is such a great gift idea for anyone with a passion for Jane Austen (there are other equally beautiful fragrances for Jane Eyre and Anne of Avonlea too…)
This lively and joyful fragrance is inspired by the beloved Elizabeth Bennet character from Austen's classic novel Pride & Prejudice and has fresh notes of lemon and mandarin softened with the warmth of basil, oakmoss and aniseed. Hand made in the UK from 100% natural and botanical ingredients it's also packaged so, so beautifully. Each glass bottle is stored inside a beautiful box decorated with illustration and a classic red wax seal.
If you're not sure which fragrance to go for, there's also a beautifully boxed Women's Fragrance Sampler which contains Elizabeth Bennet, Jane Eyre, Anne of Avonlea and Alice.
I love the design of this apron – and that Lisa hand makes it using 18 remnants of denim, striped ticking and bright red fabrics. This apron is truly one of a kind. Robust and stylish in equal measure, it's perfect for anyone of a creative or crafty persuasion. Extra long straps mean you can tie at the back or front and there's a decent sized patch pocket.
London-based founder of In The Making, Lisa Bennett, hand makes her beautiful collection using natural fabrics with minimal waste. Her pottery aprons are ideal for wearing whilst sitting at the wheel or work bench and designed with potters, painters and artisan makers in mind.
Welsh wool blanket by Felin Fach
I love a good Welsh blanket and this dragon red Pontyglasier by Felin Fach is a festive beauty. All Felin Fach blankets, tapestries and throws are woven in mills in Wales from pure British wool and make the perfect gift to treasure for ever. Browse all the beautiful Welsh blankets here: https://www.felinfach.com/collections/welsh-blankets
Designed and hand printed in Cornwall by Helen Round, this A6 notebook has a strong Kraft card cover and 16 pages of heavyweight ecological plain white paper. A really pretty stocking filler for anyone who likes to sketch or jot down thoughts. Great for using with pen, ink and pastels.
It's always worth a browse of beautifully curated online shop These Two Hands, which is how I discovered this beautiful new Light of the Moon candle by MOA.
Perfect for adding a sense of calm and a cosy glow to Winter evenings, this hand-poured candle is made in England from plant based natural waxes and a concentrated blend of pure essential oils (ie no fragrance oil).
Scented with a magical blend of white sage (said in folklore to bring good luck and make wishes come true), jasmine (the flowers are said to be even stronger during a waning moon), camphor (helps to relieve stress, clear negative energy and is also said to help cleanse the aura) and myrrh (traditionally considered one of the most spiritual plants and used for banishing negative energies).
Whether you believe in the magic or not, this candle will bring a wonderful, natural fragrance and also looks beautiful (the moon and the stars around the candle illuminate when lit).
You can also opt to add it to a Kraft gift box along with beautiful Fern & Moon letterpress match box by Archivist Gallery.
Another of my favourite places for finding beautifully made gift ideas is The Future Kept. There's a whole Made in the UK section which you can browse here: https://thefuturekept.com/collections/made-in-the-uk
It was tricky to single out just one idea, but in the end I went for this copper plant pot waterer because I've been hankering after one myself for ages. Hand crafted in England by Hawes, it's a design classic and the perfect gift for anyone of a horticultural persuasion.
This natural combination of Dead Sea and Epsom salts, coconut oil, calendula petals and essential oils of West Indian lemongrass, and rosemary is designed to transport you to a sunny Caribbean beach whilst you soak tired minds and body. Can you think of a nicer treat to give someone at this time of year?
I've known Sharron, found of Kalabash, for a few years now and I love what she has created. Handmade in Bedfordshire, using the finest Caribbean inspired and ethically sourced natural ingredients, her aim is to help you sink into a world of laid-back self care.
Sashiko dog collar by Seldom Found
I'm not sure I've ever seen a more beautiful dog collar than this one. Hand cut, hand-crafted and hand-embroidered in England using sustainable vegetable tanned leather and stitched using quality french linen thread, it is finished with natural beeswax and solid brass fittings sourced from a UK HMS foundry.
A cute stocking filler that is made with only the finest natural ingredients to care for dry lips whilst smelling totally delicious.
Handmade in Whitby from shea butter, cocoa seed butter, sweet almond oil and sunflower seed oil, this lip balm smells good enough to eat. Pure essential oils or organic extracts are used to create the flavours. The packaging is a cute sustainable aluminium tin with cardboard sleeve. Perfect for keeping Winter lips deliciously soft and pampered.
The Eco Friendly Gifts company sells a beautifully packaged collection of postable gifts. This one is perfect for anyone heading off to the slopes and includes 100% natural and biodegradable products and packaging.
Love Cocoa dark chocolate with roasted almonds and English Maldon sea salt flakes gives a quick energy boost whilst there's soothing balms for hands, lips and feet and muscle ease bath salts.
Hand poured in Manchester using 100% natural ingredients, pure essential oils and clean burning soy wax, these beautiful candles are available in a range of different therapeutic options:
Tranquility (cedarwood, lemon and lavender).
Focus (cedarwood, lemon and peppermint).
Motivation (sweet orange, grapefruit and lemon).
Sensuality (ylang ylang, lavender and bergamot).
Happiness (tangerine, basil and lemon)
Meditation (sweet orange, lemongrass and lavender) and Immunity (peppermint, lemon and eucalyptus).
These are the perfect little extra gift designed and made in the UK, especially if you also happen to be wrapping up a candle for someone. The matches themselves are a joy to use because they are extra long ,but what really sets these boxes apart are the decorative designs.
Founder of Superfly Soap, Lisa McWatt is based in Kincardine, Scotland and makes award-winning eco-conscious affordable skincare. Hand made with all-natural ingredients and perfumed deliciously with essential oils of orange, cinnamon and clove, this shampoo bar has to be the most fragrantly festive around. Add this reusable aluminium soap tin to your order and you have the perfect sustainable Christmassy stocking filler.
A great sustainable stocking filler handmade in the UK from bamboo towelling and soft brushed cotton (11 pretty designs to choose from).
100% natural and made in Britain with pure essential lavender oil, this fragrant duo is designed to aid sleep. reduce stress and improve mood.
Whilst we're on the subject of lavender, I really want to share this fragrant beauty with you too. Sustainably made in the UK by Soapsmith, it's a delicious, rich body lotion fragrant with natural lavender essential oil to relax and calm, along with cocoa butter and almond oil to nourish and soften the skin. Packaging is plastic free and recyclable.
Before moving on from Lavender Hill, I just want to mention a couple of their sustainable fashion essentials. There's the perfect (sustainable) white tee shirt and collared linen t-shirt (which is in the sale right now).
This handmade natural Chocolate Orange soap makes a great stocking filler. It's rich and smooth with cocoa powder and aromatic with sweet orange essential oil. As with all Clovelly Soap Company soaps, it's handmade in Devon and arrives beautifully wrapped in decorative paper.
I struggled to pick out just one Vegan Bunny Christmas candles to share with you, so I thought I'd go for the set of 3. Handmade in Oxfordshire, all Vegan Bunny candles are 100% natural, vegan and fragranced with pure essential oils.
Christmas Tree is grounding and earthy with notes of wet pine, Christmas Pudding sweet and spicy and Mulled Wine earthy and sweet with notes of spice and flowers. Buy the set and you can decide which is your favourite… and also split the pack creating 3 different stocking fillers.
You can opt for a free gift note (typed on a vintage type writer) as well as a gift box tied with linen/jute ribbon.
This beautiful necklace is handmade from silver as well as sea glass collected from the coastline near Seaham in North East England, so each one is unique. It's interesting that Seaham was known for its glass factories in the mid 1800s (closing in the 1920s) and the sea glass collected along the nearby coastline now has been weathered and smoothed over time by the force of the North Sea.
How pretty is this silk scarf plant dyed by hand using avocado dye and the ancient Japanese resist dyeing technique of shibori? At the time of writing, it's the last one left, so if you'd like it, best not to hang around…
Information
This article contains affiliate links, which means we may earn a small commission if a reader clicks through and makes a purchase. All our blog posts are independent and in no way influenced by any advertiser or commercial initiative. By clicking on an affiliate link, you accept that third-party cookies will be set.
The Editor's pick pages on Etsy are always worth a browse – check out the Gifts for her editor's pick.
To buy close to home, click the 'all filters' button top left and select the location. To browse gifts made in Britain, I select 'items from the United Kingdom' and from there, I will browse individual product pages that catch my eye to find out more. Not the speediest of processes, I'll grant you, which is another reason why I thought it might save you some time if I shared what I have found..
Find makers featured here also listed in the FBWL directory:
A pin to share to Pinterest