Christmas flower arrangements – simple and rustic DIY ideas to try from a few of our favourite UK growers and florists.
Christmas flower arrangements
The Real Flower Company
Placing a floral wreath around a simple glass jar with a candle is a simple and effective way to dress your Christmas table. It's pretty simple to make your own, but easiest of all is to buy one. I love these two from The Real Flower company (listed in the FBWL directory here) because their Christmas flower arrangements have a wilder, more natural feel than most.
I asked Rosebie, founder of The Real Flower Company, for one or two of her own particular favourites for decorating with flowers and foliage at this time of year:
'Don't start too early but do forage for things like Old Man's Beard which if you spray with hairspray will keep. Gather rose hips while they are still plump in Autumn and put them in a solution of glycerine to preserve them. These can then be used at Christmas.
A door wreath is imperative for welcoming anybody to the house – you can make your own inexpensively with greenery and berries from the garden and hedge rows. (For creative fresh wreath ideas, read our easy step by step blog post here)
Dog walk where there might be fir cones and fill your pockets. Pile them into a big hurricane lamp and place them on the table with a candle.
Think ahead with Christmas bulbs in pots – if too late for this year, plan for next year and plant up containers with Christmas bulbs such as Amaryllis, Paperwhites and Hyacinths.
I like to use beautiful, understated low glass tubes down the table with trailing ivy, seed heads and holly berries, This way you can talk to the person across the table but still enjoy the festive decorations.
Hatbox flowers
This hatbox arrangement from The Real Flower Company combines Old Man's Beard with pale pink roses and wintry foliage. Just beautiful and actually it could be placed as is on your Christmas table because the box is so lovely.
You can't go wrong with your Christmas flower arrangements if you keep it simple and I do love the combination of whites and fresh lime greens. Why not try painting a few twigs white and add in a simple string of battery operated lights to add a touch of wintry white twinkle?
I also love the simplicity of this eucalyptus, pine cone and twinkly lights garland arranged over a mantelpiece. The vintage metal dove sets it off perfectly. I'm thinking you could also try adding old mason jars in different sizes with simple white candles lit inside.
Sometimes only deep red roses and red berries will do – love how these look arranged with green ivy, sage, fir and eucalyptus foliage.
Philippa Craddock Christmas flower arrangements
The lovely Philippa (listed in the FBWL directory here) was chosen to create the flowers for the royal wedding of Prince Harry and Meghan for a good reason. She has a natural, light touch with flowers that I love and she is passionate about fresh, seasonal British flowers.
Deep reds & purples…
Love the colours she has combined here in a Christmas bouquet -particularly the bright red anemone, deep red roses, purple wax flower, fresh green asparagus fern and foliage. Definitely a combination to try at home, adding in what you have to hand in the garden or can forage on walks.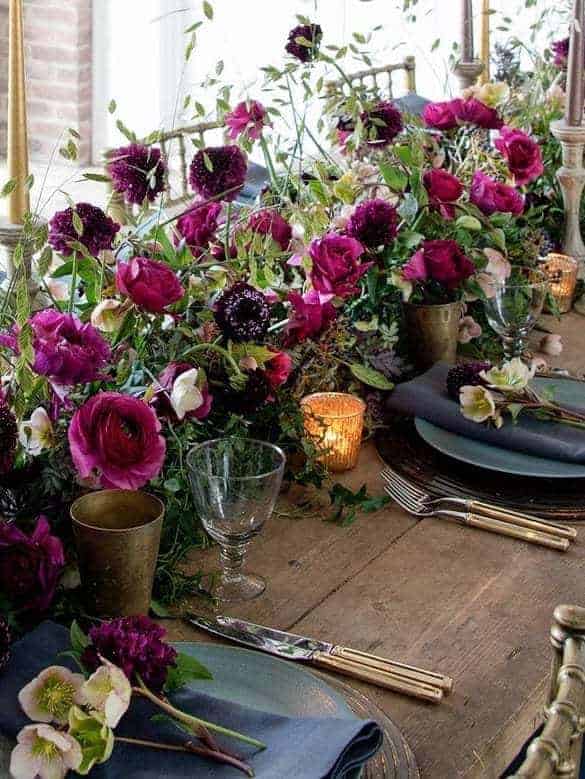 Winter whites, peacock featheres and evergreens
What's so lovely about these Christmas flower arrangements is the abundance and colour contrast of rich berry shades with fresh white and lime green. I love the idea of simply placing sprigs of cut flowers on the place settings – lime white Hellebores with deep purple blooms. Keeping the shape wild and free, with intermingled candles and brass goblets is really effective and works well with the rustic wooden table top.
Gold & berry shades
And I am totally in love with this combination of evergreen foliage, black candles and peacock feathers. Love how it combines with rustic wood, distressed silver and candles. I've bought some dark candles and am on the hunt for a few peacock feathers to add in with foraged greenery and a few Christmas tree offcuts…
This arrangement that Philippa created for the V&A museum in London is slightly more formal with the addition of gold-rimmed wine glasses and more roses.
For farmhouse style with a cool, scandi feel, this combination is perfect. There's foliage, fir, silver sprayed asparagus fern and mini christmas trees. Foraged twigs and greenery could easily be incorporated with some bought foliage and potted trees.
I do love the scent of aromatic evergreens in the house at this time of year. But, there's a lot to be said for faux flowers that will keep a table or side table looking beautiful. Philippa sells a really lovely range of faux flowers including this winter whites and blush dahlia bunch. It would look beautiful arranged in a large stone urn with some fresh ivy or foraged berries.
Cabbages & Roses
There's something so wonderfully over the top and gothic about this shot for the latest Cabbages & Roses (listed in the FBWL directory here) collection. There's something lovely about the combination of old-fashioned cabbage roses and lots of ivy isn't there?
Catkin Flowers Christmas flower arrangements
Lincolnshire-based Catkin Flowers (listed in the FBWL directory here) specialise in English grown flowers and grow their own in a walled cutting garden. What I love about this arrangement of paperwhite narcissi, panda anemone and white broom is the beautiful simplicity. I would probably add to simple glass jars and place a few along the table mixed with candles.
Floribunda Rose
What I love about Sarah Diligent's flowers at Floribunda Rose (listed in the FBWL directory here) is her natural, light touch and the fact that she uses only British sourced flowers.
This white and blush pink arrangement mixes lime white ranunculus and anemone with paperwhite narcissi, blush roses, fir and rosemary. Adding pine cones gives a lovely contrast.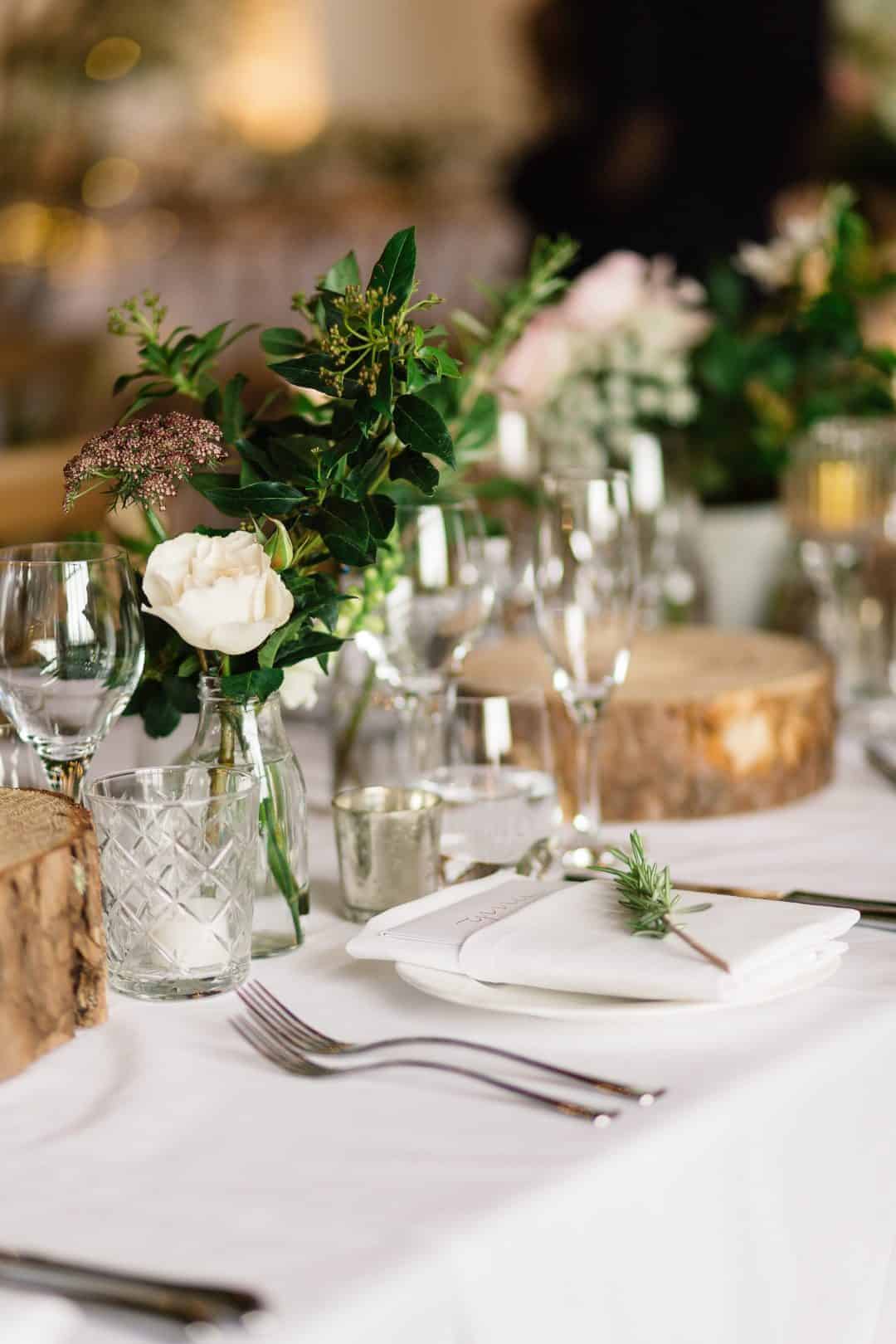 Worm Christmas flower arrangements
Worm London are really creative florists with a cult following and it's easy to see why. Their designs are different, slightly out there and totally wonderful. Love this riotous mixture – learn how to create something similar at one of their workshops.
Pod & Pip
Dorset-based Pod & Pip (listed in the FBWL directory here) offers a range of creative flower workshops as well as beautiful, seasonal boxes of flowers and seasonal eucalyptus foliage sent by courier. Here's a taste of the beautiful flower selections put together by Sarah. I love this rustic combination of deep purple hellebores with blush roses and white wax flower.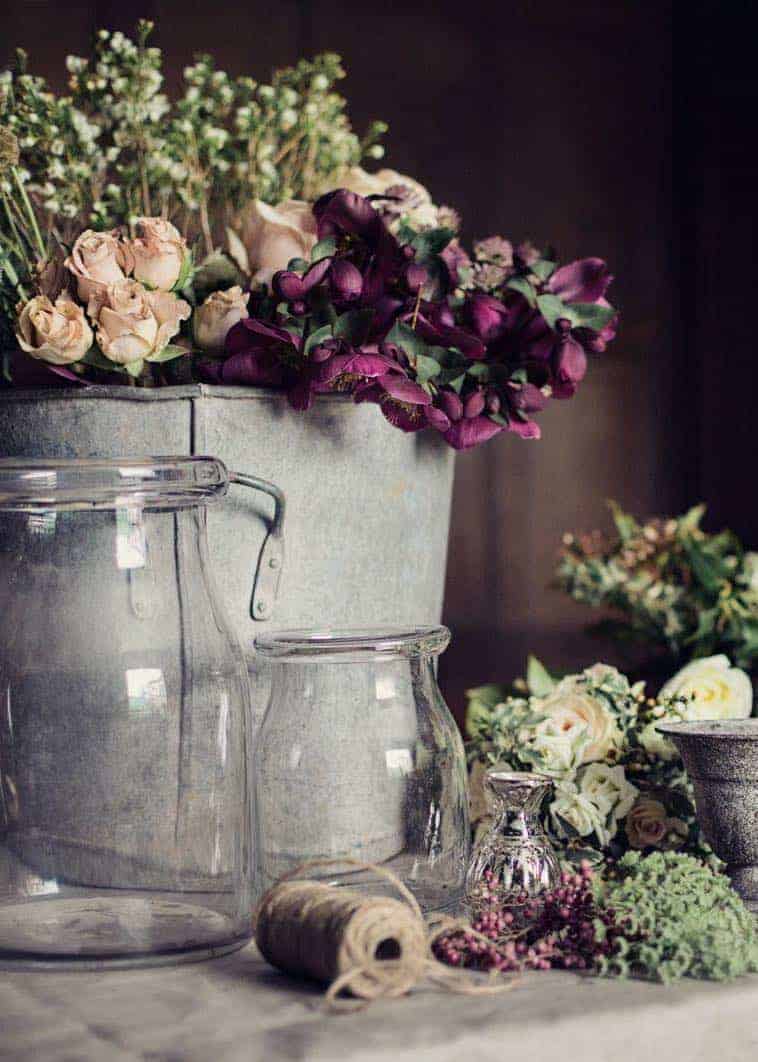 INFORMATION
---
The Real Flower Company is listed in the From Britain with Love directory here >>
Philippa Craddock is listed in the From Britain with Love directory here >>
Floribunda Rose is listed in the From Britain with Love directory here >>
Catkin Flowers is listed in the From Britain with Love directory here >>
Pod & Pip is listed in the From Britain with Love directory here >>
Are you a maker or creative course provider? Like to list with us and benefit from joining our supportive community? We'd love to hear from you. Check out the packages we offer on our Join Us page and get more details from our Information pack here
---
A PIN TO SAVE TO PINTEREST