When willow weaving queen Judith Needham (listed in our directory here) emailed to ask if I'd like to make a willow Christmas angel I didn't have to think twice. I hit reply instantly to say yes please!. Judith runs a wide range of creative courses around Surrey and Hampshire, and this one couldn't have been easier for me.
It was a five minute drive away at Langrish House Hotel near Petersfield. I've seen the hotel's sign on the road to Winchester many times, and wondered about it, but never quite got around to visiting.
As I pulled into the driveway, the first thing I noticed was how beautiful the gardens and grounds are, with stunning far-reaching rural views. The house itself is gracious, with a timeless, relaxed country manor feel. Can you believe there were still hollyhocks flowering – at the end of October! The owner, Robina, welcomed us warmly. She and her wonderful 90-year-old mother kept me giggling throughout the day. The three of us shared a table and I enjoyed listening to their wonderful stories as we worked.
The route to the panelled room we'd be using for the workshop took us down stairs, along atmospheric old corridors and past all sorts of cubby holes and pieces of old furniture beautifully polished and topped with jugs of fresh flowers. I'd really like to go back and explore a bit more. But today was all about willow. And angels.
After a welcome tea, coffee and biscuits, it was time to get to work. We've known Judith for years now at FBWL, as she has been listed in our directory from the start. She creates the most wonderful woven willow playhouses and onion-shaped outdoor pods.
First off, we spent a little time making simple stars and Christmas trees, to get used to working with willow. The key to weaving it seems is to get a feel for what it will – and won't – do. It's important to soften and gradually bend the willow to avoid kinking or snapping it. Judith does this effortlessly, but I quickly realised that I was going to have to slow down and find more patience if I was going to get the best out of this material.
My first star was a mass of kinks and breaks and more than a little skew-whiff. I started again, this time working more gradually and in a more considered way. Unsurprisingly, this attempt was much better. I was starting to get the hang of it and at the same time found myself relaxing into the simple creativity of the activity. This is why I love these courses. Making something with your hands, and allowing yourself to think only about what you're creating is so good to slow down and calm a busy mind.
Soon it was time to get cracking with our angels. We were each given a wooden base (or jig) with a pre-drilled circle of 12 holes. This is to help form the base of the angel and the first step is to firmly poke in the 12 willow uprights.
You can use either steamed dark willow or, as we did, white stripped willow. Judith explained that the stripped willow we'd be using needs to be worked with a sense of urgency, as it dries out much more quickly without its bark.
The key to working with all willow is to keep it as damp as possible. Judith soaks hers in an old animal water trough, totally immersed for 4 days before she plans to weave with it. In the spring, she told us, you can use green (or freshly picked) willow due to the amount of sap in the wood at that time of year.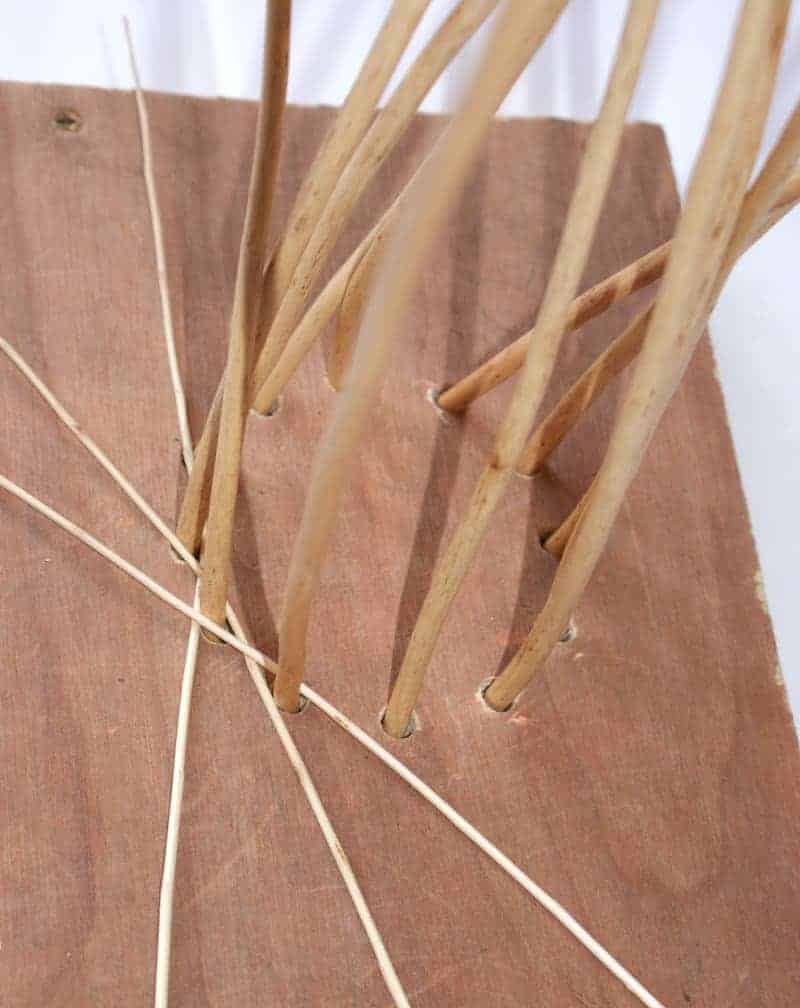 Once our 12 uprights were firmly in place, we were shown how to use a technique known as 'whaling' to create a strong woven base. Basically, you start with the thin ends of three strips of willow and tuck each behind consecutive uprights. So you end up with three long ends coming out of 3 adjacent gaps.
Always working with the left hand, you then weave in front of the first upright, and the next one and then go behind the one after that, pushing down as you go. So in front of two, behind one. This creates a nice strong twist.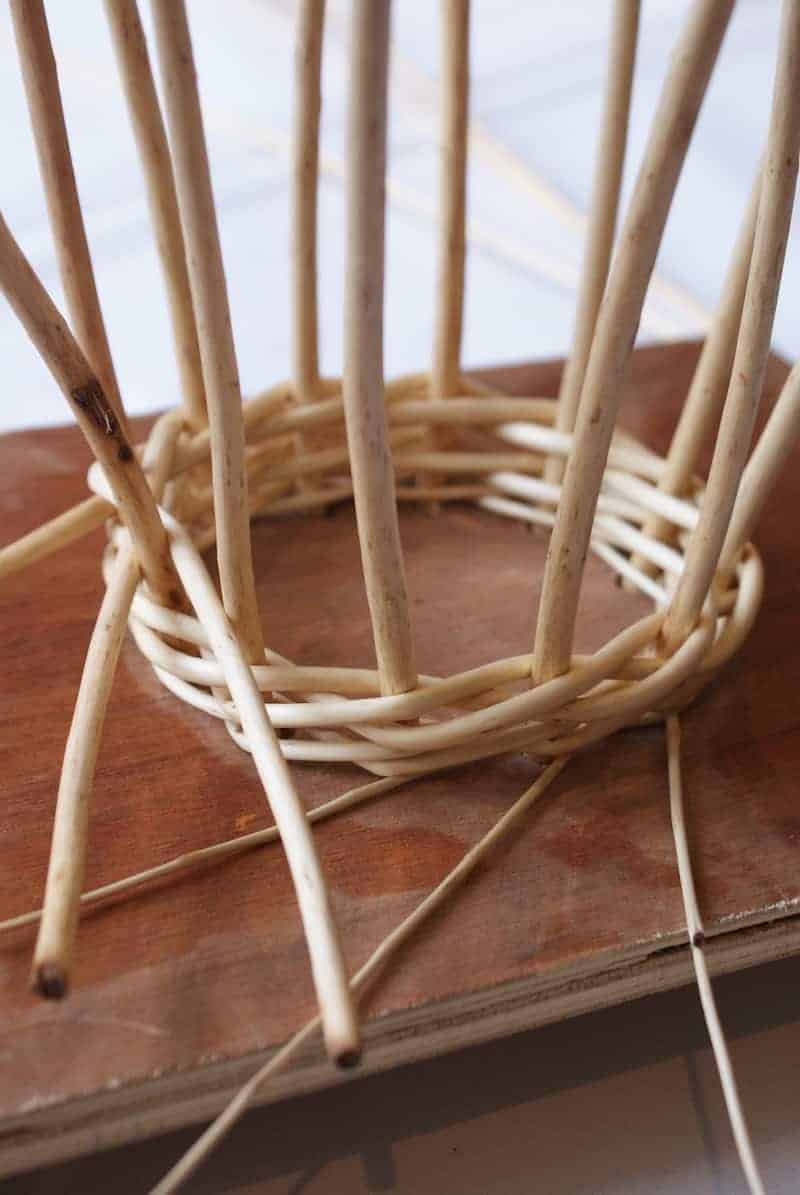 Once we got to the ends, we added in more strips of wilow, this time starting with the thicker ends. You simply poke the new one in behind the end you're replacing and carry on as before, snipping off all ends neatly.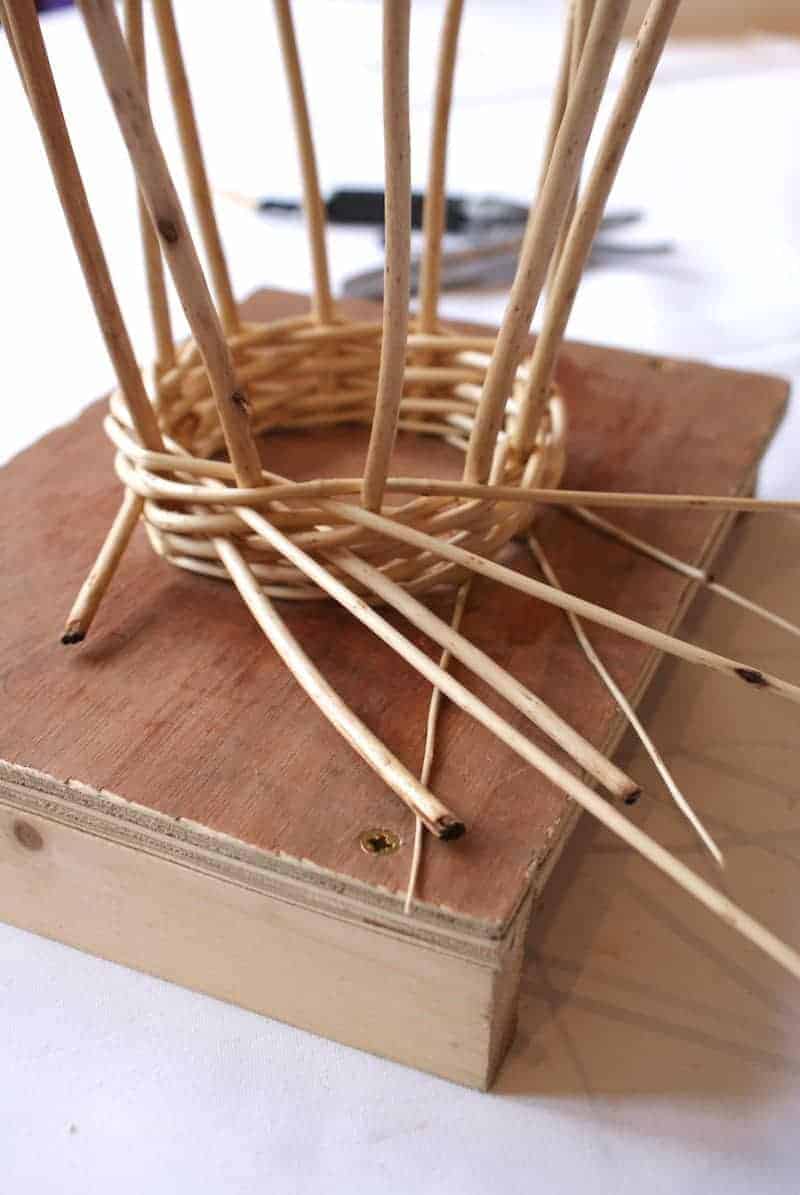 It's important to keep wet J cloths handy to keep the willow damp and pliable – it really does dry out very quickly and will snap if you're not careful.
Once we got to the end of these second strips, it was time to start creating the spiral effect up the 'body' of angel. This is done by adding in two new strips. You push the ends into the space between two neighbouring gaps and then form a bend where you'd like the spiral to start (see above).
Next step is to weave simply under and over with each, spiralling as you go, until you've achieved the look you want. To secure in place, you weave back a space or two and cut off the ends.
This was the perfect point to stop for lunch. Judith (pictured above) placed all of our angels (they looked more like wig wams at this stage) outside and then carefully covered them in wet blankets to make them more pliable for us to work with again later.
Lunch was delicious. We were treated to chicken breast with glazed carrots, green beans and creamy mashed potato. Dessert was a warm pistachio soufflé with chocolate ice cream. Conversation flowed freely around the table – as did the wine, for those who felt like indulging. It was a real pleasure to enjoy such good food and company. That's always part of the joy of creative workshop days.
Eventually we remembered we had angels to finish, so it was back to our work tables. There was a lot less left to do than we realised but it was probably the trickiest part.
Here's Judith showing us how to form the wings by taking hold of three uprights from the front along with two from the opposite side at the back. It's much easier if you have someone to help at this stage as you need to twist these five pieces together and then sweep back and poke the ends through the uprights at the point where you'd like the base of the wings to be.
To secure in place, you weave the ends in and out at least a couple of times and then neaten off the ends. Repeat with the other side and you should now have a winged, if still headless, angel.
Creating the head is easy. You cross over the remaining two uprights and than carefully bend one of them to create the oval shape of the head. Weave the last remaining upright around the shape you've created and snip any messy ends.
The haloes are made separately with one long upright and a circular shape made similarly to the heads, but this time with a single length of willow. The join between the two is created by weaving the end of the halo shape in a figure of eight movement around the upright and back up around the join. To attach to the halo, poke the end into a central gap at the back of the base.
All that we had to do now was drape our angels in strings of tiny fairy lights, remembering to keep the battery pack ends towards the back.
I love my angel and I already know it will become one of those decorations that comes out every year and becomes more precious as the years go by.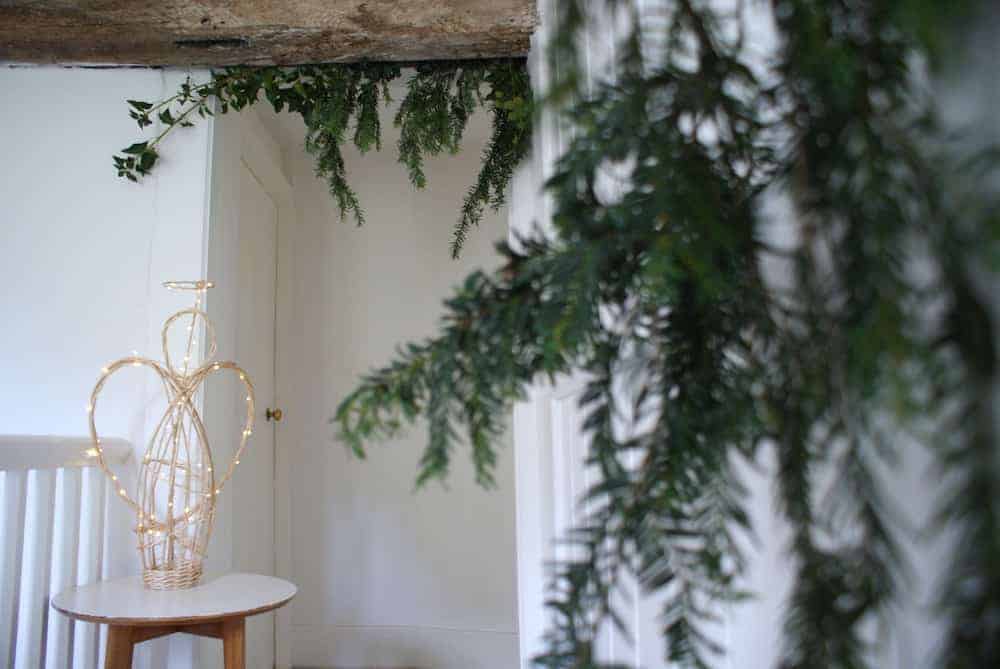 Judith is listed in the From Britain with Love directory.
A pin to share with Pinterest