How to make an apron dress with cross back with Dolly sewing workshops.
Before we start, here are the links to the pattern and sewing kit/class that I did…
The Apron paper pattern by Dolly
The Apron dress class (which is the class I did) 11am to 5pm Wednesdays in Lewes
How I made mine…
I have to be honest. Sewing and sewing machines have been a persistent source of rage for me over the years. I decided decades ago that whilst knitting somehow came together for me, the dark art of sewing was best left alone. I'd spent many anguished hours sat at my mum's reliable sewing machine and would, without fail, start creating seams with an underbelly of tangled spider's legs and knots. Every. Single. Time. I am not exaggerating.
Liberty skirt disaster
I'd decided to think positively and splashed out on the most beautiful Liberty lawn back in the 90s, intending to create a simple summer skirt. How hard could it be? It was a beginner's level pattern after all. I was several enthusiastic, decisive cuts into the fabric before I realised I'd got the folds – and therefore the pattern – all wrong. And there was no saving – or wearing – it. My problem, I've decided, is that I am a perfectionist and attention-to-minute-detail freak, but am trapped in the body of a slap dash person who rushes at things and wants instant results. The Liberty skirt disaster was the moment when I decided to put (throw) down my pinking shears, bobbins and other anger-inducing paraphernalia.
How to make an apron dress sewing workshop
So, when I was asked to join Diana Uprichard of Dolly at her popular Make an Apron Dress sewing workshop in Lewes, my first reaction was to leave well alone. But I do love a cross back apron dress. And Diana's collection of clothing and patterns are right up my street.
So I decided to take a leap of faith and said I'd love to join the workshop – as long as Diana was happy for me to be included despite my sewing track record. I really needn't have worried.
As soon as I arrived at Diana's first floor studio in a pretty old building right in the centre of Lewes I knew I'd be in safe, understanding hands. There were two of us signed up for the workshop, so there was plenty of time to ask questions and to get help as and when we needed it.
I'd imagined rows of high speed seamstresses zipping up and down perfectly symmetrical seams, whilst I sat unpicking and swearing by myself. Diana keeps her beginner's workshops small for this reason. They are all about giving fledgling sewers the confidence to have a go at making their own clothes. I do love the idea of being able to do this.
Step one: cutting out
First step was to start cutting out. I now have a good idea why I had my previous disasters and mishaps with this. You can't rush at it like I'm inclined to do. Diana told me that the cutting-out stage needs time and thought – and is really important to get right. She will sometimes take one day to cut something out and not even consider sewing it until the next. Diana explained how she takes time to fold and think, double checking the pattern placement as she goes.
My instincts at this stage are to gallop through to the sewing bit – when you really start to see results. We were taking it slowly and carefully, however, which I knew was sensible. But, if I'm really honest, I did have to fight a slight sense that we could speed up and whip through a bit faster. I was first to finish cutting out. Then it turned out that I'd cut slashes into the lining because there were marks on the pattern that I didn't understand, but decided to cut anyway. I hadn't taken the time to ask if I should. Luckily the slashes would be hidden within the underside of the lining but it was clear proof that I should reset my pace. Slow and careful might give me a finished result I would actually be pleased with, I decided.
Going with the grain
It's important to fold with the selvedge edges neatly together and to consider which way the grain and any pattern is running. Diana's patterns have arrows to help line up with the grain and stripes of the lining fabric we were using.
Ironing as you go is another important part that I know, left to my own devices, I'd be tempted to skip in my rush to get on.
Natural & eco-friendly fabrics
So, I spent some relaxing time pinning the lining part of the pattern onto the striped cotton fabric I'd chosen. Diana buys in end of roll fabrics that would otherwise have ended up in landfill. All are natural fibres, and include the most beautiful linens, denims, striped cottons and pin striped wool.
Next I cut out the main apron piece as well as the straps using a dark, heavy weight denim with a slight stretch. There are guide holes in the pattern which you chalk through to help match up where pockets go and where seams need to align.
Time to start sewing
Cutting out completed, it was time to sew the lining pieces together. With a sewing machine! I told Diana about my tangled underbelly of threads track record, and she instantly knew the probable cause. I'd more than likely put the bobbin in the wrong way round and possibly missed one small bit in threading up the machine. That's all it takes. We put thread on our bobbins and then Diana showed us how to make sure the bobbin is going the right way, by holding it up by the cotton and make a 6 shape.
Once the machine was threaded, I did a few test runs on scraps of fabric. As I struggled to keep up with the speeding machine, my seams swerved and wobbled and I seriously started to lose my nerve. The underside was getting vert tangled too. I started to get the old feeling… What had I been thinking?
The importance of taking it steady
Diana suggested trying again, this time stopping every few seconds or so and making sure the threads were all neat before starting. She'd noticed that I'd been jettisoning along at high speed without stopping. And that I'd missed out one little lever at the back of the machine when threading it. I set off again, properly threaded this time, and stopping every few stitches. Bingo! I'm not sure why, but I'd always thought you had to sew each seam in a continuous line without stopping!
Even an adept seamstress like Diana wouldn't attempt to do this – or to go at the kind of speed I was. You learn a lot about yourself at workshops like this. And we did really laugh at the way my machine had been flogged almost to the point of lift-off. Seams and curses flying.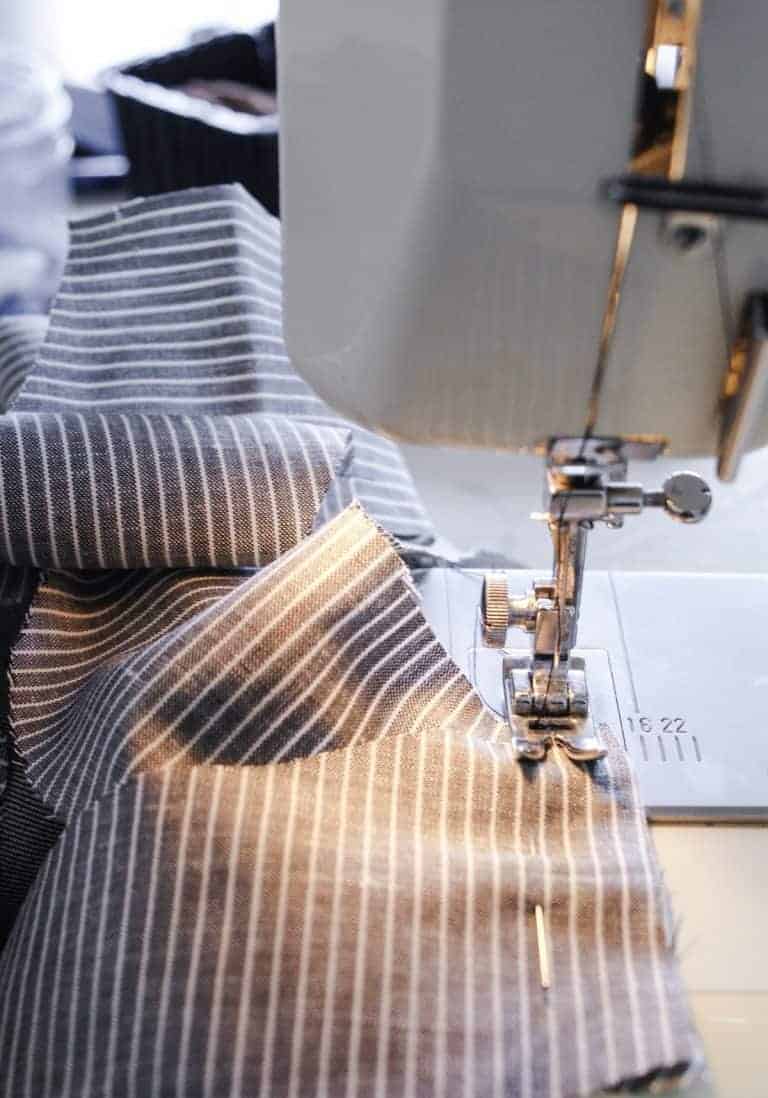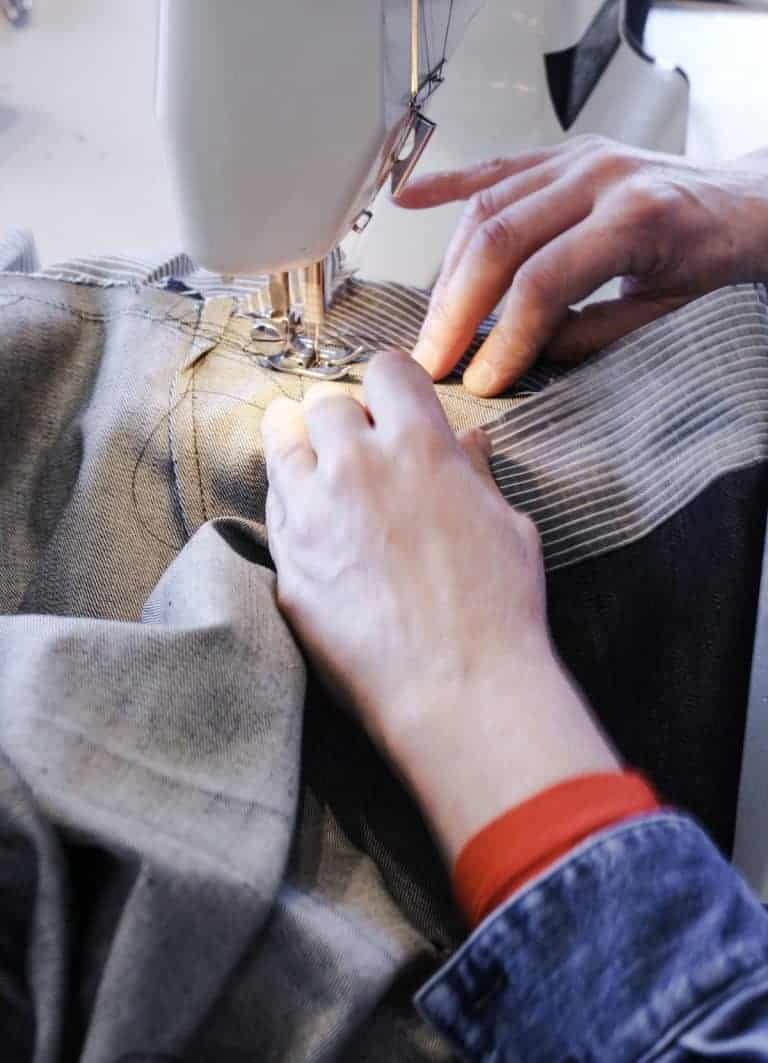 It was time to move on to some real sewing. To begin a seam, Diana suggested we do a couple of stitches forwards, then another couple in backstitch before starting off, just to anchor the seam and stop it coming undone.
I went slowly, stopping every few stitches and it worked perfectly. Now it was time to start on the apron and put in the darts around the bust. We did this by marking the lines from the pattern on to the fabric and pinning in place. It was easy to sew along the lines by taking it really slowly.
Attaching the lining
Next, we attached the lining fabric to the top part of the apron, following the markings on the pattern. Again, really easy. I was on a roll! Time to sew up the straps. The key to getting these to sit right is to stitch along the edge you're joining, then turn the strap over so it's going the other way and sitch along the other side too. This balances things out and makes the strap sit right. Once ironed and sitting nicely, we attached the straps to the apron, again following the markings, and slotted in place before we finished off joining the lining.
Time for tea and biscuits
After a break for tea and organic chocolate biscuits, we put the final touches to the lining, by ironing the edges over and pinning in place, then sewing neatly as close to the ironed edge as possible. The trickiest part was taking the stitches around the 'corner' on the two top edges of the bib. Again, taking it slowly and stopping a lot really helped and soon I had an apron with a lovely striped lining around the top edges. I couldn't really believe how good it was all looking.
Now it was time for some neat hemming. Down the two sides, we ironed over about a centimetre and then pinned about the same again, but with a tiny bit extra where the seam line would go. Easy.
I started to grow in confidence and speed, so I cracked on with the bottom hem. Too late I realised that pressing on without stopping as much had meant that there was too much fabric left at the end, so the final edge was really uneven. But I couldn't live with it, so I unpicked and started again. More slowly again this time, and got a much better result. Anyone else feeling slightly irritated by how long it's taking me to actually put into practice the simple lesson I keep saying I've learned?
More ironing and our apron dresses were really starting to come together. We put them on to check the fit and to work out where the inside button and button hole should go. I have to be honest, when Diana offered to do my button hole for me I didn't hesitate. Having got that far, I didn't want anything to go wrong at the eleventh hour.
Finishing touches
I almost backed out of attaching the red woven tape I'd chosen from the beautiful selection of braids and ribbons for the ties too, but decided to give it a go. Of all the pieces of sewing I did, this is the bit I'm most proud of. Taking my time, I managed to sew a near-perfect oblong around the end of the tape which looks pretty professional to me.
We'd run out of time to add the pockets, but Diana talked us through how to attach them. There are chalk marks on the apron front to help positioning and hemming the edges of the pocket is the same as before. First off, you iron down the edges and then pin over once more to create a double seam. Then you sew neatly along the edge and finish by sewing in an oblong, like with the ties.
The joy of being able to sew
I don't actually have a sewing machine at home, but I'm seriously thinking of getting one now. Sewing no longer feels like a deep pit of futility and frustration. I have a passion for beautiful fabric, so if I can continue to improve my sewing skills, being able to do things with it (that don't tip me over the edge) could open up years of creative joy.
Find more ideas to make and enjoy
Why not hook up with me over on Pinterest where I share masses of creative ideas I think you might enjoy.
Update
The weekend after writing this, I spent a little time browsing sewing machines on the John Lewis website, feeling more than a little sad that I gave away my mum's sewing machine after she died. I didn't think I'd ever sew again at the time. I'd happily given it to a good friend of my mum's who'd asked very nicely if she might have it. I am still happy she has it, but I am also sad that I've lost this possible connection with Mum. I'd love to be able to sit at her sewing machine now, looking through her threads and sewing bits and bobs. Last Saturday was also my mum's anniversary to boot, so I was feeling everything even more than usual.
I just couldn't make myself click the 'pay now' button and buy the shiny new machine from John Lewis. Instead, I headed out to my local shops to pick up what I needed for dinner and found myself (as I often do) popping into a few charity shops for a quick browse. First one I went into had the same make vintage sewing machine – Frister Mossmann – that I'd used at the workshop.
My 'new' 1976 vintage sewing machine!
One of the women running the shop was a real sewing expert and she kindly checked it all over for me. Inside the case was the original receipt from 1976 – bought for £120 from a sewing machine shop in Wimbledon. It felt like this was meant to be and I was very happy to pay the £25 to take it home. I can't really believe I'm now someone who owns a sewing machine and wouldn't be scared to use it. I say that, but I have so far put off finishing the pockets because I am a little worried it will all go to pot. Once I've got over myself I'll add in the final photos! For now, here's a picture of my apron and the sewing machine.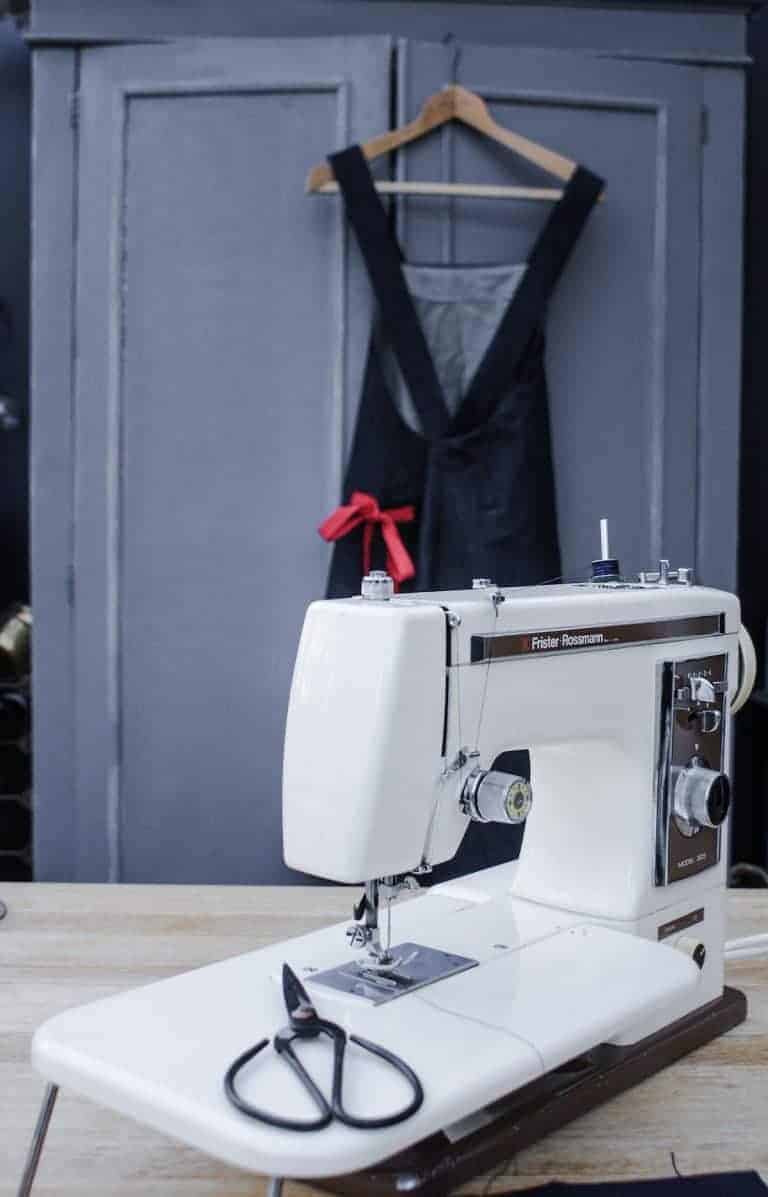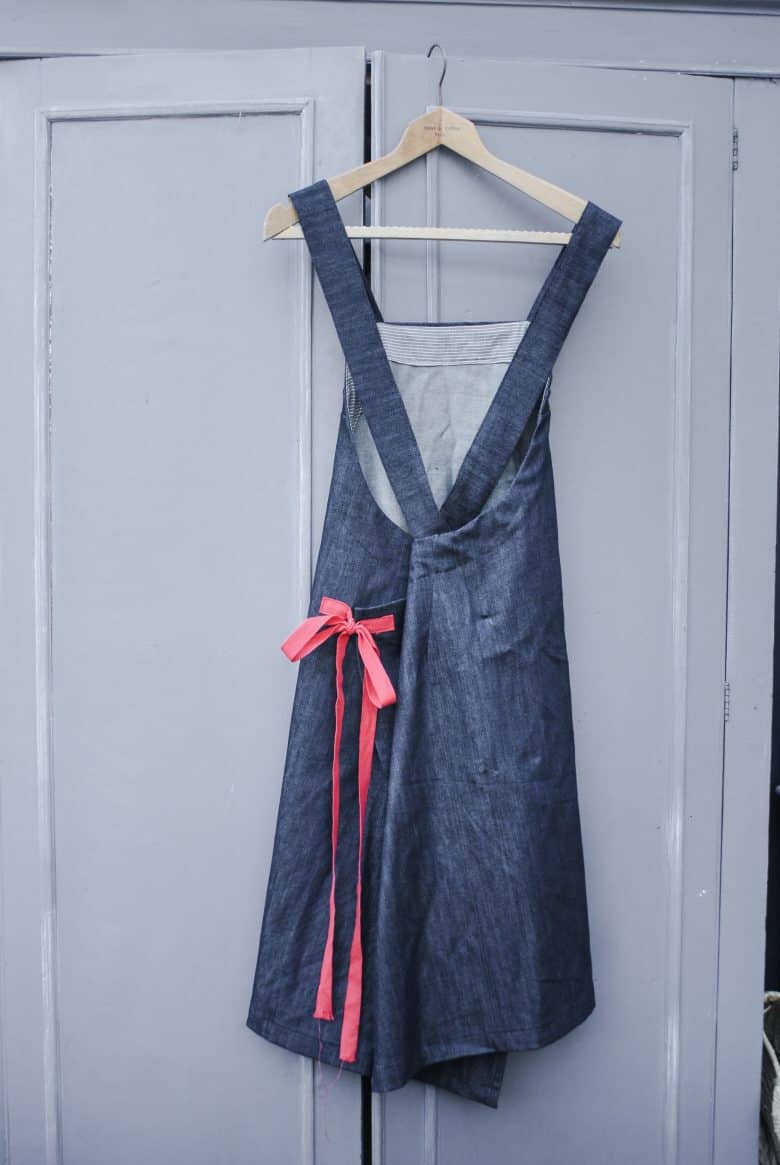 I am also keeping an eye out for a second hand Reader's Digest Complete Guide to Sewing because according to Diana it's the best.  The older versions (like Diana's) have wonderfully kitsch photographs from the 60s and 70s which take me straight back to my childhood – and my mum calmly sewing away at her machine. I doubt I'll ever be as quietly calm as she was, but I love that I'm sewing again. And although it's a different machine, I already love mine and I feel it was meant to come to me.
INFORMATION
---
If you would like to make a similar cross-back apron dress, I've found these patterns that I love:
Apron dress paper pattern by The Assembly Line
Japanese apron PDF pattern by Verity Hope
The Maria pinafore apron paper pattern by Maven Patterns
The Maria pinafore apron PDF pattern by Maven Patterns
Artisan apron paper pattern by Janet Clare
This paper pattern is very like the apron dress I made with Diana and is also by her: BUY HERE >>
This beauty is by The Assembly Line  and is suitable for beginners. You can buy the paper pattern here
I have also found this fab japanese apron PDF sewing pattern by Verity Hope on Etsy. You can buy it here >>
I also love these two by Maven patterns – one paper and one PDF download so you can choose whichever you prefer…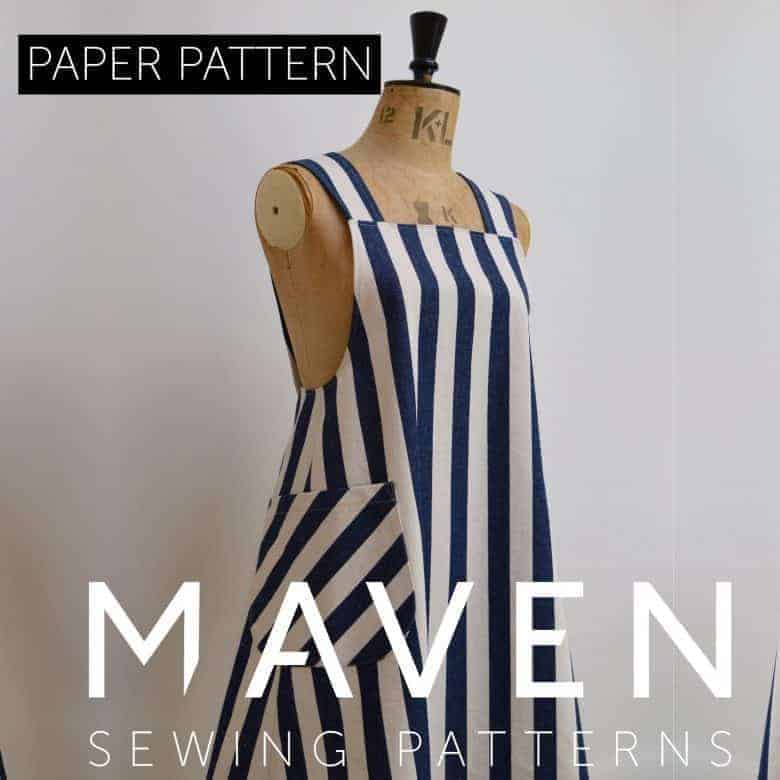 BUY PAPER SEWING PATTERN HERE >>
BUY DIGITAL PDF DOWNLOAD PATTERN HERE >>
And, this Burnside Bibs pattern by Sew House Seven is possibly my favourite recent find… not strictly speaking an apron dress – more overalls or dungarees but, for me, they are the trouser equivalent of an apron dress. Just love this design. It's suitable for intermediate level sewers, so I'm not sure my very basic skills are up to it. I might give it a go anyway. What could possibly go wrong 😂? Looks great in this natural linen and indigo denim. What do you think?
Ready made options
I also wanted to share the linen apron I bought from Swedish House at Home, which is what started me off on this journey into making more of my own…
I love the wide straps and textural linen of this one – which I have hanging up beside me right now. BUY HERE >>
How cute is this cross back linen apron in checked linen? You can buy it on Etsy here.
For sturdy artisan aprons, you won't do better than The Stitch Society who make aprons so good they come with a 10-year guarantee! There's a wide range of artisan and workwear aprons to choose from. I particularly love this Florist Apron BUY HERE >>
Are you a maker or creative course provider? Like to list with us and benefit from joining our supportive community? We'd love to hear from you. Check out the packages we offer on our Join Us page and get more details from our Information pack here
---
A PIN TO SAVE TO PINTEREST
This article contains some affiliate links, which means we may earn a small commission if a reader clicks through and makes a purchase. All our blog posts are independent and in no way influenced by any advertiser or commercial initiative. By clicking on an affiliate link, you accept that third-party cookies will be set.