There's something timeless about a beautifully faded floral fabric isn't there? For me, they conjure images of relaxed country living – fresh air, jugs of fresh flowers on polished old wood and a sense of simple, natural beauty. I live in an old country cottage in Hampshire myself and having gone through my pared back Scandi phase, I'm now embracing a modern rustic vibe. Including florals. Faded florals, sparsely and simply used, but the perfect choice for my country cottage.
I've been gathering lots of swatches for my own home, and finding so many beautiful fabric designs that I thought I should share a few of my favourite faded floral fabric loves with you. All beautifully made in the British Isles.
Sarah Hardaker faded floral fabric
Having designed for some of the biggest names in interiors – including Osborne & Little, Nina Campbell, Habitat and Harlequin Sarah Hardaker launched her own range of fabrics in 2006. For vintage inspired faded floral fabric as well as textural plains, stripes, dots and more, Sarah's collection is definitely worth checking out. Using small family owned manufacturing companies in the UK, Sarah weaves most of her linen in Scotland and prints her designs in England

Sarah is listed in the FBWL directory – get all the info you need from the listing here >>
Cabbages & Roses
No feature about faded floral fabric would be complete without mentioning Cabbages & Roses. Printed to order in England, this is a timeless collection of fabrics, all pigment printed on to natural linen and soft and generous in texture.
I've picked out a few of my favourites to give you some ideas: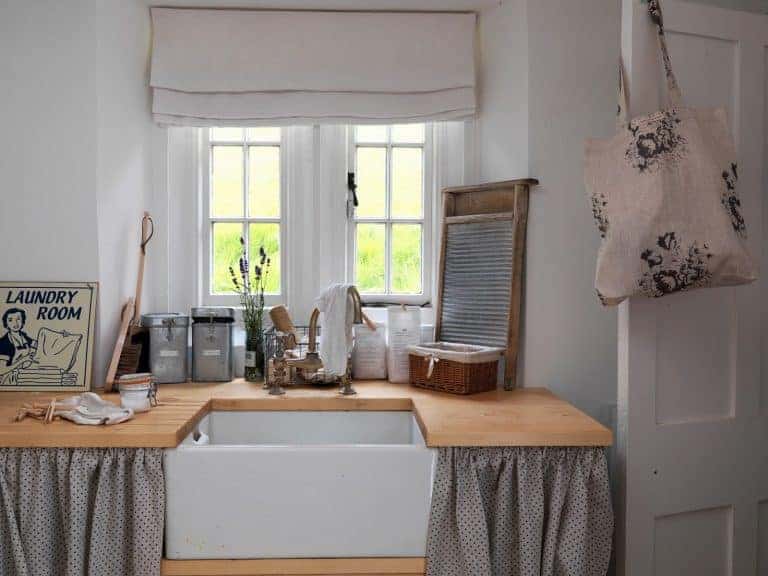 Cabbages & Roses is listed in the From Britain with Love directory. Get all the info you need from the listing here >> 
Olive + Daisy
Founder of Olive + Daisy, Louise Schofield, spent 2 years designing and making soft furnishings for Peony & Sage. Her own collection of designs for Olive+Daisy are all created from her workshop in Lincolnshire. Her beautiful collection of soft furnishings are all made there too, using her trusted vintage industrial sewing machines.
The Olive+Daisy collection includes coastal, nursery, dogs & daisies as well as faded florals.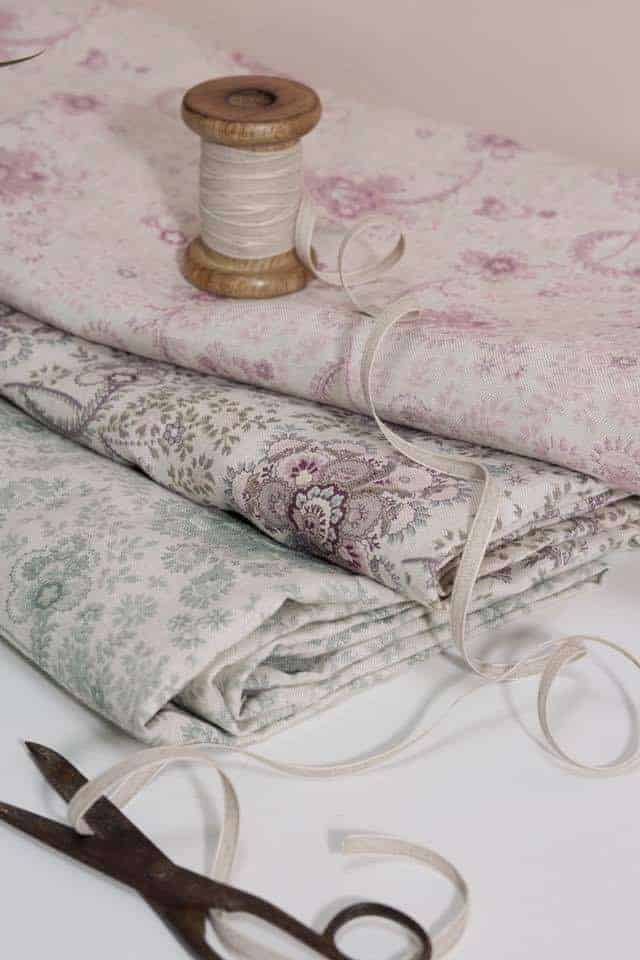 Love this Apple Orchard linen with its pretty pale pink and apple green faded design on soft white.
Madder Cutch & Co
I love how Nicola, founder of Madder Cutch & Co prints her own fabrics using only sustainably sourced plant dyes and pigments. Her original designs are hand screen-printed on 100% linen that is woven in Scotland. Designs include Achillea, Achillea Foliage, Blossom Stripe and K Stripe. They are utterly beautiful and perfect for adding an individual, faded floral touch to your home. Buy the fabrics from exclusive artisanal London fabric shop Tissus d'Helene
Nicola also upholsters one-off vintage and antique furniture. Love this 1930s oak desk chair that she has covered in Achillea ground linen in Burghley Blue.
Vanessa Arbuthnott
Cotswolds-based Vanessa Arbuthnott started her business on her kitchen table 18 years ago. For the first few months she worked after her four children were tucked up in bed and before they came down in the morning, cutting all the samples with her pinking sheers and rolling out the first orders on a table tennis table!
After some very favourable coverage in Country Living magazine and the Saturday Telegraph followed by a Country Living Fair, business took off and Vanessa has never looked back.
Whenever I'm looking to source fabric, I always browse Vanessa's collections because I love her gentle approach to colour. I also love that she only buys certified organic cotton which is combined with eco-friendly flax to create her unique soft and luxurious linen union. Here are a few of my favourites of her faded floral fabric designs.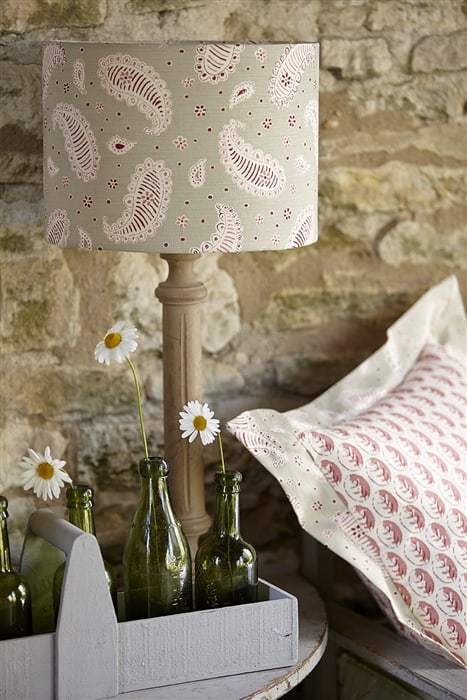 Damson & Slate
I love the welsh-made collection of textiles, fabrics and home accessories top interiors stylist Hilary Lowe has created for her own label Damson & Slate. The designs came together after her move to rural Pembrokeshire 9 years ago and include her own exclusive fabrics.
As well as contemporary takes on traditional welsh motifs, Hilary's collection includes some beautiful faded floral fabric designs.
Wild Garden is inspired by a floral watercolour Hilary found whilst sorting through her grandmother's art portfolio. Printed onto linen in Wales, this design is available as fabric as well as made up into cushions and lampshades.
Abigail Borg
I love the combination of vintage and modern in award-winning Abigail Borg's fabric designs. All of her fabrics are printed by aLancashire based company and her studio is in Birmingham. You'll mainly find sumptuous rich, dark and bold colour combinations in Abigail's collection. But she has created a few very beautiful faded floral fabric designs too that I wanted to share.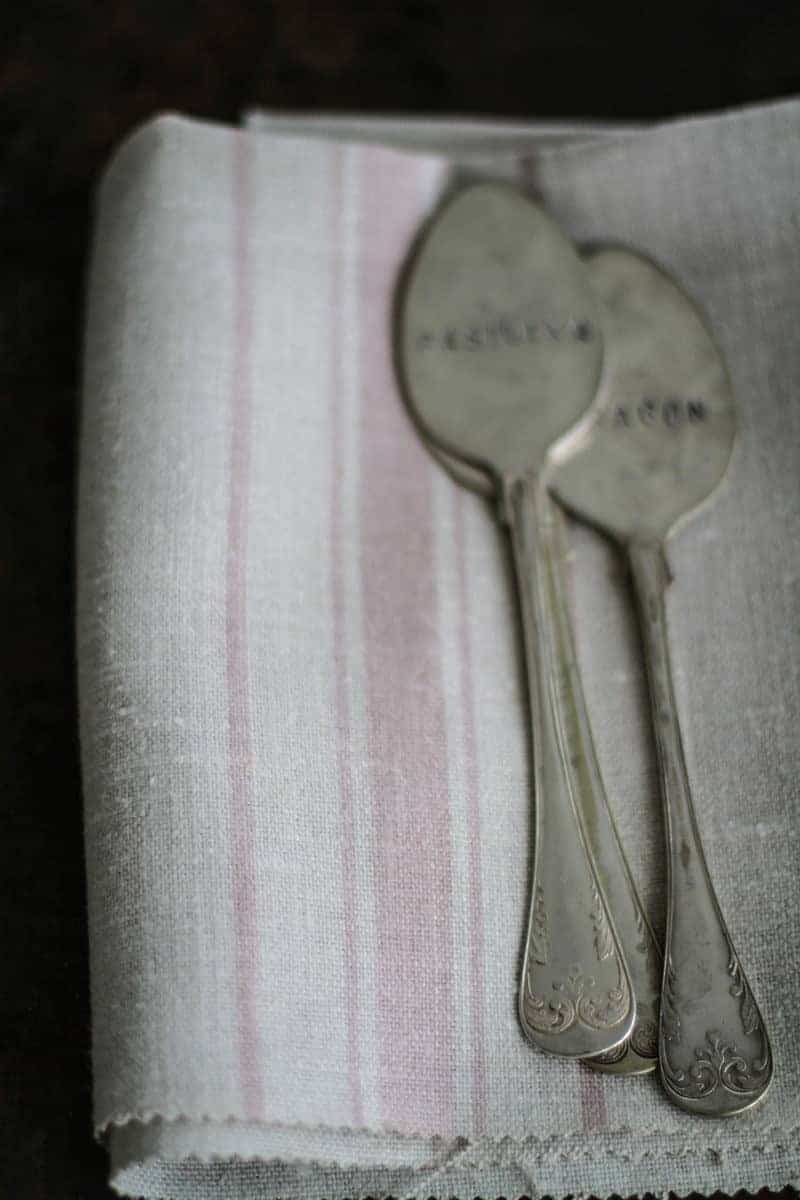 INFORMATION
---
Damson & Slate is listed in the From Britain with Love directory here >>
Abigail Borg is listed in the From Britain with Love directory here >>
Cabbages & Roses is listed in the From Britain with Love directory here >>
Sarah Hardaker is listed in the From Britain with Love directory here >>
Madder Cutch & Co is listed in the From Britain with Love directory here >>
Olive+Daisy is listed in the From Britain with Love directory here >>
Are you a maker or creative course provider? Like to benefit from joining our supportive community? We'd love to hear from you. Check out the packages we offer on our Join Us page and get more details from our Information pack here
---
A PIN TO SAVE TO PINTEREST