Jeska Hearne shares her handmade Christmas gifts wish list
Jeska Hearne is a freelance photographer, stylist and shop owner living in East Sussex with her husband and business partner Dean and their two tabby cats. Together they run the online lifestyle store The Future Kept selling well designed, durable and meticulously chosen goods and handmade Christmas gifts for you to cherish and keep. We asked her to share her handmade Christmas gifts shopping wish list with us.
Preparing for Christmas here really is a last minute thing, but that has become our ritual. Once the shop closes for the festive break we have a couple of days to tidy the house, make it a home again and add some festive cheer. I always have a pot of mulled wine or spiced cider on the hob for the whole of December!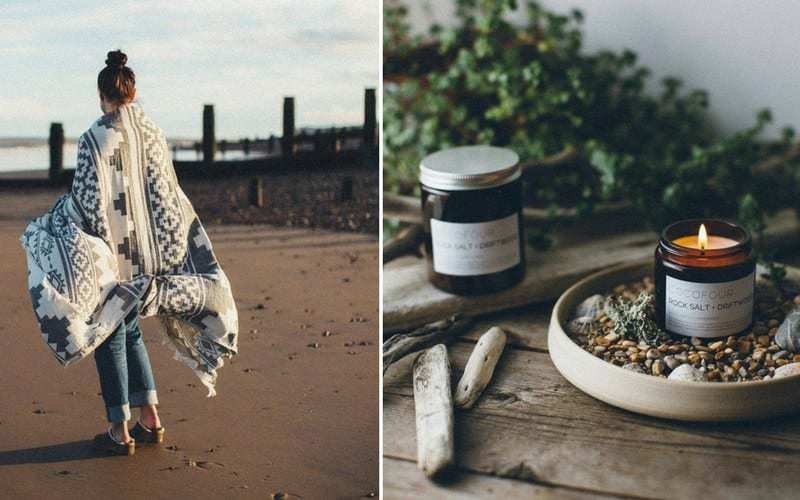 For the past few years we have made sure we have ordered almost everything we need to eat for Christmas from Abel and Cole to take the pressure off and so we don't have to brave the supermarket at this time of year.For all the extras we pop to our local deli and organic bakery. We love to meet up with friends on Christmas eve morning for a hot chocolate somewhere cosy in Hastings Old Town – usually Penbuckles, or The Crown or both! Then we visit family on Christmas day and Boxing day.
Jeska's handmade Christmas gifts wish list
We haven't put up any decorations for the past couple of years as we have been renovating, so this year will be the first time we can have a proper tree again. We have collected decorations from all around the world on our travels to decorate our tree, including my beloved antique glass glitter star from NYC.
I love to line the windowsills with candles and tea-lights in simple glass jars, with glittered pinecones and cinnamon sticks for a delicately spicy scent threaded in between. Then feet up and relax until NYE 😉
Here are my picks from the Future and Found shop as well as a few of my other favourites for Christmas.
Handmade Christmas gifts idea 1 – to keep your camera safe and dry
A beautifully made bag to keep a camera safe and dry or just use for everyday essentials.
Roam Camera Bag, Slate, £169 Crafted in Wales exclusively for The Future Kept by Rural Kind.
We worked with Rural Kind to create a unique, yet simple camera bag destined to become your go-to for many years. With us both being avid photographers who carry our cameras daily, we feel this is perfect for people of all different photography styles, who demand a bag that is simple, functional, durable and beautiful in design. I am never without mine as you can see…
Handmade Christmas gifts – idea 2 for enjoying a large hot chocolate
Grey Ceramic Mug large, £32 is hand thrown and the perfect size for a hot chocolate, topped with whipped cream and toasted Marshmallows
(veggie ones made in the UK here by Marshmallow Deli
Handmade Christmas gifts – idea 3 to help you drift off and relax
Something to relax and whisk you away to another place. Moroccan Rose Bath Salts, £10. Crystals of Himalayan pink salt are hand-mixed with dried petals of rose, and naturally scented with just the right amount of Moroccan rose essential oil.
These are truly luxurious bath salts, a spa treatment you can enjoy in the comfort of your own home! The mineral rich crystalline beauty of the salt is packed with healing, renewing and detoxifying properties. Himalayan pink salt has been used for centuries to relieve various ailments, such as dry skin, psoriasis and acne, as the salt contains valuable minerals that all play an important role in the optimal well-being of your skin.
Handmade Christmas gifts – idea 4 to keep toasty warm
Perfect for keeping hands warm and fingers free for typing!
Lambswool wrist warmers Persimmon, £30 Handmade in the UK using soft Geelong Lambswool, spun in Scotland.
Leave them on all day long to keep your hands and wrists warm but your fingers free to work, type or use your touch screen. Ideal for autumn walks in the countryside or a chilly cycle to work in the city.
Handmade Christmas gifts – idea 5 – to soothe and unwind
Handmade Christmas gifts – idea 6 – a cosy blanket for all seasons
A great wool blanket made in Wales with leather carry straps. Perfect to use in all seasons with a waterproof back so festive picnicking is possible too.
Handmade Christmas gifts – idea 7 for effortless wild flowers
The gift of life all rolled up in a pocket sized tin – grow herbs for tea, salads or butterfly and bee attracting flowers
Seedball Wildlife Attracting Seeds, £5.95
Native wildflowers are hugely beneficial to garden wildlife, so grow a beautiful meadow or a tasty salad to encourage the bees and butterflies into your flower beds or kitchen garden. A careful selection of pretty native wildflower seeds that bees and butterflies will just love! Ideal for all size gardens, raised beds, pots and window boxes.
Handmade Christmas gifts – idea 8 to pamper your skin
Melt a tiny amount in the hands and apply gently to the face, neck and décolletage to nourish and soften the skin and improve texture and elasticity, to balance, rejuvenate and restore the skin. On the delicate under eye contour, dab a light layer to brighten, hydrate and moisturise throughout the day or night.
Handmade Christmas gifts – idea 9 for having fun displaying simple flowers
The perfect rack for displaying winter blooms, dried grasses and seed heads.
A vintage style, handmade test tube rack, these are great for displaying single flower stems or using as a propagator for houseplant cuttings! Made using reclaimed wood that has been stained & waxed to give an 'old school' feel.
Handmade Christmas gifts – idea 10 to remember happy days by the sea
A delicate dash of nostalgic seaside joy from RUST jewellery
9ct Gold Scallop Shell Necklace, £215. All Rust jewellery is made using traditional methods and tools by a small team of highly skilled jewellers.
By purchasing from RUST Jewellery, you are showing your support for British Manufacturing and helping to keep alive the traditional techniques such has hand engraving, wax carving and stone setting.
Handmade Christmas gifts – idea 11 to cuddle and get cosy
The sweetest cat to tuck under your arm.
Cat cushion, £23 by Le Train Fantome – a french designer maker based in the UK who makes wonderful soft characters.
Handmade Christmas gifts – idea 12 to soothe and revive on cold days
A reviving rub for cold winter days
Trill Farm Autumn Warming Balm, £15
Made with extracts of mint, hypericum and comfrey from the farm, combined with moisturising shea butter and a stimulating blend of organic rosemary, juniper and lavender essential oils. It's perfect for soothing and warming the body after long walks, sports, or simply after a long day.
You might also like
Feeling inspired? Take a look at the Ethical Shopping section of our Directory where you'll find more special UK makers and producers
A pin to share to Pinterest