We feature a selection of great British designers and makers creating handmade Christmas decorations in our directory, all made with love and care in the UK.
When you stop and consider that most of us keep our Christmas decorations for a lifetime and that we love to unpack them each year, buying something special and handmade is sure to give years of pleasure.
Here are a few handmade Christmas decoration ideas we love and wanted to share with you…
Snowy glass house tea light candle holder by Red Brick Glass
We spent a wonderfully creative day with Wendy of Red Brick Glass, learning how to make glass Christmas bunting and other Christmas decorations. Read blog post now >>
Red Brick Glass is listed in the From Britain with Love directory >>
White willow Christmas angel, made with Judith Needham
If you would like to have a go at creating your own white willow christmas angel decoration, head over to our blog post where we share easy step by steps. It's much simpler to make than you might think! Wrapped with tiny lights, this is the sort of handmade Christmas decoration that you'll love from day one – and love a little bit more each year…
Judith Needham offers a wide range of basket and willow related creative courses and is listed in the From Britain with Love directory >>
Handmade felted decorations by Emma Herian
Queen of all things felted, Emma Herian of Sew Recycled makes a wonderful collection of decorations for Christmas. Find red and white dotted mushrooms, snow men, woodland animals and more in her etsy shop.
We love this festive woodland scene Emma created for a TV show with Kirstie Alsopp.
Emma Herian is listed in the From Britain with Love directory >>
Make a fresh foliage Christmas wreath
Why not have a go at making your own fresh foliage Christmas wreath? It's easier than you might think. We show you step by step how to make one. Read blog post here >>
Handmade porcelain decorations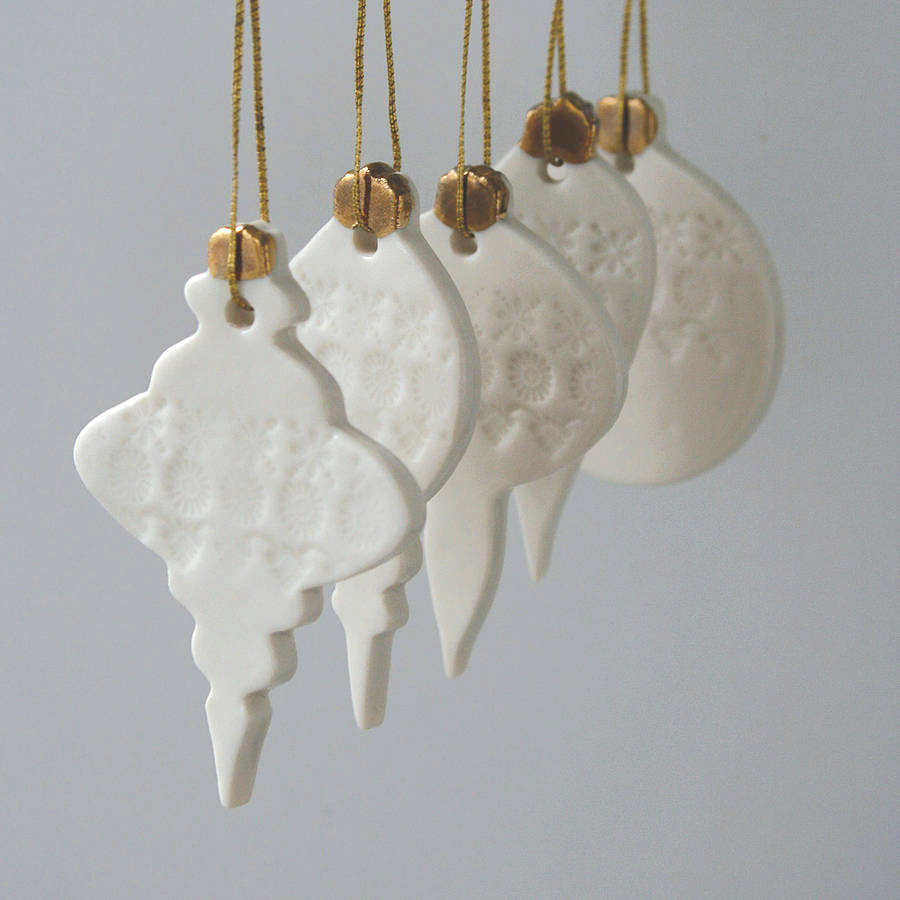 Set of 5 handmade porcelain white and gold heirloom baubles by Jo Heckett.
Hand cut and surface stamped with pretty textures, the baubles are fired three times and then tied up with antique metal string. Hand painted with real gold lustre, these baubles really come to life near candles or fairy lights.
Read more about Jo and her creative process on our blog here >>
These handmade glass baubles are from Design Vintage and are so pretty with their blush pink velvet ribbons.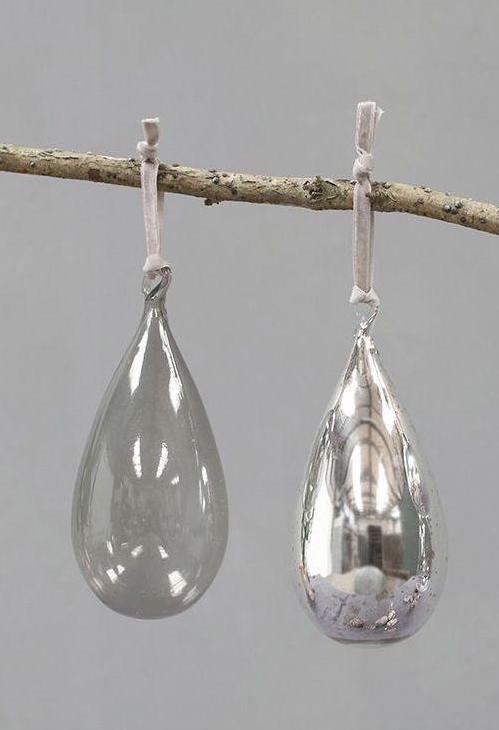 And how lovely are these hand-blown baubles in milky glass with copper sequins inside from Somerset-based Cox & Cox?
Search by category or, if you like any of the businesses featured here, simply search by business name.