Modern Rustic decorating ideas and interiors – simple, modern country interiors
If, like us, you love Modern Rustic interiors, here's some creative ideas on how to get the look. We love relaxed, contemporary rustic interiors and here's how to get the look in your own home. Keep your palette restrained and stick to calm, natural colours such as whites, soft greys and natural wood. It's all about keeping the look pared back, uncluttered and calm, whilst remaining cosy. Source accessories, furniture and linens from 100s of hand-picked makers in our directory to help you create the look.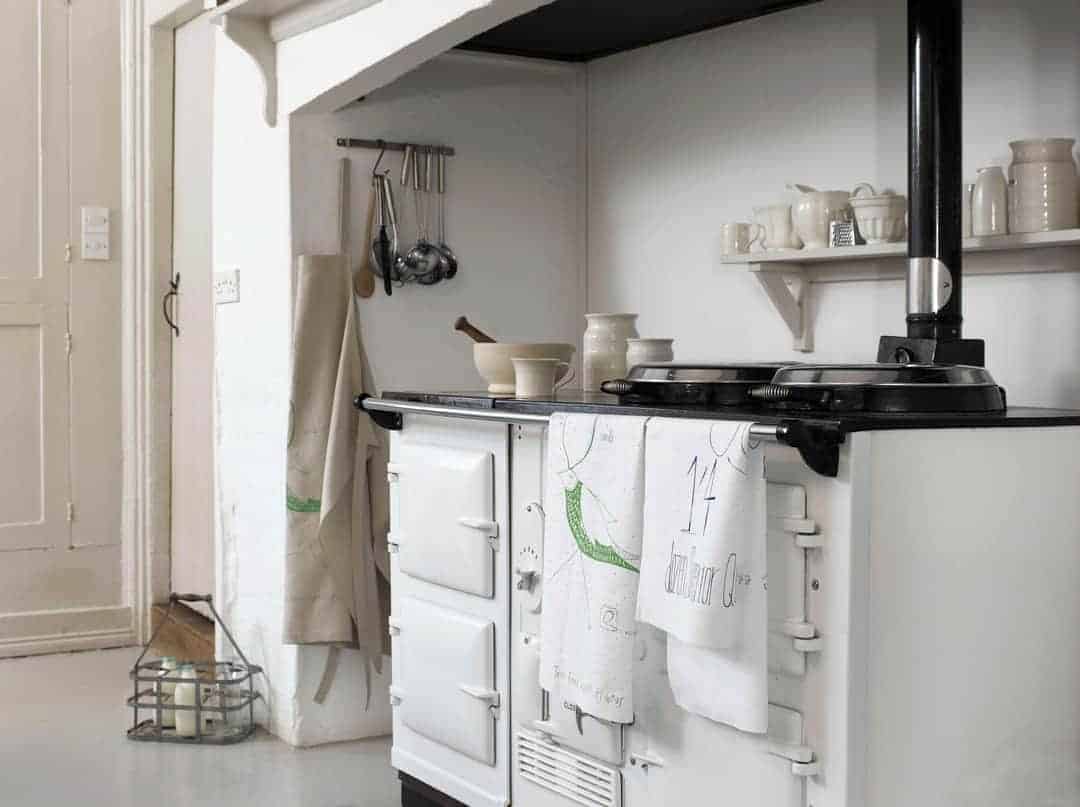 Modern Rustic decorating ideas – get the look
1 Paint walls white or soft grey and white. Don't be afraid to contrast with dark walls. Grey works well with white and wood. Paint colours to create the look:
Down Pipe by Farrow & Ball
Ammonite by Farrow & Ball
School House White by Farrow & Ball (below)
2 Try painting woodwork in a soft grey. Purbeck Stone by Farrow & Ball would be perfect. Drop Cloth and Cornforth White would also both work really well.
3 Painting rustic brick or bare plaster can add a contemporary rustic look – love this bedroom by The White Company. It's the contrast of soft, faux fur with rough walls and simple linen curtains that makes it for me. That, and the calm, neutral colour scheme. Find similar bedding and accessories at The White Company
4 Add natural texture with animal skins, vintage leather furniture. soft pure linen, rustic and whitewashed wood, stone, burnished metal, plain rustic tiles and knitted fabrics.
This vintage elm bench makes a wonderful hallway statement piece and adds a modern rustic touch. I found a larger version and used it in my own bathroom to hold our two white washbowls. I absolutely love it. Find similar accessories at The White Company. For elm benches, Etsy is a good place to look. Ineko Home sells a varying range of rustic and vintage furniture and accessories – and usually have some vintage elm benches or stools on sale. Adding heavy linen curtains to a front door not only ups your insulation game but also adds modern rustic softness to dark and moody front door.  Love the lime washed old floorboards and the natural texture added with a woven coir matt.
5 To create a similar look, try painting your woodwork dark grey – Farrow & Ball Down Pipe would be perfect and try pairing with soft grey white Ammonite on the walls.
6 Try painting reclaimed furniture with Annie Sloan paints in pale colours. We love the chalky finish and that the paint will literally go on top of anything. A simple and cost-effective way to gain new pieces of furniture. Try painting up simple solid wooden chests of drawers, traditional kitchen chairs and side tables. Great way to breathe new life into tired wooden pieces of furniture and good fun too! Also keep an eye out for rustic pieces of wooden furniture – like this great wooden bench in the hallway at our photoshoot location.
7 Try painting walls dark colours – like this Farrow & Ball Railings colour in a bathroom. It will really allow for simple rustic textures such as wood to stand out. Love how the linen cushion by Madder Cutch & Co looks in contrast.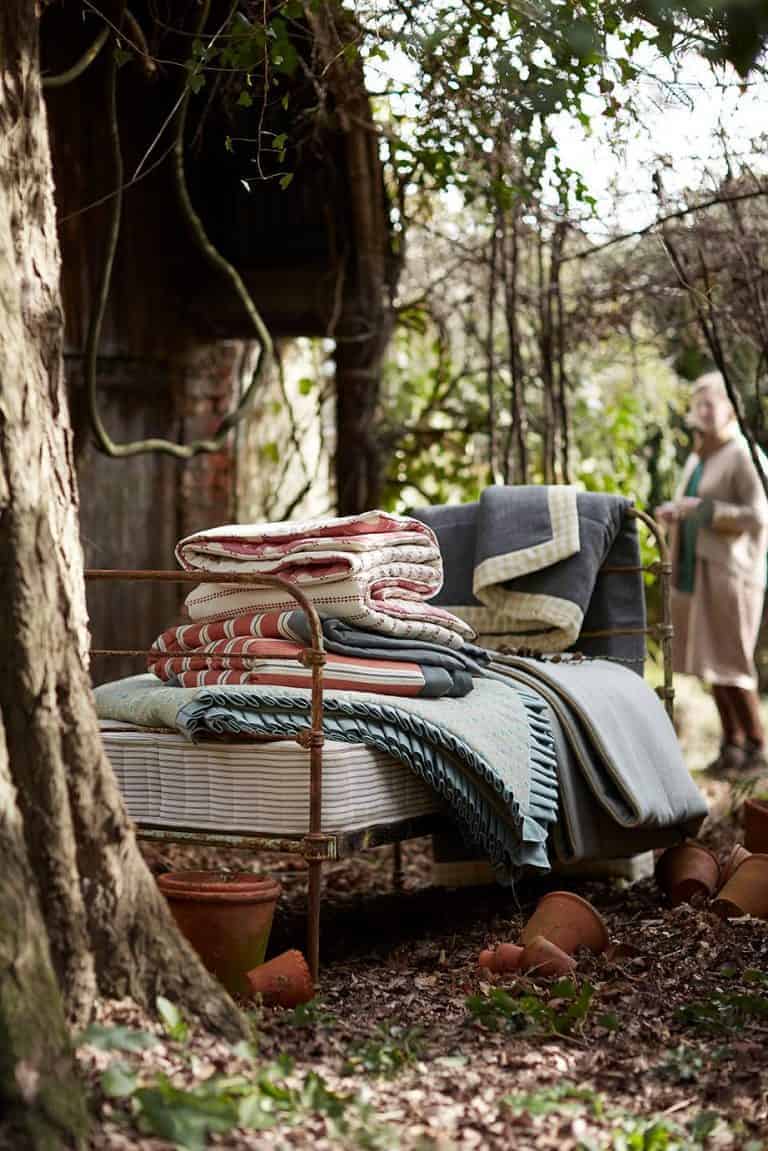 8 Invest in some soft wool throws or blankets. It's as much about the cosy feel and warmth as the look, so I'd always pay a bit more for soft, pure wool. Try Melin Tregwynt or Trefriw. The throws pictured above and cushion below are both by Vanessa Arbuthnott
9 Have fun with texture and distressed finishes. Love how this smartly upholstered chair looks contrasted with highly distressed chest and very rustic floor boards.
this modern rustic dining room table looks fab against a bare plaster wall with uneven section of textural paint applied. Adds interest and texture to simple ceramics and wood.
Also love the distressed texture of this rusty vintage metal chair and the contrast it makes with the pretty linen cushion by Cabbages & Roses. The distressed old armchairs look fab with pretty simple linen cushions too, don't you think? Not sure I'd get away with this look in my house, but if the rest of the interior is minimal and tidy, I think it works…
Ellie Mae makes cushions in Cabbages & Roses fabrics available to buy on Etsy here. I think the cushions shown in the image above are made in Constance Natural Dark Red Linen – and are available to buy from Elli Mae Cushions on Etsy for £31.99 in a range of sizes.
10 Bring the outside in with arrangements of natural foliage and simple flowers. If you keep your eyes open throughout the seasons, there should be something to pick in the garden or hedgerows all year.
I like to use vintage white creamware jugs as vases (like this one I photographed with simple white hyacinths and old Fortnum & Mason pudding basin I picked up for 20p from a car boot sale. Here's an image of my own kitchen with inexpensive open shelf from Ikea with old glass mason jars filled with dry foods.
I love how my mum's old mixing bowl looks planted up with spring daffodils. The tin had figs in syrup inside. Which were disgusting. But love how it looks with herbs from the garden… This is one of my favourite modern rustic decorating ideas.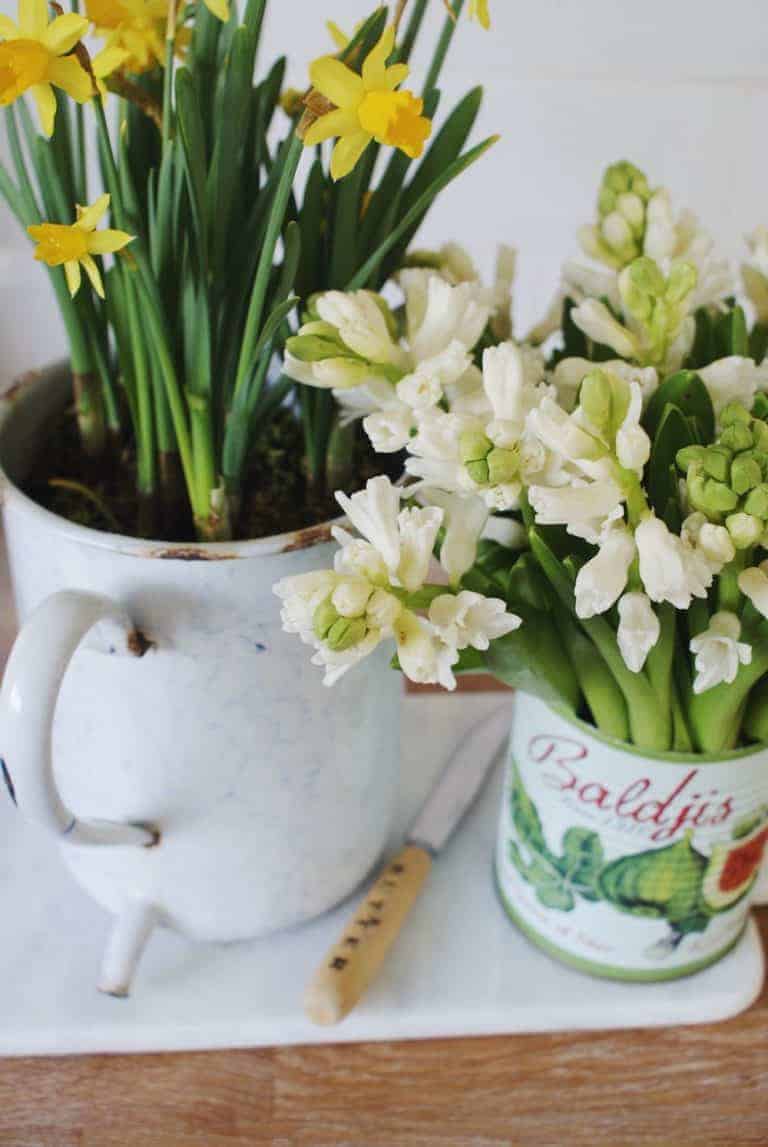 Group in different sizes. Put stems in some and play until you like the look you've achieved. I like to group in threes with greenery in two but not the third. I love the way my vintage white jugs all have different textural designs but share a pure and simple single colour.

11 Mixing rustic wood with neutrals and clean white is another modern rustic decorating idea.

12 Linen is a great source of modern rustic decorating ideas. You can't beat it as a fabric for completing the modern rustic look. Find these beautiful fabrics at Cabbages & Roses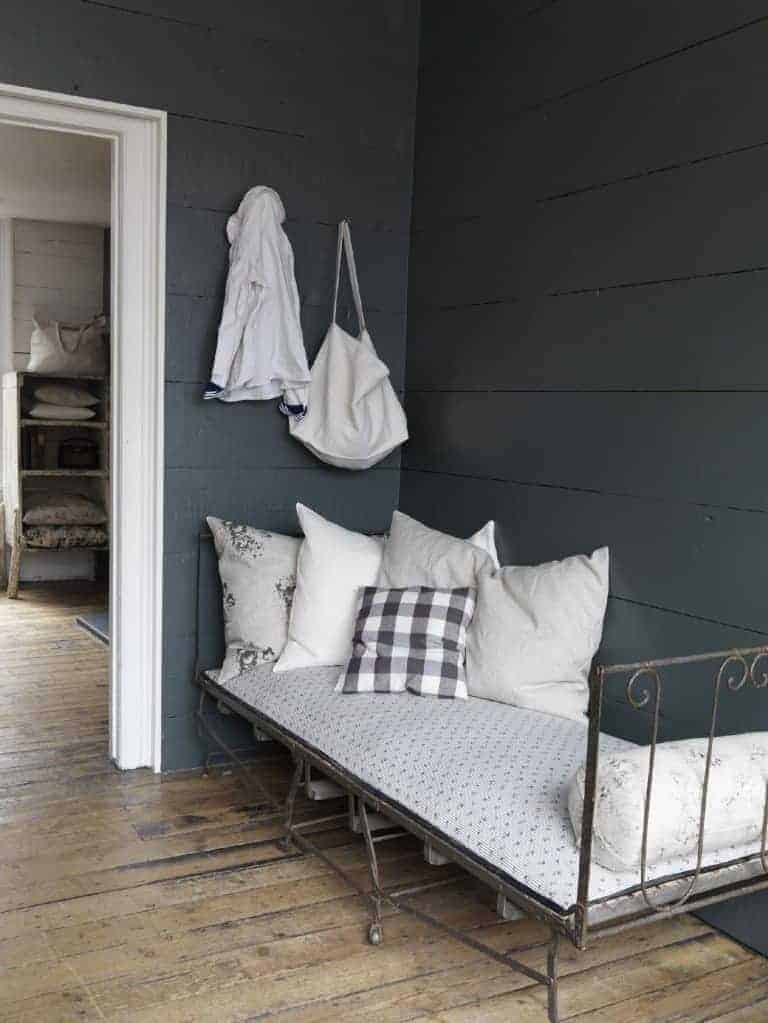 I've found ready made cushions in Hatley Linen Black (above) and the French Toile Linen in Black (also above) by Elli Mae Cushions on Etsy
Also love this modern rustic wallpaper by them. It's floral but given a real contemporary edge by being printed in charcoal grey on a natural background. Love it.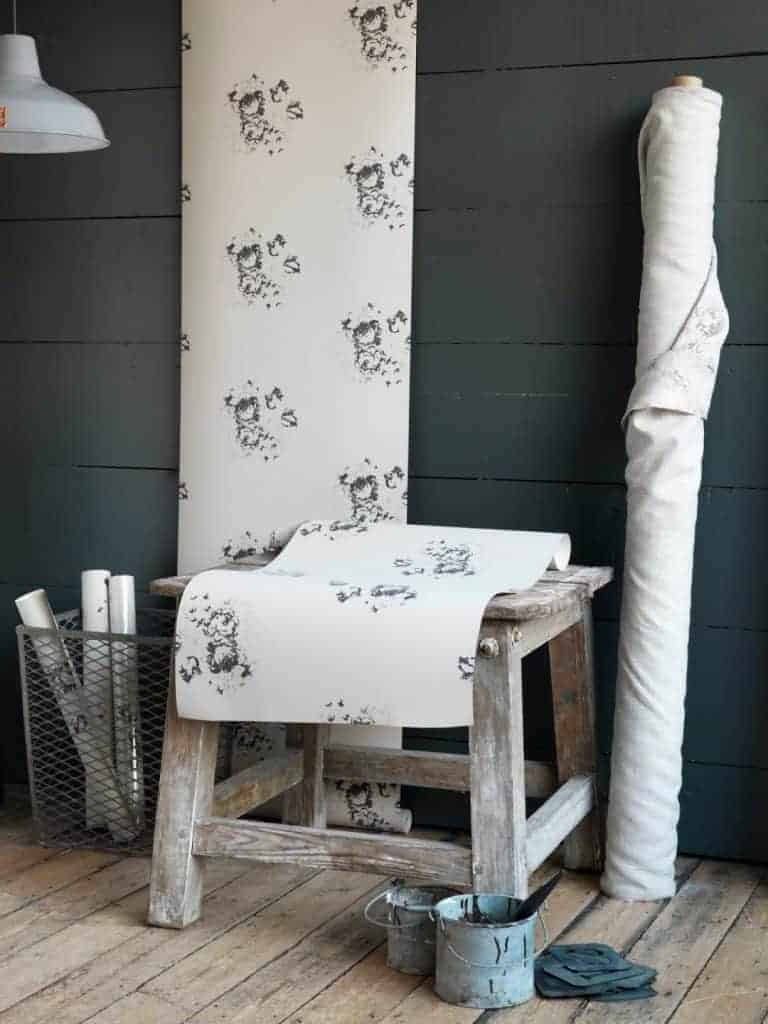 Also love how this linen tablecloth by Aerende looks on a simple, modern rustic dining table.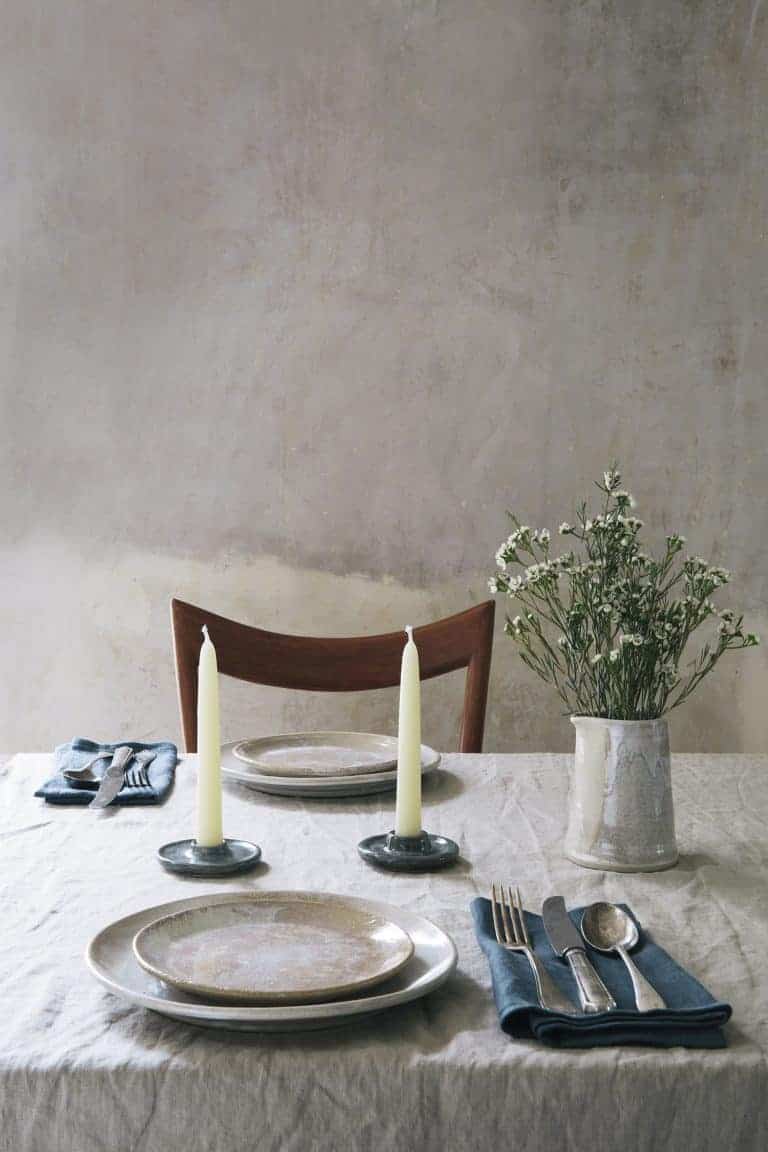 Love these images styled by Hilary Lowe of Damson & Slate (listed in our directory here)
Chair above is upholstered in fabric by St Jude's and photographed by Yeshen Venema, styled by Hilary Lowe. Cushions on wooden chair are by Foxy Pheasant, also photographed by Yeshen Venema and styled by Hilary Lowe.
I also love this rustic bathroom and living room from this restoration project 
Love the two above, too from Desire to Inspire
Light Locations
Light Locations is a great place to source interesting and beautiful places to shoot. These two modern rustic kitchen/dining rooms are fresh and contemporary with a simple rusticity that I love.
Unique Home Stays
For inspiration check out Unique Home Stays too – always a great place to find beautiful, stylish properties to book and enjoy an inspirational holiday.
Here are a few of my favourite modern rustic decorating ideas from the properties available to book:
Above: Little Scarlet in Oxfordshire
Love this confident use of colour, mixed with reclaimed wooden units, industrial brass taps and vintage finds. It's from Juneberry in Cubert, Cornwall. It's a reclaimed cabin for two tucked away on Cornwall's north coast. I love how the colour palette is carried throughout the house:
If you're looking to create a beautiful home office or work space, how about these two lovely ideas: both from The Creamery, Appledore in Devon:
Love the combination of vintage finds – antique signs, framed botanical herbiers, old type writer and reclaimed old wooden desk. The floorboards look to have been painted a matt dark grey and the walls pale grey/white. The bathroom in this property is also lovely:
Other Unique Homestays properties I love:
This bathroom and outdoor terrace both at Cabin Tapio in Hampshire
The Future Kept
The Future Kept (listed in our directory here) is a wonderful online shop run by Jeska Hearne and her photographer husband Dean. The photography is beautifully shot at their Sussex home, so there's plenty of modern rustic inspiration. Here are a few of my favourites:
Adventures in Cooking 
Another great source of inspiration is Eva Kosmas Flores on her blog Adventures in Cooking.  As well as offering a range of inspirational photography courses and workshops, Eva also shares behind the scenes glimpses into the renovation of her beautiful home as well as wonderfully seasonal recipes.
Here's a taste of the inspiration you'll find there:
It's important to consider lighting too – I do love the contrast of overblown chandeliers and rustic interior styling. This Ashwell chandelier from The White Company is the perfect example and would make a show-stopping feature.
Last idea is also from The White Company and it's a gorgeous outdoor kitchen. Love the combination of rustic painted walls with open shelves, vintage galvanised cans and pots, with rustic baskets and trugs. Find similar accessories over on The White Company website. Specifically, I've found a few of the items from the photo below:
Set of 2 handled wovenseagrass baskets; Wild Mint Hand Wash and Wild Mint Hand Lotion.
I found some other ideas over on Etsy like this chicken wire vintage basket. WestBarnCountry is a good place to source vintage garden accessories like galvanised watering cans, trugs, plant pots etc.
INFORMATION
---
This article contains affiliate links, which means we may earn a small commission if a reader clicks through and makes a purchase. All our blog posts are independent and in no way influenced by any advertiser or commercial initiative. By clicking on an affiliate link, you accept that third-party cookies will be set. 
Vanessa Arbuthnott is listed in the From Britain with Love directory 
Damson & Slate is listed in the From Britain with Love directory 
Aerende is listed in the From Britain with Love directory 
The Future Kept is listed in the From Britain with Love directory 
Cabbages & Roses  is listed in the From Britain with Love directory 
Are you a maker or creative course provider? Like to list with us and benefit from joining our supportive community? We'd love to hear from you. Check out the packages we offer on our Join Us page and get more details from our Information pack here
---
A PIN TO SAVE TO PINTEREST
Hope you've enjoyed discovering these modern rustic decorating ideas. It would be great if you could share the love. All you have to do is hover over the image below until you see the Pinterest button appear. Then share it to your boards. Thank you! X