Make a beautiful Christmas centrepiece – and SAVE 10% on all Christmas flowers at The Real Flower Company (scroll down for full details).
Thanks to Daisy at The Real Flower Company for sharing this beautiful step-by-step tutorial to make a festive foliage Christmas centrepiece for your table. The beauty of this idea is that you can use any seasonal greenery or berries you can forage or snip from the garden. To make life super-easy, you can buy a Wreath Making Kit from the Real Flower Company (from 30th November to 23rd December) with everything you need to make a wreath or table centre just like this one.
What you'll need
Metal wreath ring (which you can re-use multiple times)
Moss (I forage my own from my garden, but you can source this sustainably here too)
Seasonal freshly picked foliage and berries
(If you buy the RFC kit, it contains all of the above)
Scissors
Ribbon
Candle and glass container that fits inside the foliage-covered ring.
Instructions
1 Attach the end of your wire to the wreath ring
2 Add moss to the ring
Take a generous handful of moss, compact it with your hands and place in and around the ring. Secure the moss in place by wrapping the wire around it two or three times.
Repeat the process with more handfuls of moss until the ring is fully covered. Make sure the ring is generously covered and if your moss is a little dry, make sure to soak it first. The moss needs to be damp and dense to prolong the life of your Christmas centrepiece or wreath.
3 Adding the foliage and berries
Cut your foliage and berries into pieces around 15cm/ 6 inches in length and remove the leaves from the bottom 2-3cm. Tip: cut the ends on a diagonal to make them easier to poke into the moss.
4 Create small bunches with 4-5 of your pre-cut stems and gently insert the ends into the moss at an angle. Secure by wrapping the wire around the bottom third of the stems.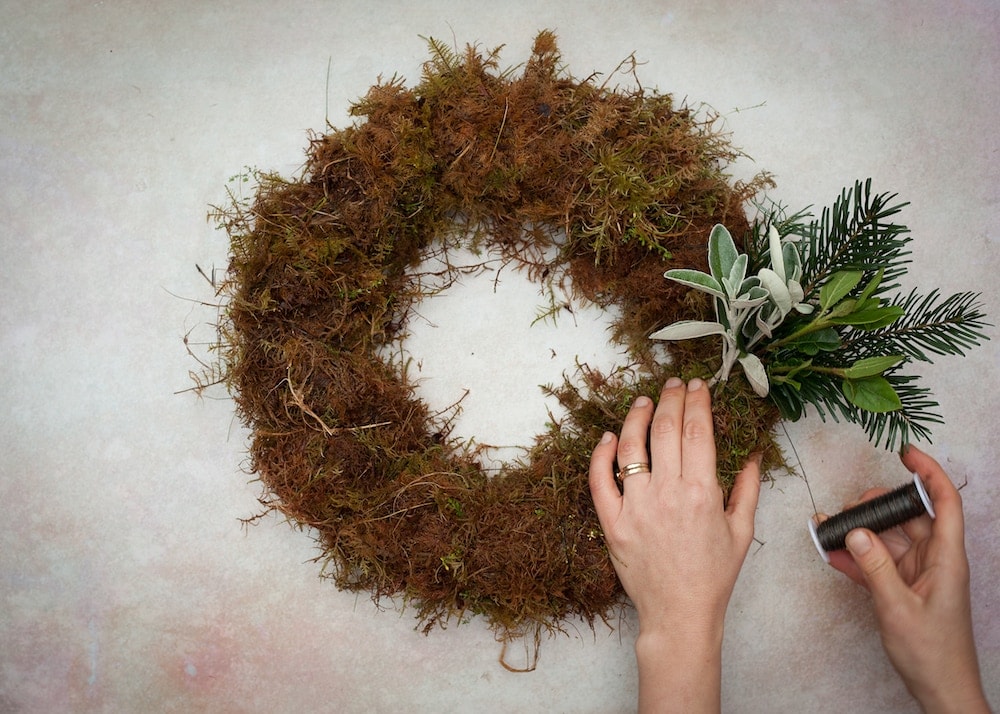 5 Continue adding further bunches in the same way. Keep the bunches facing the same direction, but alternate between placing one facing slightly inwards and one slightly outwards. This will make your wreath more abundant and better covered.
6 When adding decorative elements such as clusters of berries, keep an eye on the placement. It's a good idea to prop the wreath up to get a sense of how the design is progressing.
7 Add the final touches
When you've completely covered the wreath, fill in any gaps with extra stems. Once you're happy with the design, you can add the candle to the centre. I like to use a simple glass candle holder that I use every year with a natural wax pillar candle.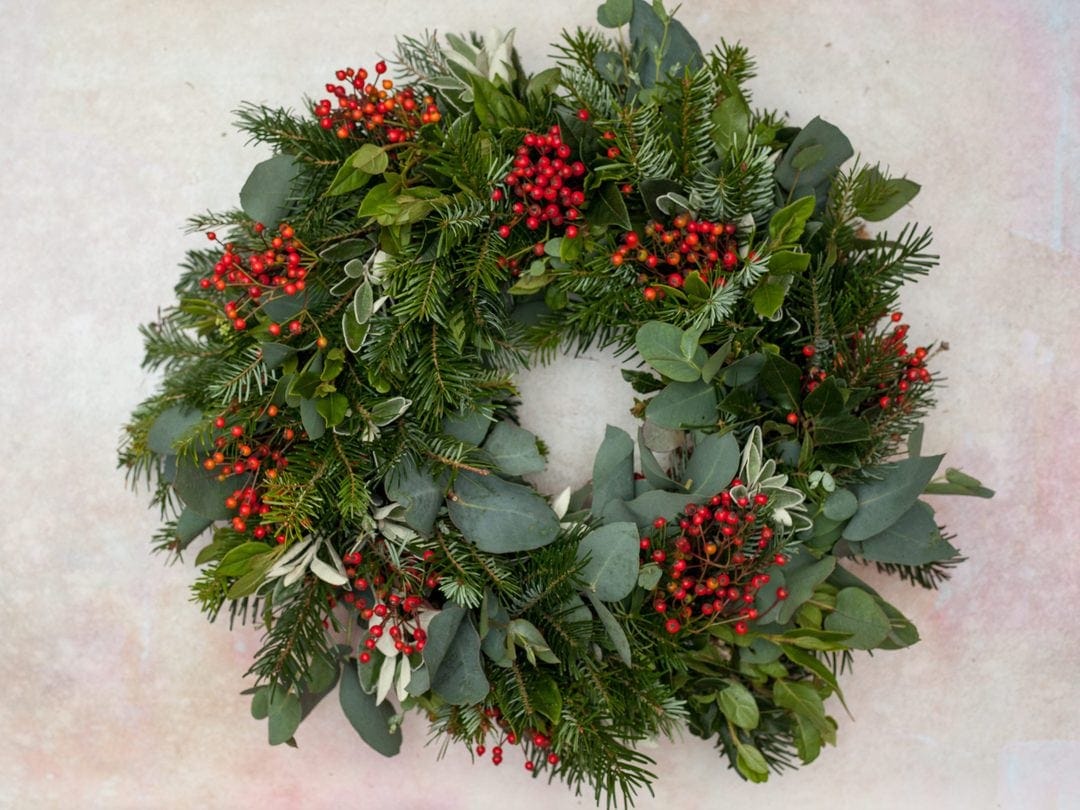 The wilder the better in my book. Add a candle to the centre, light the wick and your table will look instantly festive and naturally beautiful. It's the same basic process as making a fresh Christmas wreath, so you can choose to add in a piece of florist's wire at back and hang from your front door if you prefer.
Ready Made Table Centrepieces
The Real Flower Company sells a beautiful collection of read-made Christmas centrepieces available to order until 23rd December: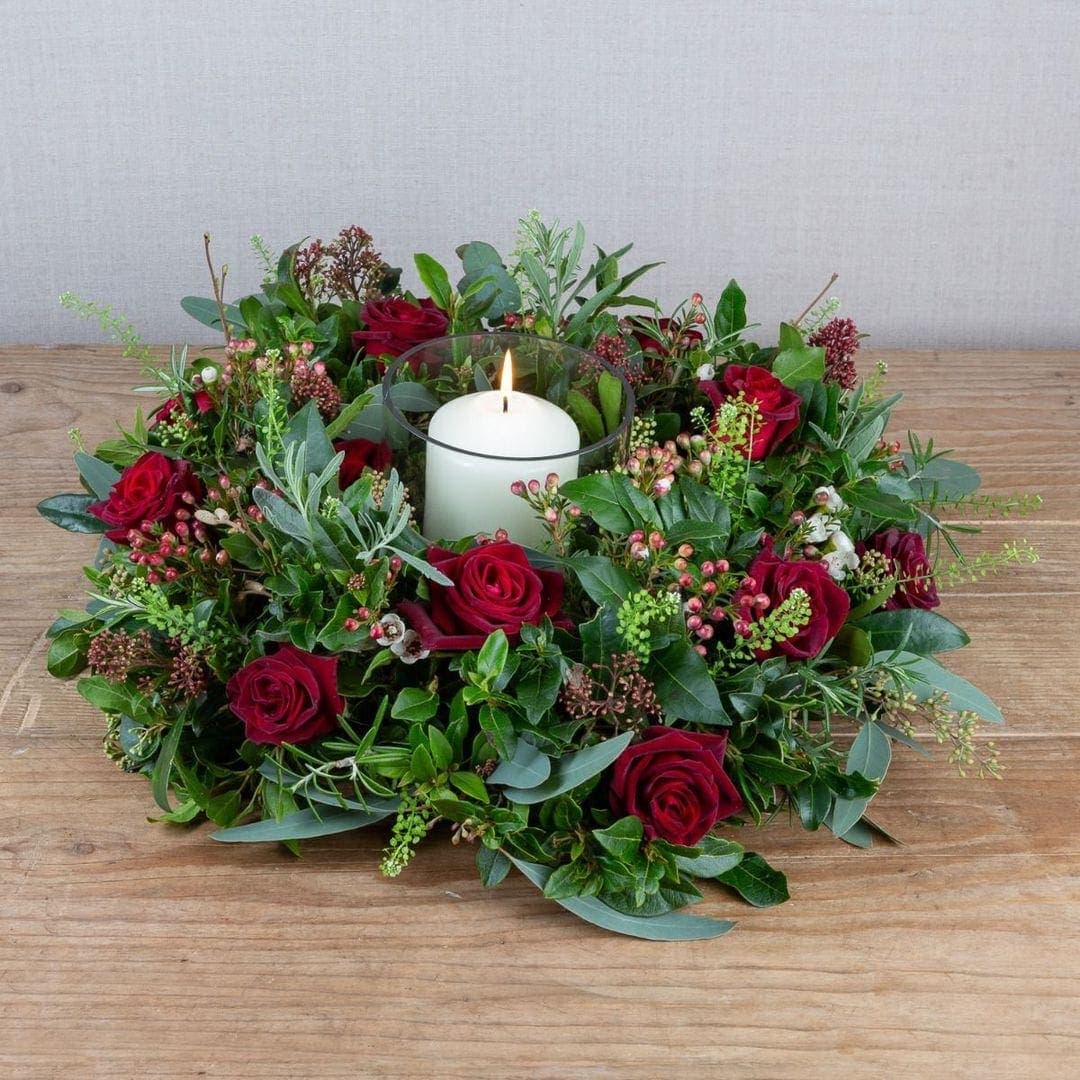 Here are a couple of other lovely variations by the RFC in situ with the candles flickering.
Save 10% on Christmas Flowers at The Real Flower Company
To save 10% on pre-orders of the Real Flower Company Christmas Collection, (which includes all Christmas flowers, wreaths and the wreath kit mentioned above) enter discount code FBWL10 at checkout.
Philippa Craddock
I love Philippa Craddock's light and natural touch with flowers and foliage, and her website is a great place to find inspiration. Find courses, free tutorials and more. Philippa Craddock is also listed in the From Britain with Love directory and featured in this popular blog post: How to make a a hand tied bouquet with Philippa Craddock.
This beautiful Christmas table design is from her Christmas Design Masterclass. Rather than creating wreaths with candles, Philippa has made multiple simple, natural foliage arrangements in low vessels that run the length of the table interspersed with tealights, candles and small jars with snippings of the same foliage. Just lovely.
I love the combination of natural, asymmetric arrangement of simple foliage including eucalyptus, ivy, cypress, conifer, white wax flower, and little white cyclamen plants (dotted around the table in simple moss-lined glass jars). Dusky pink candles and simple napkin ribbon bows add a warm softness and contrast with the plain olive green napkins.
Find similar candles handmade by Smith & The Magpie on Etsy. My favourite hand plant dyed ribbons to make your napkin bows are by Botanical Silk Ribbons and Linen & Stripes sell lovely Moss Green Pure Linen Napkins. Buy the gold-edged glass tea light holders here.
Information
The Real Flower Company is listed in the From Britain with Love directory here
Philippa Craddock is listed in the From Britain with Love directory here
Feeling inspired? Take a look at the Workshops category in our Directory, where you'll find a variety of inspiring courses, .
If you run a creative course that would interest our readers, please get in touch. Email us at editor@frombritainwithlove.com