Christmas Mouse knitting patterns you're sure to love, including one for free (scroll down to the end of this feature for the free pattern)! All are available to download as PDFs so you can start knitting today. Because sometimes it's the little things that bring the most pleasure…
I know just how much love there is out there for Claire's Dot Pebbles Knits patterns. So… as we're entering the festive season, I have to share this with you. This pattern is to make THE PERFECT Christmas mouse.
The pattern includes instructions to make the mouse and its cheery Christmas jumper and is available to buy on Etsy here). When knitted, your finished mouse will be approximately 10cm tall. The body is flat knitted on 2 needles, and the sweater made with minimal seaming, joining as you go. The pattern includes yarn recommendations if you'd like to make a mouse just like Claire's.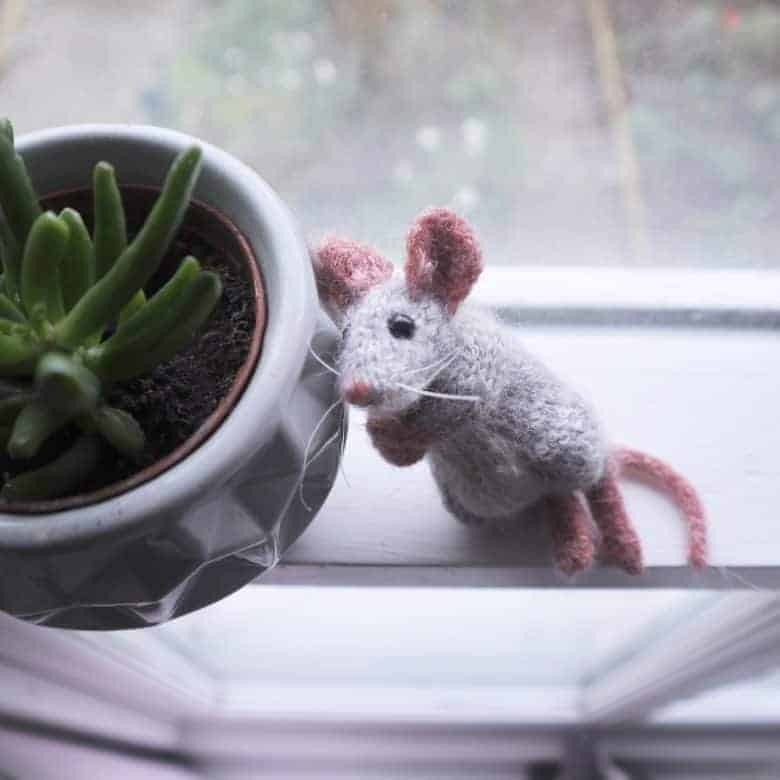 BUY CHRISTMAS MOUSE PATTERN ON ETSY NOW
Other Christmas Mouse knitting patterns to steal your heart…
How about knitting this Christmas Mice 'Knitivity' scene? Complete with mouse angel, shepherd (complete with tiny sheep), wise men as well as Mary, Joseph and baby Jesus. So sweet and sure to become a treasured decoration for years to come.
BUY MICE KNITIVITY PATTERN ON ETSY NOW
Such a sweet little mouse and the pattern is again available to buy and download as a PDF on Etsy. It's suitable for intermediate level knitters and the pattern includes lots of 'how to' photos and instructions. I think it's the pointed hat with holes for the ears that got me…
BUY CHRISTMAS MOUSE TOY KNITTING PATTERN ON ETSY NOW
This super cute pattern is the creation of Rachel Borello Carroll and is available to buy from love crafts here
If you wanted to go full-on festive, you could make their little hats in red with white bobbles…
BUY QUIET LITTLE MOUSE KNITTING PATTERN ON LOVE CRAFTS NOW
If it's a festive mouse pattern you're looking for, not sure you'll find anything more Christmassy than this Santa Mouse by Wendy Philips on Love Crafts. You could even pop some tiny little treats in his sack…
BUY SANTA MOUSE KNITTING PATTERN ON LOVE CRAFTS NOW
Christmas Mouse in mitten set
What makes this pattern by Susan B Anderson on Ravelry so adorable is that the mice sit nestled inside cosy mittens, with a tiny wardrobe of long johns, pants and sweater. 
BUY CHRISTMAS MOUSE IN A MITTEN PATTERN ON RAVELRY NOW
How adorable is this Christmas Mice knitting pattern by Fuzzy Mitten? Best of all, it's free to download as a PDF on the Fuzzy Mitten website here: https://www.fuzzymitten.com/post/free-pattern-holiday-mice
INFORMATION
---
Dot Pebbles is listed in the From Britain with Love directory here >>
Discover other adorable patterns by Claire here:
How to knit a bunny rabbit: free pattern & tutorial
Little Blue Bunny knitting pattern
How to Knit a Cat – knitting pattern and expert tips
Nuthatch bird knitting pattern
How to knit a lamb – free pattern and step by step tutorial
Where to buy Dot Pebbles patterns
All of Claire's other patterns are available to buy from Etsy by clicking here
Are you a maker or creative course provider? Like to list with us and benefit from joining our supportive community? We'd love to hear from you. Check out the packages we offer on our Join Us page 
This article contains affiliate links, which means we may earn a small commission if a reader clicks through and makes a purchase. All our blog posts are independent and in no way influenced by any advertiser or commercial initiative. By clicking on an affiliate link, you accept that third-party cookies will be set. 
---
A PIN TO SAVE TO PINTEREST
If you've enjoyed discovering this Christmas mouse knitting pattern, it would be great if you could share the love. All you have to do is hover over the image below until you see the Pinterest button appear. Then share it to your boards. Thank you! X