How to knit a cat and kitten – knitting pattern and expert tips
I have been totally blown away by the amount of love for the How to knit a bunny rabbit post we shared in collaboration with wonderful Claire Garland of Dot Pebbles Knits. So… we decided to do it again and this time share Claire's utterly adorable cat and kitten knitting patterns with you. As well as a few expert tips from Claire herself for creating the cutest feline you'll ever make!
There's an adorable FREE kitten pattern (that you can download here: Knit a kitten – easy free pattern plus another 5 heart-melting cat and kitten patterns to choose from – all the details you need to get hold of them are at the bottom of the post. I've shared lots of adorable images by Claire to help you choose which ones to make first! There are also links at the end of the post to other adorable free patterns by Claire, so keep reading so you don't miss out! X
How to knit a cat or kitten

BUY THE CAT PATTERN ON ETSY HERE
BUY KITTEN KNITTING PATTERN ON ETSY HERE
View this post on Instagram
BUY ITTY BITTY KITTEN PATTERN ON ETSY HERE
View this post on Instagram
BUY THE NEW KITTEN KNITTING PATTERN HERE >>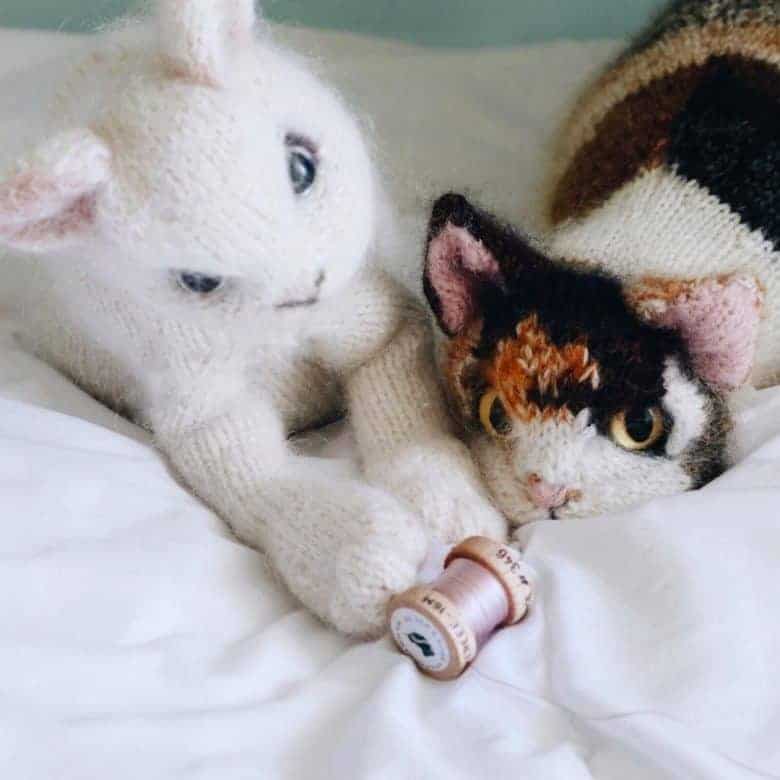 BUY CALICO KITTEN KNITTING PATTERN ON ETSY HERE
How adorable is this little black and white kitten pattern by Claire? Again, it's available to buy on Etsy as a PDF download now.
BUY BLACK & WHITE KITTEN PATTERN ON ETSY HERE
Pattern number 8: Siamese Cat
BUY SIAMESE CAT KNITTING PATTERN ON ETSY HERE
Claire's expert tips
 – If you are substituting yarn (using a different yarn to the ones that I recommend) then make sure the yarn you use for the muzzle is of a lighter weight than the rest of the cat, for example if the cat is knitted in a DK yarn then knit the muzzle in a 4-ply.
 – Why not try a self-striping yarn especially for the legs – Or try some duplicate stitch for cat's facial markings!
– If your cat is not intended for a 'cuddly' toy cat then use broom bristles for whiskers (someone from the Facebook page #imadethisrabbit did this to great effect!)
 – It's up to you whether you choose toy cat eyes (with a slit pupil) or regular round pupil toy eyes – both work equally as well as each other – selection available to buy on Etsy here)
And:
 – If you end up with a 'grumpy' looking cat it's probably because you haven't shaped the eyebrows enough – try sewing a stitch at the end of the eyebrow short-row-shaping to pull it more into a curve around the outer edge of the eye instead of having it run straight across the top of the eye.
Claire has made a super-helpful video tutorial of making up her cat, which you can watch here: How to Knit a Cat video tutorial 
WHERE TO BUY CLAIRE GARLAND'S CAT & KITTEN PATTERNS
FIVE free knitting patterns by Claire
Don't miss your free kitten pattern. Also, if you've loved Claire's bunny and kitten patterns, it's worth knowing that subscribers to Claire's mailing list can claim their free bi-monthly #freebeefridayknits knitting patterns. Four free patterns that Claire is happy to share with you here too: polar bear knitting pattern sweet Jemima Puddleduck pattern, adorable Baby bunny and bright-eyed Squirrel.
The #freebeefridayknits patterns change each time, but remember they are usually only available for a day, so my advice is to download them as soon as you get them and keep for when you're ready to get knitting. There was a free kitten pattern at the time of writing (which is no longer available right now), but sign up to #freebeefridayknits and you never know what adorable knitted loveliness might find its way into your inbox!
Other cat and kitten patterns
Cats knitting pattern by Sachiyo Ishii
Little sleeping kitten pattern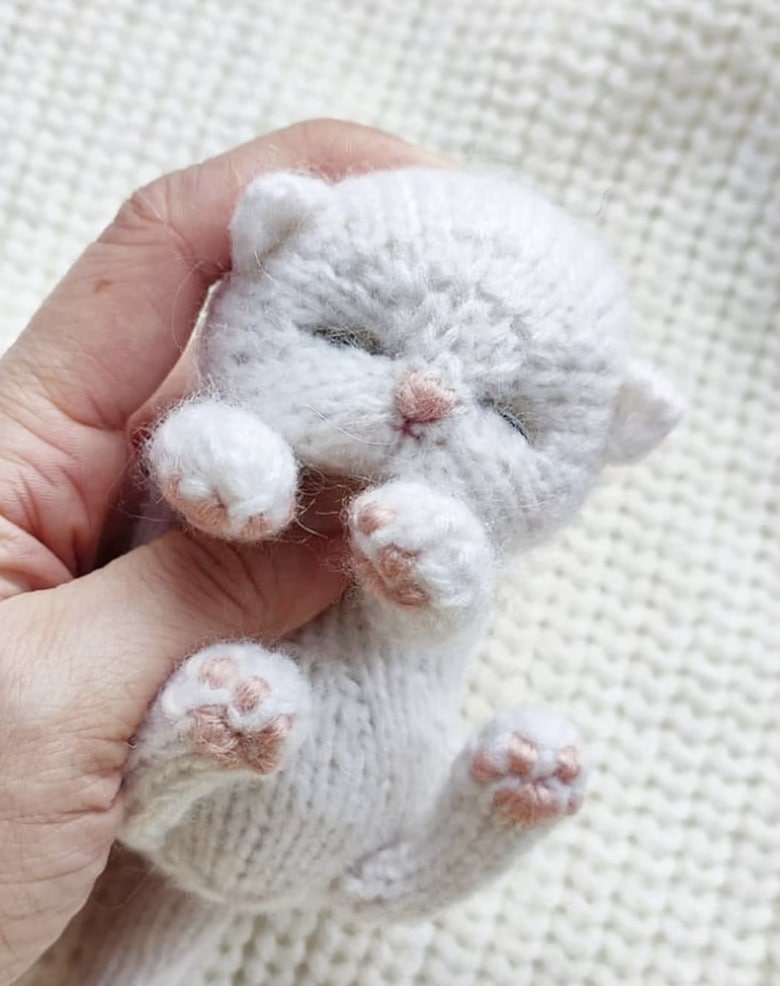 Kitten pattern
Tiny kittens pattern
INFORMATION
---
Claire Garland's Dot Pebbles Knits is listed in the Knitting Classes section of our Directory
Are you a maker, grower or creative course provider? Like to list with us and benefit from joining our supportive community? We'd love to hear from you. Check out the packages we offer on our Join Us page and get more details from our Information pack here
This article contains affiliate links, which means we may earn a small commission if a reader clicks through and makes a purchase. All our blog posts are independent and in no way influenced by any advertiser or commercial initiative. By clicking on an affiliate link, you accept that third-party cookies will be set. 
---
A PIN TO SAVE TO PINTEREST
It would be great if you could share the love. All you have to do is hover over the image below until you see the Pinterest button appear. Then share it to your boards. Thank you! X