How to knit a bunny rabbit baby – free pattern and step by step tutorial. I fell in love instantly when I first came across Claire Garland's Dot Pebbles knitting patterns. She has created a menagerie of knitted bunnies, mice, foxes, baby deer and other animals that really do tug at your heart strings. Claire somehow manages to capture the essential beauty and vulnerability of baby animals in her knitting.
If you're looking for a craft project, I have just the thing! Claire has kindly shared her free pattern to knit a baby bunny with all the details you need to make one yourself. Or make a whole family of them and fill your home with adorable knitted loveliness!
Simple to make, and probably the cutest baby bunny pattern out there, why not have a go yourself? I'd love to see how you get on. I've shared some helpful step by step images and video tutorial by Claire as well as her top tips for getting the look just right. The pattern is free to download just below Claire's tips. There are also lots of other links to other patterns of Claire's you might enjoy making. Enjoy! X
knit a bunny rabbit
This usefully marked image shows you how your finished knitted piece should look before you start sewing it up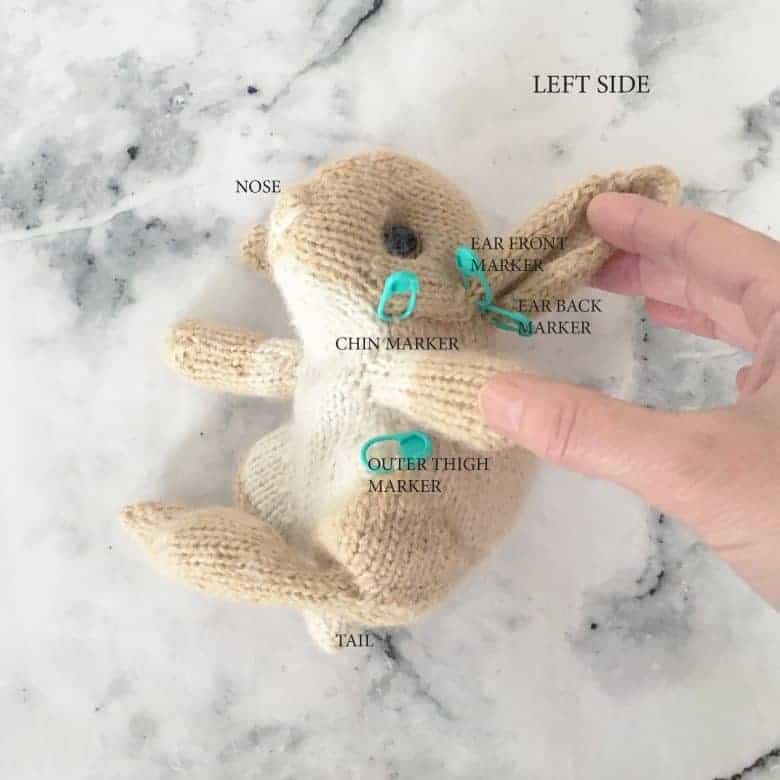 Using the marker pins will help you line up before sewing together.
knit a bunny rabbit video tutorial
This video tutorial by Claire is really helpful when you come to make up your knitted rabbit:
knit a bunny rabbit – 5 essential tips from Claire
1 Don't overstuff
Definitely my number one tip when you knit a bunny rabbit – don't over stuff! If you look at real bunnies they are quite loose-fleshy so try and emulate this with your stuffing – especially around the neck and chin and belly areas.
2 Take time to mould the face
Play around with the face squishing. By that I mean use you fingers to indent the eyes, finding that correct bunny face look, before working the stitches that will create the eventual 'face squish'. Then add in your eyes.
3 Experiment with different yarn
I've just bought some hand-dyed yarn which has specks of brown within it which I can't wait to try out with some mohair. Note: I love knitting with mohair but it's not a suitable material for babies under one year old.
4 Consider 'felting' your bunny
If you wanted 'extra' fluffiness and you've used pure wool or alpaca – or maybe cashmere – why not slightly 'felt' your bunny? To do this: when the bunny is completed wash it in warm water with a tiny amount of liquid soap. Gently rub and agitate the toy by hand before rinsing out completely and rolling in a towel to remove excess water. Re-shape and sculpt then leave to dry away from direct heat.
5 Make bunny bespoke
If you wanted to embroider some distinct markings on your (knitted) bunny then you could work some 'duplicate stitch', i.e. embroidering the 'v' shape to mirror the already knitted stitch in patches over the body or face. Knit a bunny rabbit your way.
Follow #IMadeThisRabbit for inspiration
And finally, when you are finished, or if you want more inspiration – then follow along with my hashtag #IMadeThisRabbit on @dotpebbles_knits Instagram or my facebook page with the same hashtag name.
DOWNLOAD YOUR FREE BABY BUNNY KNITTING PATTERN HERE
To download your FREE  knitting pattern with full details of how to knit your own baby bunny rabbit, click here >> Easter Bunny Knitting Pattern PDF
So many readers got in touch to ask if the baby bunny knitting pattern might be available as a crochet pattern, that I set out to find out… And there is! Claire sells a crochet version of her pattern over on Love Crafts
Free baby bunny crochet pattern 
I've also found this totally adorable baby bunny crochet pattern by Stephanie Lau which you can read for free online here. To download her pattern as a printable PDF, you can also buy it on Etsy here
Find all of Claire's other adorable patterns available to buy from her Etsy shop here

BUY TEENY TINY BABY RABBIT PATTERN ON ETSY HERE
How adorable is this new rabbit doll knitting pattern by Claire? It's available to buy as a PDF download on Etsy (at the time of writing it's available at a special introductory offer price).
There's also a helpful video on Instagram here:
View this post on Instagram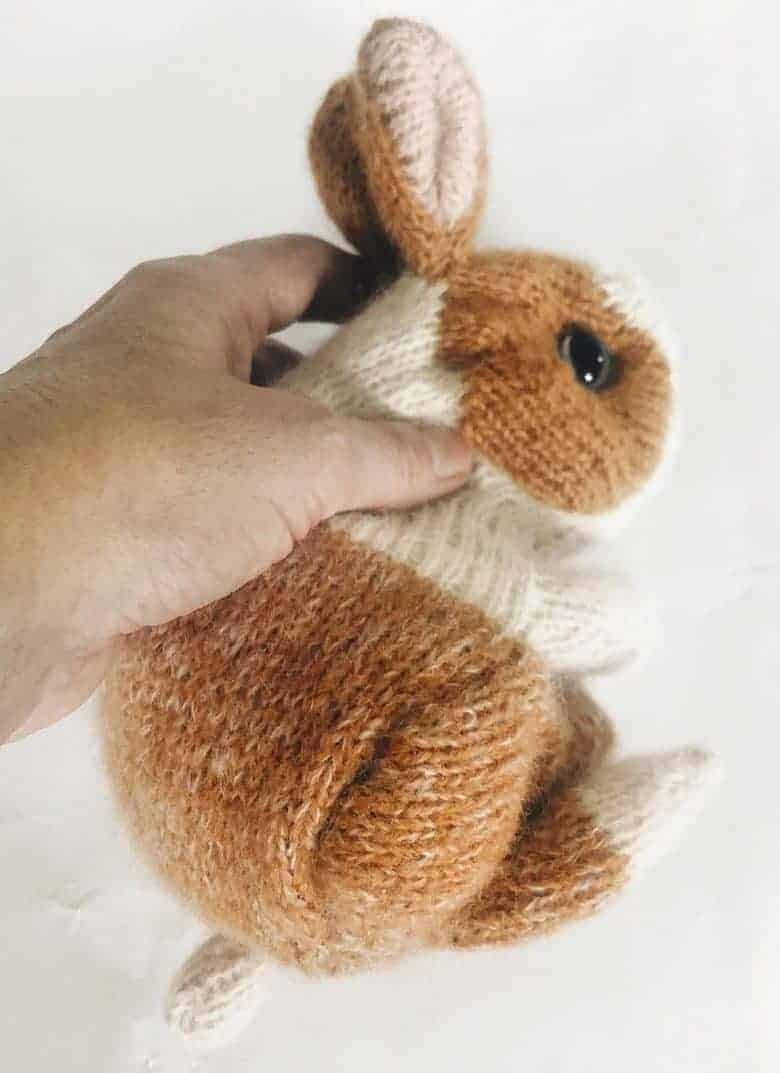 Buy Cinnamon Dutch Rabbit knitting pattern on Etsy here
The Peter rabbit pattern also includes carrots and his little blue coat.
BUY PETER RABBIT KNITTING PATTERN HERE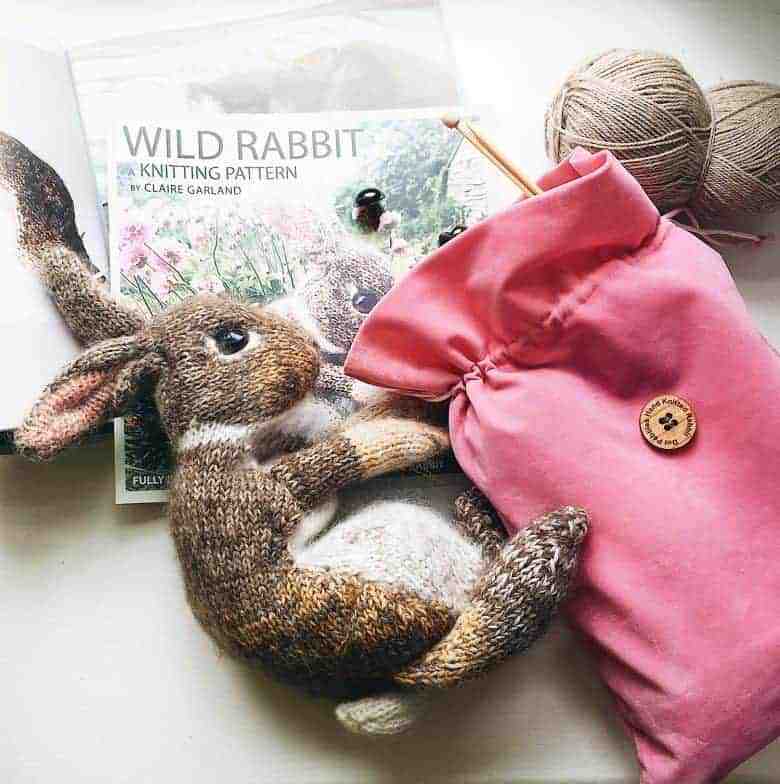 BUY WILD RABBIT PATTERN BOOK KIT NOW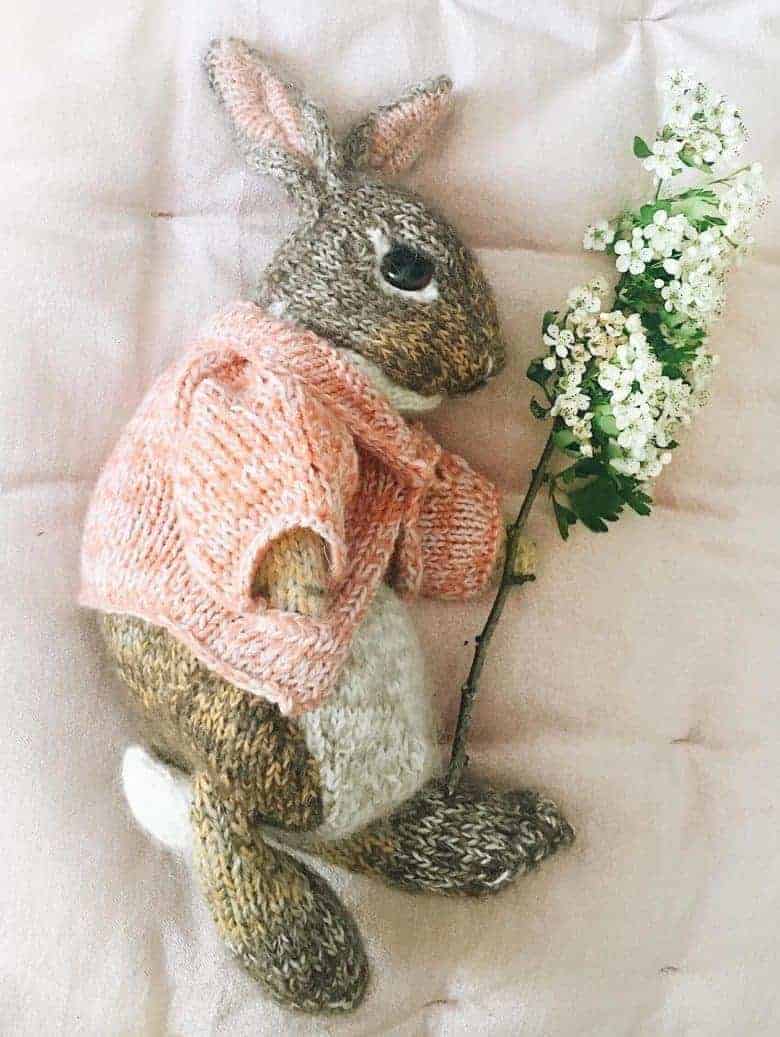 BUY PETER RABBIT'S COAT PATTERN NOW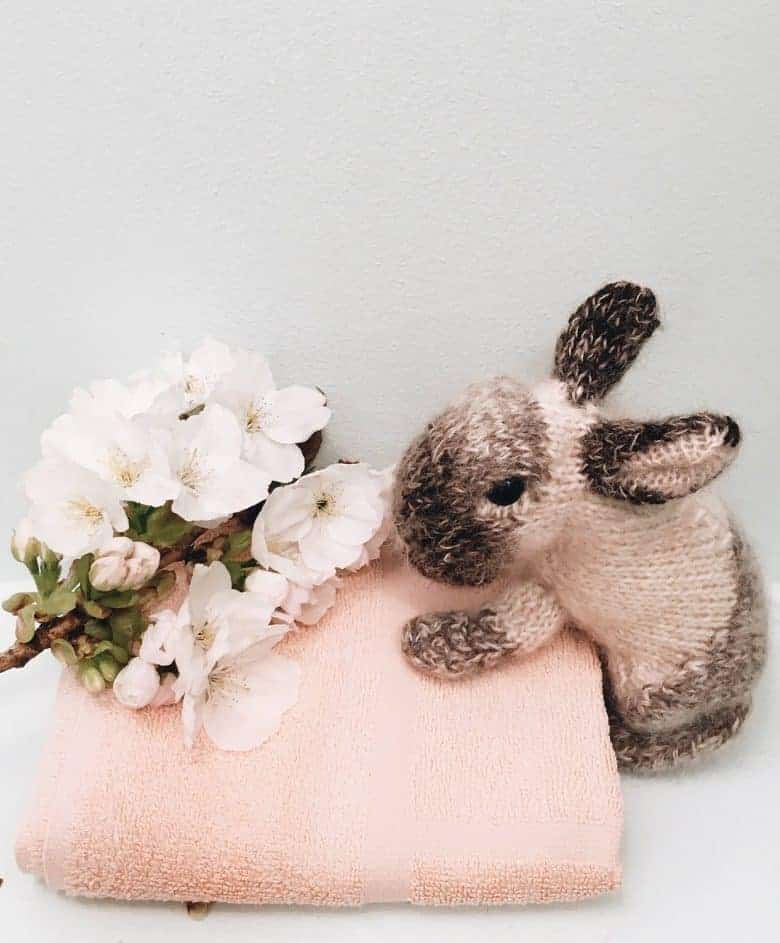 BUY NETHERLAND DWARF RABBIT PATTERN NOW
BUY BLACK OTTER REX RABBIT PATTERN NOW
BUY HOLLAND LOP RABBIT PATTERN NOW
Claire's pattern books to buy
Also by Claire: Knit & Purl pets BUY NOW; Dream Toys BUY NOW
Patterns by other makers you might like
Crochet Betsy & Arthur bunny kit BUY NOW >>
Arthur Rabbit knitting pattern & kit BUY NOW>>
INFORMATION
---
Dot Pebbles is listed in the From Britain with Love directory here >>
How to receive all of Claire's free patterns
Sign up for #freebiefridayknits bimonthly free knitting patterns by Claire here
Are you a maker or creative course provider? Like to list with us and benefit from joining our supportive community? We'd love to hear from you. Check out the packages we offer on our Join Us page and get more details from our Information pack here
This article contains affiliate links, which means we may earn a small commission if a reader clicks through and makes a purchase. All our blog posts are independent and in no way influenced by any advertiser or commercial initiative. By clicking on an affiliate link, you accept that third-party cookies will be set.
---
A PIN TO SAVE TO PINTEREST
Hope you enjoyed this blog post: How to knit a bunny rabbit with Claire Garland. It would be great if you could share the love by pinning this to Pinterest. Simply hover over the image until the red Pin it symbol appears and share! Thank you X