Icing for sugar cookies – ideas with the Biscuiteers
This month Nicky Sherwood learns how to ice biscuits – or sugar cookies – with the Biscuiteers at the new Biscuiteers School of Icing in Notting Hill. Discover how to ice a collection of Vintage Birthday Party biscuits in a two hour icing masterclass.
Biscuiteers' amazing hand-iced biscuits are mini works of art in their own right. Presented in beautiful tins, they are created in their London bakery and hand-decorated before being sent around the globe.
Icing for sugar cookies ideas in Notting Hill
Recently the company opened a Biscuit Boutique and Icing Cafe in London's Notting Hill. It's a little slice of biscuit heaven where you can also learn the intricate art of biscuit icing. The Icing School is below the shop and it was here that I found myself headed on a chilly February morning. I would be learning to recreate the popular Vintage Birthday Party biscuit collection in a 2-hour masterclass. Icing sugar cookies made easy, hopefully..
On arrival at the Biscuit Boutique I discovered a world of baked loveliness. Biscuit collections for every imaginable occasion filled the shelves as well as hand-iced chocolates.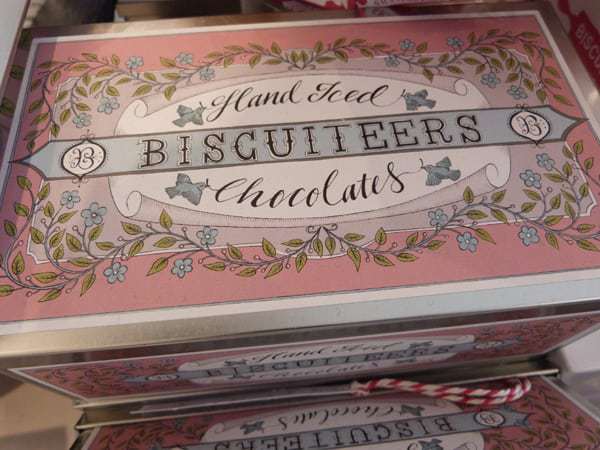 The boutique is home to some pretty impressive biscuit sculptures such as the replica Buckingham Palace in the window.
Being a complete icing novice, the question I found myself wondering was whether I'd be up to it. Would it be a piece of cake, or leave me sobbing over a pile of broken biscuits? Only time would tell if I would soon be icing sugar cookies like a pro.
Icing sugar cookies step by step
Heading downstairs to the Icing School, I joined the other would-be icing sugar cookies queens around a table. We all enjoyed a warming mug of hot chocolate from the cafe before getting down to work. Time to get icing sugar cookies.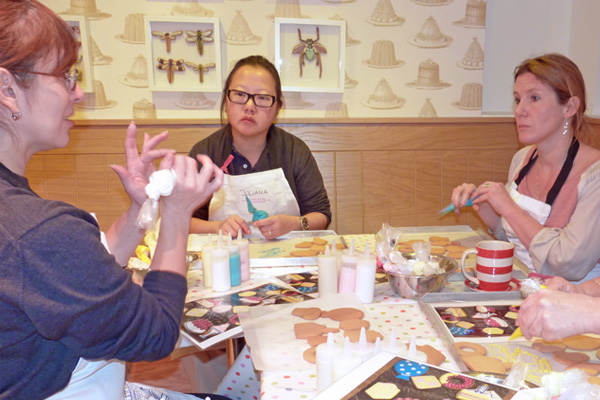 Our tutor and resident icing expert Lorena began by explaining the techniques that we would be using. How to hold the piping bag and apply the right amount of pressure to maintain control are key.
Straight lines and swirls
It takes a bit of time to master the grip so we first practiced icing straight lines and swirls onto baking paper. Then we are let loose on the tray of biscuit blanks laid out before us.
Iced borders
Then it was time to take the plunge and attempt to ice a border around the edge of our biscuits. First up was a party balloon swiftly followed by a slice of battenburg cake.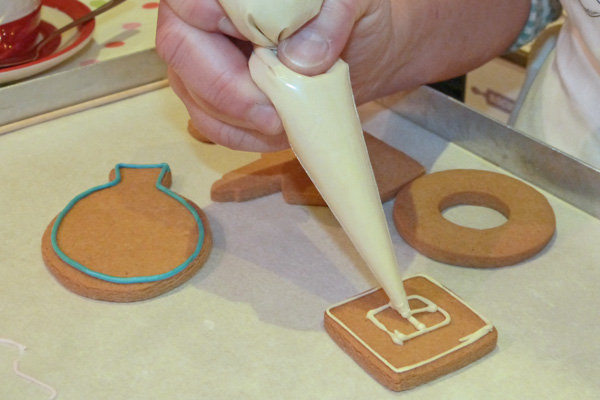 At first it was breath-holdingly tricky as I tried to lay a long line of icing down onto the biscuit in one fluid movement while keeping the pressure constant on the icing bag. Stopping and starting wasn't a option – you just had to go for it – so confidence is key!
Flood icing
After a bit of practice I get the hang of it and once the iced borders were dry Lorena showed us the next icing technique. This time we used a more liquid form of icing to 'flood' the enclosed spaces we had created. It's key here to take care not to let the icing flow over the edges.
Creating patterns
With the liquid icing we were able to layer and blend the colours to create patterns like spots and swirls. What's amazing is how the icing magically levels itself to create a smooth glossy finish.
Once all of the biscuits had been flooded they were placed in the oven for 40 minutes to allow the icing to harden. Lorena then showed us how to make the liquid icing using the recipe in the Biscuiteers cook book.
Adding more definition
When the biscuits came out of the oven and had cooled, we sat down to do the final icing using the piping bags.
Now feeling a lot more confident, we added some final definition to our designs. I add some finishing touches to mine like decorations on the cakes and the cherry on the sundae.
The difference a tin makes
Before long our biscuits were finished and Lorena presented us each with a pretty Biscuiteers tin. They all look so amazing filled with our iced creations safely between sheets of glossy brown paper.
Next we were handed some rather fabulous goody bags containing a 'Certificate of Brilliance' and a copy of the Biscuiteers Book of Iced Biscuits.
Back home I upacked the tin and laid my biscuits out on to a cake stand. I couldn't really believe they'd been done by me! Not bad for a complete beginner who two hours previously had been shakily trying to grasp the piping bag correctly.
The finished results say it all – and that is the beauty of this Biscuiteers biscuit icing class. You arrive at the shop a complete novice and leave a short while later having learnt skills that you will never forget.
Lorena is an excellent tutor, inspiring confidence and making it fun and relaxed while keeping us all on track. Each one of us came out with a completed biscuit collection, which is impressive.
This class would make an ideal gift for crafty or foodie friends. But if you can't make it to London, don't worry as the recipes and techniques are also set out in the Biscuiteers Book of Iced Biscuits . Why don't you have a go at icing biscuits at home? Happy icing!


INFORMATION
---
Feeling inspired? Take a look at the Creative Workshops category in our Directory, where you'll find a variety of inspiring courses, from art and crafts to fashion and beauty, interiors, cooking and flower & gardening.
Other blog posts you might enjoy:
---

---