For our latest crafty make, we head to Salisbury and join Louise Maidment from Lolly & Boo on a lampshade making course, where we learn how to make a fabric drum lampshade in just a few hours on this fun and inspiring workshop.
After a scenic drive past Stonehenge and along winding country lanes, I arrive at the pretty village hall in Stratford Sub Castle where Louise Maidment, founder of homewares brand Lolly & Boo, was setting up for the day's lampshade making class.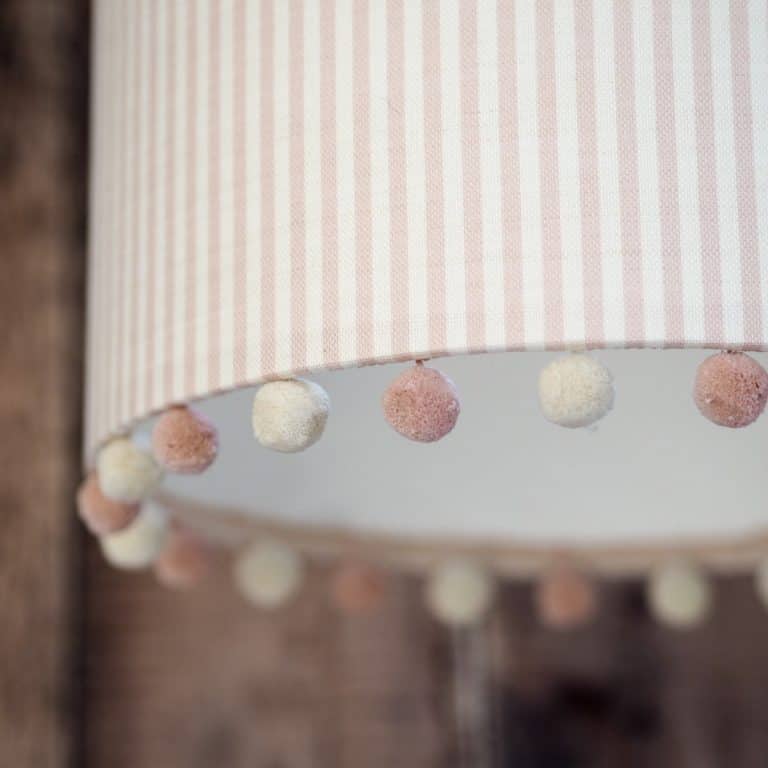 On the table nearby were several examples of pretty fabric lampshades that she had made in advance to demonstrate the different frame sizes available and how the scale of the fabric print looks on different sized shades.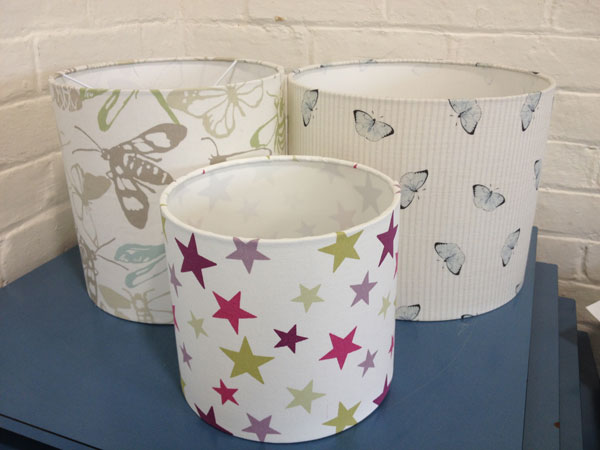 Louise likes to keep the classes small with a maximum of 8 people so that she can give each person as much individual attention as they need. On this occasion there were six of us eager to learn how to make our own fabric lampshades.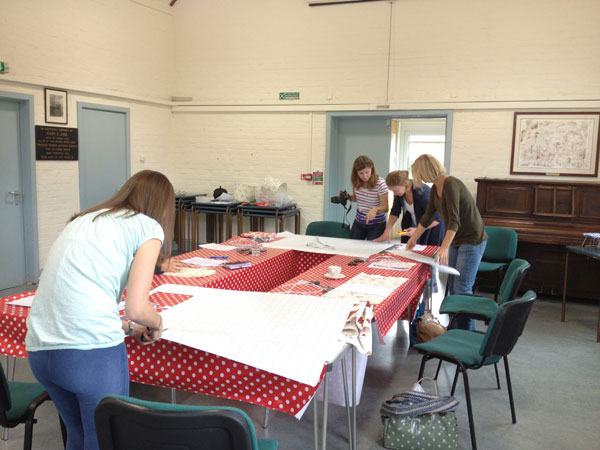 What you need
First of all Louise introduced us to the materials we would be using: a metal lampshade ring set, fire retardant PVC lining, double sided lampshade tape and of course our own choice of fabric.
The first job was to cut out our fabric piece to the correct dimensions for the size of shade we'd be making. I chose a 25cm diameter shade and decided to make it with a lamp base fitting. Then it was time to give it a good iron to get rid of any fold lines or wrinkles which might show up on the finished shade.
Attaching the lining
Louise demonstrated how to attach the fabric to the PVC lining material, which is what makes the lampshade fireproof and allows it to confirm to the Lighting Association's glow wire safety test.
She also gave us some handy tips about where to source lampshade making supplies and shared some of her favourite fabric companies such as fabric brand Peony & Sage whose beautiful linen prints are all made here in the UK.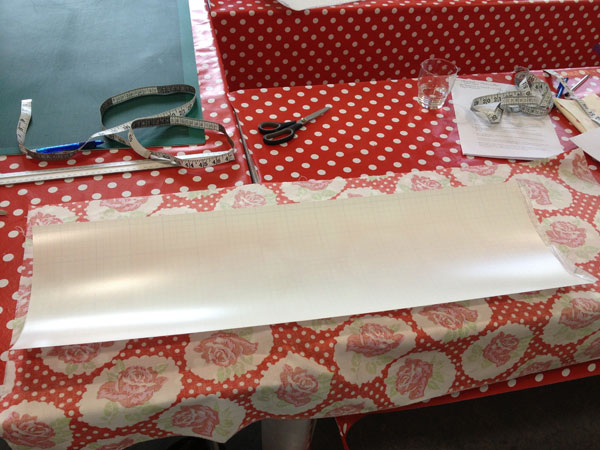 Taping the ends
Once the PVC backing material had been secured to the fabric, we were shown how to tape the end seam using specialist double sided lampshade tape.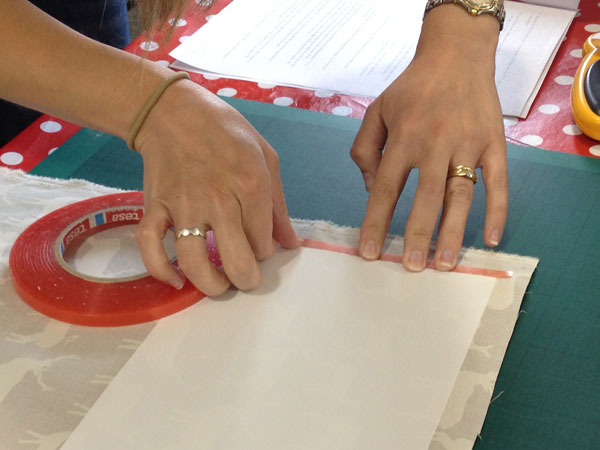 This essential step ensures a smooth clean seam and a gives a professional look to the finished shade. With the end seam folded and smoothed down, the next job was to tape the remaining sides of the fabric.
Attaching the metal ring frame
This requires some concentration and a steady hand to ensure that the tape is placed as close to the edge of the PVC as possible.
Another line of narrower tape was then added on top of the PVC which attaches the lining to the metal ring frame. Then it was time to start rolling!
Louise showed us how to hold a metal lampshade ring in each hand while carefully rolling them simultaneously along the edges of the PVC, taking care to follow the line of the sticky tape and to move both rings forward at the same speed.
The rolling part is quite tricky at first, but the payoff is that your lampshade suddenly becomes three dimensional. It springs to life before your eyes, which is very exciting.
Tucking in the fabric edges
The final task is to tuck the edge of the fabric over the metal rings and secure in place. If you want to add pom poms to the edge, stick along the inside edge.
Then it was time to stand back and admire our handiwork. What was previously a flat piece of fabric had been miraculously transformed into a professional looking drum lampshade.
Finished!
This shade was created to stand on a lamp base so the fitting is at the bottom. Most shade ring sets can be adapted either for a ceiling pendant or a lamp base fitting. Take a look at the resources section below for information on where to source lampshade making supplies.
Back home I attached my lovely new shade to a vintage glass lamp base and in my young son's bedroom. I can't tell you how proud I felt! What is fantastic about this short 3 hour course is that you get to see results really quickly. We all took home a professional looking finished product at the end of the day.
Louise was a wonderfully calm and patient tutor and it's clear that she has a real passion for fabric, which is evident in her own collection of Lolly & Boo handmade lampshades, which feature beautiful linens and gorgeous children's prints.
INFORMATION
---
Feeling inspired? Take a look at the Creative Workshops category in our Directory, where you'll find a variety of inspiring courses, from art and crafts to fashion and beauty, interiors, cooking and flower & gardening.
---
A pin to share to Pinterest