Meet Sarah and Arthur of Foundland ethical homeware and gifts online store.
Having successfully created shops for major galleries and cult design brand Monocle, partners Sarah Khalaf and Arthur Mingard decided to set up their own online shop, selling carefully curated goods they felt passionate about. Foundland is where you'll find unique homeware and gifts hand-crafted in the UK, Japan and around the world.
I hope you enjoy discovering the pair's inspirations, simple pleasures and tips for finding creativity as much as I did. I love that their day is set in motion by rescue cats Mr Tiddles and Tobokaido; that Countdown is amongst Sarah's simple joys and that they feel so passionately about the makers whose creations they sell alongside their own.
Please describe what you do and tell us a little bit about your journey there.
We started Foundland in 2018 as a labour of love. Sarah had been working as a Buyer for some of the major gallery shops in London, and Arthur as a Web Developer for brands such as Monocle.
We live in London and for fun at the weekends we'd travel. Everywhere we went in the UK we would come across all these talented designers and makers who were admired in their local communities. They were making functional goods useful for everyday living- ceramics, candles, towel rails… But they either didn't have the resources to get their name out there or couldn't meet the targets and margins of regular stores.
We saw the opportunity to start a shop that offered a fair price to both its customers and its makers. With Sarah's buying background we are able to help these designers work out a way to bring their products to market.
Since the launch, the support we've received has been amazing, it's taken off in a way we hadn't imagined. Sarah now runs Foundland full time, Arthur runs the website, and we've never looked back.
The upshot of our approach is that you're unlikely to find most of the items we sell anywhere else. We hope that browsing our site is full of discovery. Hence the name Foundland.
Please describe your work and share a little about your inspiration and your ethos
We like makers who are passionate about what they do and are masters in their craft. We like products which are:
Thoughtful: being fun or doing good
Under the radar or unique
Crafted with care and made to last
So beautiful that we want them in our own home.
It's also important for us to be transparent in how our products are made. it underpins our whole approach. And so we go the extra mile (quite often a literal "Where is a pub already?" extra mile) to find designers and makers who fit our ethos. In particular:
• Ethical production methods, often small production runs. No exploitation permitted.
• Use of sustainable or environmentally friendly materials. We only want designers who care about the world we live in.
• As well as British makers, we aim to champion some of the best independent makers around the world, and bring them to a wider British audience. But there's always a link back to the UK.
For example, we're currently working on a new collection with potters in the small Japanese town of Mashiko, home to the Hamada pottery. The late Shoji Hamada, through his friendship with Bernard Leach, was one of the figures who initiated Britain's modern Studio Pottery movement. In the 1920s they together founded the Leach Pottery in St Ives. So there's a historic tie there.
In turn, we also work with a group of potters in rural Northumberland, who wood-fire their ceramics, influenced by a long line of Japanese and Eastern techniques. It's one of only a couple of wood-firing kilns in the UK. And so the circle is complete!
What's your favourite way to start the day?
We belong to two cats, Mr Tiddles (above) and Tobokaido (below). They're brother and sister from Battersea Cats Home. And as soon as they demand food, that's when our day starts. We wouldn't have it any other way.
What's your morning routine?
Mornings we play by ear, depending on what's happening that day. But for us that's exciting.
When we started Foundland we built 'The Shedio'. It's a wooden summerhouse in our garden, completely solar-powered and with a lovely aspect over the garden. It's a good place to reflect and get inspired and has wonderful light for photography.
Unless we're out meeting makers we'll work from there or in a local cafe. As we're both working a lot from home it's important to sometimes get out and see humans.
What keeps you going through the day?
For Arthur it's coffee, coffee and more coffee, usually from ground beans. He's pretty obsessive over his cafetiere and coffee subscriptions. Probably shouldn't admit to this but Sarah likes to punctuate her day with episodes of Homes Under the Hammer and Countdown.
What are your top tips for enabling creativity?
To get outside in the fresh air and walk. It gets the mind thinking. We read a lot of design magazines to stay fresh. Instagram is brilliant as well, there's so much material and creativity on there to inspire. It's a great platform and we post on it regularly. It's best when you have fun and don't take it all too seriously.
What do you like best about the area where you live?
There's such a wealth of wonderful architecture. For example Hornsey Town hall, the first building in the UK designed in the Modernist style. It inspired our first collection, an ode to Modernism.
Plus there's a great sense of community. We live just a few doors down from the weekly Alexandra Palace Farmers Market. Not so good on the waistline…
And check out local topiarist, the aptly named Tim Bushe. He's pruned the most weird and wonderful shapes from your average garden hedges – a train engine, herds of elephants and Chinese dragons. It's great fun when you spot a new cutting.
Karen & Lekhu from OmVed Gardens on Vimeo.
Share a real hidden gem with us – the sort of place we'd never find in the guidebooks
OmVed Gardens, which was until recently just wasteland behind the bustling high street in Highgate in North London. It's been transformed in to an eco habitat with a vegetable garden, orchard and wild flower meadow, right in the city. Plus there's events and workshops about food, creativity and ecology, everything from botany to sourdough. The locals had to fight off developers so it's pretty cool to see an area of the city preserved for people and wildlife rather than profit.
Where's the best place to watch the world go by?
We're very lucky to have Alexandra Palace right on our doorstep. It's built on top of a hill overlooking London and you can sit on the terrace with a pint just watching the whole city as the sun goes down. After 80 years derelict the Palace's original Victorian theatre has just been refurbished and brought back to life. It's an ace way to spend an evening.
Favourite shop and why?
Cheeses in Muswell Hill until the day that we become lactose intolerant and the world ends. It's a local independent gem with over 200 types of cheese in a tiny space.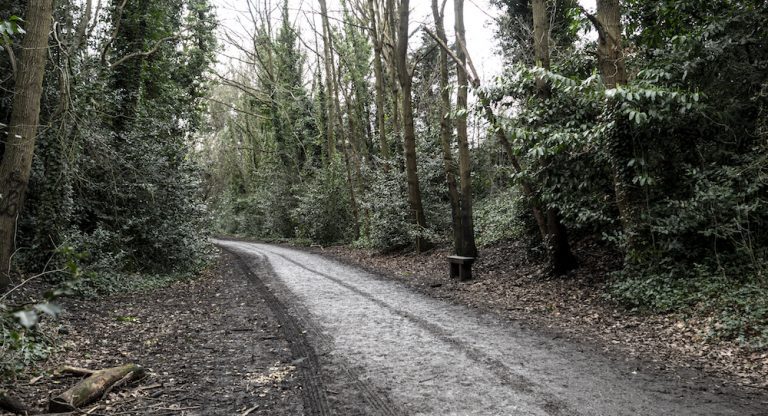 Favourite walk and why?
The Parkland Walk. It's a 2.5 mile nature reserve which runs along an old railway line from Finsbury Park to Highgate in North London. Parts are even paved with old railway sleepers. The idea's similar to the High Line in New York but this predates it. The path goes from grungy to idyllic wilderness and back again and that's why we like it.
What are you passionate about right now?
We're starting to make and design our own pieces in-house as well. We love creating so it seemed the natural next step.
At the moment we're experimenting with natural dyes and fabrics. We first dipped in to the world of indigo dyeing a couple of summers ago with the team at Story MFG, a London fashion brand who focus on organic fibres and natural dyes.
Then was a day spent at the studio of Futaba, one of our Japanese ateliers. With a history in silk dyeing they were branching out in to growing their own indigo, right in the centre of Tokyo city. Inspired, we started to plant woad in our own back garden. It's finally grown to a full plant and so the indigo dyeing can begin! We'll let you know how it goes.
Best local place for rummaging vintage/upcycled finds?
St Albans Wood Recycling, where we source a lot of our timber for the store. It's a social enterprise which offers work, learning and training opportunities to those who face barriers to gaining paid employment. Going in the workshop is like an adult's candy store- so many beautiful pieces of wood to choose from. Plus it's all reclaimed which minimises waste. We even made the shelves in our home from their scaffolding boards.
What measures do you take to support plastic-free and zero waste?
When you order from an online store the downside is often that a tiny product will arrive in reams of plastic packaging. We want to buck this trend. The majority of our packaging is recycled, for example we salvage used bubble wrap and boxes from our suppliers and other businesses. When that's not possible we'll use recyclable and biodegradable packaging. It's so readily available now there's no excuse. We're proud to say that we haven't had to put a waste rubbish bin out once since starting the business.
There's also designers doing amazing things with sustainable materials in the UK right now. And we're delighted to stock a few of them. Happenstance Workshop grind up everyday waste like milk bottle tops and mould them in to objects such as lampshades and bowls, all with a beautiful unique pattern.
The Zero Waste Club guys make our bamboo toothbrushes which have become a bestseller. And Rag Makers are a mother and daughter team extraordinaire, who create storage boxes in Yorkshire using 100% recycled and felted textiles. There's lots more designers and we wish we could talk about them all.
Best place to escape to in the British Isles?
The Kielder Forest in Northumberland. It's the largest Dark Sky Zone in Europe, the park is protected so there's no lights from the street or housing. Imagine a huge swathe of countryside free of light pollution- the star spotting is incredible. Arthur grew up in the area and used to go camping there as a kid. It's the definition of getting away from it all.
What do you think is the secret to being happy?
Friends, family, pets. And gardening. And Countdown.
INFORMATION
---
Foundland is listed in the From Britain with Love  directory here >>
Are you a maker or creative course provider? Like to list with us and benefit from joining our supportive community? We'd love to hear from you. Check out the packages we offer on our Join Us page and get more details from our Information pack here
---
A PIN TO SAVE TO PINTEREST