I've just spent a wonderful day at The Sussex Flower School (listed in our directory here) with Georgia Miles, making my own fresh Christmas wreath. Georgia is a great tutor – she's so much fun and incredibly knowledgeable about what she does. Turns out that even Harry and Meghan's wedding florist Philippa Craddock (also listed in our directory here) has attended one-to-one courses with Georgia. So, if you've always dreamed of setting up your own flower design business, you might want to book yourself a place on one of the courses on offer.
I had the best day making my wreath (if you'd like to have a go at making one, head over to my How to make a Christmas Wreath blog post for all the info). To give you a taste, here's a mini gallery of images from the day.
To get to know more about Georgia's story and the passion behind what she does, I asked her to share a few of her local loves and simple pleasures with us. Thank you for such lovely answers, Georgia, and for kicking off Christmas for me with such a fun and creative day! X
Please describe what you do and tell us a little bit about your journey
I run floristry courses for everybody, from complete beginners to the full career course. I used to teach in a FE college but gradually realised that I wanted to work for myself and set up a more personal way of training. I wanted students to be 'on a level playing field' whatever their individual situations. So the main thing I wanted was for all the materials and flowers to be provided. I set up The Sussex Flower School in 2011 and since then the business has grown year upon year. My aim is for everyone to leave the school feeling happy, excited, educated , encouraged and well fed…
Please share something you've recently created
One of my favourite recent courses was Fabulous Floral Arch. A small group of students created the most incredible, flower filled arch. They were so happy, and got great photos for their portfolios.
We also had great fun making floral chandeliers at another workshop (see below) and of course we're making lots of Christmas wreaths right now!
Favourite way to start the day?
I normally leave the house around 7:30am and tend to get a coffee on the way. I wait until I get to the school to wake up properly, have my breakfast, do my makeup and generally get ready for the day ahead. The courses normally run 10am-3pm so students arrive from 9.30…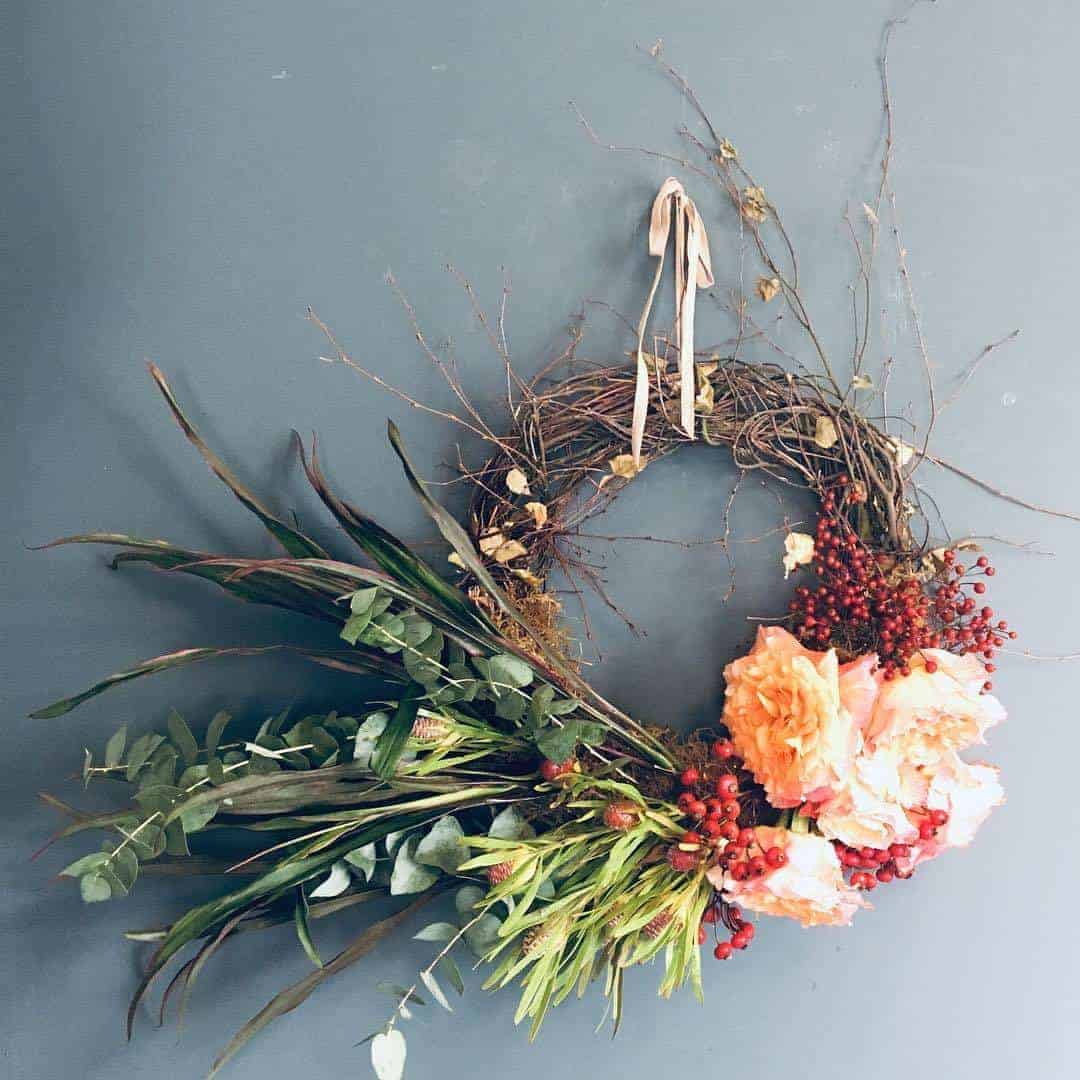 What's your morning routine?
My workplace is a large, airy studio in the village of East Hoathly in East Sussex. It is designed to be a creative, inspiring and relaxing space so the students feel calm and nurtured. There is always fresh coffee brewing, loads of herbal teas and amazing cake made locally by my friend Philippa Vine from Bluebell Farmhouse Kitchen.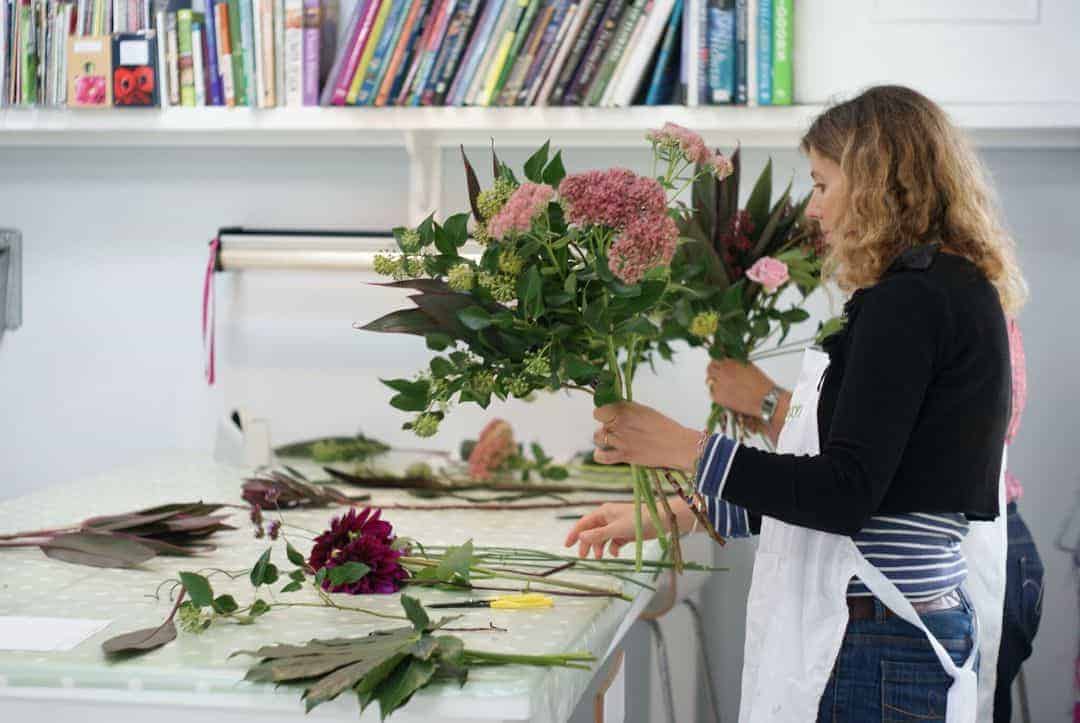 Describe your typical working day for us
I arrive at the school at round 8.30am, I turn on the coffee machine and get the room ready for the students to arrive. Courses start at 10am and from then onwards it's non stop until 3pm with a break in between for lunch and regular coffee! My assistant Christine is there on hand to help support the students throughout the day and make the lunch. After the students have gone and we have cleared up I prepare for the next day and do any admin. I normally leave the school around 4:30pm.
What keeps you going through the day?
Safe to say the main things that keep me going throughout the day are coffee, laughter and my personal passion for what I do. It is hard work but I love seeing the students start to really believe they can do it.
Top tips for enabling creativity?
A relaxed, non competitive environment in which to learn, and infectious enthusiasm and positivity!
What do you do when struggling for creativity?
Yoga.I have done this from the age of 12 and afterwards feel my true self with a clear mind and full of ideas. I also love looking at art, whether that's physically going to an art gallery or in one of the many books I have. I also find going to my local beach at Eastbourne very inspiring and I always leave with a notebook bursting with new courses and ideas.
Favourite simple pleasures?
I adore getting lost in a good book – there is something so relaxing and mindful about it that I have and always will love. It goes without saying I am addicted to my cutting garden, I am often to be found out there whatever the time or weather. Other simple pleasures include having a coffee at the beach whilst people watching or just as important a gin and tonic with a friend…
What is your approach to setting and achieving your goals?
I have always set myself goals in order to feel like I'm making progress, whether that's within the business or in my personal life. I feel like you should always be open to the possibility of change. However, I really try and achieve a good work/ life balance as I think mental health is critically important and can be overlooked so easily. We have to look after ourselves first or we will burn out.
What do you like best about the area in which you live?
I love East Sussex. Brighton has to be my favourite city in the world. We are surrounded by the South Downs, the beach and still only an hour and a bit from London.
Share a real hidden gem with us – the sort of place we'd never find in the guide books
The roof terrace at L'atelier du Vin in Brighton. It's hidden up a little stairway in the North Laines – this Prohibition style bar is great for drinks and food.
Where's the best place to watch the world go by?
Brighton anywhere! It is always filled with love, passion and energy that you can feed off just by people watching and being there. It is my soul home. I love the way everyone can be themselves and eccentricity rules. It is somewhere where everyone and everything is accepted – you can be as mad, gay, odd, arty as you like… my kind of place!
Favourite way to spend an evening?
Definitely depends on my mood but… a night out in Soho in London normally ticks most boxes…
Favourite shop?
Any interiors shop I love doing up houses and interior design. The independent shops in the North Laines in Brighton are great as they are full of one off, quirky pieces.
Most treasured possession?
My three children's name tags from when they were born. Quite simply the most important things ever.
Favourite walk?
The walk up behind the village of Firle over to behind Charleston house (visit the website here) where the fabulous Bloomsbury set lived. It couldn't be more English and is totally timeless. The gardens are so beautiful.
What are you passionate about right now?
Doing up my new home and designing my new cutting garden (my fifth!)
Best local find for lovers of design?
Go to The De La Warr Pavilion in Bexhill, The Brighton Pavilion and The Jerwood Gallery in Hastings.
Best local place for rummaging vintage finds?
Hastings back streets, Brighton back streets and Lewes flea markets…
Can you sum up your ethos and what inspires you?
I am inspired by strong and independent women who forged their own paths despite difficulties. So I'd say my ethos is be yourself, stay strong and focussed and don't compete with others. What's the point? We are all here to do different things with our lives and I firmly believe in women supporting other women…together we are stronger!
Favourite British design icon?
So many! Barbara Hepworth (I love her studio and garden in Cornwall, above), Vita Sackville West (gardens!)  and Constance Spry of course!
Who are your favourite UK makers and why?
These would have to be people like Tricia Guild for her use of colour (Jaipur Rose fabric pictured above) and all the fabulous British florists and flower farmers out there at the moment..
How important is making in the UK to you and why?
I try to use as many British Flowers as possible and of course I grow them! So from that point of view I'd say VERY important!
Best place to unwind/escape to in the British Isles?
The Sussex countryside and along the wonderful barren coast at Rye and Dungeness. Camber Sands and for fun, Brighton always wins.
Best piece of advice you could share based on your experiences so far?
Keep focussed on your ideas and passion. If it ignites your soul go for it! Follow your dreams. The details will fall into place.
What are you listening to/reading/watching right now?
I'm reading Christodora by Tim Murphy
Watching Orange is the New Black
Secret to being happy?
Wish I knew the answer! I think trying to work in a field that you're passionate about, doing yoga or something else mindful, having good friends who are there to listen and have fun, trying to always have something to look forward to, trying not to stress too much about the future..
Goals for the future?
To create a beautiful new home and garden and finally feel I might have found somewhere to stay a while.
To keep building the business and meeting new people.
To spend February every year in a warm country…I'm planning India, New Zealand, California, Bali…
To develop my sense of well being via yoga and spirituality and to bring this into my work even more.
To keep learning and studying and staying hungry for new experiences.
To have fun. Such an enigmatic thing! We only live once so let's make it a life to remember.
INFORMATION
---
The Sussex Flower School is listed in the From Britain with Love  directory here >>
Are you a maker or creative course provider? Like to list with us and benefit from joining our supportive community? We'd love to hear from you. Check out the packages we offer on our Join Us page and get more details from our Information pack here
---
A PIN TO SAVE TO PINTEREST