Discover the new book, Conscious Creativity by Philippa Stanton, instagram queen and artist aka @5ftinf
I first met Philippa over a year ago, when I spent a day at her home in Brighton, discussing creativity and life in general over many good and strong cups of tea. I'd almost cancelled because it wasn't long after losing my dad and I'd woken up that day feeling grey and lacking in any forward momentum. Like my skin was on inside out and my emotions overwhelming.
I decided to battle through and set off, crying my eyes out when the theme from The Onedin Line came on the radio. Dad had loved that piece of music (Adagio from Spartacus by Khachaturian) as well as the TV series itself. I was instantly back to Sunday nights when we'd all sit together and watch it. I could see the opening titles clear as day… the ocean waves crashing around the bows of the ship, my mum and dad sitting together on the sofa and our old dog Blue asleep across their laps. More tears. By the time I was knocking at Philippa's door my eyes were puffy and I felt exhausted, like the stuffing had been knocked out of me. Certainly not bursting with creative energy, indeed much energy of any kind.
Artist, actress and Insta queen
Then Philippa opened the door, welcomed me in and put the kettle on. Within minutes I felt like I'd known her for years. An artist, actress and instagram queen, Philippa shared all sorts of things she has collected (and organised by colour) and what they mean to her. She gave so much of herself and her unique creative energy just swept me along. We spent time inside her magical shed and opened scent-filled boxes to sniff inside, examined shelves full of old clocks, discussed the painting Philippa was working on and how it was inspired by her deep fear of the underside of big ships…
If you don't already follow Philippa on Instagram, here's a taste of the colourful and creative world she shares over there…
You can read the full blog post about that day here, but suffice it to say that when I finally left for home, I was feeling re-energised, inspired and like a weight had been lifted. I could so easily see why Philippa has built up her enormous following on Instagram (just shy of half a million followers). A day with her had been such an inspiring experience and just what I needed. It made me realise that my creativity had become blocked by grief and day to day routine. And that allowing it to find a way through again had made a massive difference to how I felt.
CONSCIOUS CREATIVITY IS AVAILABLE TO BUY ON AMAZON – CLICK HERE
Since then, Philippa and I have become friends and I know just how much she has put into her new book Conscious Creativity over the last  year. The book has been a true labour of love, and launched a couple of weeks ago. I am so proud of Philippa for what she has achieved and it was great to share the launch party with so many people who felt the same way.
Conscious Creativity is like no other book you'll ever own and could actually change your life. The idea behind it is to stimulate your imagination, unlock your creative potential by opening your senses, encouraging observation, curiosity and experimentation. Find out who you are creatively, as you take a conscious step to note the colours, shapes, shadows, sounds and textures that fill our world and how they make you feel.
With the book by your side, you can start to connect your observations with emotions and transform your creative practice. Philippa shares personal experiences and lots of stunning images as well as masses of tips and exercises to try.
Having just finished reading my copy, I can honestly say that this beautiful book is the perfect way for anyone to reconnect with their creativity the way that Philippa has helped me to connect with mine. I could hear her voice in my head as I read and love how much of herself she has put into this. It's not surprising to learn that Philippa was an enquiring little girl, asking lots and lots of questions about anything and everything. Such as: 'what's the name for the jelly stuff inside a bubble of seaweed?' Love that her brother told her it was called 'bingle' just to keep her quiet! Bingle is a much better word than agar (as it's correctly known) don't you think?
As part of the book launch, I was thrilled to be invited to join a workshop with a small group of creatives at The Regency Townhouse in Hove. It was the most magical and inspiring day, bringing to life so much of what the book's about and I thought I'd share it with you…
The Regency Town House, Hove
The venue was utterly perfect. As we headed down to the basement with its peeling walls, dusty corridors, old doorways and dark cubby holes, we started to realise the sensory treat in store for us. I'd expected atmosphere and some seasonal wabi sabi, but I was totally blown away. With the help of florist Kate Langdale, the venue had been transformed.
Suspended above the old kitchen were celestial 'clouds' of wispy white Old Man's Beard and gypsophila. Pumpkins and gourds lined and resembled the cracked old surfaces of the mantelpieces. Apples and leaves were piled in corners, stuck on surfaces and arranged around fireplaces. Strings of tiny lights hung within dark, recessed spaces. The overall effect was quite magical.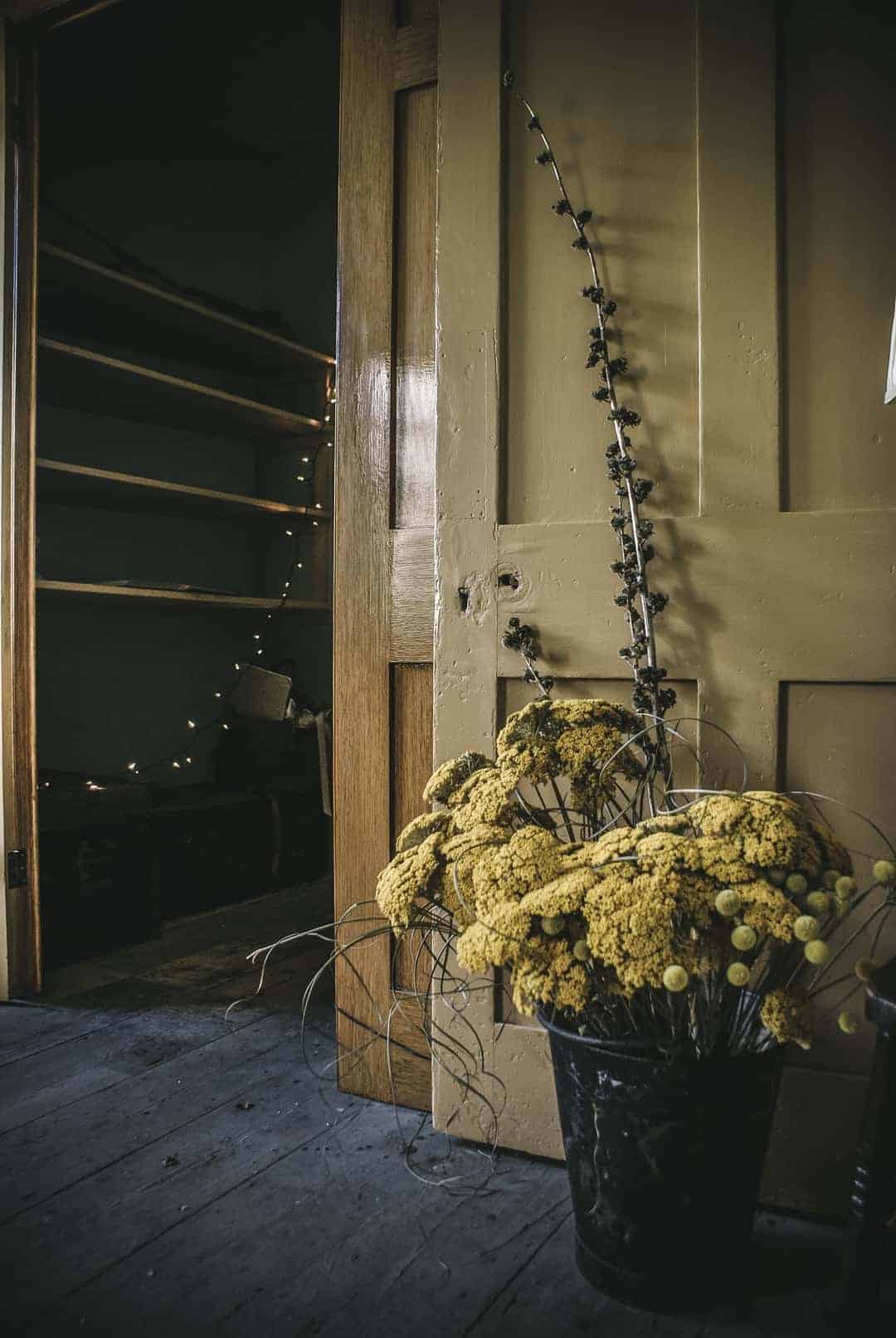 Looking
Standing beneath the billowy white flower cloud, Philippa started the workshop with an exercise aimed at getting us to really look at and notice the details of our surroundings. It felt silly at first to turn and face a point on the wall and just look at it for a few minutes. After a moment or two I settled in, and started to take in the details on the fireplace, wall and mantelpiece behind me. The colours and patterns within the distressed and cracked plaster of the wall. The old thick pencil cross that marked a point in the middle above the fireplace. I got to wondering who had made that cross and when. If a painting had ever hung there and what it had been like. And where that painting might be now. How all of these different moments in time were held together by one pencil mark made by someone who didn't know we'd be gathered beneath heavenly clouds of dried flowers so many years later. All from taking the time to turn, look and notice.
The value of boredom
I love that there's a chapter in the book entitled 'Boredom', with a great quote from master of mindfulness, Jon Kabat-Zinn: 'When you pay attention to boredom it gets unbelievably interesting.'
Philippa explains that boredom is an integral factor in the creative process and shouldn't be ignored. Our minds are regularly tied up, often on our devices, and this constant stimulation leaves no space for idle thought. It's this nothingness in time that allows our minds to wander and invent. It was because he was bored during a religious service in Pisa, apparently, that Galileo started to measure the duration of the oscillations of the cathedral's giant chandelier by counting the beats of his pulse. By letting his mind wander he had discovered a way to measure time.
One of the exercises in this chapter is easy for anyone to try:
'It may seem counterintuitive to set yourself the task of being bored,' Philippa writes. 'But I suppose it's actually more about finding those moments that allow the boredom through. A lot of those moments exist in periods of waiting – time spent waiting for a bus, in a doctor's waiting room, in a traffic jam or outside the school gates. It's these boring times that tend to make us reach for our phones. The task is to resist your device, focus on your boredom and engage your senses. While waiting somewhere, count how many things you can see around you of just one colour.'
Next step is to start documenting – consciously collecting and organizing your observations and inspirations – and there is a whole chapter with ideas on how you might like to do this.
Shadow collecting
Philippa talked a little about the book In Praise of Shadows  by Japanese writer Junichiro Tanizaki and how it had inspired her.  A lover of colour, she came to realise that it's the shadows between and within things that makes them truly beautiful. Tanizaki wrote in praise of delicate and nuanced, everything softened by shadows and the patina of age, understated and natural, such as the patterns of grain in old wood, the sound of rain dripping from eaves and leaves, or washing over the footing of a stone lantern in a garden, and refreshing the moss that grows about it.
Tanizaki's relish in the world and its ordinary pleasures offers a sharp contrast to the functional, plastic, disposable aesthetic of modern western life. A contrast to our obsession with maximising light. Because you can't appreciate the light without the shade. And, Philippa suggests, we shouldn't be afraid of shadows. They are part of the whole experience of life and make the light bits even more beautiful.
So, our next exercise was to head off with torches in search of shadows and to see how they made us feel. It was like being a grown up at infant school, given free creative reign to do and try things, just because. I found myself trying out a much darker, grainier style of photography to usual. Even though I wasn't really sure if it would work. There was something very freeing about giving into the exercise. I decided to be experimental and hope that I got some decent images despite going outside of my comfort zone. I wanted to try and capture something of the atmosphere of the place. The way it made me feel.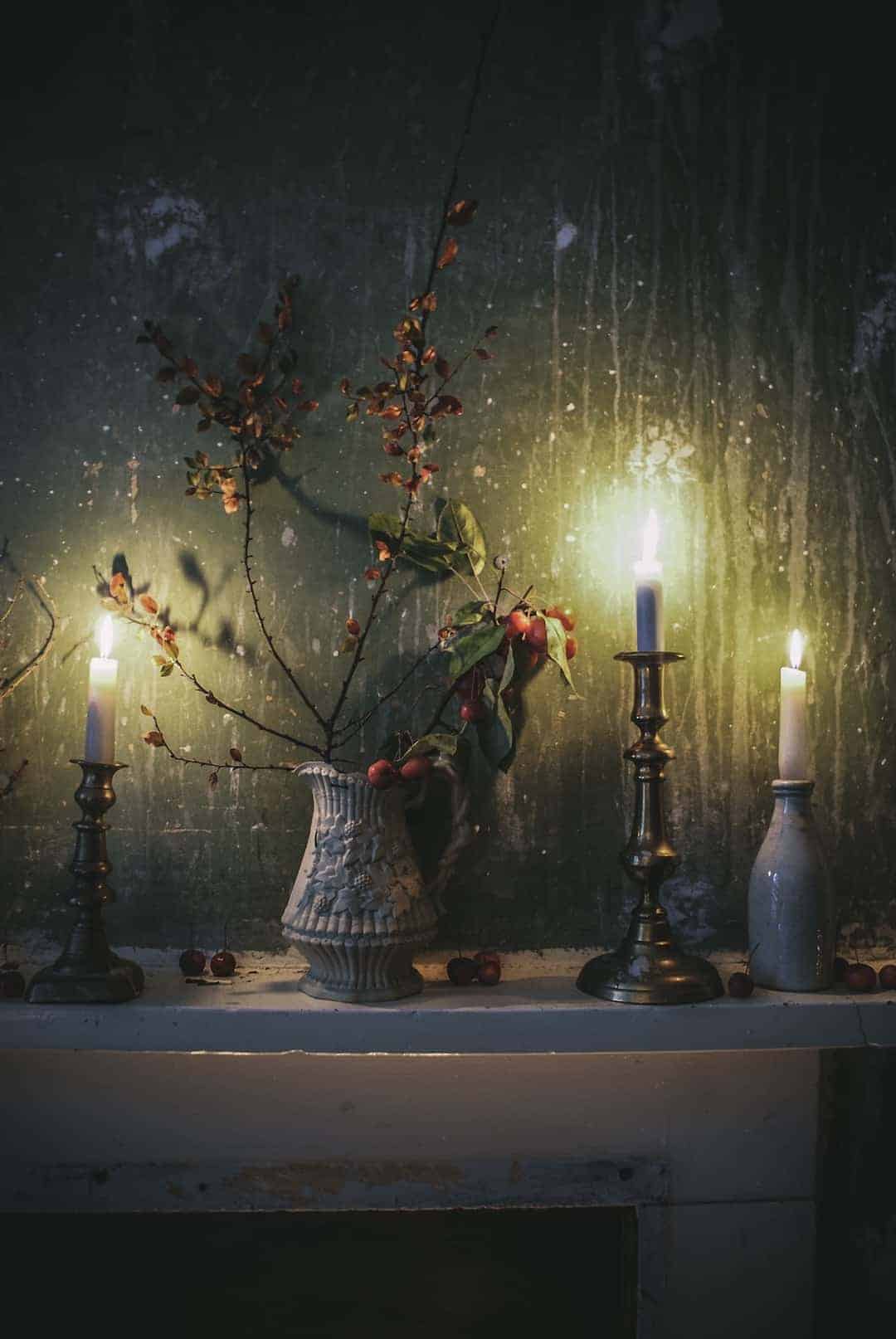 Scent and memory
Like the book, the day was all about engaging our senses, so we spent some time exploring scent. The room was filled with the mingled fragrance of rosemary branches and piles of windfall apples. Glass lidded globes contained different scents, as did all sorts of other vessels, jars and old wooden lidded boxes. The same smell sparked such different responses in each of us. One small box of wood shavings, for instance, evoked memories of ponies, old-fashioned hardware shops and junior school to list just three.
We were asked to think of one smell from childhood and see where it led us, and I found myself remembering my old spaniel, Blue, and how I loved the warm, nutty smell of the fur between his toes! I could see him smuggled upstairs and lying on my bed, head on the pillow. Pretending to be asleep but wagging the tip of his tail. In fact I was back in my old bedroom with its 1980s M&S pink and white rosebud print bed cover, curtains, cushions and even slippers. I was obviously already a little obsessive about fabric even back then! I could see my 70s dressing table again, with my collection of almost-empty old perfume bottles arranged on top. I loved to take the lids off and sniff each one. Guerlain, Worth, Jean Patou, Dior glass bottles, many with gold tops. I also enjoyed seeing how the scent remnants went off over time. I suspect Philippa and I would have got along well as little girls too…
Listening and soundscapes
The next sensory treat in store was a soundscape that combined music, sounds and atmosphere. We closed our eyes and lost ourselves in the pictures and feelings created in our minds by what we heard. Brisk and pastoral classical music mingled with tinkling teaspoons on china cups and sent me to a sunny kitchen filled with yellows and bright blues, feeling sure there was a picnic packed up and ready to take out for the day. The sound of driving rain on a roof, and what I remember as intense, brooding Mahler transported me to a dark library with a heavy, oppressive atmosphere and deep, dark browns.
Taste
We were all creatively buzzing by now and it was amazing to hear how different our responses were. The next sense we engaged was taste – as it was time for lunch.
This was a Regency treat served in a candlelit dining room and washed down with Wyldwood Cider and Old Tree Brewery kombucha. Starter was homemade leek and potato soup decorated with nasturtiums. Individual handmade chicken or vegan pies were served with 'blaized pippins' – a popular regency accompaniment of baked apples. Dessert was creamy/zesty lemon posset decorated with a sprig of rosemary. All recipes were authentic to the Regency period and totally delicious.
One of the women who served us, sang as she walked the echoing corridors to and from the kitchen. She was dressed in Regency costume, and we giggled at the idea that she was a ghost that only one of us could  hear or see. So I laughed when I somehow managed to capture this image of her. I say laugh. I may have also felt just a tiny bit freaked out.
The afternoon was spent taking photographs, drinking more tea and sharing delicious, still-warm homemade cake. Just the best day ever!
When I got home I was slightly scared to look at my photographs in case they hadn't worked. I'm not used to going grainy and dark. There were quite a few that didn't work, but I love that I have managed to capture something of the magical atmosphere of the day. It felt quite exciting to risk something new and to push myself beyond what feels safe and familiar. It's made up my mind to ask for a creative photography course for Christmas, so I can properly get to grips with my camera. I want to try more new things because I love how it made me feel.
The perfect creative gift
If you're looking for Christmas present ideas, this wonderful book would be a great choice for anyone wanting to reconnect with their creativity. It's full of the most wonderful ideas and practical exercises to try – and I defy anyone not to be inspired along the way. There are so many different suggestions to help you build up a creative practice that fits with your own, individual aesthetic and who you are. Topics include Texture & Wabi Sabi, Atmosphere & Nothing and Looking. There's plenty of good advice on 'Comparison Assassination' too, so prevalent in these social media fuelled times.
I love this little stop frame film that Philippa made for her Instagram page. You can definitely see her own particular aesthetic and tone of voice. Anyone can play with stop frame film making but only Philippa could have made this. The key is to find your own, unique, voice too and build your confidence to use it, through practice. Exactly what this book will help you to do.
I was thrilled to be asked to join this creative day and I know I will continue to dip into the book and get something new each time. Most touching of all, was a message Philippa sent to me after the launch, just double checking I'd read page 160… It would never have occurred to me that I'd be mentioned in her acknowledgements, but there my name was. I was so incredibly touched and it has made what was already a precious book totally and utterly priceless.
BUY your copy of Conscious Creativity here >>
INFORMATION
---
@5ftinf is listed in the From Britain with Love  directory here >>
BUY your copy of the book here >>
Are you a maker or creative course provider? Like to list with us and benefit from joining our supportive community? We'd love to hear from you. Check out the packages we offer on our Join Us page and get more details from our Information pack here
---
A PIN TO SAVE TO PINTEREST
This article contains affiliate links, which means we may earn a small commission if a reader clicks through and makes a purchase. All our blog posts are independent and in no way influenced by any advertiser or commercial initiative. By clicking on an affiliate link, you accept that third-party cookies will be set.