Puppy knitting pattern – get 40% off on Etsy when you buy this adorable new design by Claire Garland of Dot Pebbles Knits.
I know just how much love there is in the FBWL community for Claire's designs, so here's an adorable new creation for you. This beagle puppy knitting pattern really captures something and pulls at the heart strings, don't you think?
How to save 40% when you buy this pattern on Etsy with our unique code
The pattern is available to buy in Claire's Etsy store, and From Britain with Love readers can save 40% until the end of July 21 with discount code WITHLOVE40 If you follow this link and add the pattern to your basket, you'll see the discount code automatically applied when you proceed to checkout.
I asked Claire to share a couple of her thoughts and ideas to help us on our way…
Claire's beagle making tips
Adding Intarsia/ colour patches:
I used to get terribly tied up in yarn when I attempted 'intarsia'/ adding a shading element within the main colour rows. So, what I've learnt is to cut lengths (1-2 metres) of yarn of the shade I'm wanting to add and add these lengths as and when I need them – this is instead of stranding a whole ball across the entire length just to get the colour in where I want it.
The only thing to make sure to do is to start to 'strand' (catch in the new yarn to secure it) the new shade a few stitches before and after where it is to be knitted in to prevent small holes – search 'Stranding' on the web to see the technique on how to catch in new yarn.
Stuffing:
Not too much and not too little – but how will you know?
In some of my larger knits I like to start stuffing before the whole thing is completed because it's the eventual 'adding of stuffing as you go' which makes the final stuffing so much easier.
For example, stuffing the hind legs and feet before you've even sewn the belly to the back – in doing so you will get a feeling, literally, how the lower part of the back will eventually sit and how much the creases and the shaping at the thighs need to be enhanced with stuffing at this early stage.
And, rather than leaving it all to the end, you won't be overwhelmed by how much stuffing you have to keep piling in and hence get lost and befuddled and so end up giving up and saying 'that will do'! Trust me, it's something I've learned and therefore want to share with you.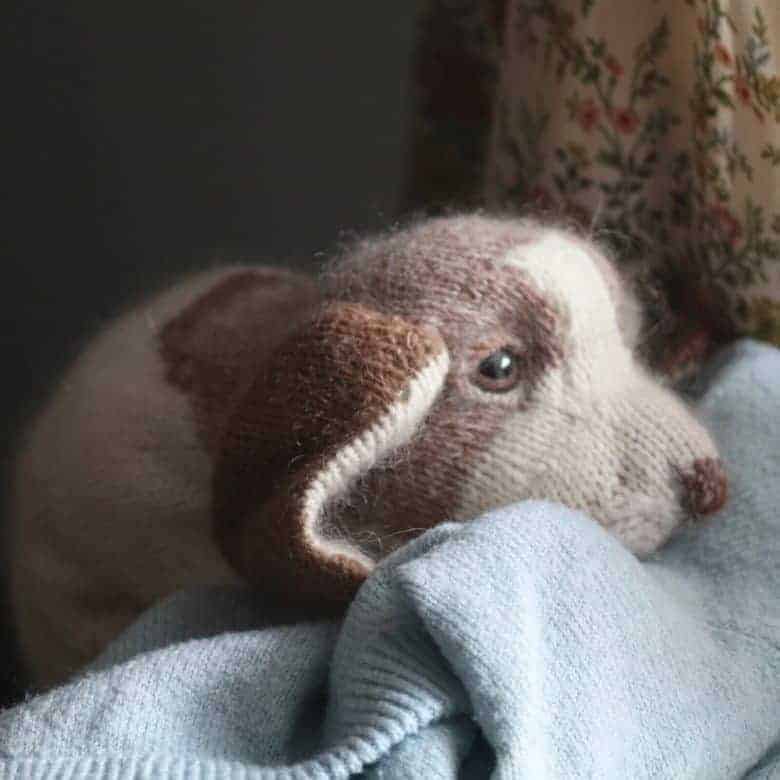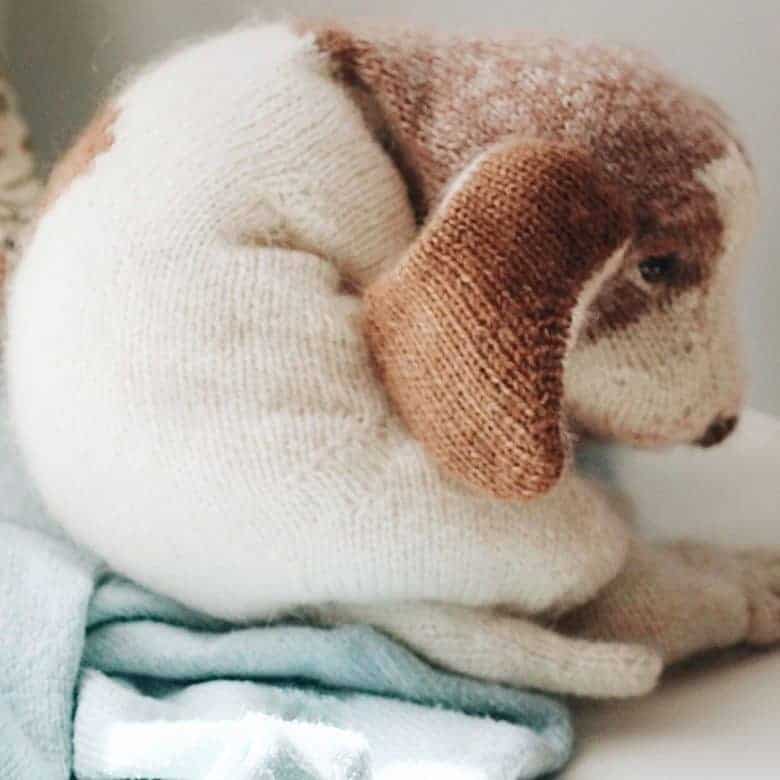 Puppy love – Claire's cute little video
View this post on Instagram
You might also like:
How to knit a bunny rabbit baby – free pattern
Knit a kitten – easy free pattern
Tawny owl free knitting pattern
How to knit a koala – free pattern and tutorial
How to knit a lamb – free pattern and step by step tutorial
INFORMATION
---
Dot Pebbles is listed in the From Britain with Love directory here >>
Browse Claire's other patterns on Etsy here
Are you a maker or creative course provider? Like to list with us and benefit from joining our supportive community? We'd love to hear from you. Check out the packages we offer on our Join Us page.
This article contains affiliate links, which means we may earn a small commission if a reader clicks through and makes a purchase. All our blog posts are independent and in no way influenced by any advertiser or commercial initiative. By clicking on an affiliate link, you accept that third-party cookies will be set.
---
A PIN TO SAVE TO PINTEREST
Hope you enjoyed this Puppy Knitting pattern blog post. It would be great if you could share the love by pinning this to Pinterest. Simply hover over the image until the red Pin it symbol appears and share! Thank you X