How to grow dahlias – all you ever need to know from the beautiful new book Discovering Dahlias by Erin Benzakein of  Floret Farm.
Also, I have one signed copy to give away to one lucky reader! Scroll to the bottom of the post to find out how to enter.
Please note: this competition is now closed and the winner notified
It was a gloomy, damp grey day in February when an unexpected parcel arrived for me in the post. I was feeling depleted and more than a little fed up at that exact moment, to tell the truth. Inside the brown paper wrapping was a signed copy of Floret Farm's beautiful new book: Discovering Dahlias.
There was a pretty hand-written card from Erin herself as well as a packet of Floret dahlia seeds. All a total surprise and, as I began to flick through the pages, it was instantly as though the sun had come out. I did what I always do at such moments… and put the kettle on to make a cup of tea.
I needed to savour my first foray through the contents with a good strong brew to hand. To give you a flavour of the joys to be had, here's a peek inside and a flavour of the beautiful photographs (taken by Erin's husband Chris Benzakein)…
Erin's story
Erin's flower-growing journey began when she and her husband Eric moved from the city to Skagit Valley in Washington County. They dreamed of living a slower, simpler life and raising a family surrounded by nature. Soon after buying a small house in the country, they tilled up their plot and created a huge garden. Tucked in with all the vegetables was a double row of flowering sweet peas planted in memory of Erin's great grandmother. After sharing some of the blooms with friend and neighbours, word got out and Erin started receiving orders.
The following year Erin replaced all of the vegetables in her garden with flowers. Floret expanded year after year, eventually filling every corner of the tiny 2-acre plot with flowers destined for grocery stores, florists, bouquet subscriptions, and weddings.
Erin's dream to expand Floret was finally realised in 2017, when she and Chris were able to purchase the neighbouring 24-acre farm. The new farm is now devoted to breeding new cut flower and foliage varieties. What started as a tiny backyard cutting garden years ago has blossomed into a thriving research and education farm, specialising in giving flower lovers the tools and information they need to grow the gardens of their dreams.
Discovering dahlias
I love the story behind Erin's love of growing dahlias in particular:
'Many years ago, when I was just starting to grow flowers, I got a phone call from a local flower grower telling me to load up the kids and my shovel and head over to her house. At the time I knew very little about dahlias, only that I admired them every time I visited her garden. We worked all morning digging up massive clumps of tubers, and as we went she split off a chunk of each variety for me to take home. By lunchtime the back of my station wagon was full, and those tubers went on to fill my backyard cutting garden and eventually become an entire field at my farm. That experience was my first taste of just how generous gardeners are and taught me the joy and impact that sharing can have on other people's lives.'
How to grow dahlias – the perfect resource
As someone who started growing dahlias a couple of years ago now, I can honestly say this book is utterly invaluable. I wish it had been there when I started out as it would have saved me an awful lot of piecemeal information gathering. And mistakes.
It brings together all the information you will ever need to grow and arrange these most blissful of blooms. What I love about this book is that it's an inspiring resource for anyone, no matter what their skill level. Created primarily for flower farmers, floral designers and gardeners, it's also the perfect book for anyone who simply loves dahlias.
If  you're new to dahlias, Erin suggests skipping the dinner plate varieties in your first year and start with ball-shaped varieties. A few of her longtime favourites are 'Cornel', 'Jomanda', 'Crichton Honey', and 'Snoho Doris'.
From there, Erin's long-standing favourites to grow include 'Cafe au Lait', 'Apple Blossom', 'Break Out', 'Maya', and 'Castle Drive.'
I am fast running out of growing space, but I feel I really need to add Apple Blossom in there somehow. Just look how beautiful it is:
Abundant & productive
As well as being one of the most productive cut flowers you can possibly grow, dahlias also multiply abundantly every season. In the spring you plant a single tuber in the ground, and by autumn you can dig up an entire clump of tubers, anywhere from 3 to 10, from the original mother.
My first year of growing dahlias – Cafe au Lait to be precise – I followed Erin's video tutorial about lifting and splitting the original 9 bulbs in Autumn to the letter. In the Spring I planted over 40 bulbs and soon had more flowers than I knew what to do with. It was such a pleasure to be able to give so many abundant bunches of homegrown flowers to friends and family.
Subjects covered: How to grow dahlias
Growing & care, digging dividing and storing, propagation.
Designing with dahlias
Erin is known for her lush, romantic floral designs and this book is full of show-stopping arrangement ideas and tips.
Variety Finder
Discover more than 350 of Erin's favourite dahlia varieties – in a dazzling range of colours, sizes and forms all beautifully captured.
Win a signed copy of the book
PLEASE NOTE THIS COMPETITION HAS NOW CLOSED AND THE WINNER NOTIFIED
It was such a joy to receive this book that I would love to share the same feeling with you. I have another signed copy, also wrapped in brown paper sitting on my desk as I write. If you'd like it to be yours, all you have to do is tell me what it is about dahlias in particular, or flower growing in general, that really makes your heart sing. Be as creative as you like! Post your entry as a comment at the foot of this blog post.
You won't see your entry appear immediately when you add it to a comment box, but it will come through to our admin area once you click the 'post comment' button. Once we've logged your entry we'll publish it.
Please note that this competition is only open to residents of the UK. 
Good luck and hope you enjoy! We'll be choosing the winner at the beginning of May, so why not enter now?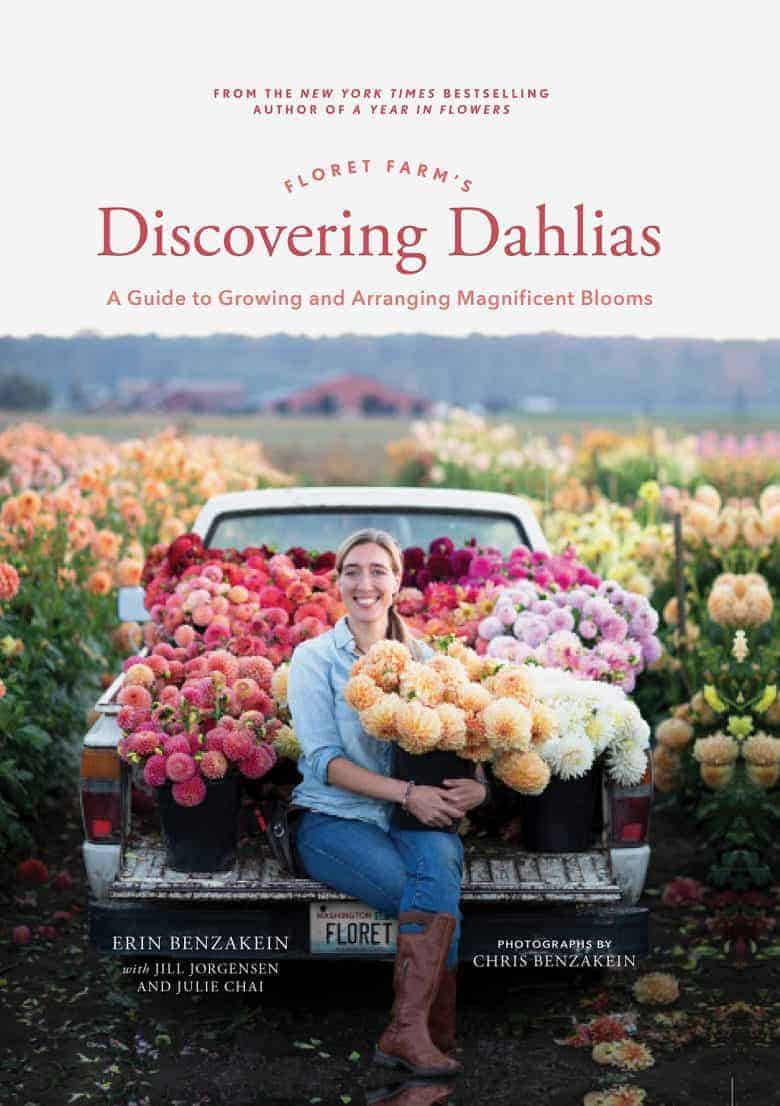 Buy Discovering Dahlias on Amazon here
INFORMATION
---
Credits: all photography Chris Benzakein
This article contains affiliate links, which means we may earn a small commission if a reader clicks through and makes a purchase. All our blog posts are independent and in no way influenced by any advertiser or commercial initiative. By clicking on an affiliate link, you accept that third-party cookies will be set.
RESOURCES:
Buy DISCOVERING DAHLIAS on Amazon here
Erin's other books
A Year in Flowers was published in 2020. Erin takes you into the Floret fields and design studio to make a hand-tied bouquet using seasonal flowers. You'll learn how to harvest cut flower garden favourites including dahlias, zinnia and yarrow. There's also tips and ideas on creating gift bouquets.
Read my Floret Farm's A Year in Flowers book review
Buy A YEAR IN FLOWERS here
Floret Farm's Cut Flower Garden is Erin's first book and is an invaluable – and beautiful – guide to growing, harvesting and arranging gorgeous blooms year-round.
Buy Floret Farm's Cut Flower Garden here
Are you a maker, grower or creative course provider? Like to list with us and benefit from joining our supportive community? We'd love to hear from you. Check out the packages we offer on our Join Us page.
Find more inspiration in our blog post about British Flowers here or browse the Sustainable British Flowers category of our directory.
---
A PIN TO SAVE TO PINTEREST
If you've enjoyed discovering how to grow dahlias it would be great if you could share the love. All you have to do is hover over the image below until you see the Pinterest button appear. Then share it to your boards. Thank you! X