Flower crafts ideas & DIY tutorials
There's a lot of love out there for recent blog posts sharing Olga Prinku's dried flower botanical hoop art embroideries. Pinterest even shared an image from the post on their own social media. Which sent the page into the stratosphere as you can imagine. But it got me thinking that visitors to the site might miss other inspirational flower crafts ideas unless I made them easier to find. So, that's exactly what I'm going to do here. I've pulled together all the best flower craft ideas from our blog for you to enjoy. Hope you find one or two flower craft projects you love. X
Flower craft ideas to enjoy
Botanical hoop art with dried flowers by Olga Prinku
This is the image that caught the attention of Pinterest's social media people. It's by Olga Prinku who makes the most beautiful embroideries using dried flowers on tulle-covered wooden hoops. There's a blog post with step by steps and lots of ideas and useful links here: How to make embroidery hoop art with dried flowers
There's a video tutorial post here: and you can get all the links you need to connect with Olga from her directory listing here: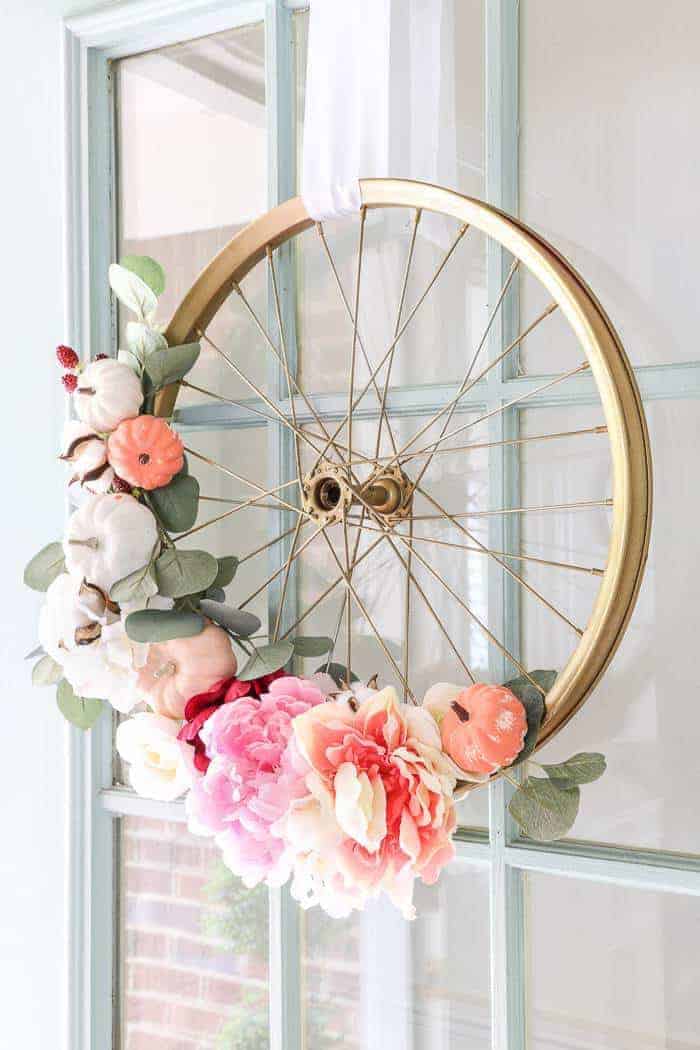 This lovely idea is by Linda of Life on Summerhill. We agreed a quid pro quo idea swap between our two blogs, so I hope you enjoy this flowery upcycling project. The full blog post is here: Make a bicycle wheel wreath DIY tutorial
This lovely wild willow spring flower wreath idea is by Bex Partridge of Botanical Tales. She shares step by steps to making your own. As well as some ideas for changing up the idea with dried or other seasonal blooms. Read the blog post here: How to make a spring flower wreath – step by step tutorial
I also love Bex's book Everlastings – all you ever need to know about making your own dried and pressed flowers. There are masses of inspiring flower craft ideas to enjoy – a book to love and enjoy for years.
Buy a copy of her book on Amazon here:
Jam Jar flowers embroidery kit
I found this jam jar flowers embroidery kit on Etsy and have shared all the links and info over on the blog here: Lockdown Craft Ideas – 5 Beautiful projects to enjoy
The kit includes everything you need to create this pretty hand-embroidered design within a traditional wooden hoop. Just lovely.
BUY BEE AND FLOWERS EMBROIDERY KIT HERE >>
Perfect for beginners, this embroidery kit includes all the materials you need.
BUY TATOO FLOWER SHOULDERS EMBROIDERY KIT
Also aimed at beginners are the cute pot plant embroidery kits – three fabric colours to choose from.
BUY POT PLANT EMBROIDERY KIT >>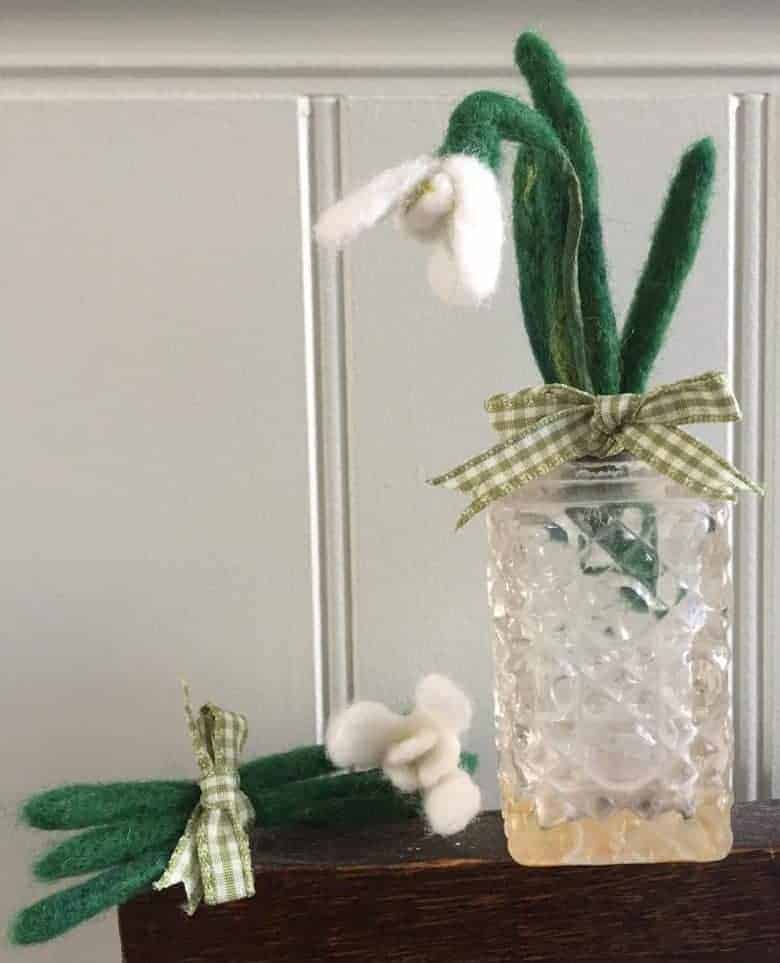 This cute idea is by super-talented fibre artist Emma Herian. She shares her simple step by step DIY tutorial over on the blog here: How to make a needle felted wool snowdrop posy brooch According to Emma, this project is perfect for total beginners upwards. So, why don't you enjoy having a go at making your own little posy of woollen snowdrops?
With roses blooming thick and fast right now, this recipe is ideal for using up fragrant petals. So much more enjoyable than chucking them on the compost! There are simple step by steps to capturing summer in a jar. Love the idea of adding a little to champagne to make a summer cocktail. Read the whole blog post here: How to make rose petal jam
A super simple crochet idea with video tutorial to show you exactly how to do the stitches you need. Once you can make a flower, the crochet world is your oyster!
Read the blog post: How to crochet a flower… and more
Not strictly a craft, but I wanted to share this wonderful post by my favourite flower photographer, Eva Nemeth. She shares simple to do essential tips and ideas for improving your flower photography. How to find and capture those moments. Camera settings, composition, the magical hour and more… Read the full blog post here: Flower photography tips and ideas by Eva Nemeth
INFORMATION
---
Find Eva Nemeth in the Creative Workshops section of our Directory. She offers 1 to 1 photography courses as well as being available to book as a photographer.
Emma Herian in the Textiles section
Botanical Tales in the Creative Workshops section
Olga Prinku in the Creative Workshops section
Are you a maker, grower or creative course provider? Like to list with us and benefit from joining our supportive community? We'd love to hear from you. Check out the packages we offer on our Join Us page and get more details from our Information pack here
This article contains affiliate links, which means we may earn a small commission if a reader clicks through and makes a purchase. All our blog posts are independent and in no way influenced by any advertiser or commercial initiative. By clicking on an affiliate link, you accept that third-party cookies will be set.
---
A PIN TO SAVE TO PINTEREST
If you've enjoyed discovering Flower Crafts ideas, it would be great if you could share the love. All you have to do is hover over the image below until you see the Pinterest button appear. Then share it to your boards. Thank you! X