Easy step by step DIY tutorial: how to crochet a flower, wool squares and more. We head to yarn and haberdashery shop Mrs Moon (listed in our directory here) in St Margarets to learn how to crochet on a beginners crochet class.
Before I start, I must confess to being a complete crochet novice, having never even picked up a crochet hook before, so I was more than a little nervous about embarking on this class. But I had walked past the beautiful new yarn shop Mrs Moon in my local village of St Margarets so many times, gazing at the rows of coloured wools and yarns and wishing that I was the kind of person who could rustle up a quick scarf or corsage at the drop of a hat, that when I saw they were offering classes for newbies like me, I was determined to give crochet a go.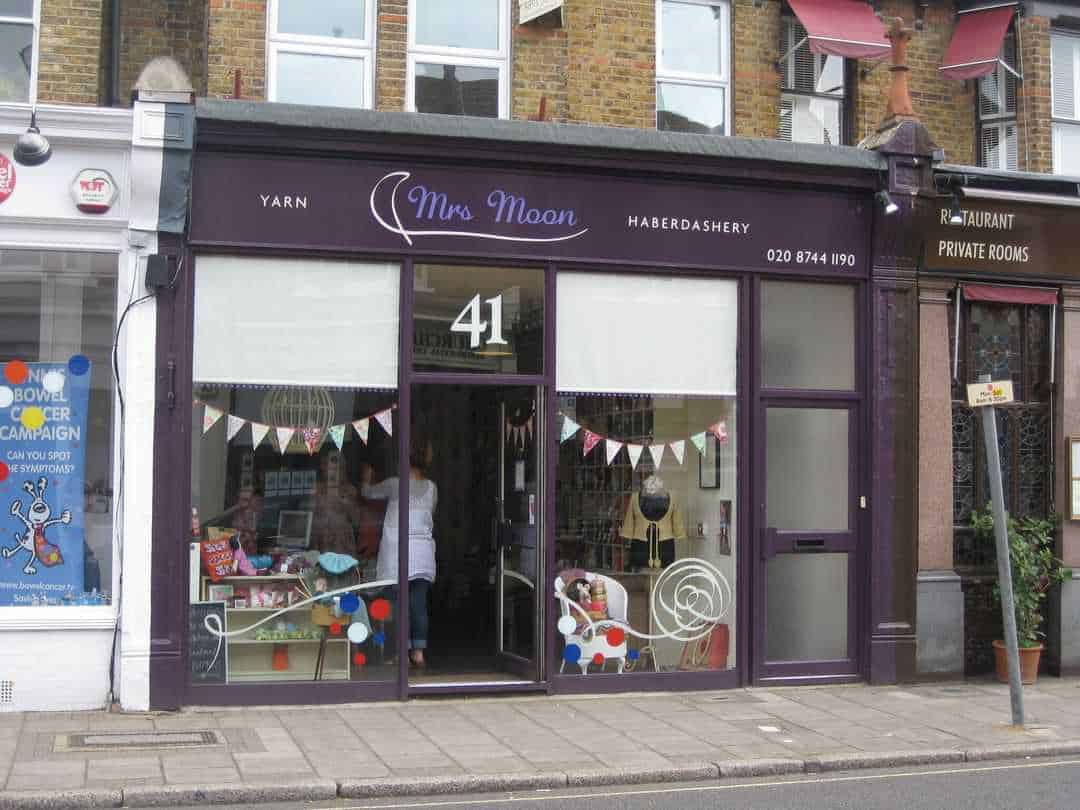 The classes at Mrs Moon take place in a quiet room tucked away at the back of this treasure trove of a shop. I defy anyone not to be inspired by the time they reach this room having passed by the endless skeins of yarn, balls of wool, sewing kits and completed projects which are dotted around the shop amongst the vintage fixtures and fittings.
I arrived on a Saturday morning for the two-and-a-half-hour beginners class which would teach me the basic stitches that I needed to get started with crochet. Our tutor was textile artist Joanna Clark and the group of six was small enough for each of us to get individual attention or advice if we got stuck.
After the all important tea and biscuits had been distributed, we were each given a handy booklet with instructions and useful diagrams to take home with us, or to make notes in as we went along. Then it was time to get started….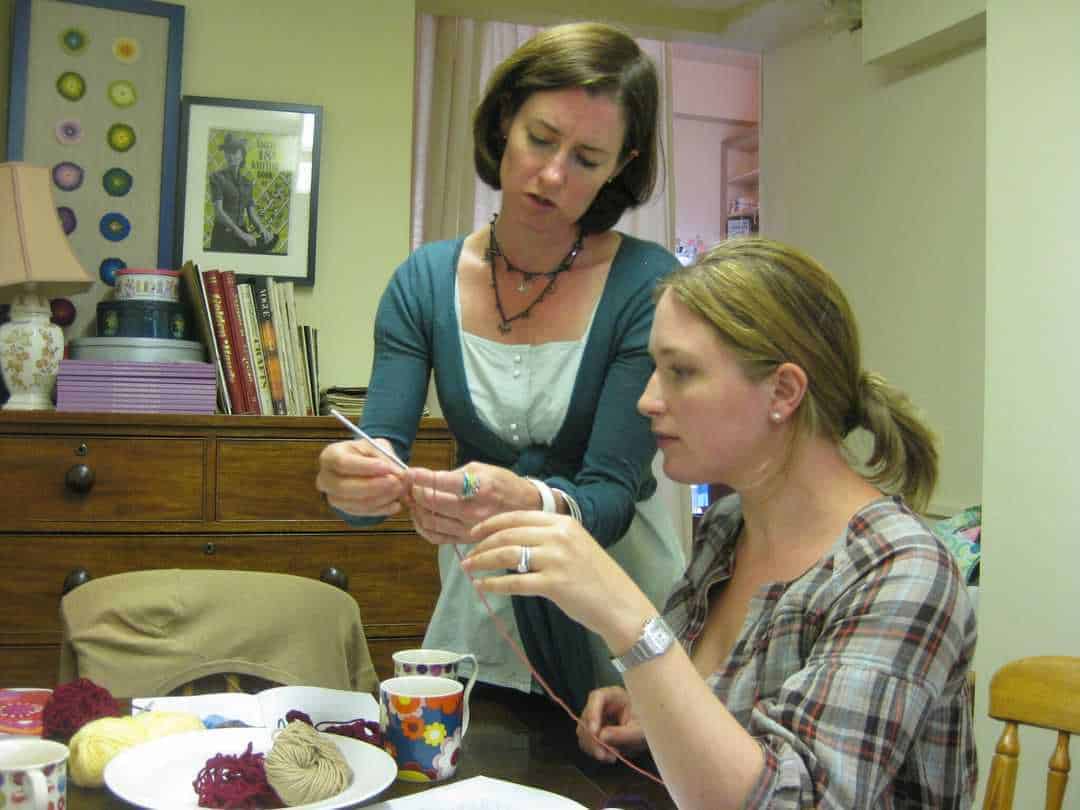 Joanna began by showing us how to hold the yarn and crochet hook and explained the importance of having the right yarn tension so that our stitches would not be too tight or loose. Our first step was to tie a slipknot of yarn onto the crochet hook.
Next we were introduced to the most basic of crochet stitches, the chainstitch, and after what seemed like an age of slowly hooking, looping and winding, my fingers suddenly kicked into gear and a long chainstitch snake started to appear below my crochet hook.
I noticed that the knitters in the class got the hang of the technique much faster than the non-knitters like myself, and some of them had metres of snakey chain cascading onto the floor while I was proudly examining my little ten centimetre length of chainstitch. Nevertheless, I carried on stitching at my own pace until before long it started to feel like second nature and I was ready to move on.
Having mastered the chainstitch, we quickly progressed onto the next one – the double crochet stitch. Slightly more complex, this stitch again took a little time to get the hang of, but somehow my fingers clicked into action and soon they were working away by sheer force of habit.
One thing that I found reassuring with crochet is that when I did make a mistake it was easy to see where I had gone wrong and to unpick it and start again – something that I had found impossible with knitting.
As my little snake grew longer and fatter with the chunkier double stitch, it was time to press on and have a go at the last of the three stitches that we would be learning – the treble crochet stitch. This stitch is slightly more complicated again, with an extra process of hooking and looping thrown in, but as before what seemed impossible at first started to feel natural after a while and I settled into a kind of rhythm, albeit a very slow one!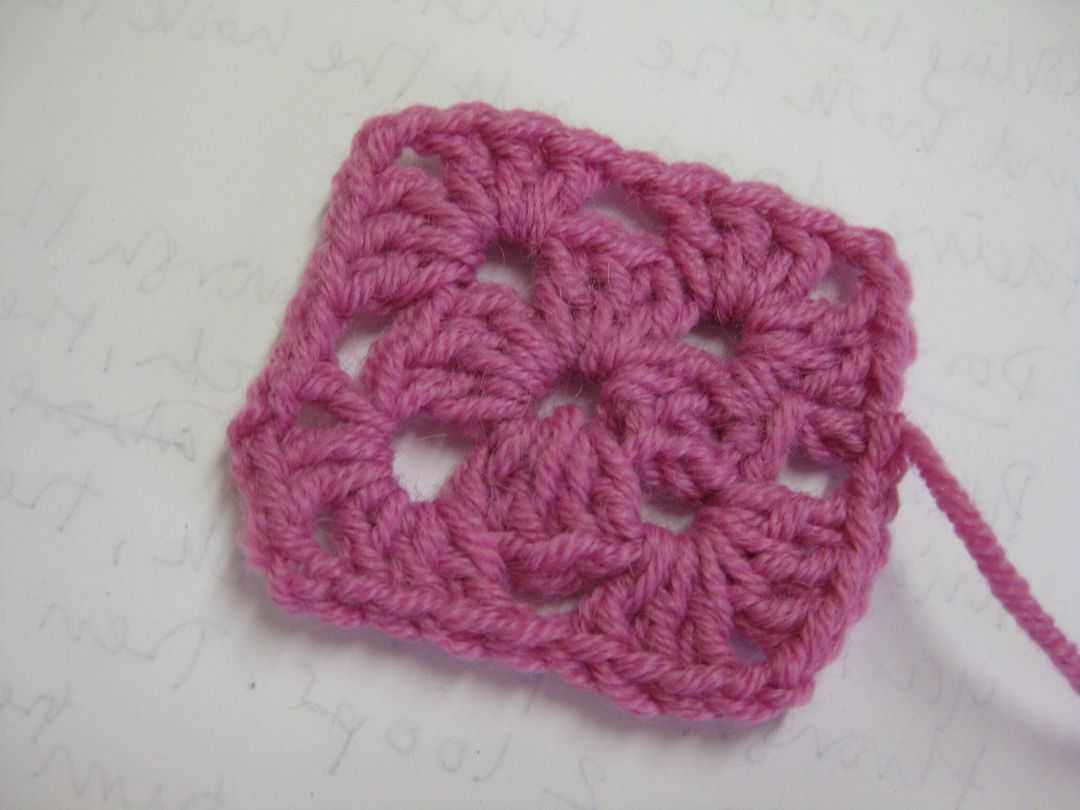 Before long it was time to put our newly-learnt stitches into practice and to create our very own 'granny square' – one of those small textured squares of crochet which you often see joined together in different colours to form fabulous retro style blankets.
By joining a length of chainstitch to form a circle, we then stitched rounds of treble stitch, alternated with chainstitch, to create a sort of checkerboard effect within a square. This took a fair bit of concentration and there was much heavy breathing and muttering (or was it swearing?) from around the table, as Joanna gently guided us in the creation of our first 'proper' pieces of crochet.
To see all the step by steps we learned, check out this video tutorial by Mrs Moon, which has all the details you need.
All too soon it was time to down our hooks as the class drew to a close. I was fully engrossed and could easily have carried on and on, but I was thrilled to have created the beginnings of a small crocheted granny square, even if it was with a large dollop of assistance from Joanna each time I got stuck!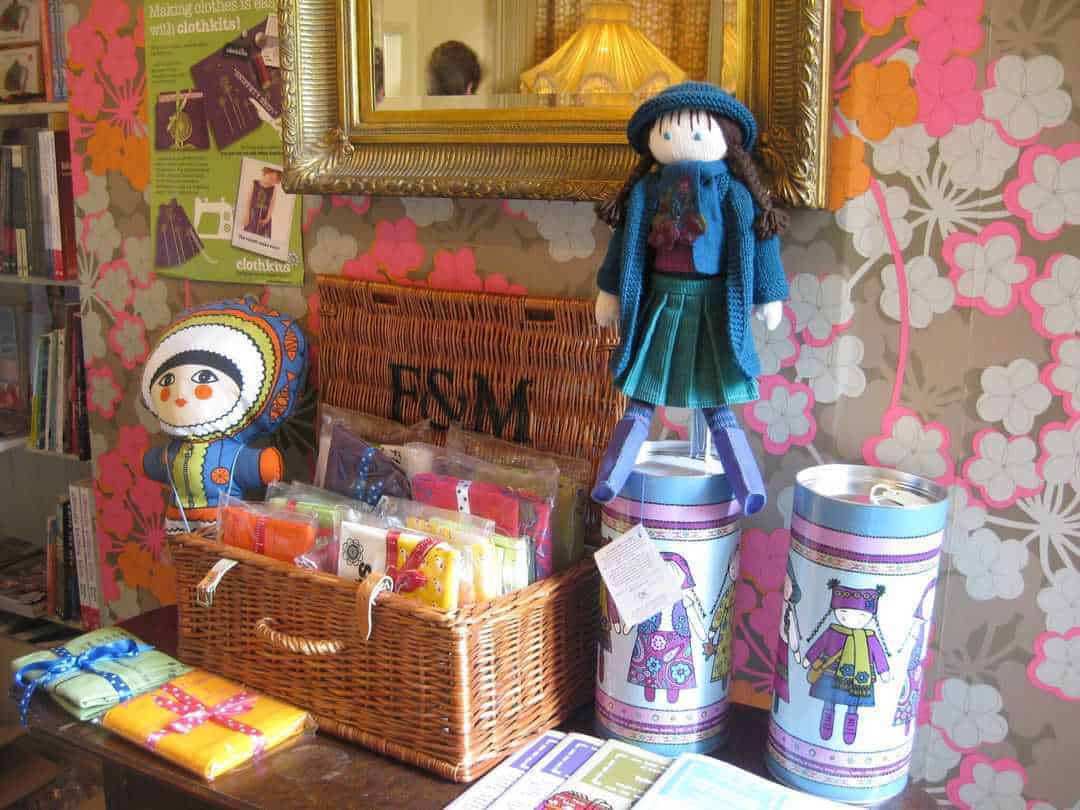 This is a great beginners class for anyone wanting to learn the basics of crochet so that they can experiment further in their own time. As the class is only two-and-a-half hours long, the pace is fairly fast and we rapidly progressed from learning the basic stitches to putting them into practice.
I knew that if I was to remember what I'd been taught, I would have to put in some additional work back at home. So after the class I browsed the wonderful haberdashery shop, finally settling on some pretty pastel coloured wools and a reference book, The Encyclopaedia of Crochet Techniques, which I could turn to if I got stuck. With my appetite for crochet well and truly whetted, I couldn't wait to get home and start practising.
Back at home, I pulled out my wool and started again from scratch, practising each of the three stitches that I'd been taught until they began to feel like second nature. I devoured my new book and spent what seemed like hours that afternoon watching crochet videos on YouTube, until I felt confident enough to try out some new crochet patterns for myself.
My first attempt was a simple crocheted flower made up of chainstitch and treble stitch, to which I added a tweedy button to create a vintage-style corsage. It should have only had seven petals but I got distracted by my four year old son when counting and it accidentally ended up with eight, but I think I got away with it!
Next I followed a pattern for a crochet heart that I found on a blog (yes, I was actually reading crochet blogs by this stage!) and created some pretty hanging heart and flower decorations. Now all I need is some festive red yarn and that's my Christmas tree decorations sorted for this year!
Another slightly wonky flower design followed, which I transformed into a sort of rosette with dangly chainstitched tendrils and a pearly vintage button, before trying out another granny square in soft organic cotton yarn which I'm intending rather ambitiously to work up into a blanket for my soon-to-be new baby. Don't even get me started on booties!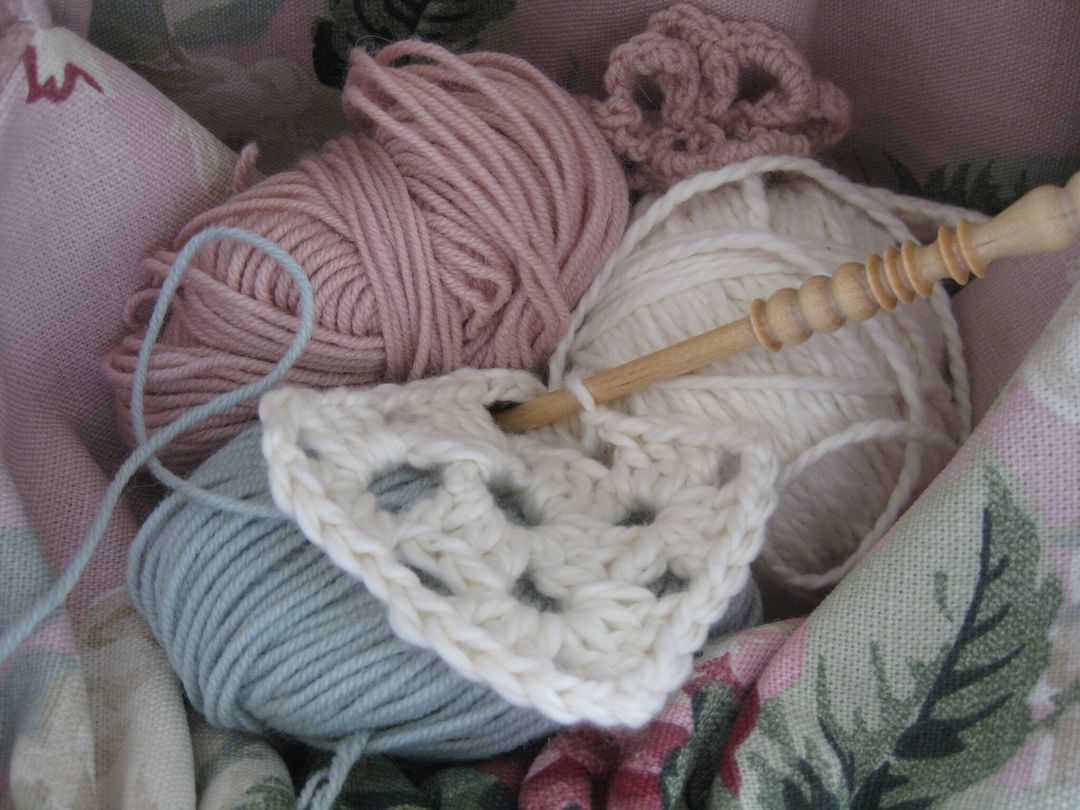 So… while my crochet creations may not be technically perfect, they were all created within a few days of my beginners class, so I've added them here to show that you can really have fun, experiment and get creative after just a couple of hours of learning the basics.
As you can see I'm certainly a crochet convert – and the delightful Mrs Moon haberdashery now has a very enthusiastic new customer. If you've never tried crochet before, why not have a go yourself? I found it much easier than I thought I would and, if you're anything like me, you just might get hooked!
INFORMATION
---
Get all the info you need to connect with Mrs Moon from the listing >>
Feeling inspired? Take a look at the Creative Workshops category in our Directory, where you'll find a variety of inspiring courses, from art and crafts to fashion and beauty, interiors, cooking and flower & gardening.
There's a fantastic step-by-step video tutorial on how to make a Granny Square (even if you've never crocheted before) on Australian blog Meet Me at Mike's. I love this tutorial for making a zig zag blanket.
There's also a really cute Log Cabin blanket tutorial too that I fancy having a go at (below)…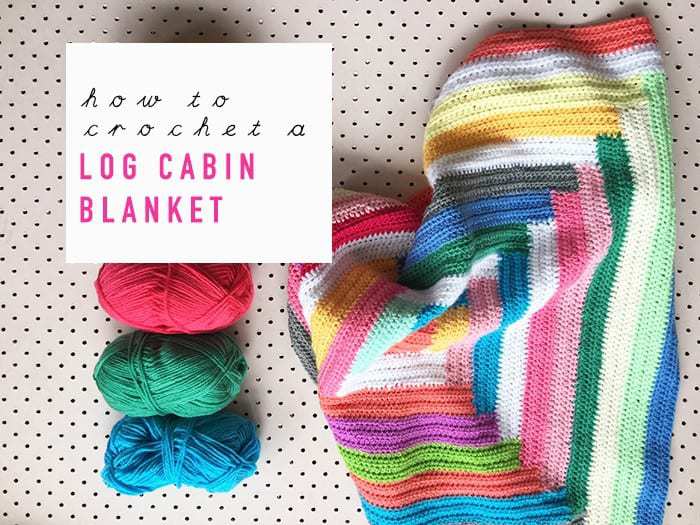 I also found the hanging heart and flower decoration patterns here.
The crocheted flower corsage tutorial that I followed was a video by The Art of Crochet on YouTube (note: this video uses the American crochet terminology where 'single crochet' is what we call 'double stitch' and 'double crochet' is what we call 'treble stitch').
Recommended Reading:
Mrs Moon recommend a number of inspiring books on getting started with crochet:
Vintage Crochet
by Susan Cooper
Crocheted Gifts
by Kim Werker
Baby Crochet
by Lois Daykin
---
A pin to share to Pinterest
---