Like to know how to stencil furniture with Annie Sloan chalk paint and create unique designs? It's simpler to do than you might think. How gorgeous is this old wooden table that's been given a cool new look using Annie Sloan paints in Old White and Graphite… and the help of a simple stencil?
I loved this folk art inspired pattern as soon as I saw it and decided to find out more. Turns out this is the sort of DIY project that even a real beginner like me could definitely have a go at. I am now on the look out for an old table to try the technique on. I'm thinking it could be a great way to repurpose an old pine kitchen table for use in the garden teamed with some vintage metal garden chairs.
I'll pin some images of my stencilled table as and when I've finished. In the meantime, I thought you might like to know how to have a go at trying this for yourself…
How to stencil an old wooden table
First off, clean and lightly sand the table you're going to be painting. The joy of Annie Sloan chalk paints is that they need no undercoat and can pretty much go straight on to anything.
To recreate this look, start by painting the whole table with Old White (available to buy here), applying a couple of coats to achieve creamy, even coverage. Move your brush every which way to get lots of texture into your paintwork.
Once your paint is dry, it's time for the really fun bit! This stencil is Tallulah, £4.45 by Annie Sloan (available to buy online here). Pour a little of your Chalk Paint into a paint tray (the colour shown here is Graphite available to buy online here).
The design for this stencil takes its inspiration from traditional folk art and looks great repeated in a symmetrical pattern like this. Apply the Graphite chalk paint over the top of the stencil, using a foam roller or stencil brush.
Charge your roller with paint and then roll off any excess on the dry section of your paint tray. Annie used a large stencil roller to create the look of tiles and knocked the pattern back slightly with a wash of Old White paint once the stencilled paint had dried.
To apply a colour wash, mix half paint/half water, then apply lightly over the top, using an almost dry brush. Wipe off any excess until you've achieved the look you're after.
To protect the paint surface, seal with at least one coat of Clear Chalk Paint Wax and allow to dry overnight before using. Bear in mind, however, that it takes between 5-21 days for it to harden, or cure, completely.
I found this tutorial where Annie herself talks through the basics of stencilling…
How to stencil tutorial with Annie Sloan
Other stencilling inspiration
I'm also loving lots of ideas on the Mandala Stencils website. The stencils themselves are made from reconstituted recyclable plastic. Robust and hard wearing they can be used over and over. Flexible and easily cleaned they are adaptable for use on all sorts of surfaces from flat, curved or even right angles.
Check out their Issu magazine with some more great ideas here
Here's a few of my favourite ideas: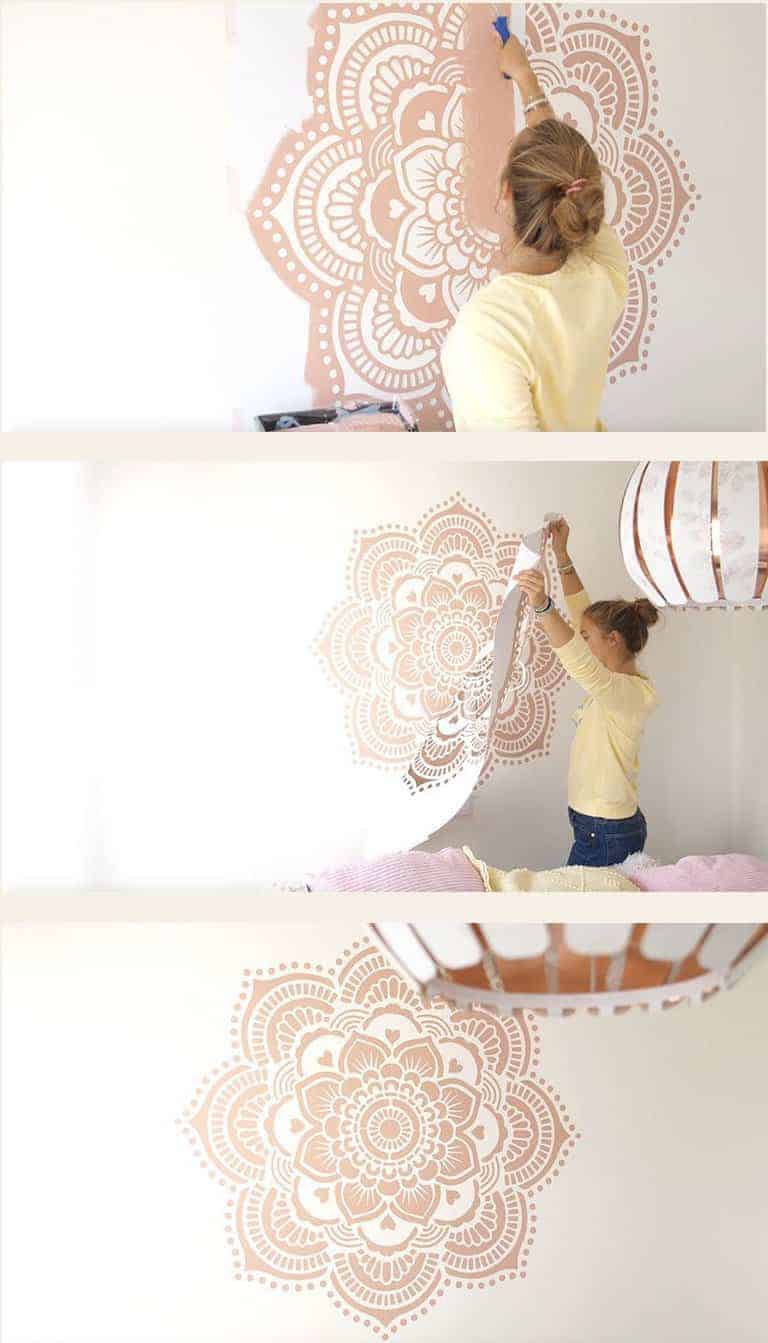 Love this rose gold wall stencil that adds interest and a pretty touch to an ordinary plain white wall. I'm planning to do something similar in a soft grey with white colour wash over the top on my bathroom wall.
Here's a helpful little tutorial on creating a mandala stencilled wooden garden table.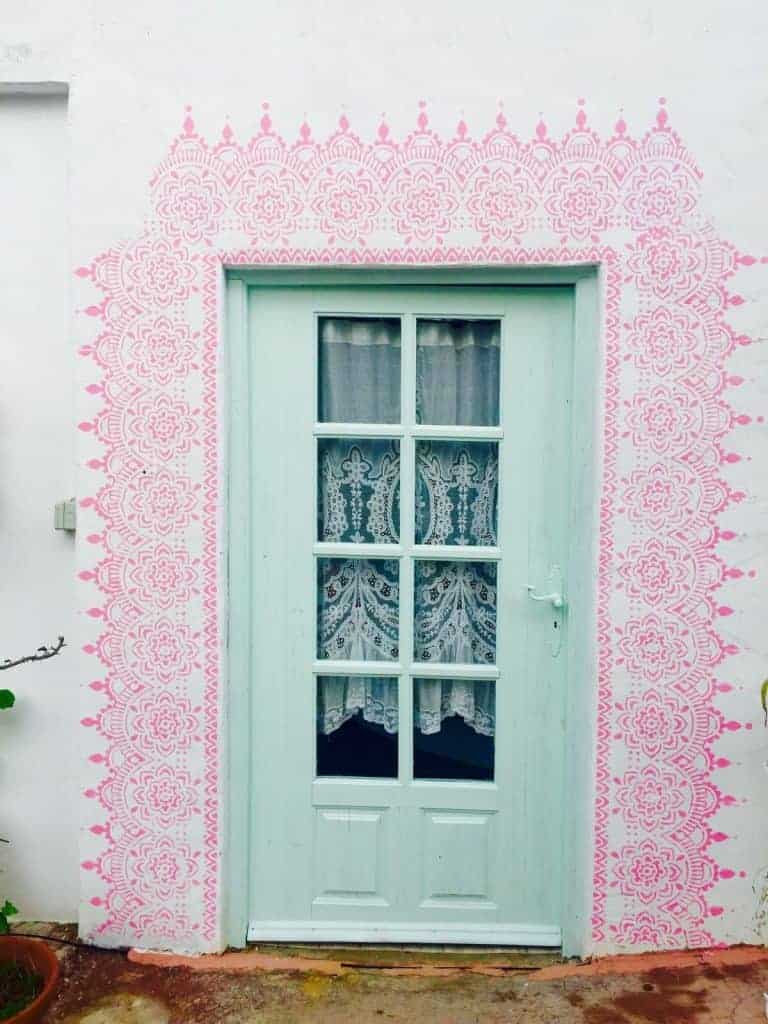 Find all of these stencils in the Mandala Stencils online shop here
DIY projects
For pretty painted furniture and stencil ideas, interior blogger Miss Mustard Seed is well worth a browse. Love these simple DIY projects by her – follow the links to have a go yourself…
Love this pale blue painted chest of drawers with white chalk paint stencilling. Find out how it's done here
And how cute is this distressed painted yellow chest of drawers with another pretty stencilled pattern?
There's a great post talking you through the transformation of this old wooden chest of drawers here
A slight deviation from the stencil idea is to try a decorative paint roller. How cute is this by The Painted House?
If you haven't already discovered Painted House, you need to! Clare Bosanquet fell in love with a pile of traditional paint rollers she stumbled across at a Romanian market whilst travelling. So much so that she bought the lot, then carried them around with her for the next 2 months of her trip.
Used for 100 years as an alternative to wallpaper, the rollers are a great alternative to wallpaper. A passionate upcycler, Clare has since used her rollers to bring unloved fabrics and wonky old walls back to life. She has also adapted the traditional roller system for use in fabric printing as well as develping a more simple foam roller for paper and walls.
Here are a few of my favourites of Clare's designs:
Find these designs and more in The Painted House shop here >>
INFORMATION
---
Annie Sloan is listed in the From Britain with Love directory here >>
You might also be interested to read our post how to paint and distress furniture with Annie Sloan Chalk Paint here >>
Are you a maker or creative course provider? Like to list with us and benefit from joining our supportive community? We'd love to hear from you. Check out the packages we offer on our Join Us page and get more details from our Information pack here
---
A PIN TO SAVE TO PINTEREST