Make a wreath for Christmas 5 creative ideas you'll love to make.
You can pay a lot for a ready-made fresh wreath, and more often than not, those on offer are pretty uninspiring. So I always make my own. I was just flicking through the photos of the Christmas wreaths I've made over the years to get some ideas – and realised it might be useful if I shared them with you too.
In case you're also planning to make a wreath this year, and are on the lookout for creative ideas, I've picked out my 5 favourites that are all really different. If you follow the onward links for each one, you'll see loads more images and also get all the DIY step by step info you need to make a wreath just like it.
This is the wreath I made last year at a workshop with Sarah Diligent and I absolutely loved it. I love the combination of dried flowers (bunny tails, statice, hydrangea and poppy seed heads) with fresh, seasonal foliage and herbs. The little red apples are real fruit that has been dipped in wax. Adding a lavish winter white velvet bow finished it perfectly don't you think?
Get all the info: Make a beautiful fresh and dried Christmas wreath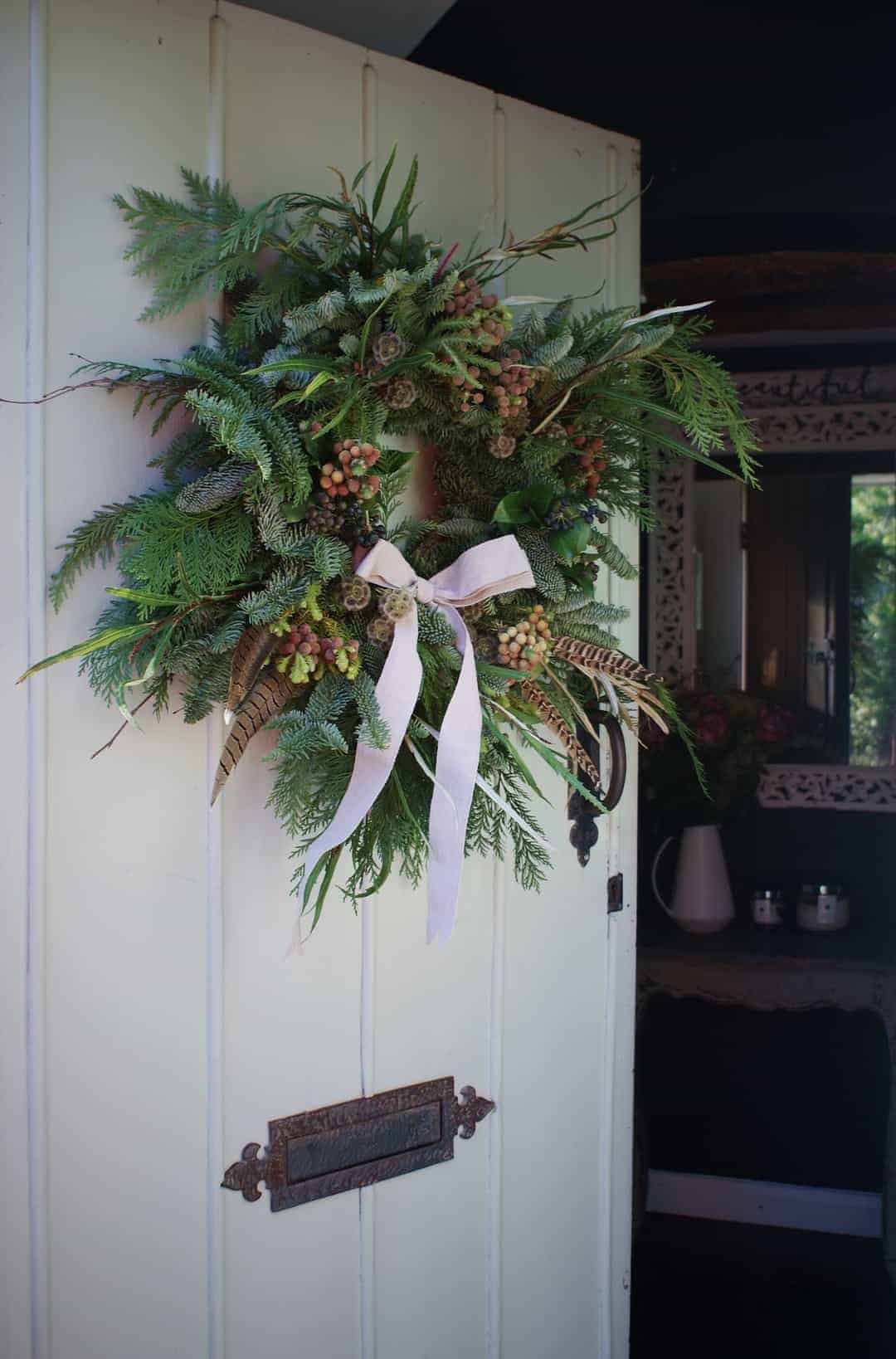 I still have the feathers from this wild and wonderful wreath that I made with Georgia at The Sussex Flower School and I'm wondering about incorporating them again this year…
What I love about this one is how wild and free it is. Adding longer lengths of irregular foliage gave a much more dramatic and free-flowing look. The ribbon is wired linen in a natural stone blush and I really like how it contrasts with the greenery and seasonal berries and seed heads. This look is perfect for creating a country Christmas feel, don't you think?
Get all the info: Christmas Wreath DIY ideas & tutorial
Simple Nordic wreath
So I made this one really quickly for a photoshoot a few years ago and it's all about understatement and simple beauty. It really couldn't be easier to make. The base is a classic spruce and eucalyptus ring embellished with white snowberries, frosted pine cones, cotton heads and pieces of foraged pale lichen and tiny seed heads. I finished it with a pretty beige and white cotton gingham ribbon. Because sometimes less really is more.
Pink and gold wreath
It was the beautiful sprays of pink peppercorns that set me off down this road. Love how they contrast with the soft golden hops and waxed rosy apples. I kept the foliage quite randomly placed and varied to create a wild, natural look. I also decided not to go for a ribbon and let the wreath itself do all the talking.
Get all the info: Make a contemporary Christmas wreath
Old School Traditional
I am including this one because it feels like a bit of a blast from the past. In a good way. Because that's sometimes exactly what you want at this time of year isn't it? It reminds me of happy Christmases gone by and is great fun to make. Slices of dried orange and apple add a fresh natural touch and the bundles of cinnamon sticks smell as good as they look. Finish with red berries and ribbon and you're good to go. Get all the info: How to make a Christmas wreath
NB: This is a great resource: How to dry your own orange slices
Share to pinterest