10 beautiful lockdown craft ideas
If you're in need of some creative lockdown craft ideas to help pass the time, we have just the thing. I've selected 10 of my favourite makes from the blog that are easy to do from your own home. Patterns that you can download, materials that you can order online or forage for. Inspiration and creative escape that helps ease the stress of these strange times. Hope you like what I've picked out – and would love to see your creations when they're done!
10 beautiful lockdown craft ideas
Lockdown craft idea 1 – knit a bunny
Is this teeny tiny baby bunny pattern cute enough for you? It's a new design by Claire Garland and available to buy on Etsy here
BUY TEENY TINY BABY BUNNY KNITTING PATTERN ON ETSY HERE
Or what about making your own knitted Beatrix Potter-inspired Peter Rabbit? The pattern includes his adorable little jacket and knitted carrot. And, should you wish to turn your Peter into Flopsy, Mopsy or Cottontail, there's also a template and pattern to make the red felt cape.
Buy the Peter Rabbit pattern on Etsy here.
Another one of my favourite bunny patterns by Claire is this Black Otter Rex rabbit pattern.
Free bunny pattern
To download Claire's free baby bunny pattern CLICK HERE If you're a keen knitter (or would like to become one) I can't really think of a better craft idea for easing lockdown.
To read the full blog post How to knit a bunny rabbit – free pattern & tutorial CLICK HERE – which includes all of Claire's rabbit patterns, as well as expert tips from Claire herself.
There's also a super-helpful video tutorial from Claire here: Knit a rabbit video tutorial & free pattern
Lockdown craft idea 2 – embroider a hoop with dried flowers
I love the botanical 'embroideries' that Olga Prinku creates using bamboo hoops, tulle and simple dried flowers.
If you're new to the idea, we've shared a super-simple mini hoop idea over on the blog here: How to make embroidery hoop art with dried flowers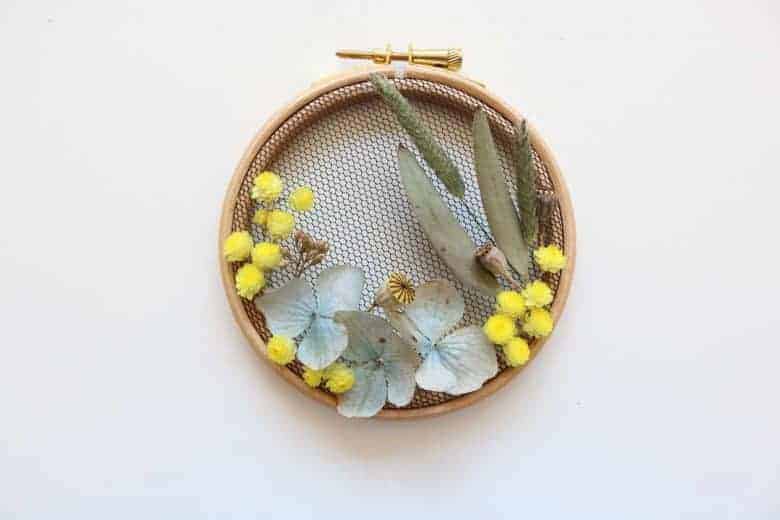 If you feel like getting more adventurous and taking on a bigger project, what about something like these ideas:
There's a fab video tutorial by Olga to help you here: Dried flower embroidery video tutorial
And lots more ideas from Olga to inspire you here
Lockdown craft idea 3 sew a pinafore apron dress
I absolutely adore the cross-back pinafore apron dress I made with Diana Uprichard at her sewing workshop in Lewes. You might not be able to attend the class in person right now, but I have shared the pattern and lots of step by step images. If I can make one, literally anyone can.
Read the blog post How to make an apron dress with cross back to get all the info you need There are also lots of other cross-back apron ideas to inspire you.
If you don't already have fabric to use for this, there are some lovely organic linens over on Etsy as well as end of rolls and denims…. I really love my apron.
I wear it when I'm pottering in the garden or getting stuck into a craft project. My happy place. Hope you enjoy making your own… X
Lockdown craft idea 4 make a pair of felted wool slippers
It's surprisingly easy to make your own wool felt slippers like these made by Gillian Gladrag. We've shared our day learning to make felted slippers with Gillian over on the blog. Read the post How to make felt slippers to get step by steps and to find out where to buy all the materials you need to make your own pair.
We share all you need to know to master the technique… and also share lots of creative ideas for you to try.
From wild and ditsy floral creations like the ones Gillian makes, to more minimal ombre designs, pretty dots and simple one or two-colour options, there are all sorts of ideas to get you started. Hope you enjoy. Also, aren't cosy slippers THE ESSENTIAL footwear right now?
Lockdown craft idea 5 make an embroidered tea cosy
If you have a sewing machine, an embroidery hoop and some bits and pieces of fabric lying around, you're good to go. Turns out freehand embroidery is a fun – and forgiving – way to get creative at the sewing machine. If you fancy making this jolly tea cosy along with the queen of freehand machine embroidery, Poppy Treffry, you can buy her Sew Jolly Tea Cosy tutorial package. You'll get PDFs for all the instructions and templates you'll need as well as links to Poppy's video instructions so you can sew along with her virtually.
A little while ago, we spent a day with Poppy down in Cornwall, learning the tricks of the trade. There are step by steps, as well as lots of tips from Poppy in this blog post: Freehand machine embroidery with Poppy Treffry
Poppy sells a fab bag of jolly fabric scraps – approximately 200 grams – of her own prints and loads of colourful cottons which is perfect for appliqué projects like this one. Alternatively, there are lots of fabric bundles and embroidery supplies over on Etsy that might get the creative juices flowing….
If you don't have a sewing machine, why not try out a spot of hand embroidery? I have found a couple of kits I particularly love, so I'm sharing them with you: Jam Jar Flowers embroidery kit and Blue Tit embroidery kit
Lockdown idea 6 Make a foraged and dried flower wall hanging
I love this idea kindly shared with us by Bex Partridge of Botanical Tales. Bex shares her simple step by steps over on our blog post How to make a dried flower wreath
You can easily adapt it to any season and colour palette you like.
Lockdown idea 7 Make a Spring wreath
Whilst we're on the subject of Bex Partridge, why not have a go at making her beautiful fresh spring flower wreath too? I don't know about you but the appearance of daffodils and Spring bulbs feels more precious than ever this year. Get all the step by steps over on the blog: How to make a spring flower wreath – step by step tutorial
Lockdown idea 8 Make your own natural cleaning products
Not strictly craft, but I have loved making my own natural cleaning products that make my home gleam. Author of Clean Green, Jen Chillingsworth, has shared her favourite recipes and cleaning cupboard essentials over on the blog. Get all the info you need here: Eco Friendly cleaning products & DIY tips
If you fancy Spring cleaning, without the chemical nasties, definitely check out Jen's ideas first. I, for one, would not be without my Dr Bronner's organic liquid soap now. As well as being invaluable in home cleaning, it's perfect for use in the shower, bath, hand washing, cleaning fruit and even controlling aphids.
Lockdown craft idea 9 Knit something for any little ones in your life
How cute is this gilet and hat combination by Bergere de France? It's just one of 13 beautiful free patterns for babies we've shared over on the blog. There are dungarees, all manner of hats, cardigans, dresses and even a racoon hooded cowl. Get all the free patterns over on the blog here: The most beautiful free baby knitting patterns
Lockdown idea 10 Make your own shea butter body lotion
There are two ways to go with this. Firstly, Sharron Jenkins (owner and founder of Kalabash, award-winning artisan soap and body care brand) has shared her own simple DIY recipes for shea butter body lotion and peppermint foot lotion. Get all the details here
I have also shared the workshop I did with Liha to make Whipped Shea Butter lotion. Get the step by steps here: How to make Shea butter lotion with Liha
Bottom line is, shea butter is a miracle worker on stressed, dry skin. It made all the difference when I was suffering from over-washed lockdown hands that had started to crack. Hopefully you'll enjoy the process of making the lotions too. Gleaming, naturally fragrant skin is a bonus we could all do with, couldn't we?
This article contains affiliate links, which means we may earn a small commission if a reader clicks through and makes a purchase. All our blog posts are independent and in no way influenced by any advertiser or commercial initiative. By clicking on an affiliate link, you accept that third-party cookies will be set.
INFORMATION
---
Find these makers listed in our directory
Are you a maker or creative course provider? Like to list with us and benefit from joining our supportive community? We'd love to hear from you. Check out the packages we offer on our Join Us page and get more details from our Information pack here
---
A PIN TO SAVE TO PINTEREST
If you've enjoyed discovering these lockdown craft ideas, it would be great if you could share the love. Simply hover over the Pinterest graphic below until you see the 'pin it' button appear and then share to your boards… Thank you! X