25 best crochet crop top pattern ideas (10 free!)
I don't know about you, but nothing says blissful Summer days quite like a pretty crochet crop top. The open work of crochet provides pretty cover as well as welcome ventilation on hot Summer days. Whatever your skill level, from beginner crocheters to experts, I have searched high and low to bring you the most inspiring free pattern ideas, using natural cotton yarn (I have an aversion to acrylic yarns!) all sure to help you keep cool beautifully. 
So if you're looking for a creative craft project to boost your Summer wardrobe, these free crochet patterns might just fit the bill. There are ideas to help you look your best, whether you're headed to a music festival, summer holiday or simply looking for a pretty crochet to layer over dresses, vest tops or simple tee shirts. Crochet crop tops, cardigans, tank tops, bralettes, crochet sweaters, shrugs… the list of beautiful crochet stuff you could make is a long one. So many ideas that are just perfect for the summer season. Crochet is also great fun – and can be such a quick and easy project if (like me) you like instant results.
I've picked out my favourite free patterns as well as the best patterns available to buy (most are printable instant download PDF patterns). There are also favourite yarn recommendations – all natural fibres and some organic. I hope you find some inspiration and that you have fun making a great addition to your wardrobe, whatever you choose. The warm weather might seem like a far-off dream right now (at least if you're in the rain-soaked UK as I write!) but trust me, it's time to get the crochet hooks out!
Free crochet crop tops patterns
Perfect for Summer festivals, this hepatica crop top design by Anna Erlandsoon is a quick-to-make halter-neck top that starts as a row of granny squares. The blue 'flowers' in the squares are inspired by Anemone hepatica, a spring flower common to Sweden and north Europe. The suggested yarn is a worsted weight cotton called Julie by Swedish brand Falkgarn, however, any worsted cotton will do. The pattern is written in English (US crochet terminology). You can download the pattern for free in English or Swedish.
Bikini tops
Moonlit Bralette pattern
If it's more of a crochet bikini top you're looking to make, how about this super cute Moonlit Bralette by Hanna Christena? It's a fast and easy crochet project and available for free on Love Crafts . The recommended yarn is Paintbox Yarn Cotton.
Meaning 'summer' in latin, Aestas is the perfect top for warm sunny days and is designed by Anna Erlandsson. Crocheted in breathable worsted cotton with decorative openwork panels down the sides and enough coverage at the front to wear out and about, this is a useful addition to any wardrobe. It's quick to make, suitable for beginners and available to download for free on Love Crafts.
Seascape Scallop tank top pattern
Another lovely pattern, this one is by Grace of For The Frills and available for free on Ravelry or Grace's own For the Frills website. Other lovely free patterns by Grace definitely worth checking out are Skylar Crop Top, Avignon Tee and Forget-Me-Not Tee.
The Iris crop top pattern
The Iris Crop Top PDF crochet pattern is beginner friendly and free from Love Crafts. This pattern includes step by step instructions to help you get the perfect fit for your exact body type. There are also plenty of step by step instructions and photos to guide you through every stitch, making for the perfect beginner friendly pattern.
Canyonlands Boho lace crop top
This pretty lace crop top pattern is by Jess Coppam of Make & Do Crew which you can get for free online from her website or buy as a printable PDF pattern on Love Crafts
V-neck summer blouse pattern
This lovely pattern is by Wan of Knitcro Addict. It's free online on Knitcro Addict or you can buy a printable instant download PDF pattern on Love Crafts or Etsy.
Best crochet top pattern buys
How cute is this Oma goodness crochet crop top by Sandra of Little Golden Nook? If it's something a little more modest you're looking for, this pattern is perfect and you can make it with short or long sleeves. You can see it better here in Sandy's cute Insta reel:
View this post on Instagram
It comes in four sizes covering XXS to 3XL and you can choose between a V or round neck. Skill level is Advanced Beginner, with video/photo tutorials for the more difficult parts. Video tutorials can be found on Sandra's Insta reels. Ideal yarn weight is DK/Light/8 ply.
How pretty is this Daisy crop top? There's a short and long sleeve version within the pattern, all using pretty flower crochet squares. There are plenty of diagrams and step by step instructions within the pattern to help you join them up.
I'm already a fan of Marie Wallin's designs, so I was delighted to come across this pretty pattern. Love the scalloped edge and gorgeous crochet texture.
It's available to buy on Love Crafts as an instant download PDF pattern
I love this design and think it's probably top of the list when I come to deciding which to make as my own crochet top. I'd just need to brush up my crochet skills first as it's skill level advanced. Which I'm definitely not yet!
This Lily of the Valley crochet design is another modest version of the crop top. Love the design of the sleeves in particular and how the slit enhances the drape.
Inspired by Lily of the Valley flowers, this simple textured pattern is a quick and easy project suitable for beginners upwards. Made in a soft cotton yarn it creates a soft bohemian look. Special techniques are explained in the pattern with step by step photos to help you on your way.
This pretty pattern is easy and suitable for beginners. It includes 2 motif written descriptions, 2 motif charts, assembly diagrams for each size and diagram how to join motifs.
The pattern is suitable for women of all shapes and sizes, from XS up to 7XL. There's also a helpful FREE video tutorial to guide you on your way.
This pretty pattern is by Moora Crochet and is available to buy as an instant download PDF pattern from Love Crafts. Quick and easy to make, this crochet bralette curves around curves beautifully.
Pattern made using 4ply cotton or linen yarn to make your crochet halter top light weight and cool for those hot summer days.
It's written in US terms and includes conversion table in UK terms.
Super easy pattern, beginner friendly and cute. Made using simple stitches, perfect choice for hot weather and as easy crochet tops go, a definite winner!
This pattern calls for category 3, DK weight yarn and a 4mm crochet hook with a gauge of about 18sts by 9 rows on a 4×4″ (10x10cm) swatch in double crochet. Knowledge of basic crochet stitches as well as the dc2tog decrease are helpful. Sold on Etsy as an instant download printable PDF pattern and includes step by steps for women's sizes S-3XL.
Interactive PDF with helpful clickable links including a printable crochet abbreviations chart. There's also a super helpful video tutorial that talks you through all the steps to making the pretty Willow granny square.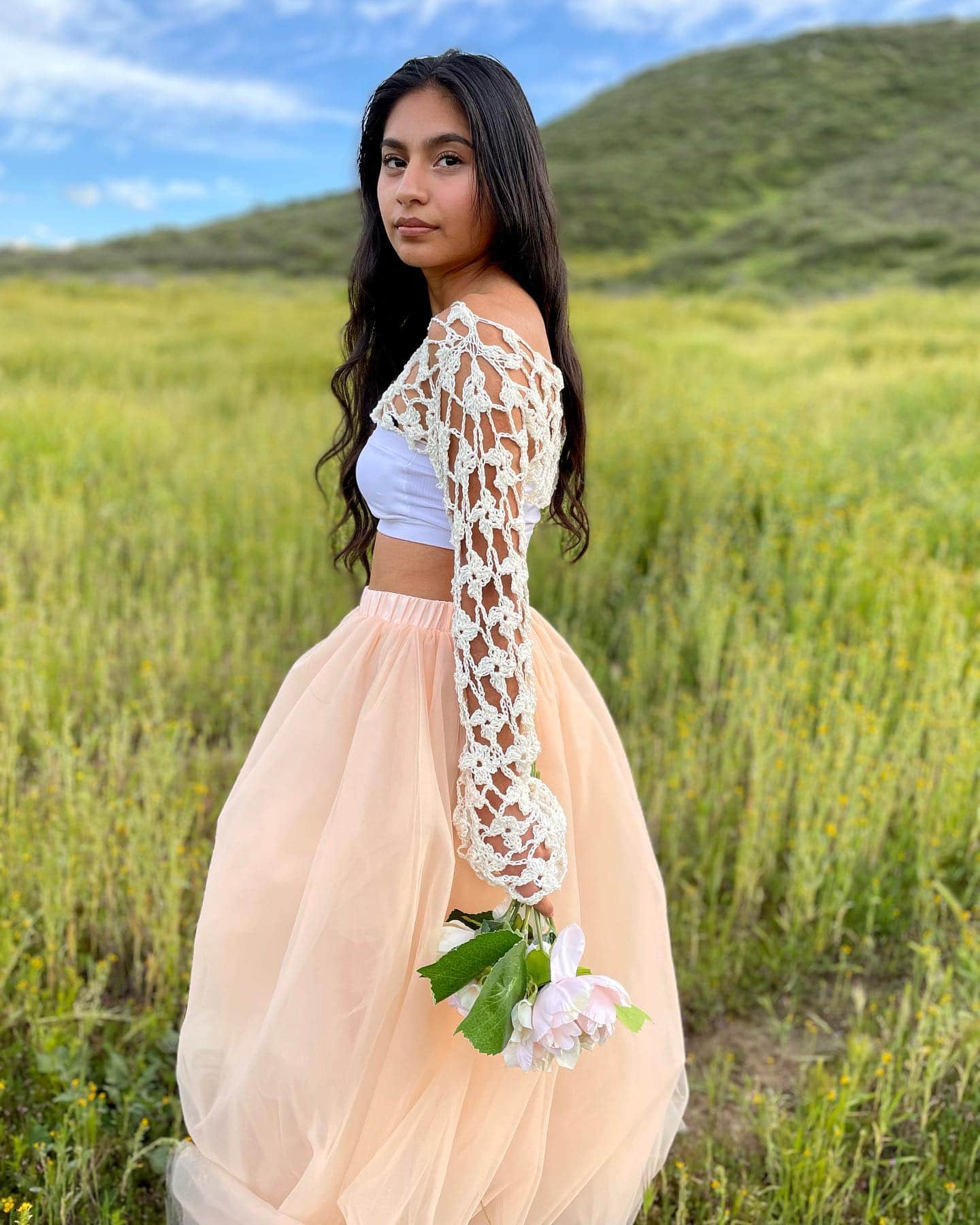 This one is a little bit different as it's for a pretty crochet shrug by Yukiyo Crochet.
The pattern is suitable for advanced beginners upwards and available to buy on Etsy as an instant download printable PDF pattern.
I love these images by pattern tester Rachel Clayton:
https://www.instagram.com/p/CqWFHUJNnys/
Before we leave Yukiyo Crochet, how about this pretty Emma crop top pattern with puff sleeves? 
This Mesh shrug pattern offers a less flowery, more geometric alternative. 
I love the combination of pretty crochet flower neckline detail with bralette shape and halter. You start with the flower and work the top from there, using pretty basic stitches side to side and finishing with a rib. Suitable for intermediate crocheters upwards.
how cute is this Granny Square tank top design by Stylecraft?
It's an intermediate crochet pattern and available to buy as an instant downloadable PDF from Love Crafts. 
​
If you are a new crocheter and hate weaving in ends and want find something super quick to crochet something, this is the perfect pattern for you! This crochet top works up really quickly, using just one continuous piece of yarn.
This is a downloadable and printable crochet pattern and calls for a 4.5 mm hook and worsted weight yarn.
There's a vintage vibe and unique look to this design that I love. The pretty cap sleeves and scalloped edging add really pretty detail. Easily adaptable to different sizes too. 
There's a bit of exuberant flounce to this design that stood out for me. Wear it off or on the shoulder depending on your outfit or mood. 
It's the elegant open back of this design that made it stand out for me.
The Coffee Date Top is a novice level crochet pattern. It uses only single and double crochet stitches, worked in the back loop only to produce a ribbed effect, combined with some basic increasing and decreasing to produce a garment that is visually interesting, without the hassle of complicated stitches or advanced shaping.
This pattern is written as a tutorial, meaning it can be scaled to fit any size required and does not contain specific or set sizes! Any weight 2-4 yarn will work wonderfully for this project, and using a hook that is 1-2 sizes larger than recommended on the yarn label for the body of the garment will ensure the tension is not too tight, creating a flowing and light top that has tons of drape! It's worked up in 4 separate pieces- a front, back, and two sleeves, then seamed together.
I've included this lovely pattern because it really reminds me of a button through crochet top I had back in the 80s that I LOVED. It was from Jigsaw I think and made in a natural colour flax or linen thread and it was one of those high value wardrobe pieces. It went beautifully over dresses, vest tops, swim suits, plain tee shirts. Anything really and just added a pretty layer of detail and natural texture.
Confident beginner / intermediate friendly, the pattern includes written instructions and step by step photos on how to make your own crochet button up shirt. 
If it's pretty detailing you're after, what about this beautiful design with rows of tiny tulips? 
More flower detailing, this time Sunflowers around the midriff. Recommended for intermediate-to-advanced crocheters. Requires about 150 yards weight 4 yarn and a size G/7 (4.5mm) crochet hook. Customisable to fit any size – includes a chart for measurements based on bra size.
This cute boho Coachella inspired crochet crop top is by Kristen Charles and for sale as a digital download printable PDF pattern on Etsy. Includes step by step photos and suitable for experienced crocheters.
This cute pattern is easier to make than you might think. It's by Matinee Maya Imchum on Etsy and is adaptable to different shapes and sizes.
How about a crochet cropped cardigan? I must admit, this would be more me most days of the year! Suitable for advanced beginner upwards, it's a graded pattern, but it explains how to work it using different yarn sizes too. The scallop edged three quarter sleeves are a flattering alternative.
Main materials:
3.5 mm hook
Size 2 yarn
Tapestry needle
Scissors
Stitch markers
This fab design also offers elegant sleeves and a flattering deep v at the front. This is a measurement based pattern so it can be made to fit any size body.
Skill: beginner- uses sc (single crochet), hdc (half double crochet stitch) and Dc (double crochet)
Since the pattern is measurement based you can use any weight yarn the designer recommends sports weight yarn.
Best yarn to use
How much yarn you need will be specified in your pattern as well as the weight of yarn recommended. If you're looking for crochet summer tops (the perfect way to deal with summer heat in my humble opinion), I'd strongly suggest keeping to natural, breathable yarns such as cotton or bamboo.
Paintbox Cotton DK – which is available to buy on Love Crafts in 64 different shades
Stylecraft Naturals Organic Cotton DK in 36 different shades
Stylecraft Naturals Bamboo & Cotton DK in 47 shades
Rowan Summerlite 4 ply in 29 shades
Debbie Bliss Eco Baby in 14 shades in Sport weight and made from 100% organic cotton. Gently coloured with non-toxic dyes,
INFORMATION
If you're new to crochet, you might like to read this post: crochet basics – a beginner's guide
It covers all the basics including single crochet, most-used crochet skills, double crochet stitches and basic crochet stitches. There are also lots of super-helpful links to video tutorials to help you become a dab hand at this fun craft.
One of the joys of crochet is how adaptable the patterns can be so you can make something to suit your own body type.
This article contains affiliate links, which means we may earn a small commission if a reader clicks through and makes a purchase. All our blog posts are independent and in no way influenced by any advertiser or commercial initiative. By clicking on an affiliate link, you accept that third-party cookies will be set.
​
You might also like
There's plenty of crochet and knitting inspiration to enjoy:
25 most stylish (10 free) crochet market bag patterns
Make Your Own Crochet Flower Bouquet Kit
How to crochet a flower… and more
If you also like to knit, how about:
Free puppy dog knitting pattern by Claire Garland the most adorable little toy to make
Fingerless gloves knitting patterns – 5 most beautiful for FREE!
Frog knitting pattern & the most adorable stripy sweater!
Frog knitting pattern & the most adorable stripy sweater!
Find more craft ideas and tutorials over in the MAKE section of the blog: https://www.frombritainwithlove.com/category/make/
My latest blog post is all about layer cake quilt patterns, the perfect way to make a beautiful patchwork:
Layer cake quilt patterns you'll love – 10 free!
A pin to save to Pinterest
If you've enjoyed discovering these crochet crop top patterns, it would be great if you could share the love by pinning this to your Pinterest boards. Thank you! x