The most beautiful free baby knitting patterns
I know how many of you are nifty with the needles, so I thought I'd share my round-up of the most beautiful free baby knitting patterns. It's not like I have a baby of my own to knit for, but for some reason I found myself down a bit of a Pinterest rabbit hole recently. It started with one pattern for knitted dungarees that I happened across (I had a bit of a thing for dungarees over stripy tops when my two were babies). That led on to more and more equally adorable – and tiny – knit ideas. I did wonder why I was spending so long looking.
My two are now fully grown and definitely not ready to make me a grandmother yet. And I'm certainly not broody myself. And yet… I have a feeling this might all be leading towards us getting another puppy. In the meantime, I would love to share the free baby knitting patterns I found with you. In the hope that you'll find something you love and also that would convert all my browsing time into 'research'. See what I did there?  Hope you enjoy and do share your creations with me.
Free baby knitting patterns
Free baby knitting pattern for dungarees
This is the pattern that started me off. It's available to download for free here and by Bergere de France
I just love the combination of stocking and moss stitch and the simple design. I would have definitely put both of mine in these when they were little ones. The pattern is easy and suitable for beginners (like myself). The pattern for the pom pom hat in the picture is available here
Raglan jumper
Also by Bergere de France is this super cute raglan jumper. I did say I am very partial to stripes. I also love off-centre buttons. The pattern is available to download for free here
Romper suit
For warmer days, how gorgeous is this little romper suit? It's by Philipa Carneiro and available to download from her Ravelry page here https://www.ravelry.com/patterns/library/fofo-baleia
I love the vintage story book-inspired design and the cute whale motif created with moss stitch.
Simple first hat
I love this Barley knitted hat pattern by Tin Can Knits – part of their Simple Collection of 12 free patterns and perfect as a first knitting project.
Download the free Barley knitted hat pattern here. View the Simple Collection of free patterns here.
Dad and baby fair isle hats
Another gorgeous pattern by Tin Can Knits and free to download here
Pixie hat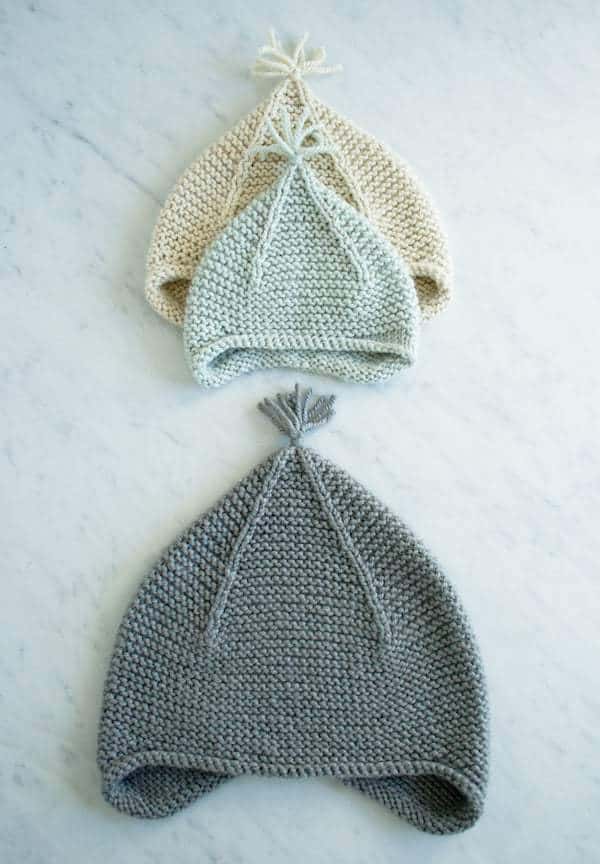 Pixie hats are really cosy for little ears, and are just the cutest aren't they? This lovely pattern is by Purl Soho and is available to download for free on Ravelry here 
Scallops hat
I love the simple pattern on this hat by Maria Carlander that has instructions for 0-6 months, 3-4 years and easily modified to suit adults and older children. Just lovely. Download the pattern for free here
Bear baby hat
If you're looking for impossibly cute, look no further. This Bearly Bonnet pattern by Pure Stitches is free to download on Ravelry here. It's a fast-knitted bonnet, simple to make and comes in four sizes from 3 to 18 months.
Troll hat
Whilst we're on the subject of impossibly cute hats, how about this Troll pattern by Gabriela Widmer-Hanke? Free to download here, it's in sizes baby, toddler and child.
Gilet and hat
Add a fluffy bunny to the photo… as if this wasn't cute enough already! I love the texture and chunky feel of this garter stitch design by Bergere de France, which is super easy to make. The pattern is free to download here.
Cardigan dress
Right, I think we need to move on from hats now, so how about this utterly beautiful cardigan dress? It's by Taiga Hilliard Designs and available to download for free here
Image credit: Lisa Doggett
Peanut warmer cardigan
This offset button-front cardigan by with stripes is a classic cardigan perfect for any baby. It's also by Taiga Hilliard Designs and is available to download for free here 
Racoon hooded cowl
I know I said we were done with hats, but then I found this. Strictly speaking it's more of a hood than a hat and either way it's too adorable to leave out. It's by Melody Rogers and available to download for free here
Knitted dress
How pretty is this dress pattern by Bergere de France? Sundress or pinafore depending on the weather, it's so versatile.  The pattern is free to download here
Other beautiful baby knitting patterns available to buy from Etsy
These next patterns aren't free, but I couldn't resist sharing them with you.
Full disclosure: I am an affiliate partner of Etsy UK, which means I may earn a small commission if a reader clicks through and makes a purchase. All my blog posts are independent and in no way influenced by any advertiser or commercial initiative. By clicking on the affiliate link, you accept that third-party cookies will be set.
Lacey romper suit
Pippyeve is a great place for finding simply beautiful knitwear patterns. My favourite for babies is this lacey romper suit.
BUY LACEY ROMPER SUIT PATTERN ON ETSY HERE
Another shop worth knowing about is Little Pickle Knits . Find beautiful patterns for hats, gloves, socks, tank tops and more.
BROWSE LITTLE PICKLE KNITS ON ETSY HERE
Royal baby heirloom christening shawl
I love the heirloom nature of this pattern. You can buy a quality paper copy of the original vintage magazine pattern. It's knitted in fine 3 ply yarn in a lace pattern and measures 112 X 112cm.
BUY THE HEIRLOOM SHAWL PATTERN ON ETSY HERE
Baby Blanket knitting kit
This soft and cosy blanket is knitted on chunky 15mm needles using simple seed stitch. The kit includes everything you need to complete the project – 4 100g balls of 100% merino wool cheeky chunky arn, a sewing needle, pattern, manual, eco-friendly recyclable 'Bag of Happy' tote bag and optional wooden knitting needles.
BUY BABY BLANKET KIT ON ETSY HERE
I did also find this beautiful super-simple free baby blanket pattern by Bergere de France too. It's knitted in garter stitch and is also simply beautiful and cosy. Download the free pattern here
INFORMATION
Other knitting-related features you might enjoy reading:
How to knit a bunny rabbit: free pattern & tutorial
Little Blue Bunny knitting pattern
How to Knit a Cat – knitting pattern and expert tips
Nuthatch bird knitting pattern
How to knit a lamb – free pattern and step by step tutorial
Where to buy Dot Pebbles patterns
All of Claire's other patterns are available to buy from Etsy by clicking here
Are you a maker or creative course provider? Like to list with us and benefit from joining our supportive community? We'd love to hear from you. Check out the packages we offer on our Join Us page 
---
A PIN TO SAVE TO PINTEREST
If you've enjoyed discovering these free baby knitting patterns, it would be great if you could share the love. All you have to do is hover over the image below until you see the Pinterest button appear. Then share it to your boards. Thank you! X