This month editor Nicky Sherwood heads to Penzance to learn how to do freehand machine embroidery with Poppy Treffry (who is listed in our directory here). Poppy is a textiles designer who lives and works in Cornwall
---
Studio in Cornwall
I've long been a fan of textile designer Poppy Treffry's work, so I was thrilled at the opportunity to learn her distinctive freehand machine embroidery technique on this fun and creative course in her Cornwall studio.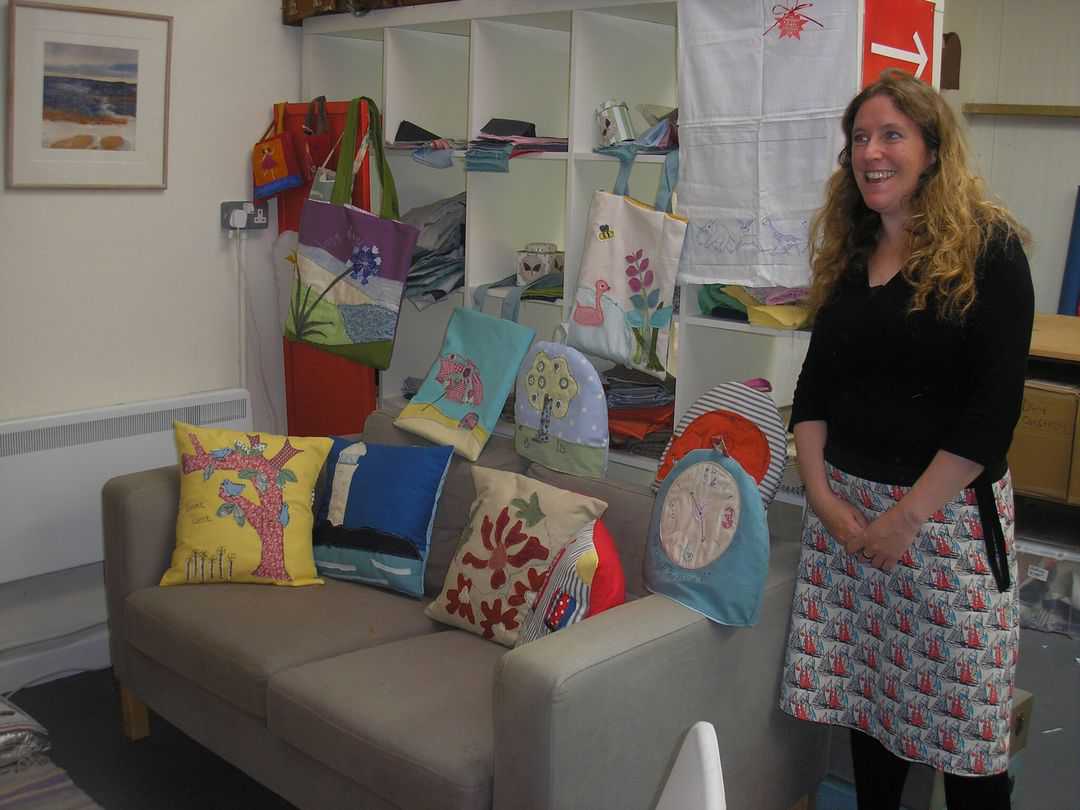 Last time I visited Poppy for our Meet The Maker interview she was based in an old merchant's warehouse in the fishing village of Newlyn, with a view of St Michael's Mount. Two years on and with her textile accessories business booming, she's moved down the road to a new larger unit in Penzance which allows plenty of space for her to run workshops alongside her thriving retail and wholesale business, and the shop she opened last year in St Ives.
Tea and homemade cake
On arrival at the studio, after the all-important tea and homemade cake, we got straight down to work. Poppy demonstrated the vintage sewing machines that we would be working with, before handing us a piece of fabric stretched across an embroidery hoop and encouraging us to have a go ourselves.
Freehand 'doodling'
It took a little time to get a feel for the movement and the tension required, and it was very odd at first being able to move the fabric from side to side, rather than simply feeding the fabric through from front to back. After a bit of freehand 'doodling', we started to add some pieces of applique fabric and played around with design ideas.
Next Poppy demonstrated how to do lettering, making it look effortless as she deftly traced the script. Then it was our turn and as I suspected it was a lot harder than it looked! I tried my best to move smoothly and confidently, but to no avail – the machine ran away with me and my letters jerked and jumped across the fabric. I now empathise with my five year old son learning to form his joined-up letters. This is definitely a technique which requires plenty of practice…
Time to choose fabrics and design
After a few trial runs, it was time to choose what we'd be making for our finished pieces, and I decided upon an applique cushion cover. On my drive down to Penzance that morning, I'd seen a hot air balloon drifting across the blue Cornish sky and decided that this would be my motif for the day. Poppy had rolls of new fabric as well as a lovely old leather suitcase full of vintage pieces. I carefully selected the fabrics I wanted to use for the bright balloons and laid them out, ready to be sewn into place.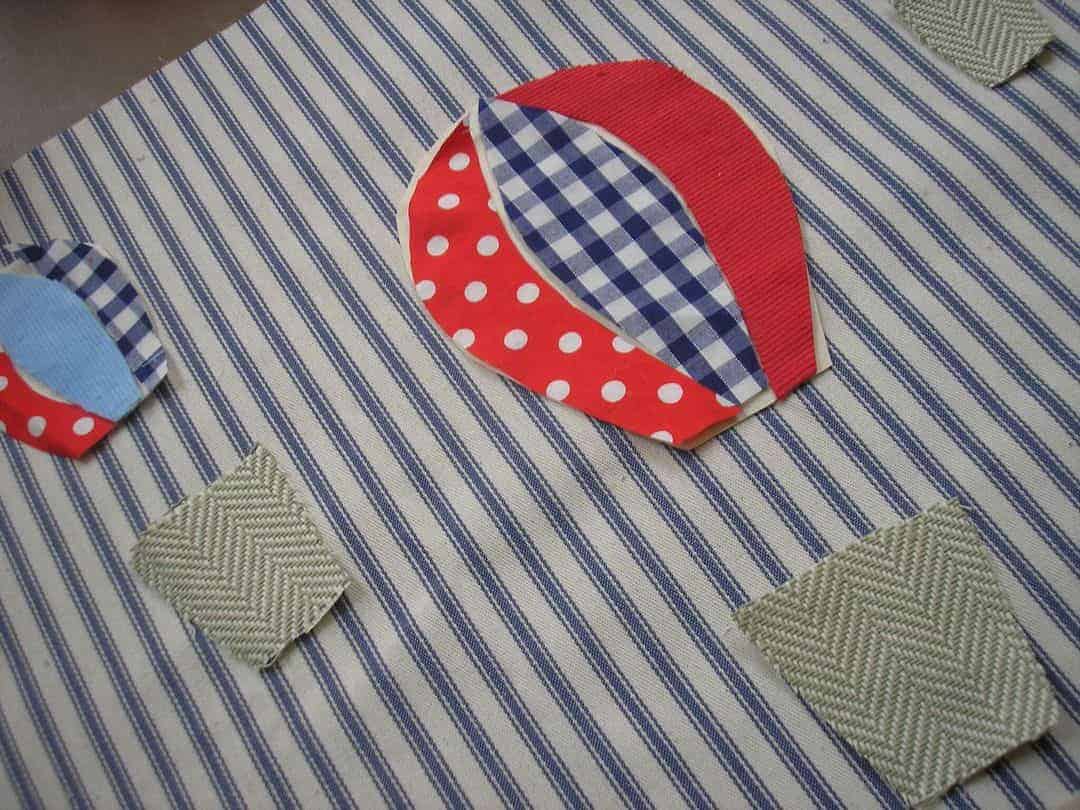 Time for lunch
Before long it was time for lunch and we headed down the road to Trereife House, a beautiful centuries-old private estate owned by the Le Grice family, where we were served a delicious lunch of red mullet followed by caramel meringue in the cosy private dining room – a real treat in itself.
Getting to grips with applique
After lunch it was straight back to work, and the first task was to start sewing on our applique pieces. I started a bit stiffly, but soon relaxed as I applied each piece of fabric and my design started to take shape.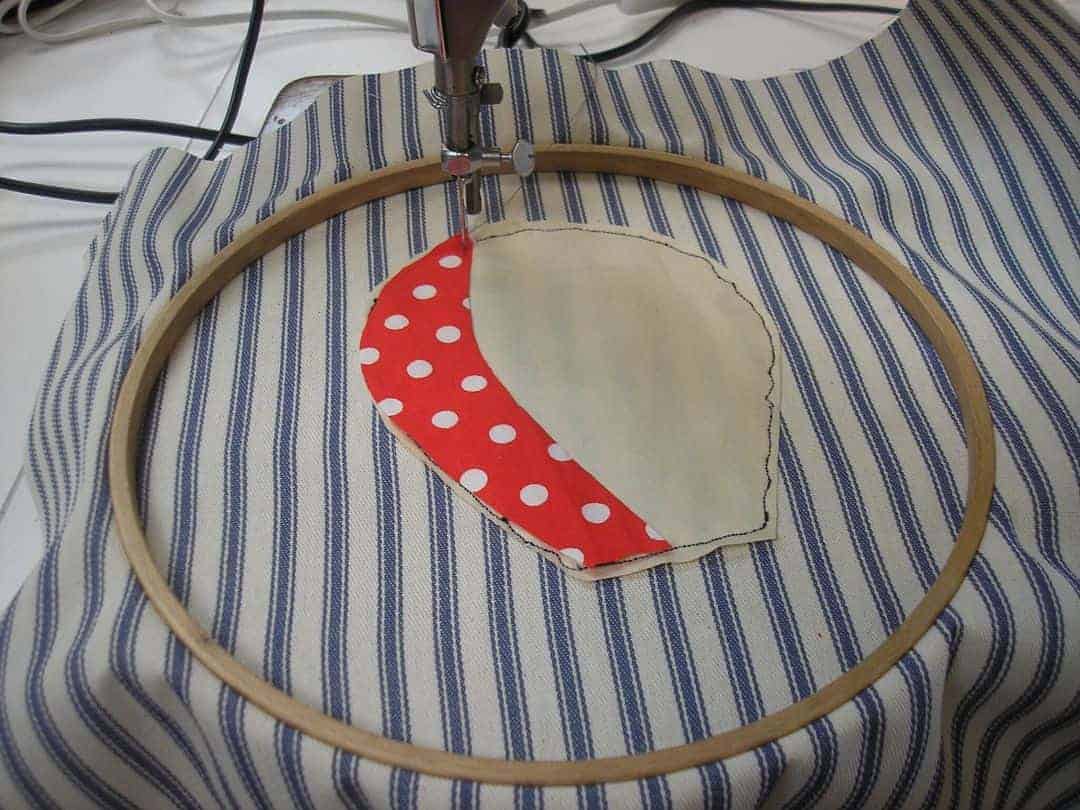 Adding the lettering
Then it was time to add the lettering. I dithered whether or not to do it as I was worried I might spoil all of the the work I'd already done. But after several practice runs, I held my breath and went for it. Fortunately it went better than my initial efforts so the practice must have paid off.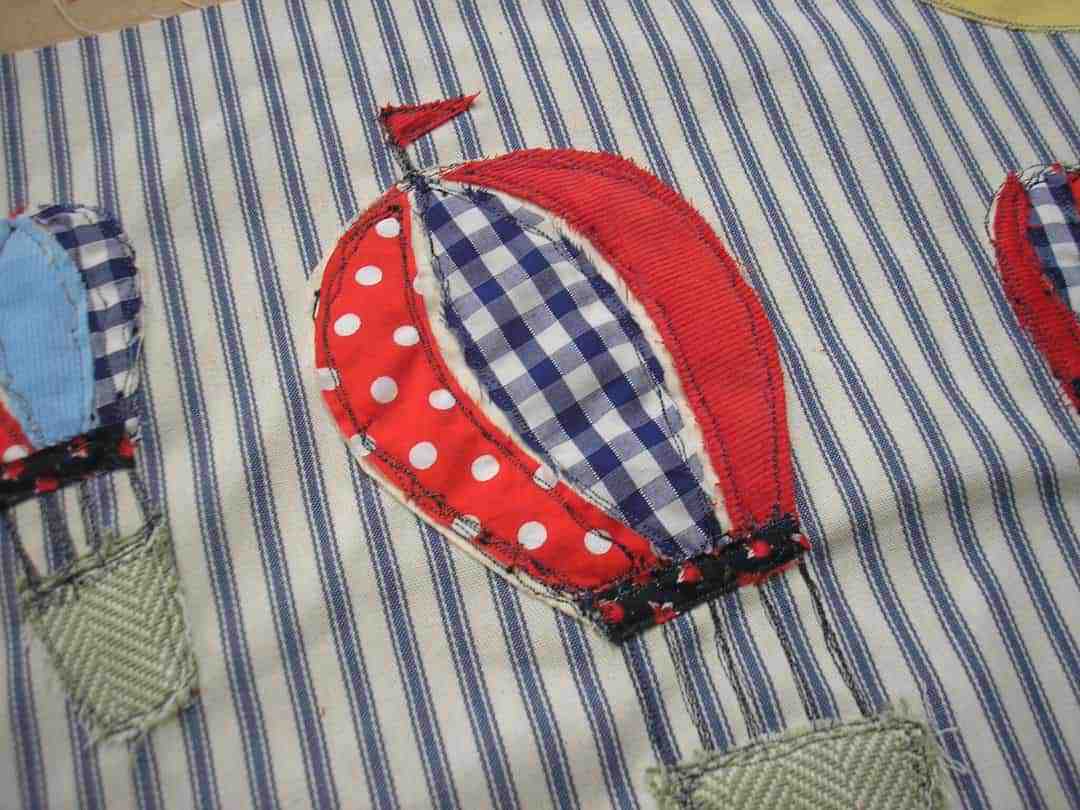 Once my design was complete, there was just enough time to sew on the back of my cushion cover and insert a pad, before adding my creation to the display of finished pieces on the sofa. My fellow students had created an array of beautiful bags, tea cosies and cushions and we proudly lined them up for a photo shoot.
The finished result!
The day passed in a flash with the old Singers whirring away as we happily worked. Poppy was always on hand, cheerfully buzzing from machine to machine, offering plenty of help and ideas.
Poppy's signature technique of using the sewing machine to 'draw' as if you were using a pencil takes a practice. Once mastered, though, it is immensely satisfying and opens up a whole host of creative possibilities.
This is a fantastic day out for anyone interested in learning an unusual and very creative sewing technique. Best of all, you don't need to be an experienced seamstress to have a go. Poppy is undeniably the go-to expert when it comes to freehand machine embroidery.
INFORMATION
---
Get all the info you need to connect with Poppy Treffry from the listing >>
Feeling inspired? Take a look at the Creative Workshops category in our Directory, where you'll find a variety of inspiring courses, from art and crafts to fashion and beauty, interiors, cooking and flower & gardening.
If you run a creative course that you think our readers would be interested in reading about, do get in touch by emailing
Watch the video…
See Poppy in action and hear what students say about this inspiring workshop.
If you don't have a sewing machine or prefer the idea of hand-stitching, I also love these floral embroidery kits available to buy on Etsy:
Jam Jar Flowers embroidery kit available to buy here
I also adore this beautiful Blue Tit embroidery kit – don't you? It's available to buy here >>
---
A pin to share to Pinterest
This article contains affiliate links, which means we may earn a small commission if a reader clicks through and makes a purchase. All our blog posts are independent and in no way influenced by any advertiser or commercial initiative. By clicking on an affiliate link, you accept that third-party cookies will be set.