Modern Rustic Kitchen ideas
I am obsessing right now about paint colours and kitchen ideas. I'm planning a remodel of my Hampshire country cottage – looking for modern rustic kitchen ideas – and feeling quite excited.
I spoke to my friend Alison before I set off too far down the kitchen planning path. She's the best person I know for helping with paint colours and interior design. She has renovated four beautiful houses in the time it's taken me to repair my back door. It still makes me snort with laughter to remember the time I presented her with my painstakingly compiled potential fabric swatches for a sofa I was recovering. Without so much as a bye or leave, she jettisoned my number one choice over her shoulder, saying 'definitely not this one. Much too pale. Stupid idea with two children and a dog to contend with.' I didn't listen and had the sofa covered in palest of pale neutral velvets… Turned out to be a very stupid idea indeed and I was choosing (practical) fabrics again far too soon.
This time I asked her what she'd do with my cottage and what her kitchen ideas would be. She thought for a moment or two and then lobbed her latest bombshell: Mushroomy taupe for the exterior windows and doors as well as selected interior windows and doors. All to contrast with a soft, natural white. What's more, she went on to suggest, it's high time I ditch the dark Farrow & Ball Railings colour I currently have on several walls.
I must admit I am really tiring of it and hankering after something much fresher and lighter. But I have never thought of myself as a 'taupey mushroom' sort of person, so I was increasingly sceptical as she went on to suggest that I should also paint new shaker kitchen units the same mushroomy colour – as well as the wooden bifold doors I'm hankering after. Skirting boards and some windows to stay eggshell soft white, particularly where the light's not good.
So there it was. Not exactly what I'd been hoping for – or even really what I wanted to hear, to be honest. It all sounded a little subtle, dare I say drab…? But I decided to try and take her opinion into account at least for a moment or two, before dismissing it.
Rustic Kitchen ideas
I headed to my beloved Pinterest and typed in many, many variations around mushroom/taupe rustic kitchen ideas… and was met with a deluge of drab and underwhelming images.
Then I found this image of the Kew Devol kitchen in their 'Mushroom' colour and that changed everything.
Suddenly I was totally sold on the idea of mushroomy taupe contrasted with soft white. Turns out Alison was right and this colour combination does feel like exactly what I was hankering after, without really knowing it. I set off down a lengthy path to discover what this paint colour is.
Turns out that Devol don't sell the paints they use and it's not easy to find matches for them. But I came across a thread on a forum where someone from Devol had commented that a perfect match for their Mushroom shade is… Oak Apple by Fired Earth. I was finally getting somewhere! I've ordered a sample and will soon be liberally slapping it about the place to see how it works in different lights etc in my own cottage.
Milky white paint is another possibility for my kitchen ideas folder…. Love how quirky vintage touches such as the old shop scales and chandelier add character to this Wymeswold kitchen.
Other rustic kitchen ideas I loved on the Devol site include this Cotes Mill Shaker kitchen. I really like the combination of rustic white washed walls, old wooden beams and the simple shaker units.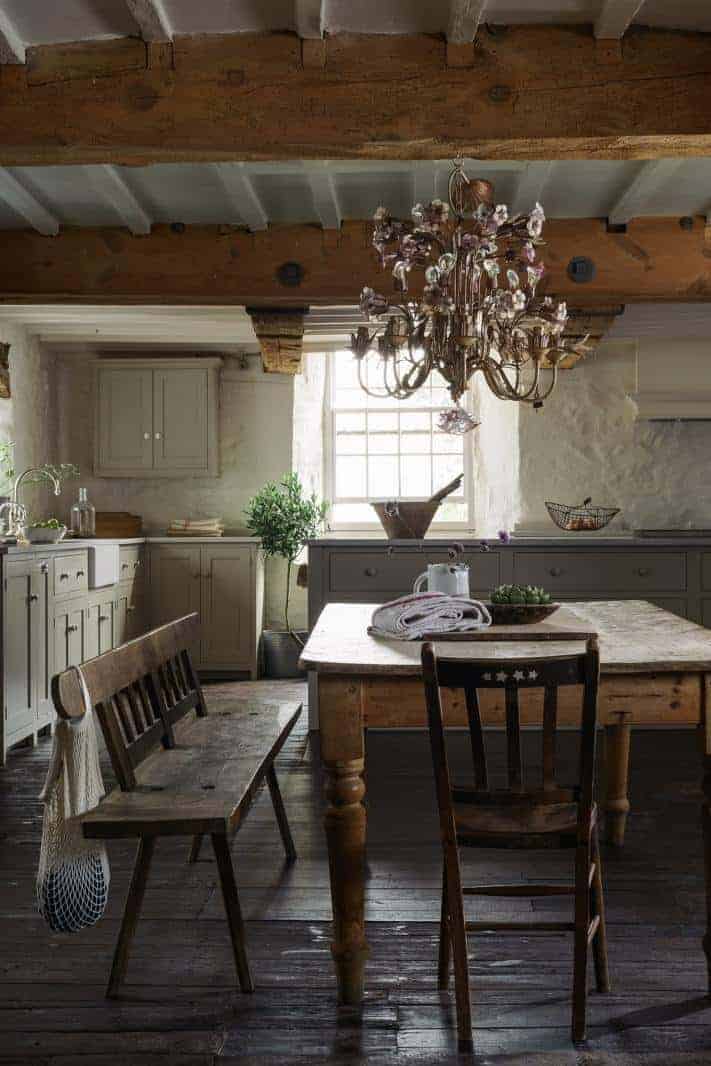 And what about this stunning wall of tall built-in cupboards with matching ladder? Feels like a modern take on a stately home kitchen. It's from the Strawberry Hill kitchen.
What's interesting is that when I first started putting together my ideas for the kitchen, all the images I pinned for inspiration were for darker kitchens like these: the Bloomsbury and Cotes Shaker Utility Room both variations of The Real Shaker Kitchen by Devol.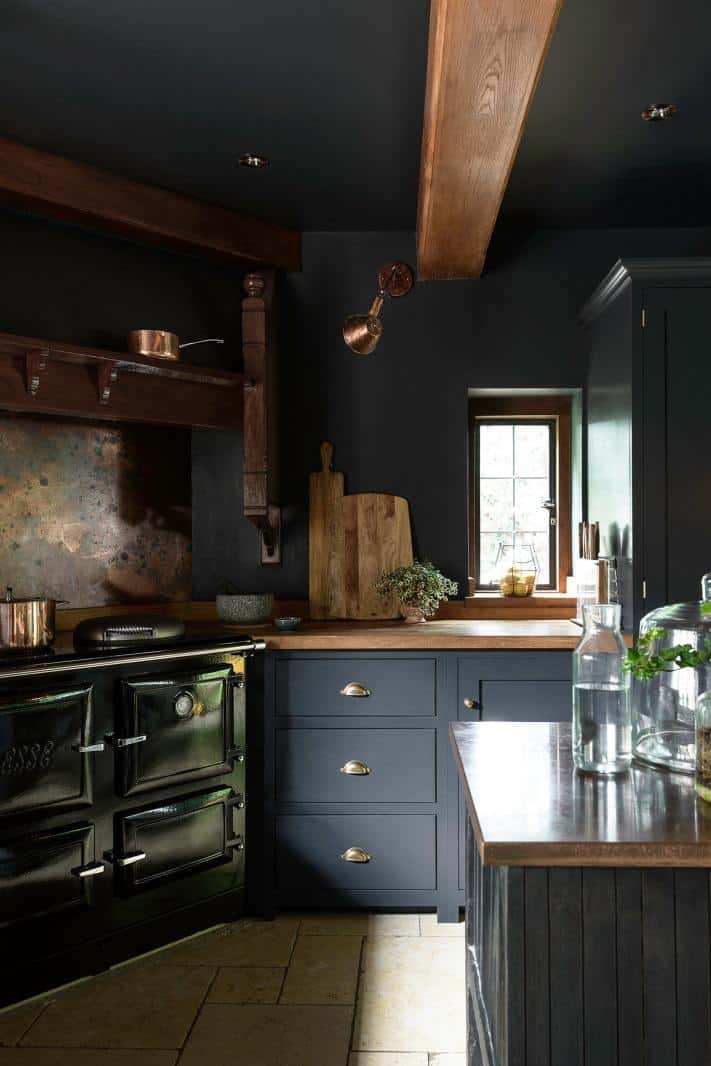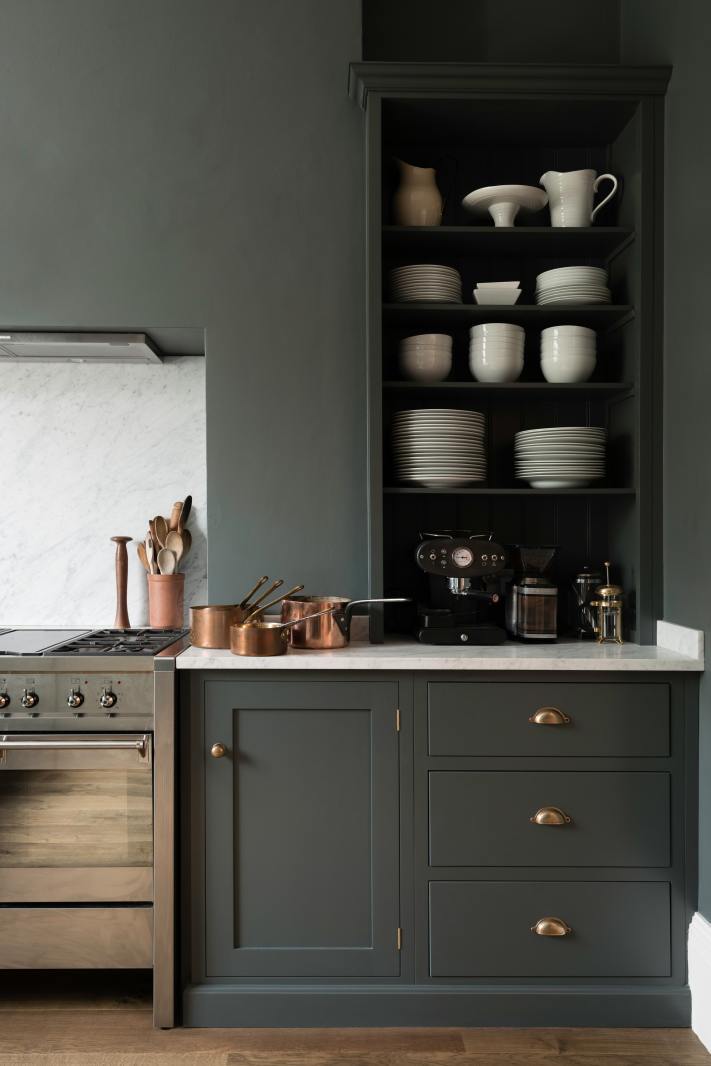 And what about this idea of painting a kitchen cupboard a very dark colour outside with a paler shade inside?
It looks to be Railings (maybe I do still love that colour?!) by Farrow & Ball. Not sure what the pale blue is but am going to ask the lovely folk at Devol and see if it's a colour I can share with you.
Farrow & Ball has a range of paint colours perfect for creating a modern rustic kitchen.
I love this quirky and charming chalet kitchen painted in All White and Cornforth White Estate eggshell. There's nothing bluey or brilliant about these white shades which is exactly what you want for creating a modern rustic feel.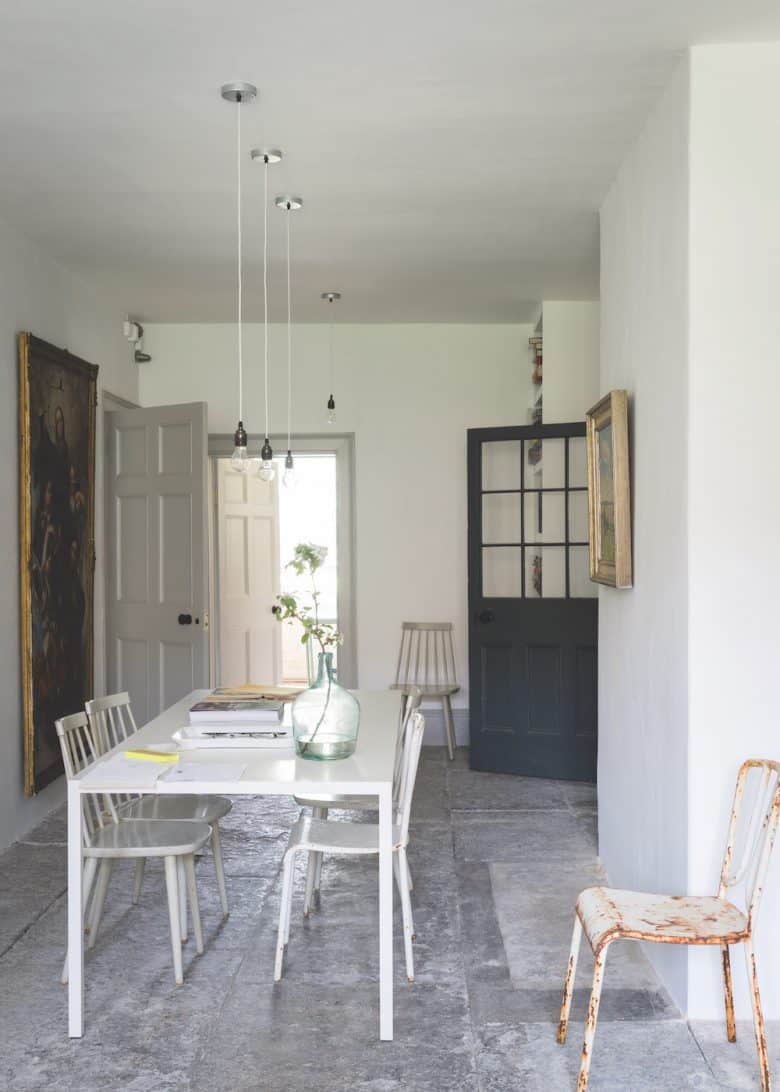 The walls in this beautiful dining room are painted in Ammonite (a favourite with interior designers), and I love the idea of painting doors in different colours: the paler ones are Purbeck Stone and the dark grey door is Down Pipe. Love how the colours work together with the rustic stone floor and vintage finds.
To create a strong, individual look, what about this Bancha green emulsion? Love how it works in contrast with white tile and vintage, rustic finds.
And, whilst we're on the subject of green kitchens, how about this dark beauty in Duck Green? Love how weathered wood and clean white contrasts.
Talking of contrasts, I just adore the way School House White creates a pale frame leading the eye through to the dark and dramatic loveliness of Railings.
If you're looking for ideas for painting your woodwork to create a modern rustic feel, what about Drop Cloth? I am slightly obsessed with this colour – shown here with Shadow White on the walls.
I never thought I'd entertain the idea of a pink kitchen, but this combination of Setting Plaster on the cupboards and School House White does really appeal.
Perfect sage green anyone? Treron is probably it – shown here with fresh white and marble. I do wish someone would water that plant, however…!
Unique Homestays
Unique Homestays is a great resource for finding interior inspiration as well as the perfect holiday retreat.
I've picked out some modern rustic kitchen ideas from a few of their properties, but there are loads more…
From The Creamery in Appledore, Devon:
A restrained palette of greys, wood, metal and stone creates a natural, stylish feel. Love the textural individuality of the distressed kitchen units, reclaimed metal zinc food safe as kitchen island and open shelves with vintage finds. Looks like a reclaimed wood splashback too – although I'm thinking tiles in this effect might be more practical against grease spots etc…
And how beautiful is this kitchen from heavenly Alba Beach House in St Ives?
I love how mist-matched reclaimed wood has been used to create the cupboard doors, with textural white tiles, open shelves with reclaimed wood, eclectic vintage and handmade ceramics, cookware and accessories and stunning vintage lighting. You can book to stay at this coastal haven with a balcony overhanging the sands of Porthmeor Beach on Unique Homestays.
I also found some inspiration over on The White Company blog. Love these grey open shelves for instance.
Mixed with white cookware, white ceramics and rustic wood, these shelves look fab don't they? They'd be so easy and cheap to do yourself.
To buy similar cookware, ceramics and accessories from The White Company, check out their Kitchen Accessories department here
I've picked out a couple of my own personal favourites:
Love the Portobello 12 piece dinner set – perfect for stacking on open shelves. It's the slightly uneven edges to this stoneware that makes it for me.
The white Le Creuset round casserole dish is the sort of cookware you'll have a lifetime. I still have the ancient orange one my mum gave me – and it makes THE BEST stews. A white one will look good enough to have out on display.
And I absolutely adore these willow and glass oven dishes. Perfect for adding a modern rustic touch to simple white linen and ceramic table settings.
So, it occurs to me as I look at these latest finds from The White Company, that I am definitely moving away from the dark dark side right now. Back out into the light. Albeit light with subtle, mushroomy taupe, undertones. Not drab at all. Subtle, soft and easy to live with is how I'm feeling it. I'll keep you posted! X
INFORMATION
---
This article contains affiliate links, which means we may earn a small commission if a reader clicks through and makes a purchase. All our blog posts are independent and in no way influenced by any advertiser or commercial initiative. By clicking on an affiliate link, you accept that third-party cookies will be set.
Find all the kitchens featured above – and many more – on the Devol website
Are you a maker, grower or creative course provider? Like to list with us and benefit from joining our supportive community? We'd love to hear from you. Check out the packages we offer on our Join Us page and get in touch…
---
A PIN TO SAVE TO PINTEREST
If you've enjoyed discovering these rustic kitchen ideas, it would be great if you could share the love. All you have to do is hover over the image below until you see the Pinterest button appear. Then share it to your boards. Thank you! X