How to support and help fund the Craftivist Collective Handbook
When I first met Sarah Corbett, founder of the Craftivist Collective back in 2018, I left our meeting feeling really inspired and totally convinced about the value of gentle protest in general and Craftivism in particular. (You can read the full blog post Meet Sarah Corbett here).
Now, more than ever, it feels important to help make a world where everyone is seen, heard and valued. It sometimes seems like the only way to create change is to stand up and fight for the world we want to see. To march under giant banners and shout to have our voices heard.
The power of quiet and slow
But if there's a time for loud and fast, there's also a time for quiet and slow. Especially if you're an introverted sort of person who feels very deeply but struggles to know how to make your voice heard. How to make a difference amid all the noise and anger.
That's where Craftivism comes in. Sarah's hope is that anyone can use her Gentle Protest approach to Craftivism in a way that offers solutions, provokes thought and inspires action.
So, when Sarah asked for my help to promote her latest project, I didn't hesitate. Sarah is partnering with Unbound, the crowdfunding publishers to create the Craftivist Collective Handbook (you can pledge your support here).
It will be a beautiful hardback with 20 gentle protest Craftivism projects and tools to help readers become positive and effective change makers.
'Your community, like many of us, might not know how they can use their passion and creativity strategically for tangible, transformational change,' explained Sarah when she got in touch. 'I believe my unique Gentle Protest methodology using kindness, respect and beauty will really inspire and empower readers to want to be part of making this book a reality to help themselves as well as help empower others around the world.'
I am 100% behind her and hope that as a community we can really help make this worthwhile project a reality.
There are also some great rewards in return for your support from £10 for an ebook with your name in the back of the book. Pledge £30 and receive a special first edition hardback of the book, again with your name in the back as well as the ebook. There are also one-to-ones, bespoke packs, read with a friend and launch party packages to choose from.
Support the Craftivist Collective handbook
So, if you'd like to get involved, you can support the project at Unbound here. You can also help spread the word on social media using the hashtag #CraftivistHandbook.
I have absolutely no doubt that those of us in the crafty, creative communities around the world have plenty to contribute when it comes to making a better world. Wherever and whoever we are. Stitching a message can be more powerful than shouting it at someone who's not listening. Maybe Craftivism is what you've been looking for?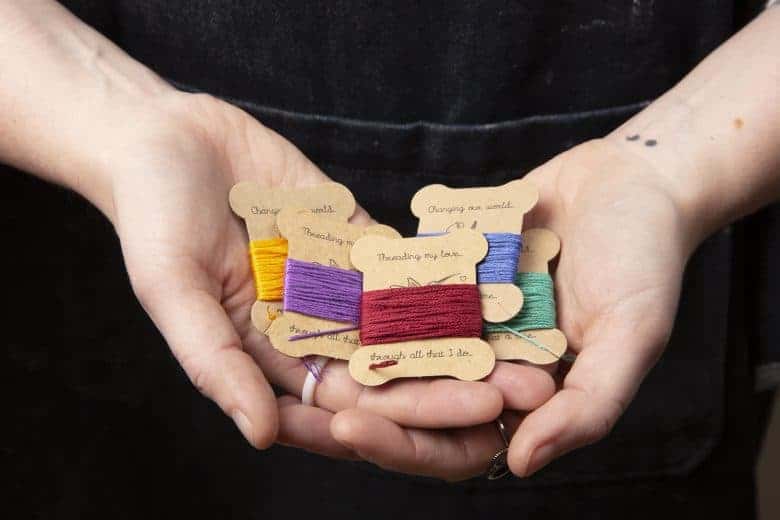 As Jamie Chalmers, founder of MrXStitch magazine puts it:
'Craft can provide a valuable method of self-reflection and meditation. In an age where our views are polarised, I've experienced personally how the Craftivist Collective allows people the gentle space to engage in their own views while they create something meaningful, and this book is a vital guide to understanding that process.'
INFORMATION
---
Support the Craftivist Collective Handbook on Unbound here
Are you a maker or creative course provider? Like to benefit from joining our supportive community? We'd love to hear from you. Check out the packages we offer on our Join Us page and get more details from our Information pack here
---
A PIN TO SAVE TO PINTEREST