I first caught sight of the cover artwork for Hortense and the Shadow
on social media a few weeks ago. There was something about it that made me want to look more carefully. I remember thinking how much I liked the feel of the book's illustrations. The colours, the atmosphere.. the combination really grabbed my attention. I posted a nice comment and thought no more about it. So I was delighted when the publicity department of the book's publishers contacted me to ask if I might like to review it. I didn't have to think twice. I really wanted to see inside the cover, to read the story and to find out more about the sisters who created it- Natalia and Lauren O'Hara.
A deliciously dark, feminist fairytale
The book arrived beautifully packaged inside wrapping paper taken from the illustrations of graphic grey/black wintry tree trunks from the book. Tied up with string and a lovely gift tag that read 'Step into Hortense's world in this deliciously dark, feminist fairytale.'
The book itself is an object of real beauty. I loved the gold foil writing on the cover. I loved the character of Hortense. I loved the colour palette and I loved the hidden 'baddies' peeking out from behind statues, trees, cupboards… Had I owned this book as a little girl, I would have read it over and over, looking for hidden details. I would have read it to my own children too, and loved hunting for secret hidden bandits with them too.
Hortense – a new generation fairytale heroine
It tells the story of Hortense – a small girl who lives in a big wood. She is kind and brave and clever. But one thing makes her unhappy. Hortense hates her shadow and decides it must go. Hortense and the Shadow is a deliciously dark fairy tale and draws on classic picture books and fables sisters Natalia and Lauren loved as children, as well as the stories told by their Polish grandmother. It's also the story of a female character whose happy ending is not about being pretty and perfect enough to bag herself a prince so she can live happily ever after, but who finds the happiness of self-acceptance.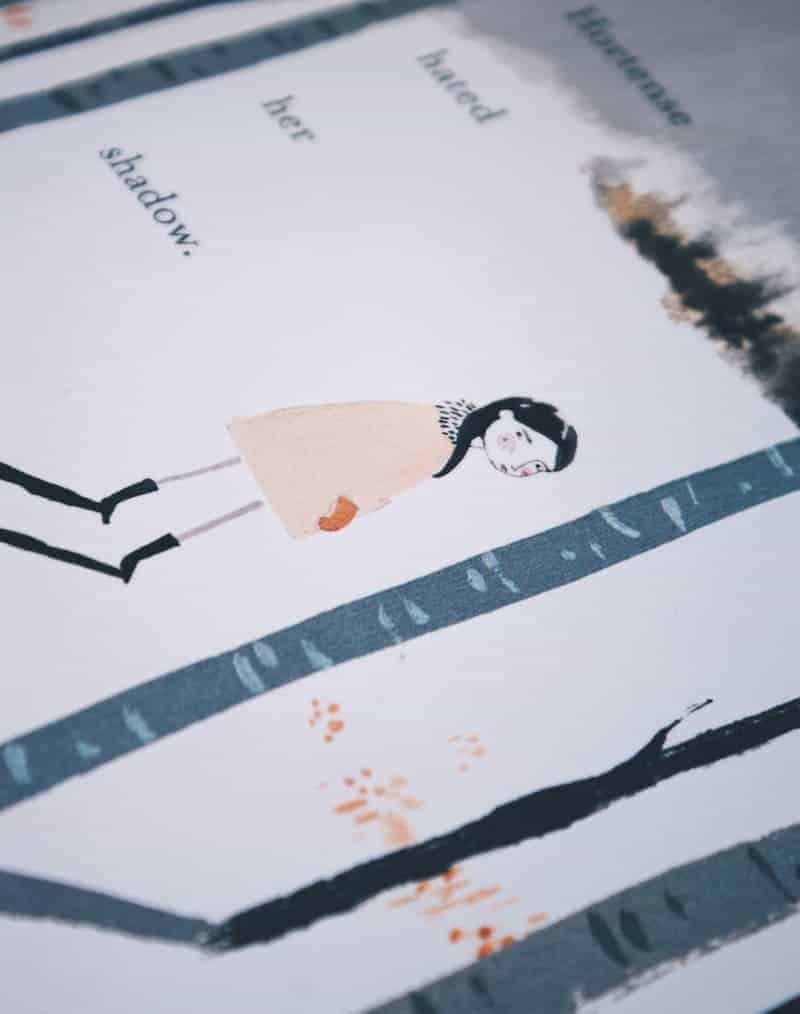 Lauren and Natalia's story
This is a highly original picture book from a hugely talented pair, with an important story about embracing all sides of yourself. The sisters grew up in the north of England with an English father and an Eastern European mother. Their love of stories dates from their childhood, when Natalia, who is dyslexic struggled at school and finally learnt to read by reading aloud to her younger sister. As an adult, Natalia read English at Oxford and Cambridge and went on to work as a travel writer and script developer. Lauren studied illustration of Fine Arts at Kingston, and designs window displays for clients including Selfridges, Topshop and Pandora.
I loved the sisters' story and wanted to know more, so I put together a list of my questions which they kindly answered. I hope you agree that their answers really give a wonderful insight into the inspiration and creative process behind this memorable book.
What was your favourite fairy story as little girls?
Lauren: Our favourite fairytale as small children was Hans Christian Andersen's The Snow Queen. We had the Naomi Lewis/ Erol le Caine edition, which is lyrical and enchanting and unforgettable.
Natalia: On Christmas Eve, our Polish grandma would settle on the sofa and start telling stories. All the children would drop on and around her lap like a flock of geese. She would tell us these incredible stories about her life as a small girl in 1920s Warsaw–costume balls, skating on the lake, summer in the woods. It was a very cosy feeling, listening to her voice while the fire crackled and frost gathered on the windows.
How do you like to work?
Natalia: The story comes first, and the words and pictures follow hand in hand. The way we work is, I come to Lauren with a plan for what each page needs to tell the reader about the characters and their world, and then we work out who can communicate that information best –Lauren in pictures, or me with words
Lauren: We liked to work in bookshops and cafes when we were planning the book. But once we are painting and writing, Natalia is in her flat and I'm in my studio. So we are apart, but mostly on the phone talking to each other.
What sparked the idea to create a book together?
Lauren: Stories were always part of our friendship, even as tiny children. We loved being read to, but our parents would grow tired of reading before we were tired of listening, so as soon as Natalia could read she started reading aloud to me.
Natalia: When we were very small we had an ambition to make children's books together, whichI'd write and Lauren would illustrate. But we also had ambitions to run a zoo, and to live in a giant greenhouse, and to own a monkey. It took us a couple of decades to remember the idea of writing a book together, and decide to try and do it.
I love all the hiding, slightly unsettling and unexplained figures – did you like to find hidden details in books when you were children?
Lauren: Thank you! As children, we loved finding things hidden in books – whether in the pictures or the words.
Natalia: We loved classic fairytales when we were small–Andersen and Perrault and Afanasyev and the Grimms. Those stories are full of fear and failure and sadness as well as courage and success and delight. We think good stories are like good people, they contain darkness as well as light.
How would you like children to respond to this book?
Natalia: Most of all we'd like children to be carried away by the story and to feel something. But if they also find themselves thinking about what being scared means, or who takes care of us, or what it means to be good, that would be even better.
How do you think you would have responded to this book as children yourselves?
Natalia: I hope that if we'd read this book as children we'd have loved it because we put lots of things in that we really enjoyed as children – snow, frilly nighties, friendly animals, bandits…
Why do you think we have, to some degree, stopped telling our children the deliciously dark fairy tales and fables that many of us grew up with?
Lauren: Children never lose their taste for dark, strange stories, but sometimes adults get nervous about telling them. It makes sense to want to protect small children from feeling frightened. But I think grownups sometimes forget how comforting a scary story can be when you're small. Cuddled up in bed with a grownup you love, you can dip your big toe into fear, knowing that everything is going to be fine.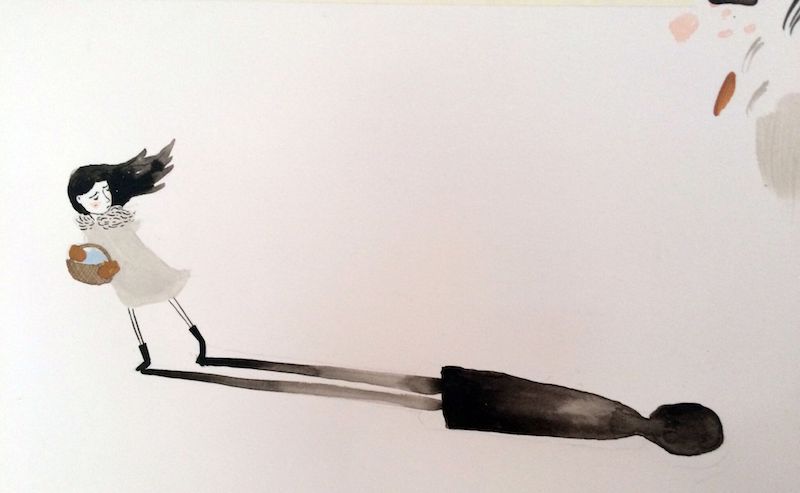 Can you explain a little about why you feel this is a feminist fairytale?
Natalia: When we were little, like lots of little girls, we wanted to be just like the princesses in fairy tales. But we knew we'd never measure up because when did Snow White pick at a scab, or tear her library book, or yell at her sister? We wanted to make a fairytale with a heroine who isn't perfect, and makes mistakes, and learns to love herself for who she is.
Can you expand a little on the underlying message about embracing all sides of yourself?
Natalia: We wouldn't want to tell our small readers what Hortense and the Shadow is about, because children are the cleverest people in the world. They find meanings that the most imaginative authors would never be able to dream up. But it has crossed our minds that if a child read our story and felt a little less anxious about how she or he seems, and a little more confident about who she or he is, that would be really wonderful.
The book is released on 5th October, published by Puffin, £10.99 hardback and is available from all good bookshops as well as Amazon.
How to win a signed copy
We have three signed copies of this beautiful book to give away. All you have to do is choose whether you'd prefer to enter via Instagram, Twitter or Facebook (we have one book to give away on each platform) and follow the simple instructions to enter. We'll be selecting the winners at the end of November. Good luck!
Where to buy
Hortense and the Shadow
is available to buy on Amazon and also from good local book shops