If, like me, you're looking for sustainable and special handmade Christmas gift ideas for women, I have some great ideas for you. I've spent a very happy few hours looking through the ethical British makers listed in our directory and picking out my own particular favourites. I love Christmas but I do hate the waste and over-consumption that often go hand in hand with this time of year. My own plan is to buy carefully chosen, quality items that are ethically made and that I hope will be loved (and used) for ages. Hope you find some ideas you'd like to give – and receive – too… X
handmade Christmas gift ideas for women
It's the colours and the special yarn that make this for me. Inspired by the beautiful countryside at 'The Sulham Estate' near to Jules' studio in Berkshire, the 'Horizon Wrap' will keep you warm and cosy in the winter months but is also a great cover up for summer evenings.
The generous width and length of this scarf allows you to wrap it in a loop around the neck or wear over the shoulders. It's made from lambswool and angora sourced from a mill in West Yorkshire and is knitted in Jules' garden studio on a hand flat standard gauge knitting machine and is gently felted and finished by hand. It's the stripes and splash of brightest red that makes this perfect for Christmas isn't it?
This beauty happens to be one of my favourite books of all time – Emma by Jane Austen. It's a 1946 illustrated edition of the novel re covered in a vintage floral fabric. I met Emma (not the heroine of the book but the founder of Forget me Not Originals at a Christmas gift fair and still have the beautiful Bluebells Liberty lawn-covered book I bought from her.
We chatted for ages as we share a passion for vintage fabrics and also classic old books. I can't think of a nicer gift to give someone than a special old book, beautifully rebound and given a whole new lease of life in this way. Also worth knowing that Emma also makes vintage fabric covered notebooks too.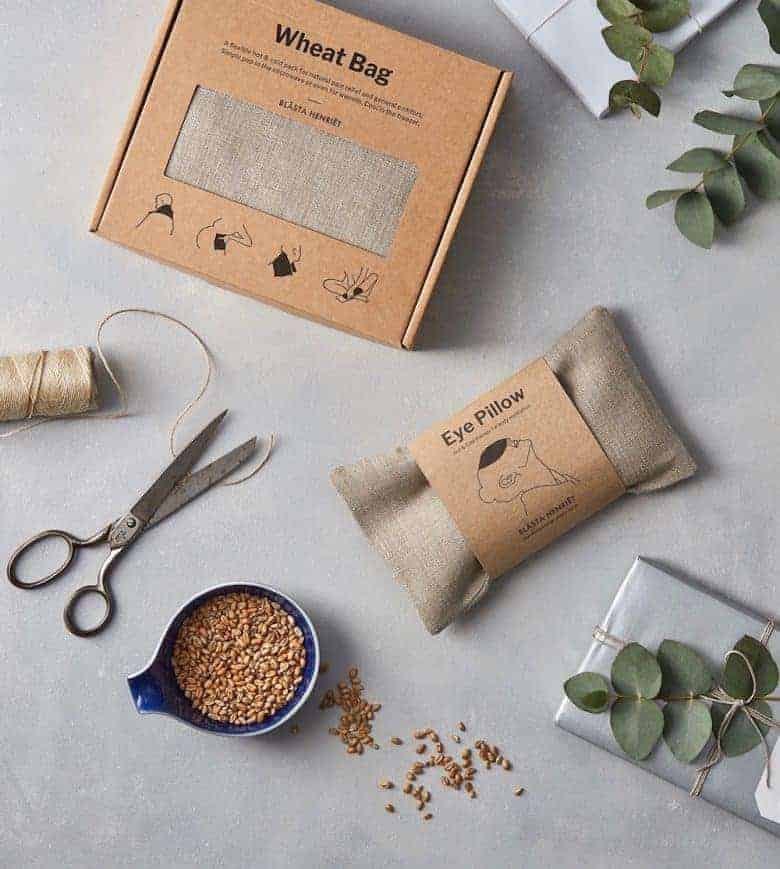 I am a big fan of wheat bags for easing back ache and these linen ones by Blästa Henriët are the nicest I've seen. Named 'Vetekudde' in Swedish, the linen grain-filled heat pack it is a household item, valued for its multifunctional qualities and ability to provide natural pain relief. Founder of the business, Lo Blästa Henriët has a background in textile design and print and grew up in Sweden, so the two have come together beautifully. Now living in London, Lo designs and makes a simply beautiful collection of wheat bags and eye pillows. I may be over mentioning my bad back here, but this is a gift that would be very, very welcome. Not to mention used for many years.
Lo is careful about the sustainability of her business, using only raw or natural materials, and all certified free from chemicals and harmful dyes. The beautiful European linen flax she uses requires no irrigation or pesticides and very little water to grow. The wheat that fills the bags is grown and harvested in the UK. All printing is done with eco-friendly inks and packaging is FSC certified and 100% recyclable.
These natural bath salts are handmade in London by Botanique Workshop and are infused with fig, lavender, rosemary and eucalyptus oils as well as dried rose and lavender petals . Add a sprinkling to your bath for a relaxing and indulgent bathing ritual. They are just one of the wonderful gift ideas in the Foundland shop – always worth a browse when looking for interesting gift ideas. Whilst browsing I also spotted this rather lovely flower press, which would make a great gift for anyone who loves their garden (like me).
As well as offering a simply beautiful collection of homeware and gifts, Aerende is also a social enterprise, with a mission to improve the lives of people in the UK facing social challenges. Founder of the business, Emily Mathieson, a former travel editor for The Guardian, has created something very special and definitely worth knowing about. Her mission is simple: to source and design unique, limited-edition products that will bring joy, beauty and utility to her customers as well as a sense of purpose, pride and revenue to her makers.
Find ethically made and natural handmade candles, hotties, slippers and more and feel good about supporting this worthwhile business.
I love these jackets hand made from repurposed kantha quilts by Lisa Reddings of Indigowares. All her products are artisan made, dyed using sustainable methods and are wonderfully individual. Love this blue and white pattern don't you?
I have hankered after this teapot for a couple of years now because of it's perfect simplicity. I also do drink a lot of tea and pouring it from such an object of beauty every day would give me so much pleasure. If you have any passionate tea drinkers to buy for, this could well be the perfect gift.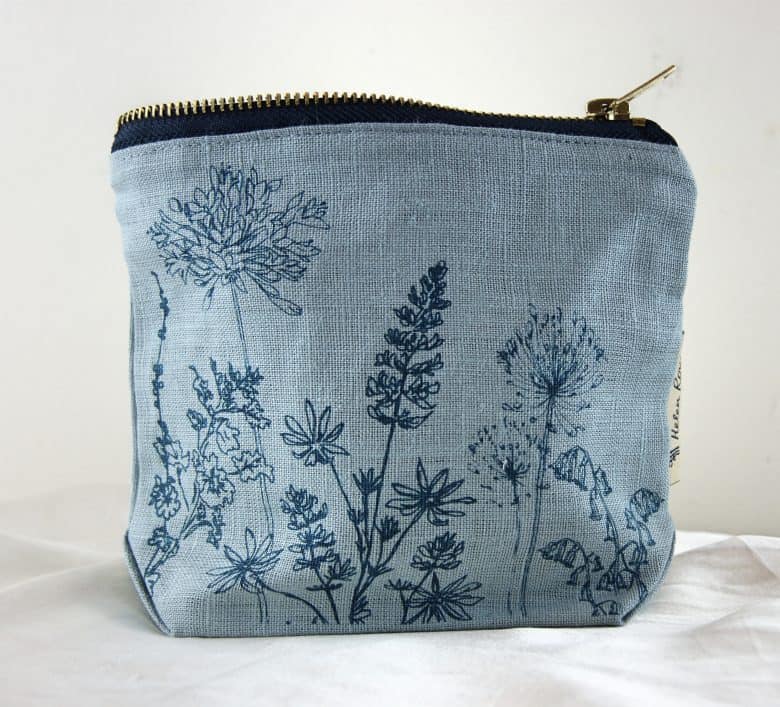 Other ideas I found on La Juniper include these linen make-up bags by Helen Round. There's a duck egg and deep delphinium blue, hand made and printed for La Juniper in Cornwall. Would be lovely filled with one or two well-chosen natural beauty products. I'm thinking because of the blue linen my latest new loves from OV naturals would work well because they come in blue glass too.
My blog post Ethical beauty made in Britain with care has lots more ideas and inspiration. Find skincare and ethical beauty gifts made in the UK with care for the environment by hand-picked makers in our directory.
I love this eco-friendly travel cleansing kit that is also great for everyday use. The hand-printed linen pouch contains six supersoft double thickness reusable bamboo face wipes and a bamboo face cloth. A sustainable alternative to wipes and cotton wool pads that can be harmful to our environment.
Handmade by jewellery maker Bethan Jarivs, these delicate and unusual earrings are cast in copper from real acorns collected from the beautiful Llyn Peninsula in Wales. Also available in sterling silver and come with a natural kraft recycled card gift box.
Whilst we're on the subject of jewellery, I do love Oorla Jewellery – handcrafted by Oorla in her Surrey studio using silver, gold and gemstones. Wearable and very lovely. I've picked out these Allium earrings because I really like how the two metals work together and love the organic, textural shape and the flower inspiration.
This is the perfect gift for anyone you know who loves to craft or make with their hands. Originally made for ceramicists whose hands dry out while working, this balm contains shea butter to moisturise and protect while calendula acts as an anti-inflammatory for dry, chapped skin. When you open the jar, it's all about the deep, comforting scent of bergamot, vetiver and patchouli essential oils. Loved by everyone who tries it.
I love this bone china mug hand decorated with Charlotte Macey's Scandi style reindeer and fir tree design. There's a small fir tree inside too – just lovely for sipping festive tea or hot chocolate.
Charlotte has been hand making beautiful homeware and accessories in her Cotswold studio since 2010 and you're sure to find lots of special gift ideas in her online shop.
My other favourites are this reindeer Fairisle zip up make up bag
and bundle of Robins Lavender pouches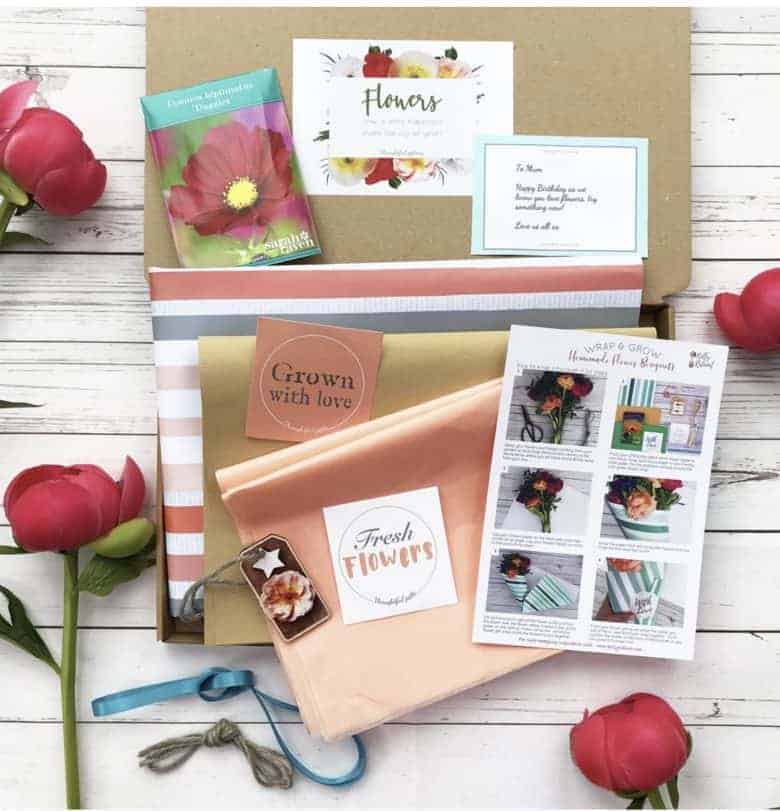 This is such a lovely gift idea for anyone who is passionate about their garden or thinking about growing flowers to cut. The box includes a packet of Cosmos Bipinnatus Dazzler seeds by Sarah Raven as well as enough materials to wrap at least six arrangements. Gift wrap, tissue paper, stickers, recycled gift wrap, ribbons, a metre of twine, wooden keepsake gift tag and a simple guide to flower wrapping are all included. An eco-friendly, creative and thoughtful gift that I for one would love to receive.
All materials are all ethically produced in Britain and help support British Flower Week.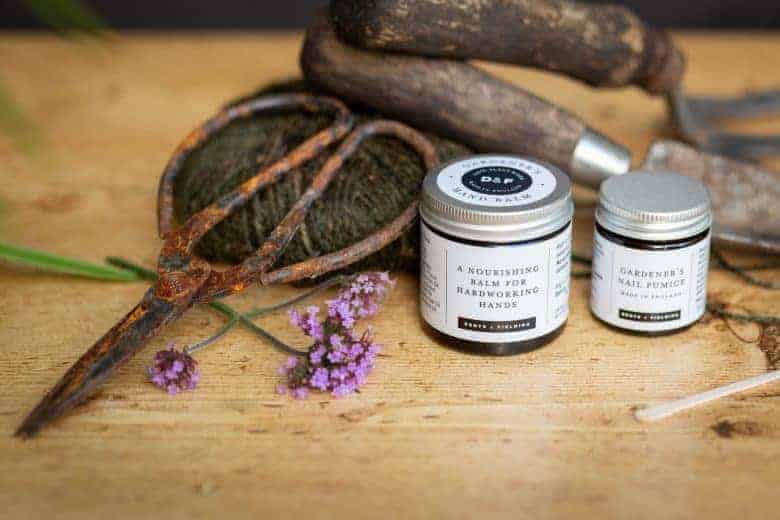 A brand new range and totally brilliant. A keen gardener myself, I know all too well the devastation you can easily do to your hands and fingernails in no time. Not to mention the need for a good long soak to soothe an aching back! This Pelargonium and Grapefruit bath oil sounds right up my street. Definitely on my wish list this year!
Made from natural, plant-based oils and butters and rich in aromatherapy benefits from pure essential oils, this range is made by gardeners for gardeners. Each product is hand crafted in Kent by Liz and her team at Denys & Fielding and all are vegan friendly with no nasties. I love the simple amber glass jars and bottles. Labels are fully recyclable and no extra 'OTT' packaging is used when sending your order out. Items are wrapped in environmentally friendly tissue & paper and plastic free postal packaging.
The range includes three bath oils (a must for anyone with a dodgy back like me); a hand balm for caring for hardworking hands and a nail pumice to cleanse and polish the grubbiest of nails.
I absolutely adore these limited edition flower earrings handmade in the Sabinna studio in East London, using glass beads. The colours are off white, nude and lilac and just so pretty don't you think?
And if you feel like pushing the boat out, this Handmade Willow Bag is really something special. Handcrafted using cotton and wool, with glass bead embellishments and a 100% silk organza lining, this goes perfectly with the earrings. And will solve the problem of what bag to take when you feel your every day one is too practical… Love!
Using only 100% pure essential oils and eco-friendly packaging, this is a special Christmas candle. Handmade in Brighton by Corinne Taylor, a qualified aromatherapist, this combines festive cinnamon, clove and orange oils as well as soy wax to burn more cleanly.
Unlike other festive candles, this one contains no harmful toxins, chemicals or pollutants and is free from any synthetic fragrance, parabens or colour. Most importantly it's beautifully packaged and would be a joy to receive.
Hand crafted in Devon, this is the most luxurious Moksa gift set and contains everything you need to really indulge someone you love. Lavender and Chamomile cleansing oil is a calming cleanser suitable for all skin types, even the most sensitive. Wild Rose toning mist is organic and gives a quick burst of soothing, toning goodness. Wild Rose facial elixir is full of powerful natural ingredients to rejuvenate and replenish the skin. Comes beautifully wrapped in recycled dye and acid free tissue paper, with dried rose petals and boxed up in recyclable gift boxes and finished with an ethically sourced organic cotton ribbon.
Personalised gifts by Handmade at Poshyarns
Based in Suffolk, Handmade at Poshyarns is a beautiful collection of personalised embroidered gifts made by Rebecca using natural linen and Liberty of London print cottons.
I've picked out three of my own personal favourites, but definitely worth browsing to discover special gifts for the people you buy for…
This personalised glass bauble is the ideal stocking filler or small thoughtful gift when you are really stuck for ideas.
And as a keen gardener myself, I know this personalised garden notebook would be very well received by anyone green fingered.
And this Linen Thank you Note for Mum brought tears to my eyes, because I wish I'd given one to mine before I lost her. A mum myself, I know it's the sort of gift you'd keep and treasure forever.
Hand made in brightly striped lambswool, this set is a genius gift idea for anyone who has ever attempted to take photographs outdoors in cold weather. You're either stuck with freezing cold fingers that don't work properly or grappling repeatedly to get gloves or mittens on and off… Warm up these little bags of heat before you go, pop them in your pocket to keep your fingers warm and the gloves will keep your hands and wrists warm too. I told you it was genius!
Whilst I'm at it, this turquoise wool eye mask is another great idea. Perfect for anyone (like me) who suffers from migraines or headaches. Either freeze or heat in the microwave to give relief. The underside is exquisitely soft very pale pink recycled cashmere.
Designed and knitted on vintage sewing machines in Suzie's countryside Kent studio, you'll find a mouthwatering choice of colours and patterns. Made using the softest 100% natural fibres, I love Suzie's use of colour blocking and Fair Isle patterns. How beautiful is this blaze of crimson edge and fringing?
I love everything about Madder Cutch & Co. Nicola Cliffe has a lifelong love of textiles and has created a very special collection of designs using 100% linen woven in the UK and hand screen printed using sustainably sourced plant dyes and pigments.
These cross back aprons are perfect – and definitely on trend within the craft and creative community.
Within the gift idea section you'll also find fabric-covered notebooks, sketchbooks, ipad cases, soft toys and storage buckets. How adorable is this handmade linen dog decoration (modelled on Nicola's own little dog, Ernie?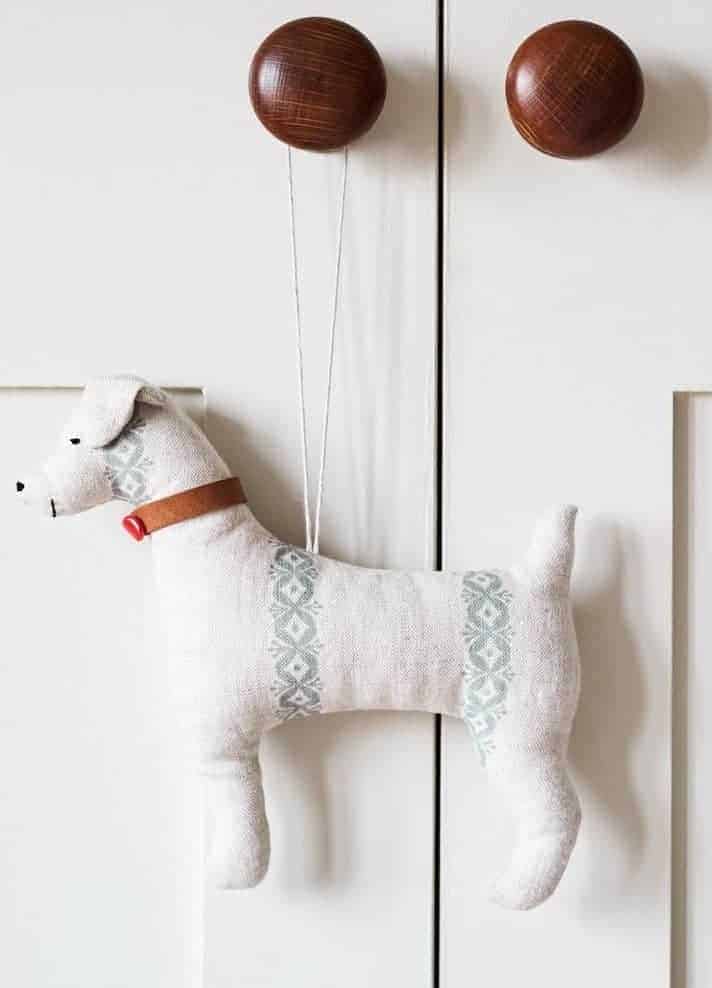 Whilst we're on the subjects of dogs and dog lovers, what about these exquisite needle felted creations by Emma Herian?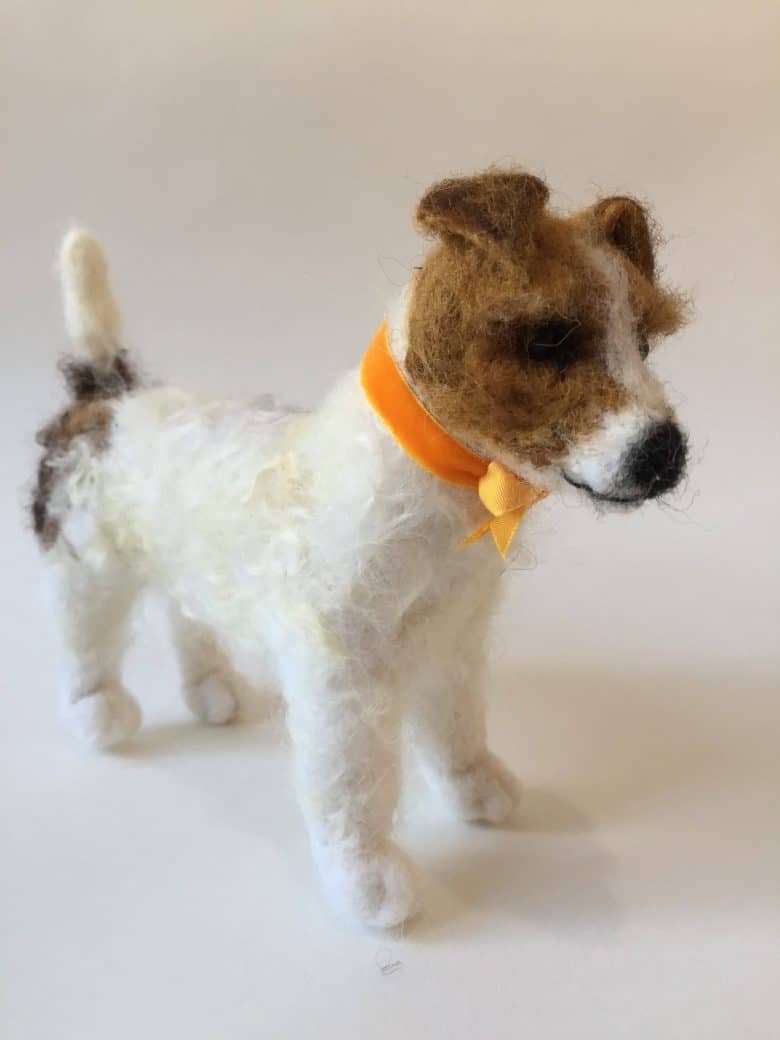 I am blown away by the character and feeling Emma manages to capture in her creations. I know a super charged and cheeky jack russell exactly like this one!
The picture says it all really don't you think? I want one.
I already love this special company's handmade soaps so I was excited to discover they have just launched a range of natural bath salts. Each jar comes with its own wooden scoop, a scatter of rose petals and is refillable. You can't really ask for more than that can you?
There are lots of therapeutic scent options to choose from. It would be rose geranium for me every time. I do love the sound of the Grapefruit and Neroli with jasmine flowers too, though…
If you are looking to buy someone some good soap, you really can't go wrong with this beautifully presented box of handmade guest soaps:
Vintage linen guest towel by Sarah Hardaker
The perfect accompaniment for the handmade guest soap box. Soft, and thick vintage style linen trimmed with cotton lace and handmade in the UK.
You'll also find other wonderful handmade Christmas gift ideas for women by Sarah, including bags, purses and covered notebooks using her beautiful bespoke fabrics. Sarah's linen is woven in Scotland and the designs printed to order in England with care for the environment.
This is a collector's piece as well as being the perfect cosy Winter throw. A design woven especially for Madeleine's exhibition at the Danish Weaving Festival last summer, it was created as a homage to mid-century Swedish rug designer and weaver Irma Kronlund.
Madeleine explains how she adores Irma's designs, especially one called Rödhake – which means European Robin in Swedish. And also the pair of robins that share the garden outside her Surrey studio. Hand woven by Madeleine using pure lambswool spun and dyed in Scotland, and inspired too by the traditional Falun red paint of Sweden, and dark green pine trees, this is a wonderful gift idea that will be treasured lifetimes. I love Madeleine's description of the imaginary lakeside nordic cabin she escaped to in her imagination as she wove each day. Discover more here. As handmade Christmas gift ideas for women go, this is a really special one for anyone with a love of textiles and midcentury/scandi design.
I love the story behind this hand-framed Fair Isle pattern originally created in 1982 for iconic British designer Laura Ashley and featured in sweaters and blankets.
Crafted today in 100% Shetland wool on a hand knitting machine in Thatcham, Berkshire, this design is still is an enduring classic. Love these colours inspired by the English countryside… wild flowers, the colours of the landscape, birds, bees. On trend too, so what more could you ask?
It's the beautiful colour graduations that makes these scarves so special. Sue achieves this by hand painting each one after knitting them. Made from soft, lightweight and luxurious silk each one is different. There's a wide choice of colours, but for me it would have to be this sea green/blue option. Just lovely.
Hope you have found some inspiration from my handmade Christmas gift ideas for women. I will add more ideas as I come across them.
I have written another blog post Ethical Gifts made in Britain if you'd like more ideas and inspiration…
INFORMATION
---
Handmade Christmas Gift Ideas for Women
All the handmade Christmas gift ideas for women featured are made in the UK by hand-picked makers listed in our directory. Find more inspiration in the Ethical Gifts section of our directory
Oorla Jewellery
Are you a maker, grower or creative course provider? Like to list with us and benefit from joining our supportive community? We'd love to hear from you. Check out the packages we offer on our Join Us page and get more details from our Information pack here
---
A PIN TO SAVE TO PINTEREST
If you enjoyed reading this Handmade Christmas Gift Ideas for Women blog post, it would be great if you could share the love if you've enjoyed reading this blog post. All you have to do is hover over the image below until you see the Pinterest button appear. Then share it to your boards. Thank you! X