welsh blankets – pick of the best
A lover of textiles, traditional craft and midcentury patterns, it's no surprise that I have more than a bit of a thing for Welsh blankets. I treated myself to a natural white and blue one from Trefriw Woollen Mill on a holiday to the Llyn Peninsula a couple of years ago and I love to snuggle under it whenever I'm watching TV. My youngest son often snuggles underneath it with me, which makes me love it all the more. Woody the cocker spaniel is also more than a little partial to reclining across it.
When I first brought mine home, you could really smell the welsh mountainside. Probably something to do with the lanolin in the raw wool used to make it. Either way, this blanket is one of my treasured possessions and I will hand it down to my son. Maybe he'll snuggle under it with his children one day.
If you're thinking of treating yourself to a real welsh blanket too, I thought you might like to browse a few of my favourites first.
History of tapestry welsh blankets
Made using a traditional double-cloth construction that hasn't changed much since the mid 1880s, tapestry blankets are traditionally given as wedding presents in Wales. You can see why. Their beauty only increases over time and they are built to last. The traditional Welsh design is a double weave which means that they are reversible. Effectively, you get two blankets in one.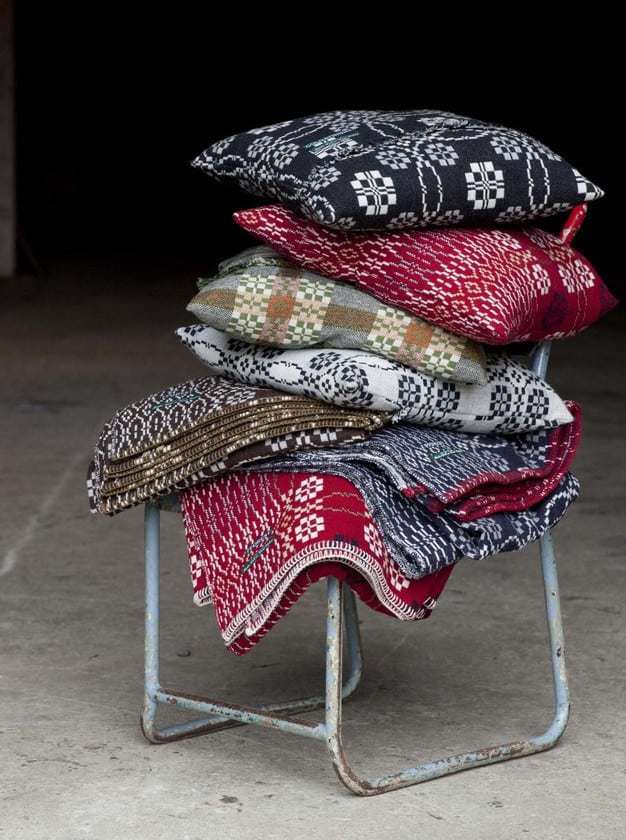 Wool has long been a plentiful – and valuable – commodity in Wales. There are a lot of sheep grazing on the hills and mountains after all.
The earliest blankets were usually made on a single loom and consisted of two narrow widths of fabric joined down the centre by hand. Blankets with this central seam usually date from before 1910. After the industrial revolution, mills started weaving on machinery. Much of this now vintage machinery is still used today.
A few of my favourite makers of welsh blankets
Trefriw welsh blankets
A family business since 1859, Trefriw (listed in the FBWL directory here) manufacture traditional welsh tapestry bedspreads as well as smaller welsh tapestry patterns by the metre.
Raw wool is carded, spun and woven using vintage machines that are over 50 years old and powered by a vintage water turbine. You can visit the mill and see the wool being woven or simply buy online.
This is my blanket – the T3 2, which costs £285 for the double bed size.
FelinFach
A great place to source hand woven welsh blankets, FelinFach is an independent Welsh company based at a 200-year-old former flour mill in the Preseli hills of Pembrokeshire. Founder, Karen Morgan, is passionate about Welsh weaving and collaborates with mills in Pembrokeshire and Carmarthenshire still weaving on 1930s Dobbcross looms. FelinFach is listed in our directory or you can read more here.
My favourite welsh blankets from the FelinFach collection are this Druidston blanket (which feels like a celebration of spring in Wales)…
And this stylish grey, blue and natural white Harlech design would fit seamlessly into a neutral/grey colour scheme.
Melin Tregwynt
A small, white-washed woollen mill in a remote wooded valley in Pembrokeshire, Melin Tregwynt (listed in the FBWL directory here) is special. There has been a mill on the site since the 17th century, spinning and weaving fleeces. Weathering wars, recessions and the passing of time, the looms continue to create beautiful traditional welsh blankets.
I have had so many lovely messages from the States asking about good sources of real Welsh blankets in the US and I've found just the place. Beautiful online shop Heirloom Art Co. sells a wide range of Melin Tregwynt Handwoven Wool Throws
I do really like the Melin Tregwynt St Davids Cross design too. It's a pattern inspired by early 18th-century Shaker weaves and developed at the mill in the 1980s. It's a simplified version of the Vintage Star design. How beautiful is this pale blue and soft grey colourway?
Damson & Slate
Stylist and ex Style Editor of The Sunday Times, Hilary Lowe, now runs her own Welsh homeware label Damson & Slate (listed in the FBWL directory here).
Jane Beck
THE best place to source vintage welsh blankets is Jane Beck (listed in the FBWL directory here). Jane has a personal collection of treasured Welsh textiles dating from the 18th century and is an expert in her field. She sells a wide and varied selection of blankets in her online shop, or you can visit her Ty Zinc shop on the borders of Ceredigion and Carmarthenshire.
Here are a couple of my current favourites in her shop to give you a flavour of what you might find…
Jen Jones welsh blankets
Holder of a Royal Warrant to the Prince of Wales (as Supplier of Historic Welsh Quilts, Blankets and Antique and Vintage Textiles), Jen Jones has supplied antique welsh quilts and blankets to Prince Charles and Camilla for years. Jen's Welsh Quilts and Blankets Cottage Shop is located just outside the village of Llanybydder, in the heart of the Teifi Valley, only a few hundred yards away from the river Teifi itself. Jen Jones is listed in the FBWL directory here.
The village shop holds a huge selection of floral, paisley and solid colour whole cloth quilts, patchwork, stripy and collectors' quilts. Each quilt has a story to tell, and as many are passed down through their families, Jen can actually give the background to most of the quilts and blankets. There are hundreds of blankets in a huge range of colours and styles, 19th century narrow loom blankets, early 20th century tapestries, fringed, honeycomb, picnic and plaid.
To give you an idea, here are a couple of current beauties on sale in Jen's online shop.
Fforest
I love Fforest General Stores online shop – it's a treasure trove of welsh traditional loveliness, including their own 'coldatnight' blanket. Available in a selection of colours and made traditionally for Fforest (listed in the FBWL directory here) by Melin Teifi.
The coldatnight blanket is a traditional Welsh double cloth weave unique to fforest, the pattern taken from an old blanket. The original was an early North Wales Rose pattern first introduced more than a century ago by Hannah Jones at Penmachno Woolen Mill, Caernarfonshire.
It's a strong, balanced design consisting of flower motifs within interlocking circles in a field of colour. Fforest have made a few tweaks to the original and added some new colour to this very old design. Using pure new wool on a 1930's Dobcross loom, each thread is put through the heddles by hand. Just beautiful. Check out these images showing some of the colourways available…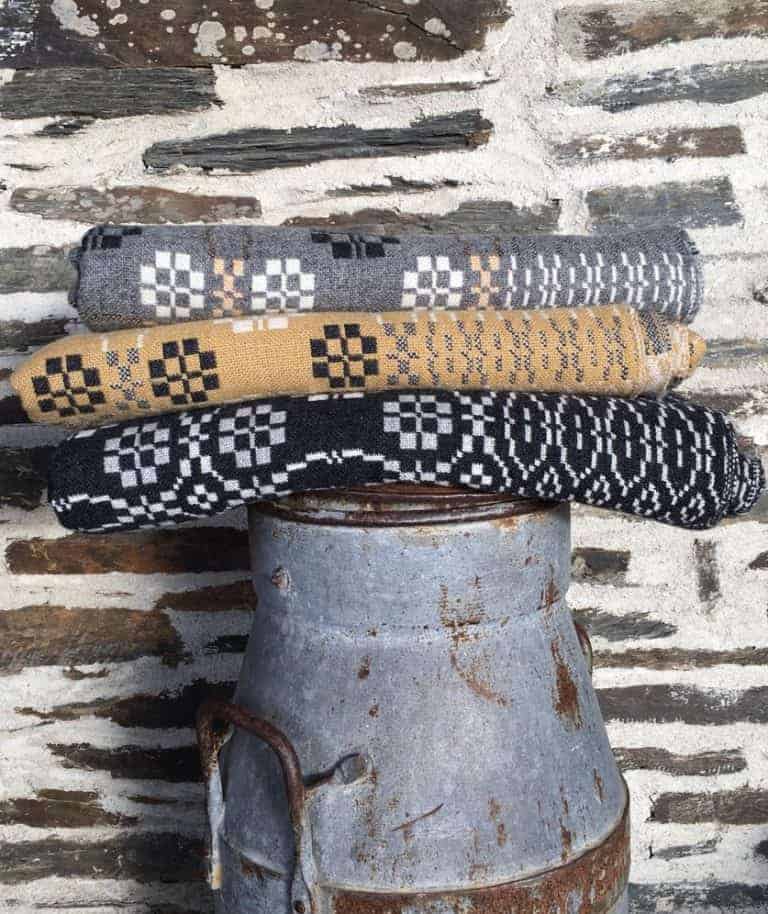 INFORMATION
---
Trefriw is listed in the From Britain with Love directory here >>
FelinFach is listed in the From Britain with love directory here >>
Melin Tregwynt is listed in the From Britain with Love directory here >>
Damson & Slate is listed in the From Britain with Love directory here >>
Jane Beck is listed in the From Britain with Love directory here >>
Jen Jones is listed in the From Britain with Love directory here >>
Fforest is listed in the From Britain with Love directory here >>
Are you a maker or creative course provider? Like to benefit from joining our supportive community? We'd love to hear from you. Check out the packages we offer on our Join Us page and get more details from our Information pack here
---
A PIN TO SAVE TO PINTEREST
If you've enjoyed this welsh blankets feature, it would be great if you could share the love. All you have to do is hover over the image below until you see the Pinterest button appear. Then you can share it to your relevant boards . Thank you! X